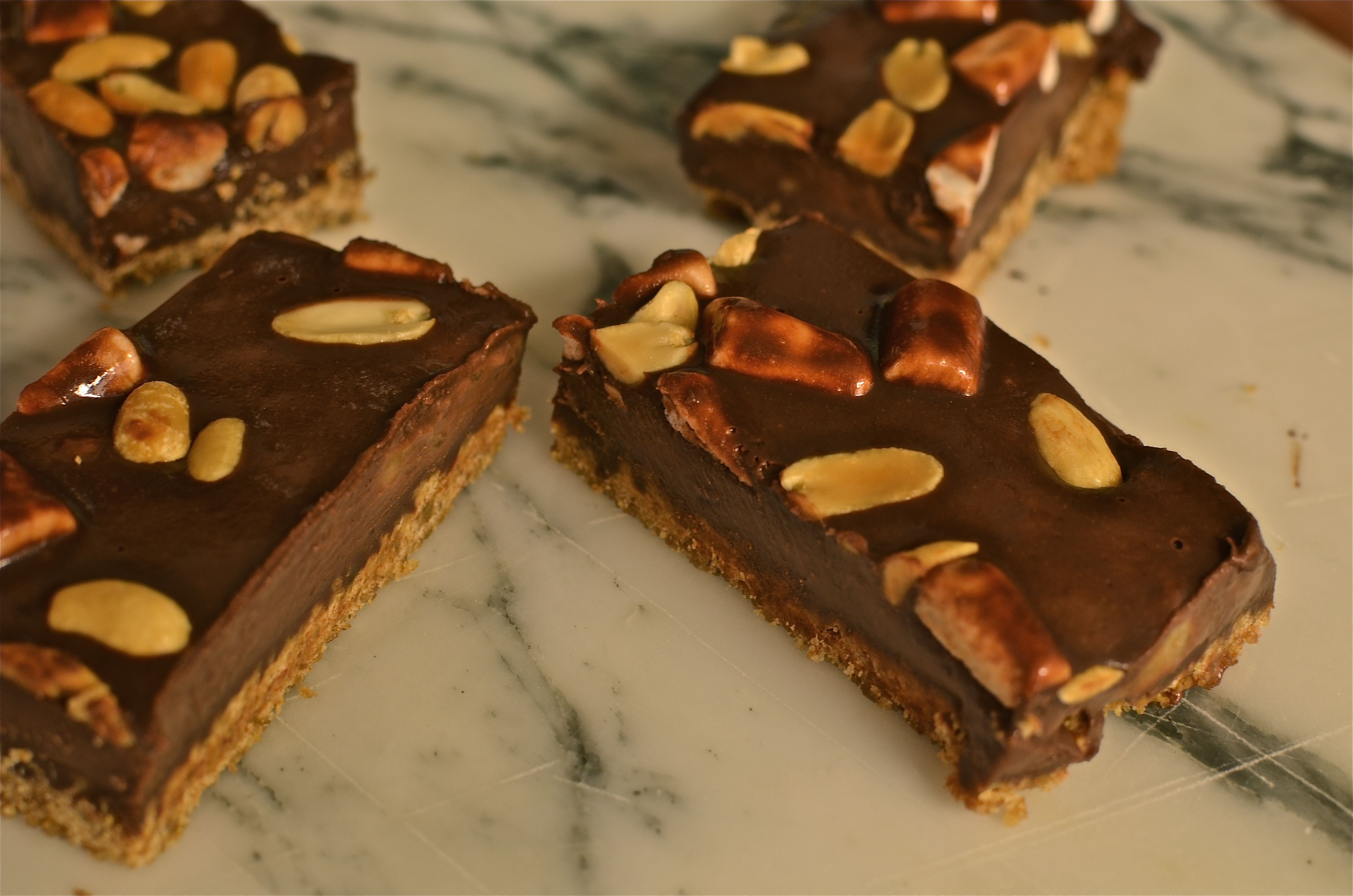 Do you believe in love at first sight?
When it comes to recipes, I certainly do.  Earlier this month, when Bon Appetit released its 10 Best New Restaurants in America 2012 list, a familiar face was among the honored ten: the Bakery at Cakes and Ale in Decatur, Georgia.  Have I dined here?  No, and I hope to as soon as possible.  But one member of the bakery's team is an acquaintance of mine, so I was absolutely thrilled that he and his talents would receive such wonderful and widespread recognition.
A few of the bakery's recipes were included in Bon Appetit's issue.  When I saw this recipe among them, it was love at first site.  They are sheer decadence and a lovely, sophisticated take on flavors that will bring you back to your childhood.  Imagine a rich chocolate fudge with bananas and peanut butter added in for good measure.  You only need a few small bites to feel completely satisfied.
The bars are also incredibly simple to make; they are almost no-bake (only the crust needs to be baked, for a mere 10 minutes), and comes together very quickly.  And even better?  They freeze beautifully.  Make a batch, serve some, then keep the rest in the freezer for a rainy day.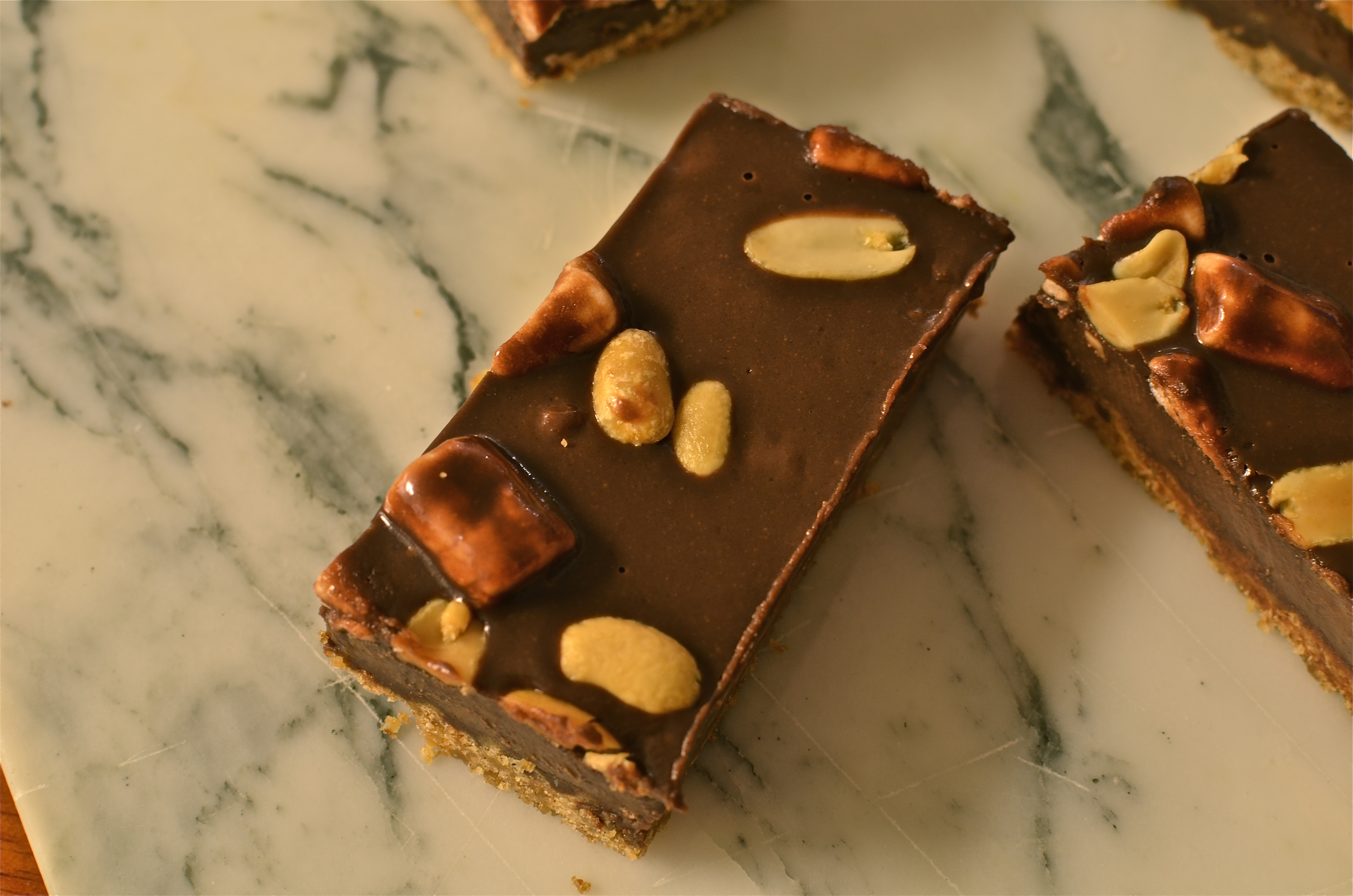 One year ago: French Potato Salad and Healthier Pumpkin Muffins
Banana Peanut Butter S'mores Bars
Adapted from The Bakery at Cakes and Ale, Decatur, GA
Makes one 13 x 9 inch pan, or 24-36 bars, depending on how you cut them
Ingredients
Nonstick vegetable oil spray
15 whole graham crackers (about 8 ounces)
2 tablespoons (packed) dark brown sugar
1/2 teaspoon kosher salt
3/4 cup (1 1/2 sticks) unsalted butter, melted
10 ounces high-quality milk chocolate (such as Lindt or Scharffen Berger), finely chopped
5 ounces semisweet or bittersweet chocolate (do not exceed 70% cacao), finely chopped
1/2 cup smooth peanut butter
2 tablespoons honey
1 cup heavy cream (I used half and half)
2 ripe bananas, mashed well
1/2 cup mini marshmallows
1 cup salted, dry-roasted peanuts
1.  Preheat oven to 350°F.  Coat a 13 x 9 x 2-inch glass baking dish with nonstick spray – I used regular non-stick spray, not the spray for baking.  Place graham crackers in a food processor, pulse graham crackers until coarse crumbs form (there will be about 2 cups).  Combine graham cracker crumbs, brown sugar, and salt in a medium bowl.  Add melted butter; stir to blend.  Pour into prepared baking dish, then press evenly onto the bottom of baking dish.  Bake until light golden brown around edges and center springs back after being pressed gently with your fingertips, 8–10 minutes.
2.  Place both chocolates, peanut butter, and honey in a large metal bowl to combine, then set aside. Bring cream to a just-boiling state in a small saucepan. Pour the hot cream into chocolate mixture, then let sit until chocolate begins to melt, about 3 minutes. Stir the mixture until chocolate is completely melted and ingredients are blended. (If chocolate isn't completely melted, set bowl over a large saucepan of simmering water and stir until smooth). Fold in the mashed bananas, then marshmallows into chocolate mixture.  Pour batter over graham cracker crust in pan and smooth top.  Sprinkle peanuts over.  Refrigerate until topping is completely set, about 3 hours.
Bars can be made 2 days ahead. Cut into bars. Serve chilled.
Keep chilled, but I prefer to keep them in the freezer.  They will last a few months in the freezer.  When you want to defrost, simply leave bars out for 10 minutes – they need to be eaten cold, otherwise will melt all over the place which – while delicious – is very messy!