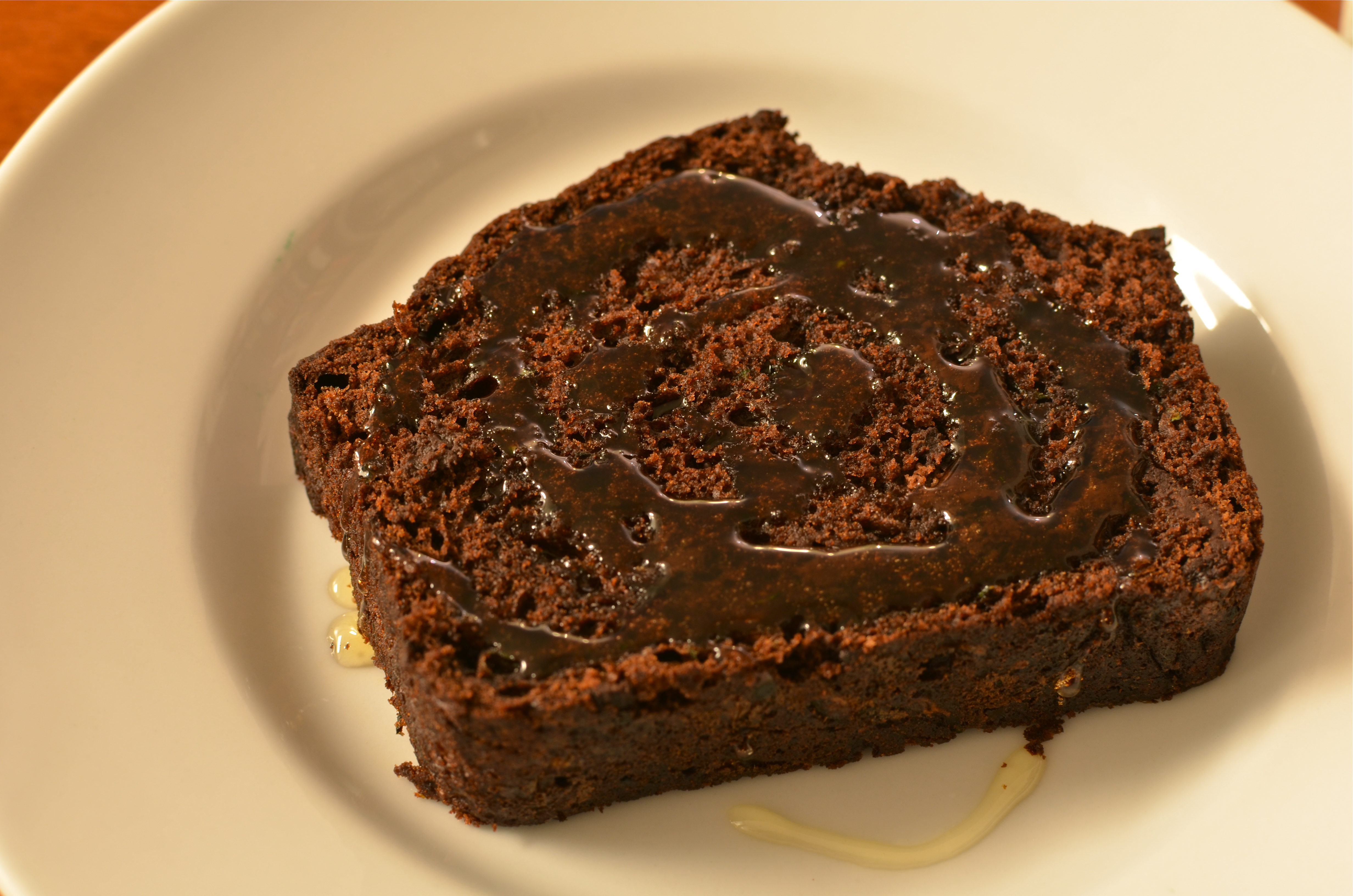 I've been delinquent in posting new recipes, and I'm sorry.  I like to joke that I'm an "occasional lawyer," but the truth is I'm actually a full-time lawyer, and right now the lawyer thing is kicking my butt.  Being busy at work means less time in the kitchen!  But I have a few great things I've made recently that I can share with you, and this is one of them.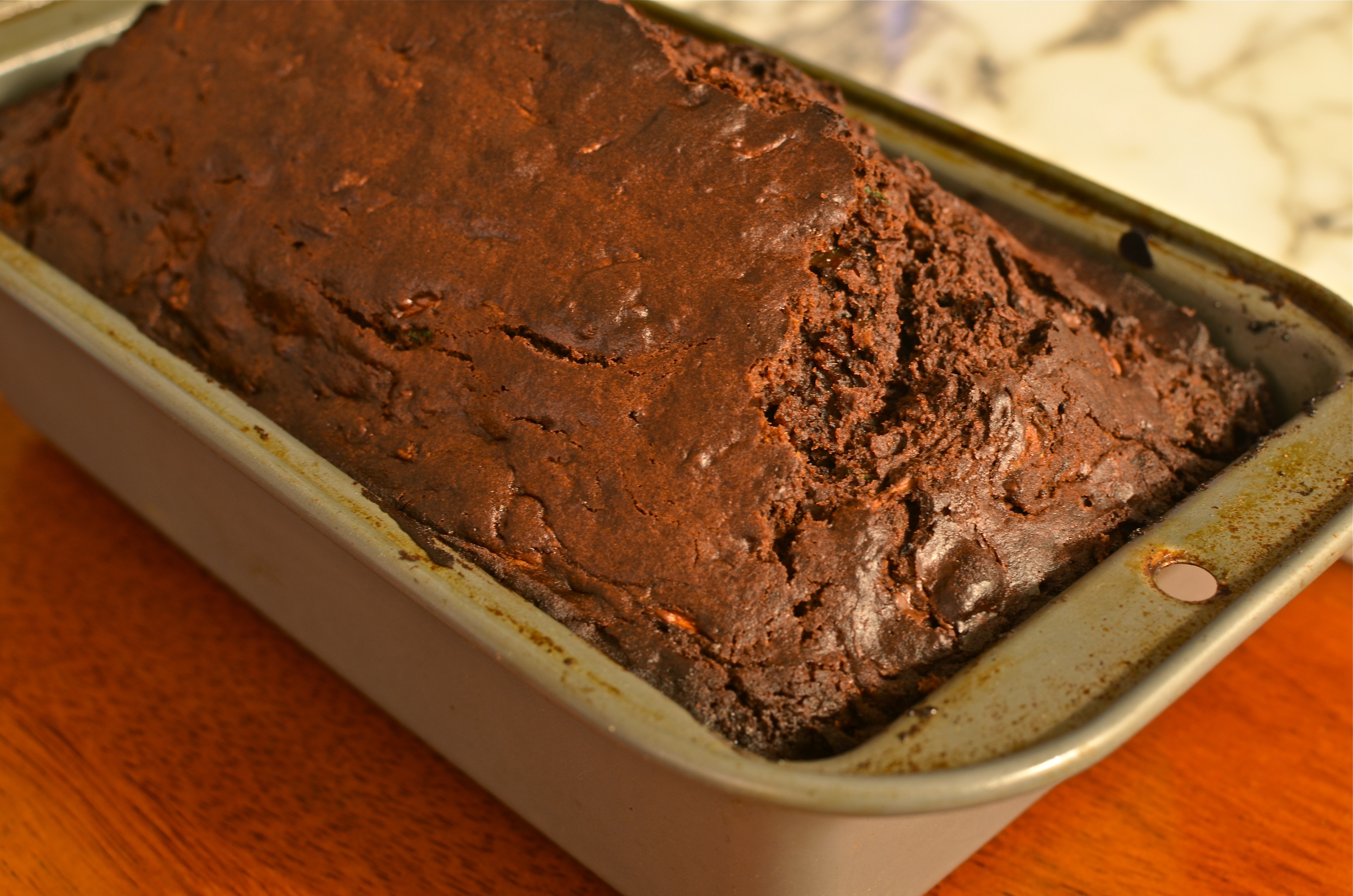 I know I've made a similar Chocolate Zucchini Cake before, but I had such a craving for chocolate and zucchini, and I have been dying to try King Arthur Flour's recipe for this bread (which is really a cake, let's not kid ourselves).  I'm so glad I did, because I like this recipe better than the cake I made last year!  It's more moist and has a deeper chocolate flavor, without tasting too heavy.  I really enjoyed devouring slices of the bread the day after I made it, drizzling each slice with a generous amount of honey.
This quick bread is simple and comes together fast.  It's the end of the summer, so enjoy the good zucchini while you still can!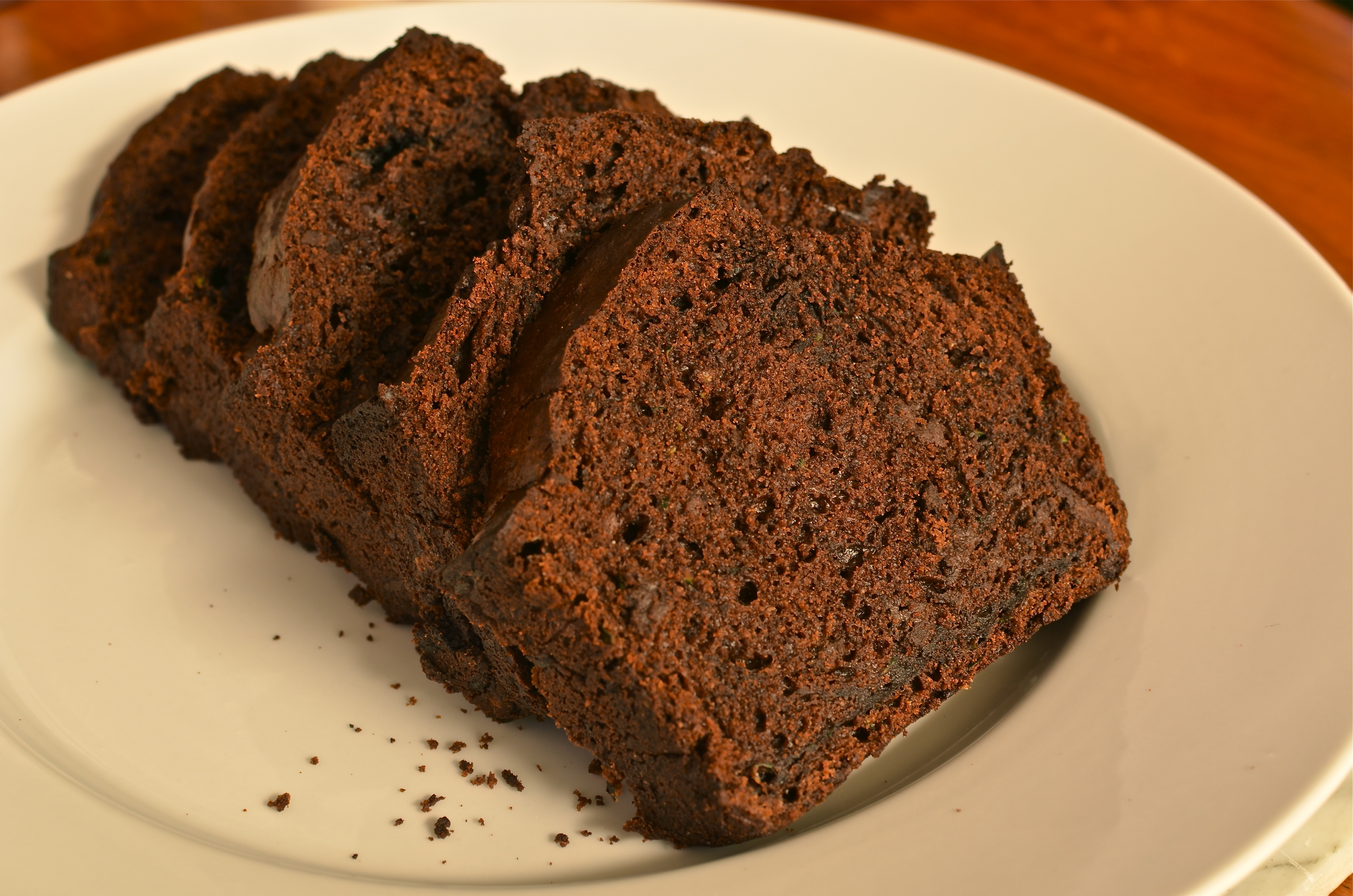 One year ago: Zucchini Cornbread, Spicy Brittle, Pasta Salad with Cherry Tomatoes and Green Olivada, and Key Lime Pie
Double Chocolate Zucchini Bread
Adapted from King Arthur Flour
Makes one 8 1/2 x 4 1/2 inch loaf
Total time: 90 minutes
Ingredients
2 large eggs, room temperature
1/3 cup honey
1/2 cup vegetable oil
1/2 cup brown sugar
1 teaspoon vanilla extract
1 teaspoon salt
1/2 teaspoon baking soda
1/2 teaspoon baking powder
1/2 teaspoon espresso powder, optional (but encouraged!)
1/2 teaspoon cinnamon
1/3 cup Dutch-process cocoa powder
1 2/3 cups All-Purpose Flour
2 cups shredded, unpeeled zucchini, gently pressed to remove some excess liquid
1 cup chocolate chips or chopped semi-sweet chocolate
1.  Preheat the oven to 350°F; lightly grease an 8 1/2″ x 4 1/2″ loaf pan, or spray bottom and sides with non-stick baking spray.  Move a rack to the center of the oven.
2.  In a large mixing bowl, beat the eggs, honey, oil, sugar, and vanilla until smooth (no mixer needed).  In a separate bowl, mix together the salt, baking soda, baking powder, espresso powder, cocoa, cinnamon, and flour, mixing until well combined.
3.  Add dry ingredients to the wet ingredients, and mix until well combined, but no longer.  Stir in the zucchini and chocolate chips under just combined.  Pour the batter into the prepared pan.
4.  Bake the bread for 65 to 75 minutes, until the loaf tests done (a toothpick or cake tester inserted into the center will come out clean, save for perhaps a light smear of chocolate from the melted chips).  Mine took about 60 to 65 minutes.
5.  Remove the bread from the oven, and let it cool for 10 to 15 minutes before turning it out of the pan onto a rack.  Cool completely before slicing; store well-wrapped, at room temperature.  I thought the bread tasted better after it had sat in my fridge (well-wrapped) overnight.  Particularly if you drizzled a slice with honey!