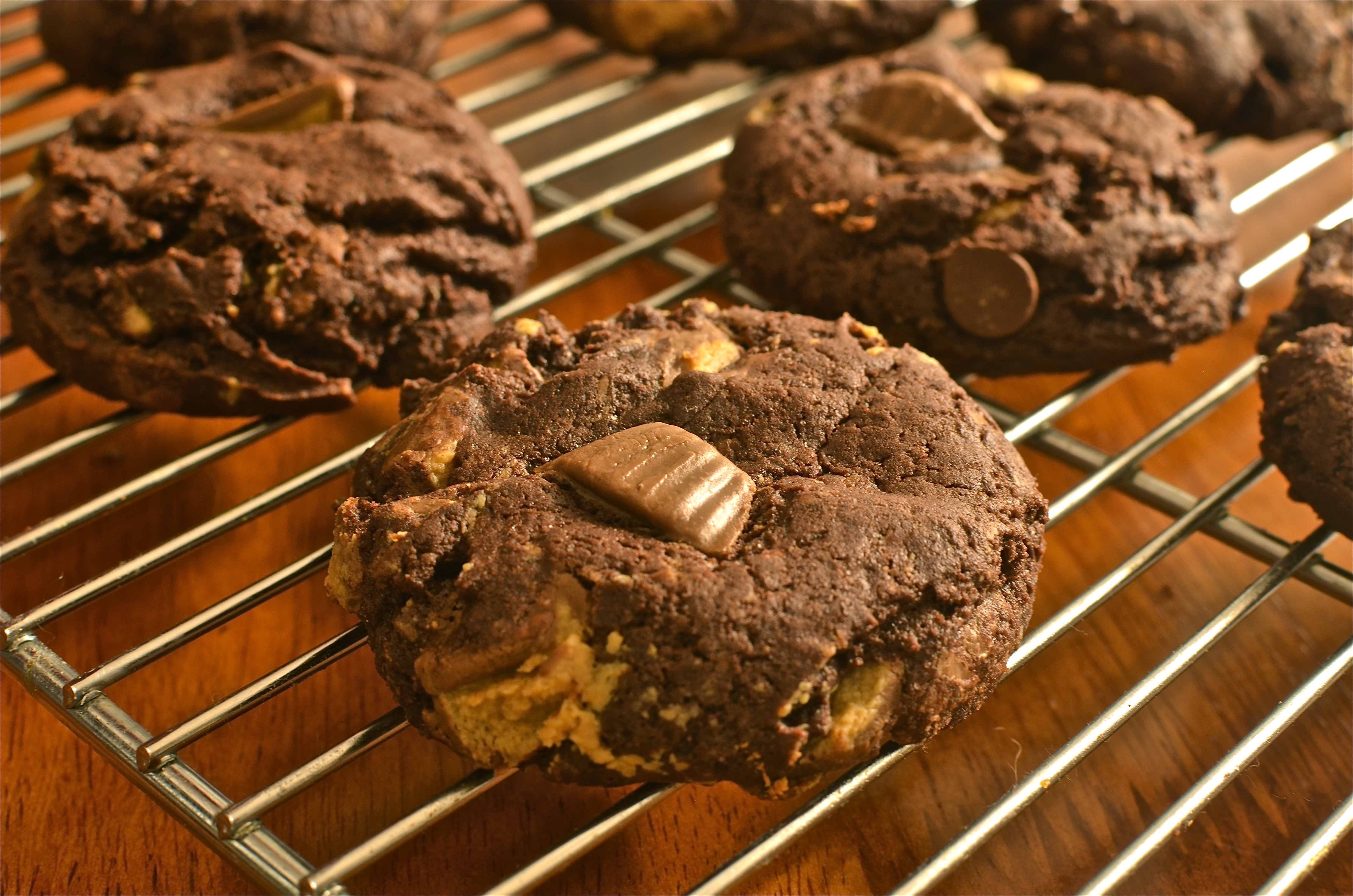 The real world has been keeping me incredibly busy lately.  I know I've been posting less, and I'm sorry!  The truth is that I actually have a few truly wonderful recipes to share with you, and have been sitting on them far too long.   I  just can't seem to find the time to put everything together and get them posted!
But this is one of those truly wonderful recipes that I have shamelessly waited too long to share.  It's more than truly wonderful – if you like Reese's Peanut Butter cups at all, these cookies are going to be one of the best desserts you've had in your life.  I made these a few months ago (yes, I've been holding out for that long) for the same birthday party that feasted on my Perfect Party Cake.  While people assured me they loved the cake, the fighting was over these cookies!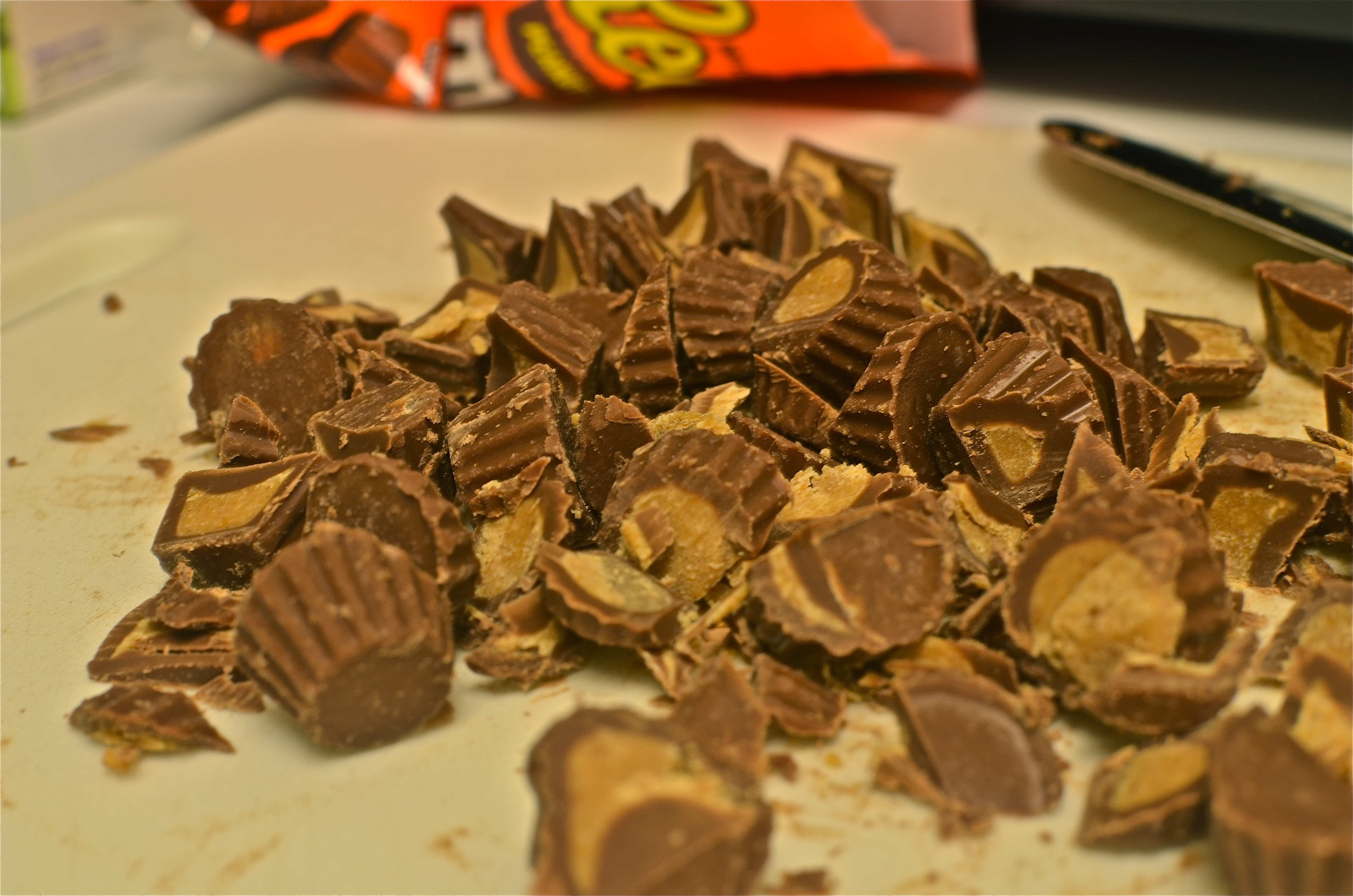 One year ago:  Greek Village Salad (Horiatiki Salata)
Chocolate Peanut Butter Cup Cookies
Adapted from Annie's Eats
Makes 30 to 36 cookies; recipe can be halved
3 cups all-purpose flour
1/2 cup Dutch-process cocoa
1 tsp. baking soda
1 tsp. coarse salt
1 stick (8 tablespoons) unsalted butter, at room temperature
1/2 cup creamy peanut butter
1 cup sugar
1 cup brown sugar
2 large egg
2 teaspoons vanilla extract
1/4 cup milk
4 cups coarsely chopped peanut butter cups, divided*
* While you can buy mini peanut butter cups that are individually wrapped, they now sell mini peanut butter cups unwrapped in a snack bag, making it so easy to cut these up (or pop them in your mouth!)
1. Preheat the oven to 350˚F. Line baking sheets with silicone baking mats or parchment paper. In a medium bowl, combine the flour, cocoa powder, baking soda, and salt. In the bowl of an electric mixer, combine the butter, peanut butter, and sugars. Beat on medium-high speed until light and fluffy, 1-2 minutes. Add in the egg, vanilla extract, and milk. Blend until smooth. With the mixer on low speed, mix in the dry ingredients just until incorporated. Add in 1½ cups of the chopped peanut butter cups and fold in gently with a spatula.
Use a large dough scoop (about 3 tablespoons, I used a #24 disher) to drop rounds of dough onto the baking sheets, spacing 2-3 inches apart. Gently press a few pieces of the reserved peanut butter cups into the top of each of the dough balls – the cookies will look extra pretty this way!  Bake 12-14 minutes, rotating the pans halfway through baking. (The cookies may seem too soft immediately after coming out of the oven but they will set as they cool, otherwise you will overbake them.) Let cool on the baking sheets about 10 minutes, then transfer to a wire rack to cool completely. Store in an airtight container.  While I'm sure they'd last at least a few days in the airtight container, they won't last longer than the party you are bringing them to!