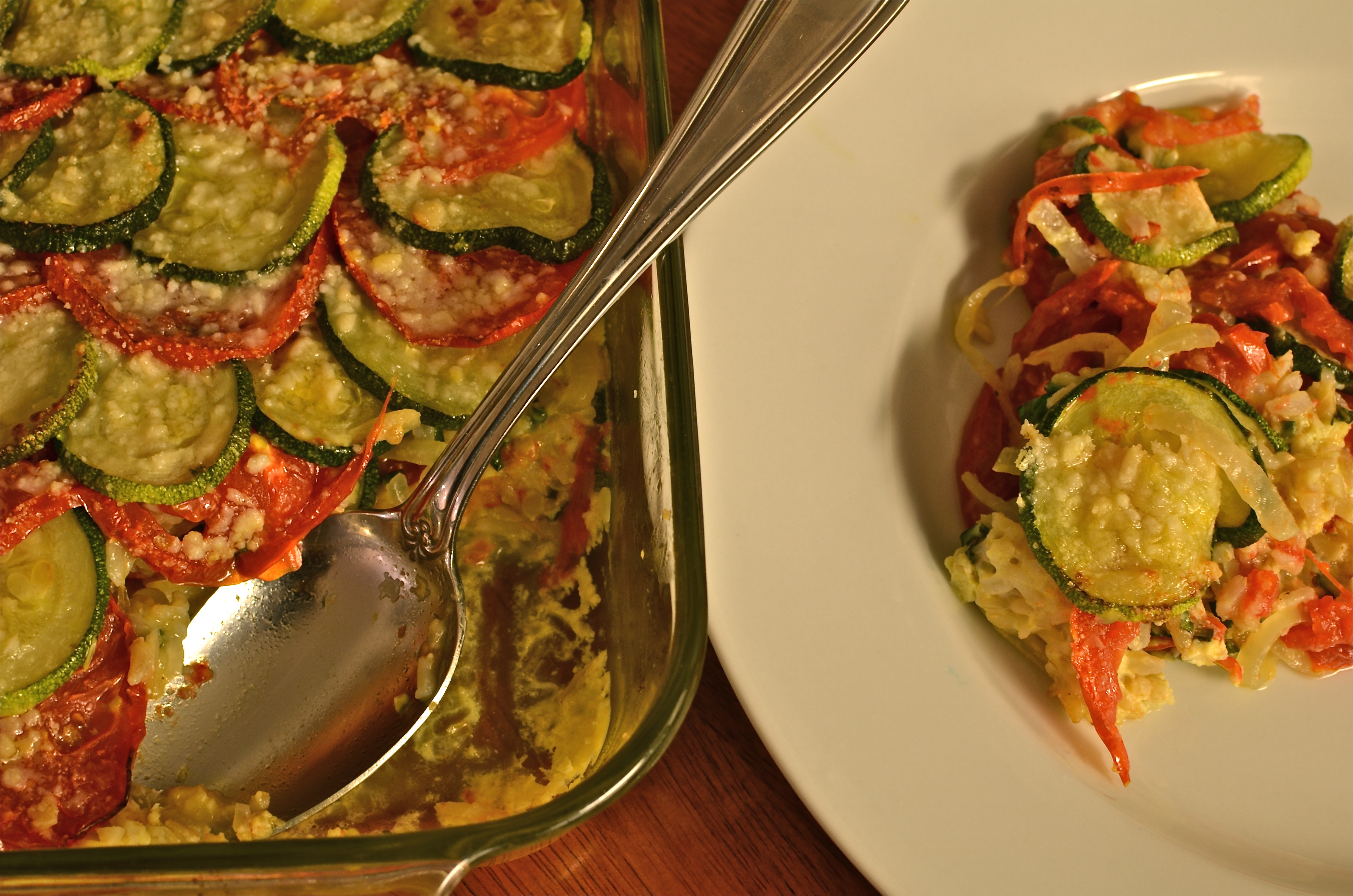 A year ago today, I posted my go-to recipe for Fresh Tomato Sauce.  Which means (1) you should make that sauce, and (2) it's tomato season again!  I got back from Italy (where every tomato is a sweet-tasting gem) and poof!  The mountains and mountains of tomatoes – heirlooms, cherry, homegrown, take your pick – were back at the Union Square Greenmarket.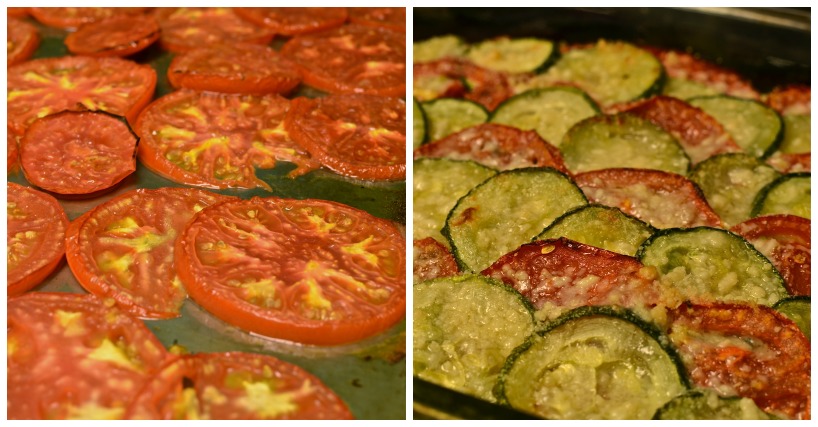 Naturally, I've been looking for ways to use all the tomatoes I bought.  Often they are best with nothing more than a drizzle of olive oil and a sprinkling of sea salt, but sometimes you want to make a real meal out of them.  So I bought one of the other vegetables that still is exploding at the markets – zucchini – and made this excellent gratin.
In all honesty, this is one of the better meals I've made in recent months.  The sweetness of the tomatoes and zucchini really comes out, and paired with salty Parmesan it's perfect.  It's simple, with few ingredients, but good ingredients that shine through.  It's got a ton of flavor but still light and healthy.  It can be served as a side dish or a main meal – it's definitely hearty enough to be a satisfying dinner all on its own.  I used brown basmati rice, but use any long grain rice you have in your cupboard.  Seriously, you will love it!  The only downside is that it messes up a few different pans, which means more clean up (or more dishwasher loading, if you're lucky).  But I think the dish is more than worth it.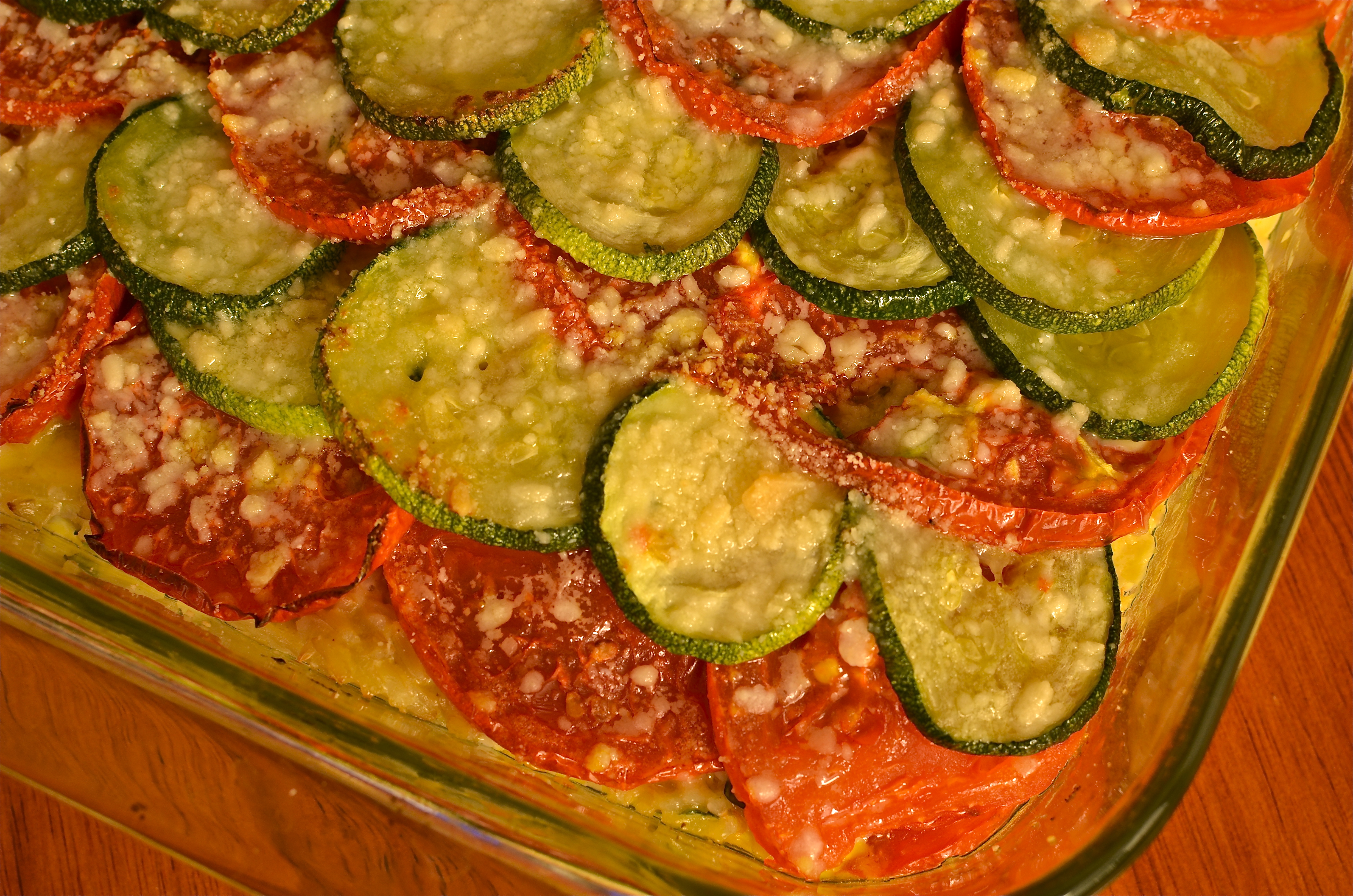 One year ago: Fresh Fruit Tart and Fresh Tomato Sauce
Tomato Zucchini Rice Gratin
Adapted from Gourmet
4-6 side dish servings, or 3 main course servings
Total time: ~ 1 hour
Ingredients
1/2 cup uncooked long-grain white or brown rice
1 1/2 pounds zucchini (about 3 medium or 2 large), sliced crosswise 1/4 inch thick
6 tablespoons olive oil, divided
1 1/2 pounds plum or any kind of tomatoes, sliced crosswise 1/4 inch thick (I bought 4 large tomatoes, not sure what kind they were!)
1 medium yellow onion, halved lengthwise and thinly sliced
3 garlic cloves, finely chopped
2 large eggs, lightly beaten (you could leave these out if you are allergic)
1 tablespoon chopped basil or thyme
1/2 cup grated Parmigiano-Reggiano, divided
1.  Preheat oven to 450°F with racks in upper and lower thirds.
2.  Cook rice according to package instructions, and set aside to cool when finished.
3.  While rice cooks, toss zucchini with 1 tablespoon oil and 1/2 teaspoon salt in a shallow baking pan.  Toss tomatoes with a drizzle of oil and 1/4 teaspoon salt in another baking pan.
4.  Roast zucchini in upper third of oven and tomatoes in lower third, turning zucchini once halfway through roasting (I wouldn't bother with the tomatoes), until tender and light golden, about 10 minutes for tomatoes and 20 minutes for zucchini. Leave oven on.
5.  Meanwhile, cook onion and garlic with 1/2 teaspoon salt in 2 tablespoons oil in a large heavy skillet, covered, over low heat, stirring occasionally, until very tender, 15 to 20 minutes.  Remove from heat and let cool for a few minutes.
6.  In a bowl, stir together onion mixture, cooked rice, eggs, thyme, 1/4 cup cheese, 1 tablespoon oil, and 1/2 teaspoon pepper. Spread half of rice mixture in a shallow 2-quart baking dish (I used an 8×8 inch Pyrex dish), then top with half of zucchini and tomatoes. Spread remaining rice mixture over zucchini, then top with remaining zucchini and tomatoes.  Drizzle with remaining 2 tablespoons oil, then sprinkle with remaining 1/4 cup cheese.
Bake in upper third of oven until set and golden brown, about 15 to 20 minutes.