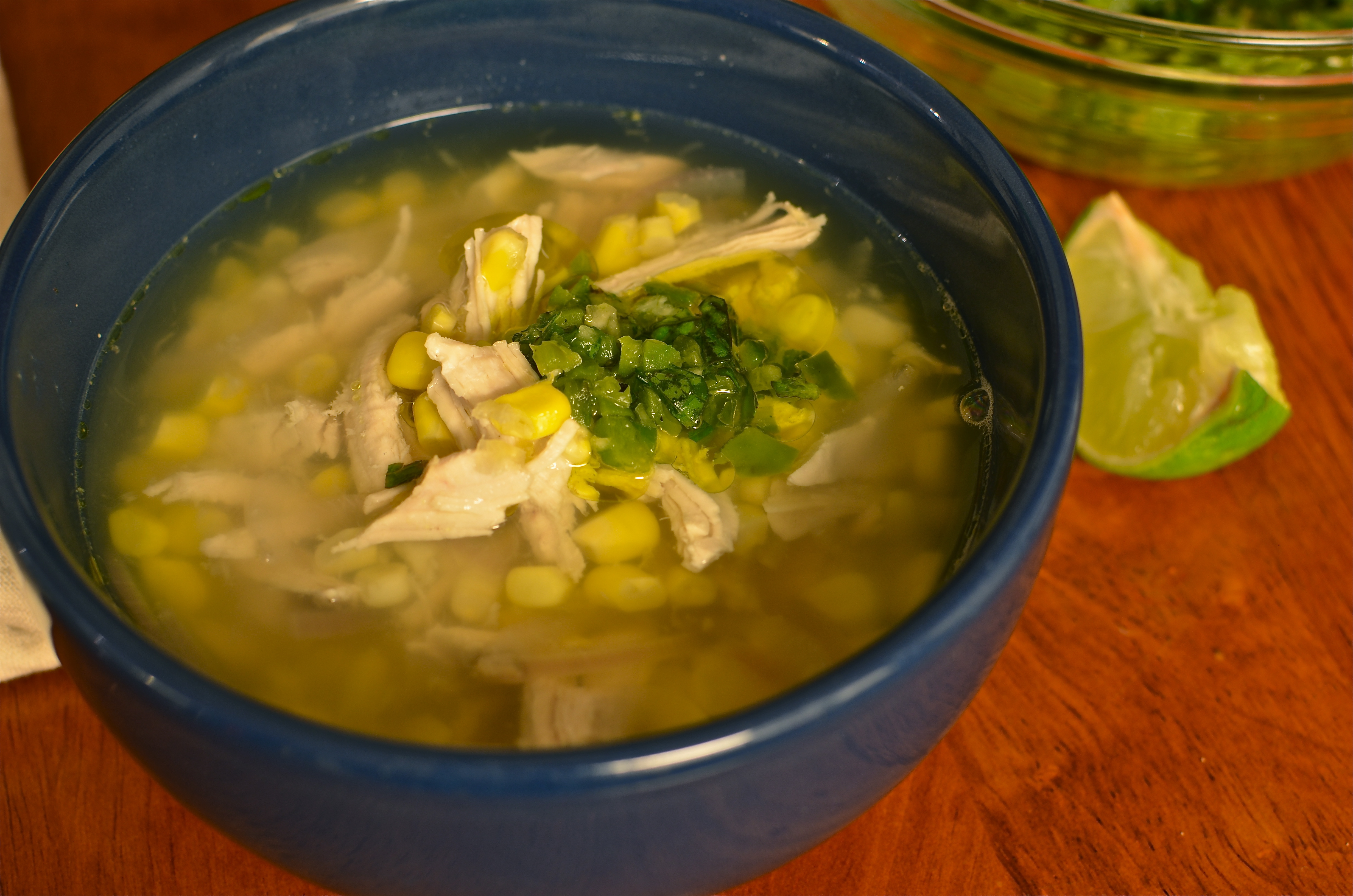 It's hard to believe that August is about to end.  I'm not really sure what happened to the summer … my trip to Italy seems like a million years ago.  Being busy at work makes the time fly by.  I've barely had time to catch up on the too-many food magazines I subscribe to.  But I did find time to read Bon Appetit, where I saw a version of this delicious soup.  Since the end of summer means it will soon be too late to get fresh, sweet corn at the market, I got to working on this recipe.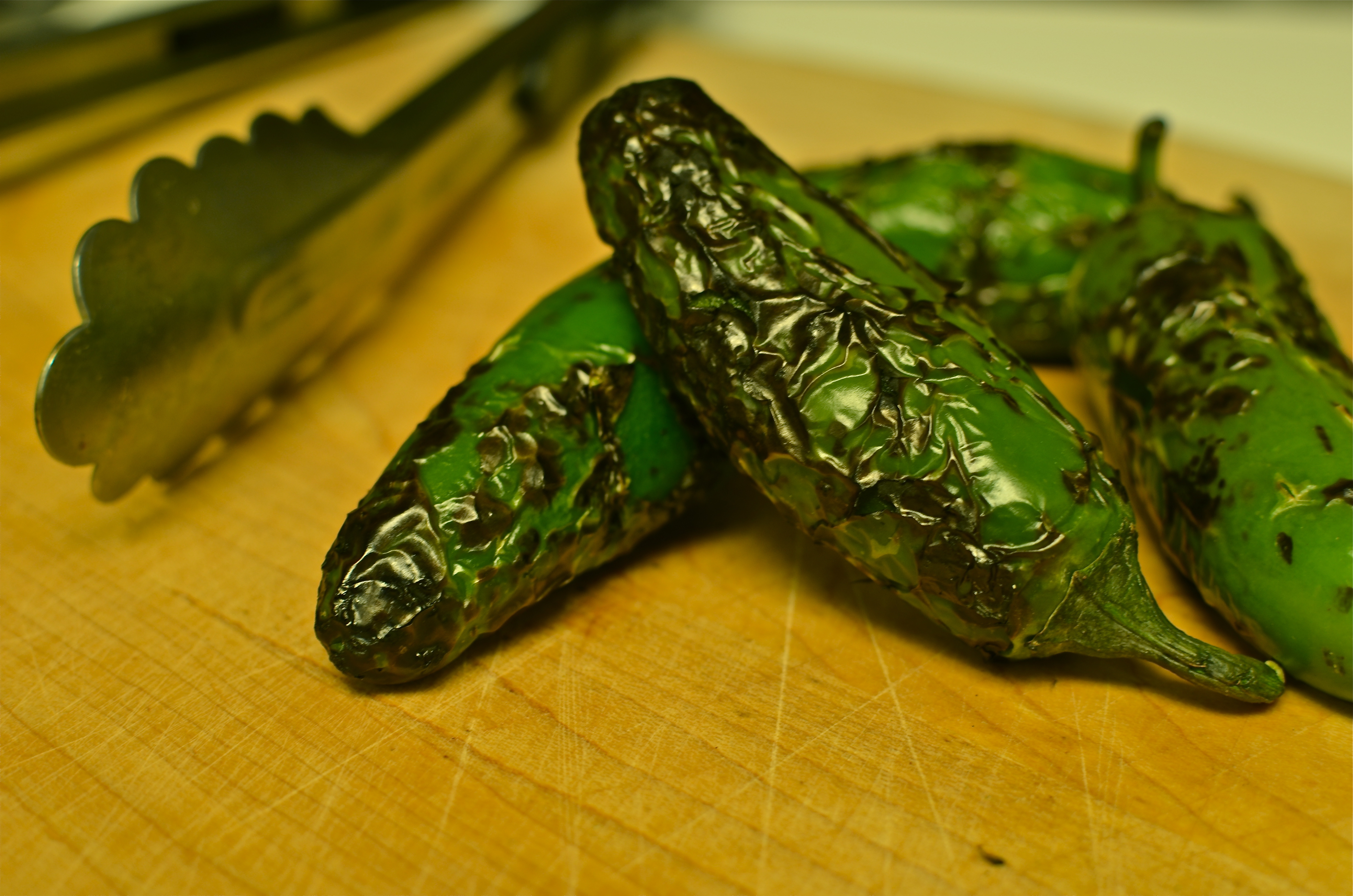 I have to say, I really enjoyed this soup.  On one hand, it's been hot as heck in New York City (and humid … ugh).  Soup didn't seem like the best idea at first, but it is filled to the brim with sweet, fresh corn kernels cut off the cob.  If there's a hot soup can taste like summer, this is definitely it.
My biggest change from the Bon Appetit recipe is their use of mint.  Their version is called Chicken and Corn Soup with Chili-Mint Salsa.  I used a little mint (they called for a full cup of fresh mint – which is a LOT of mint) as well as a little fresh basil, and every time I got a spoonful of soup with mint in it, I grimaced.  Unless you absolutely love fresh mint, I just don't think it goes well here.  The basil was a much better flavor, and feel free to add any combination of fresh herbs that you like.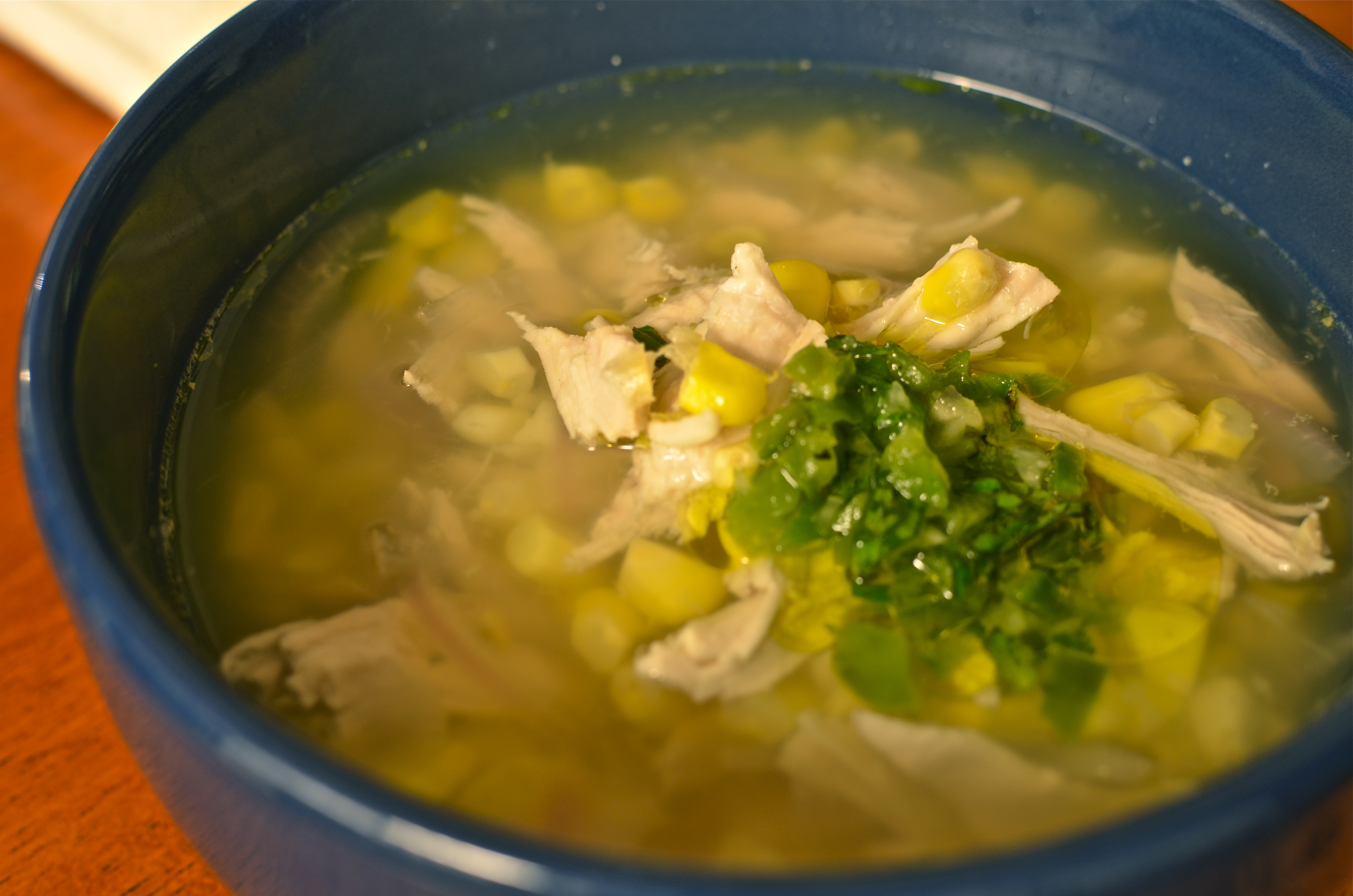 One year ago: Fresh Fruit Tart
Chicken and Corn Soup with Jalepeño-Herb Salsa
Adapted from Bon Appetit
Total time: 90 minutes
Makes 6 to 8 servings
Ingredients
Jalepeño-Herb Salsa
4 jalapeños
2 garlic cloves, coarsely chopped
1 teaspoon (or more) kosher salt
1/2 cup (loosely packed) fresh herbs you might like, such as basil, parsley, and mint, chopped – I preferred basil
3 tablespoons olive oil
Soup
1 3–4-lb. whole chicken, or ~ 2 lbs boneless, skinless chicken breasts
3 quarts low-salt chicken broth
4 ears of corn, husked, kernels cut from cobs, cobs reserved
1 medium onion, halved lengthwise
1 head of garlic, halved crosswise
1 medium carrot, chopped
1 celery stalk, chopped
5 whole black peppercorns
3 bay leaves
2 teaspoons kosher salt plus more
1 small red onion, halved and thinly sliced
Garnishes
1 large tomato, diced, lightly salted
Tortilla chips
2 limes, cut into wedges
Coarse sea salt (such as Maldon)
1.  Jalepeño-Herb Salsa.  Char chiles over a gas flame or under a broiler, turning occasionally, until blackened all over (this adds a smoky flavor and makes the skins easy to remove). Let cool, then using a small knife, scrape skin from chiles; discard. Coarsely chop chiles.  For a milder salsa, discard seeds.
Make a paste by mincing garlic and 1 teaspoon salt on a work surface, scraping with the side of knife occasionally.  Add jalapeños and finely chop, then add herbs of your choice (for me, basil) and chop.  Transfer to a bowl and stir in oil.  Season with more salt, if necessary.  Salsa can be made 1 day ahead. Cover; chill, and return to room temperature before using.

2.  Soup.  Whether you are using a whole chicken or just chicken breasts (I did the latter), place chicken and broth in a large heavy pot and add water just to cover chicken.  Bring to a simmer over high heat, skimming the surface occasionally (foam can add bitter flavors to soup; discard it as you skim).  Reduce heat to medium-low; simmer, continuing to skim surface occasionally, for 5 minutes. Add corn cobs, halved onion, garlic, carrot, celery, peppercorns, bay leaves, and 2 tsp. salt. Reduce heat to low and simmer until breast meat is just cooked through, 15–20 minutes.  Transfer chicken to a cutting board; let cool slightly.   If you're using the whole chicken, cut off breast meat; set aside (cooking breast meat longer will make it tough).  Return chicken to pot.  Simmer over low heat until legs and thighs are cooked through, about 20 minutes longer.  Remove pot from heat. Transfer chicken to a platter; let cool slightly.
Strain broth through a fine-mesh sieve into another large pot; discard solids.  Shred all chicken meat, discarding skin and bones.  Bring strained broth to a simmer.  Add corn kernels and cook until heated through, about 3 minutes.  Add red onion; cook until crisp-tender, about 5 minutes. Add chicken; simmer, stirring occasionally, until heated through, about 5 minutes.
3.  Divide soup among warm bowls.  Garnish with tomato and tortilla chips, if desired.  Squeeze lime wedges over.  Serve, passing jalapeño-herb salsa and sea salt alongside.