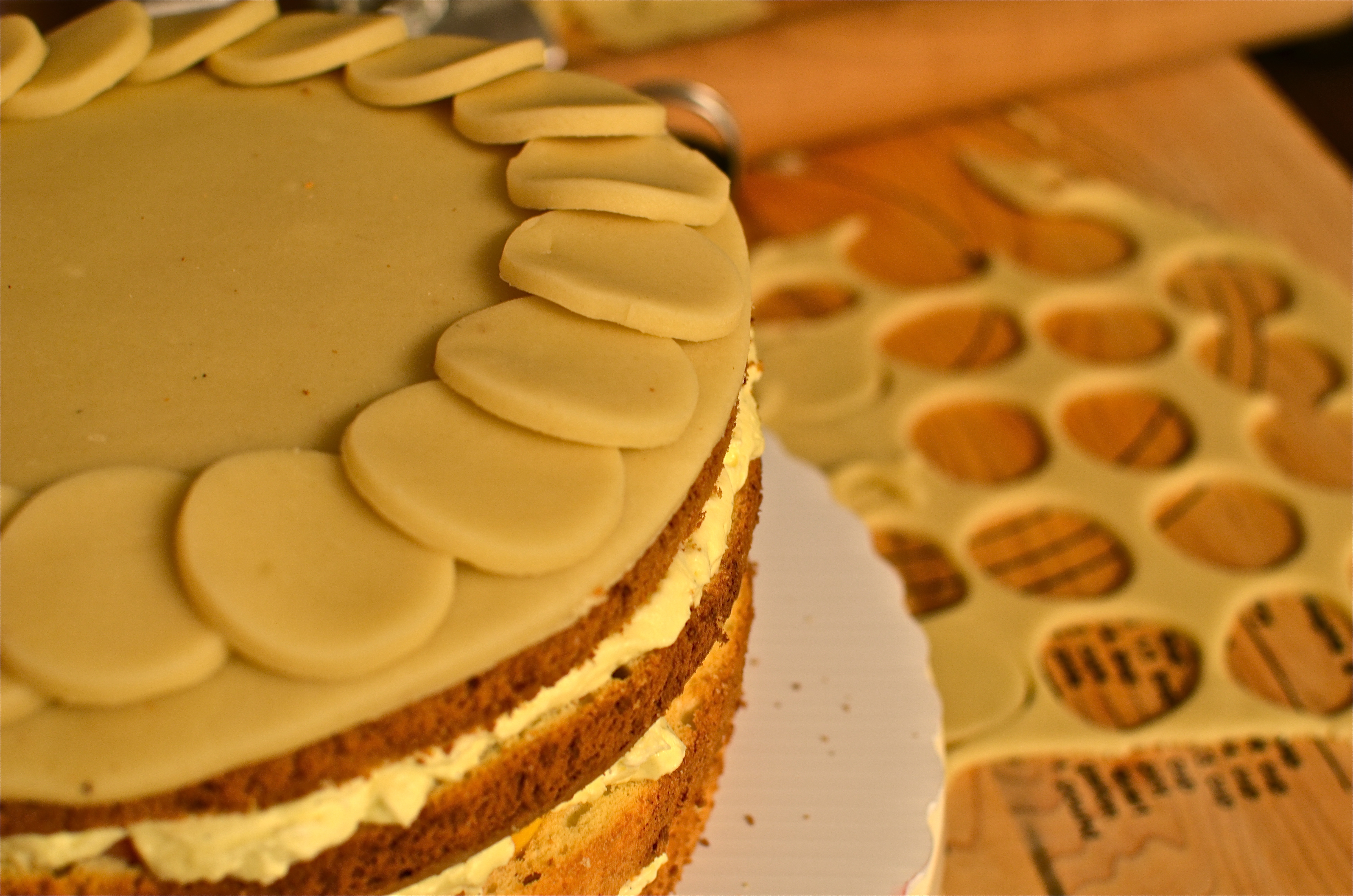 I have two exciting things to share with you today.
(1) This cake, which can be best described as a better – nay, the best – take on shortcake.  I made it for my own birthday, after being inspired by a very similar cake made by Gesine Bullock-Prado.  What makes it so great?  Chiffon cake layers, with lightened pastry cream and peaches and strawberries between the layers, topped with a thin layer of marzipan.  I struggled with what to name it, since it's kind of like shortcake, only so much more.
Chiffon cake is cake made with oil, not butter, and is much lighter than its butter-based counterpart.  It's incredibly moist, light, and airy.  Chiffon cake is similar to angel food cakes as it gets its extra fluffy texture by beating egg whites until stiff, and folding them into the cake batter before baking.  And the cake can be flavored with whatever you want – here, I used almond oil instead of vegetable oil, and added a little almond extract as well.  Paired with a vanilla-y pastry cream, fresh fruit, and some marzipan, the cake is to die for.  It was the perfect birthday cake for me!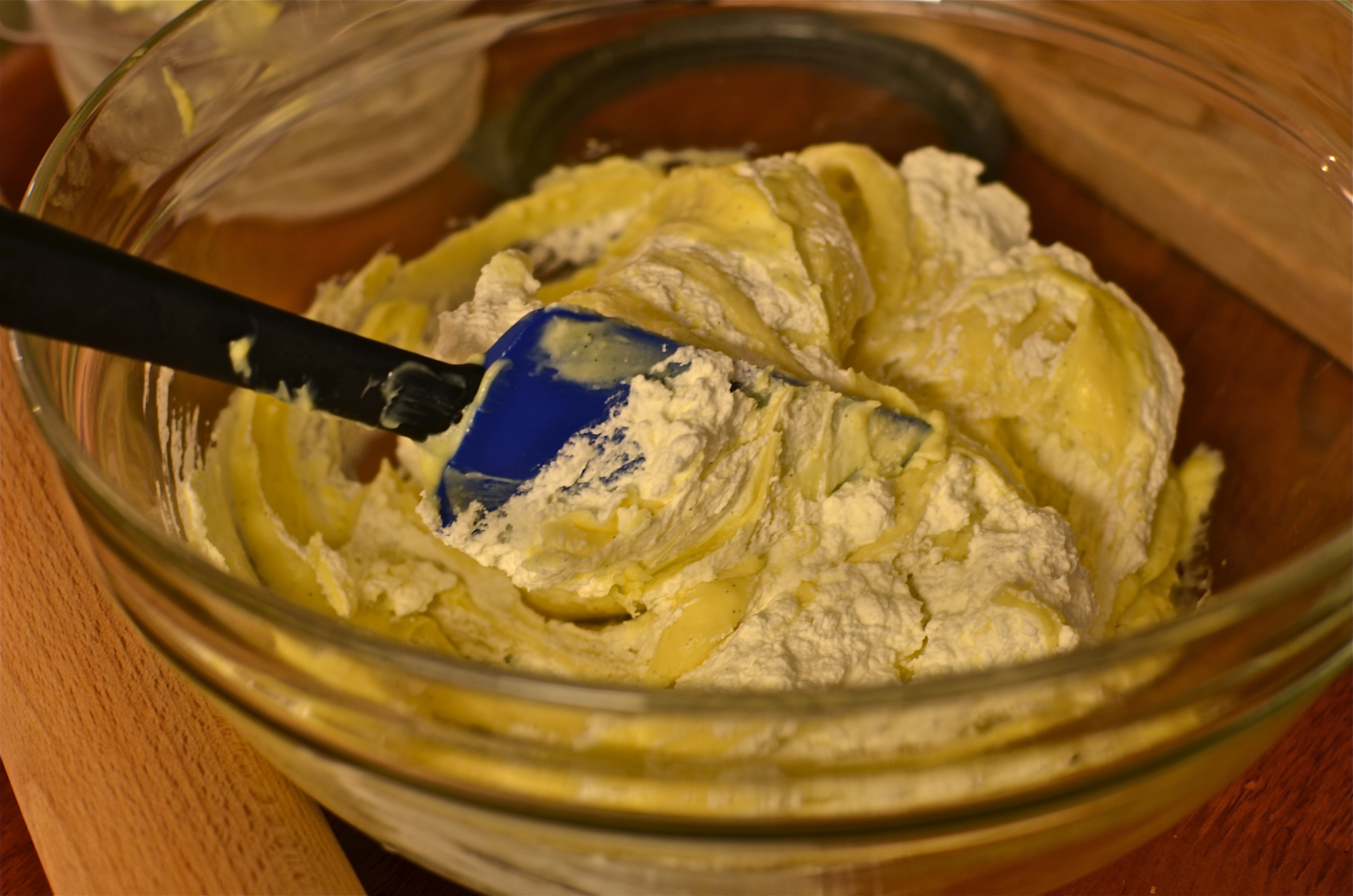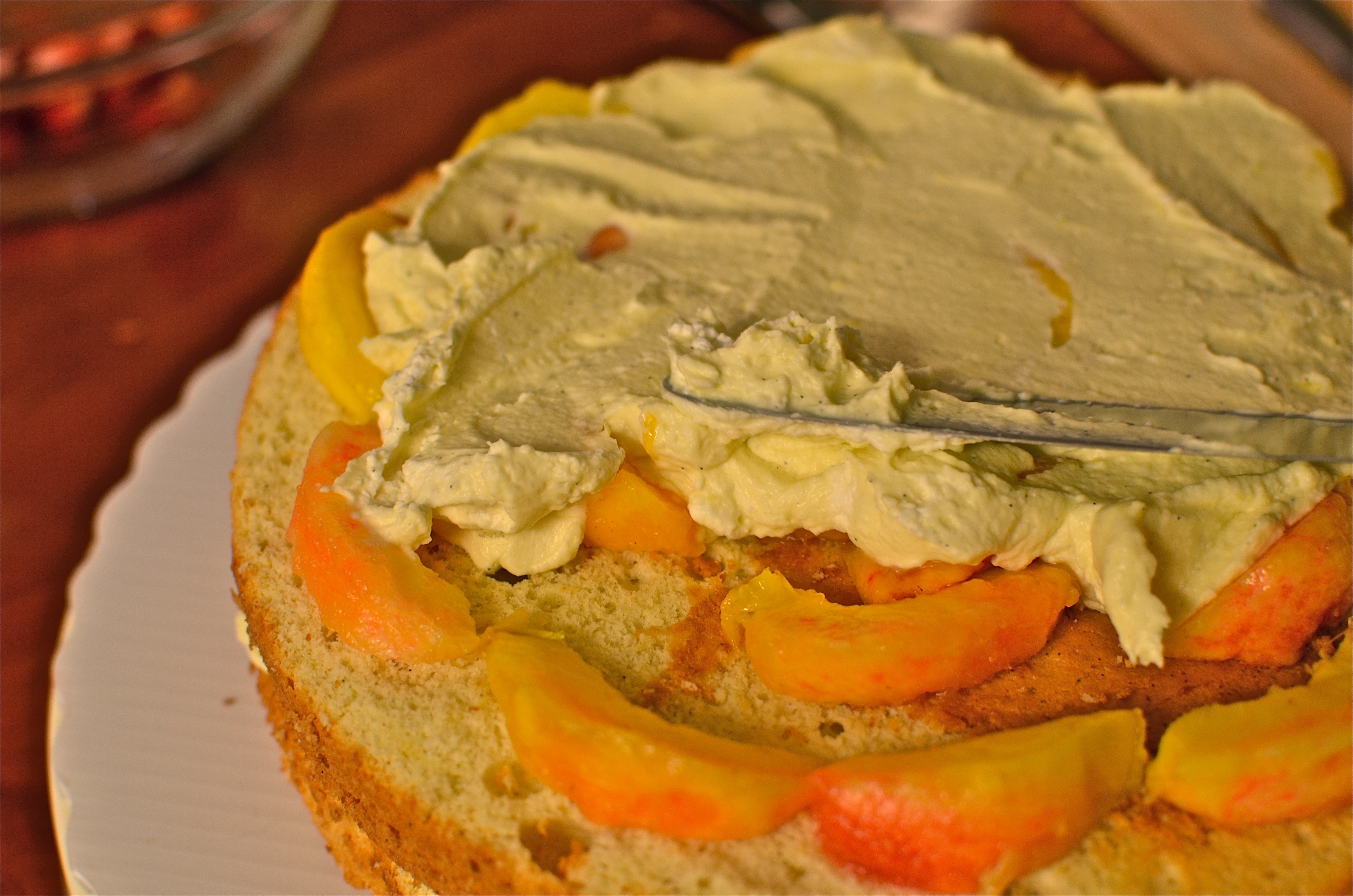 (2) I'm off to Italy for 11 days.  I will no doubt come back with lots of pictures, tales of gluttony, and new inspirations for my adventures in the kitchen.  Ciao!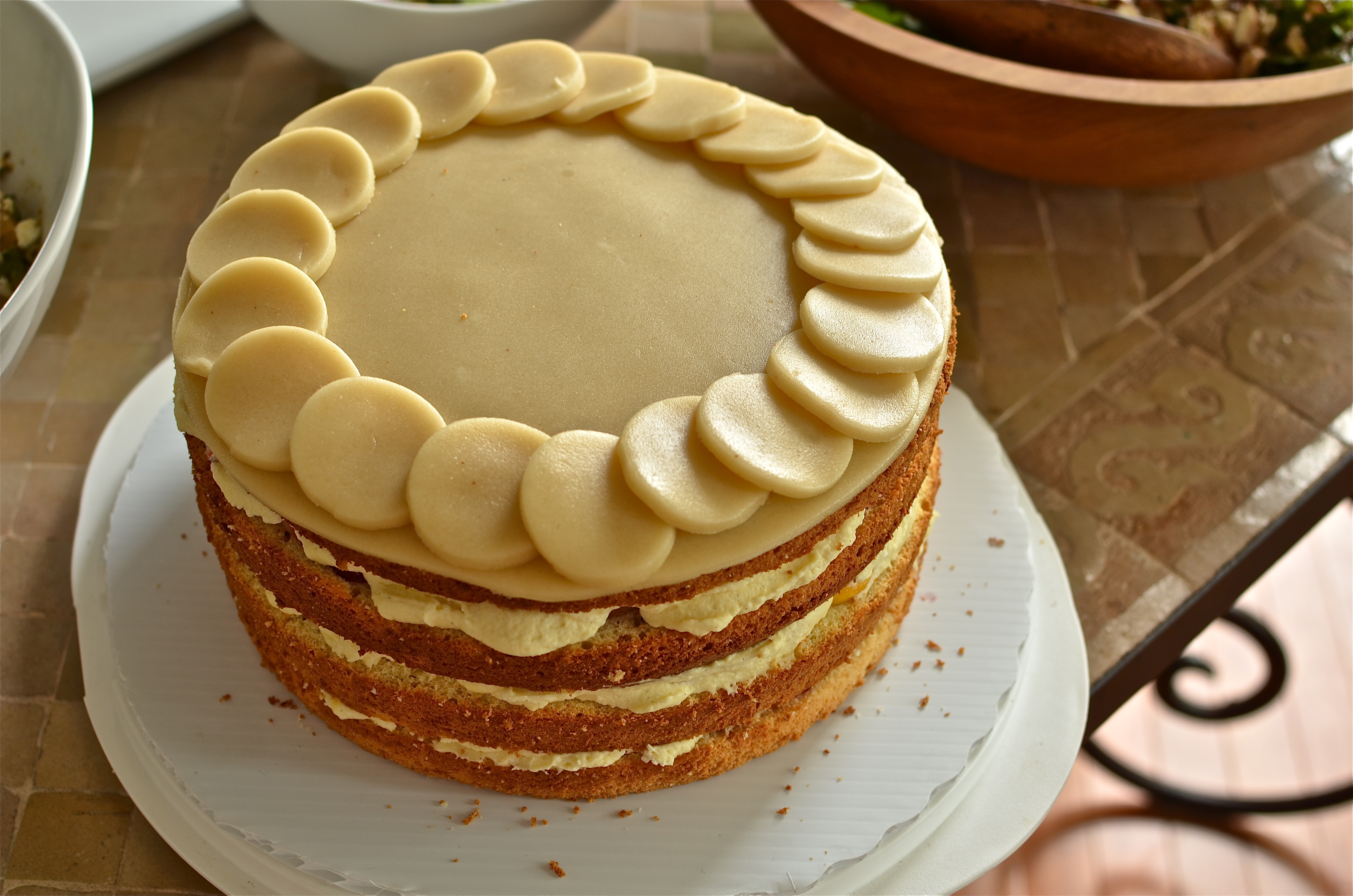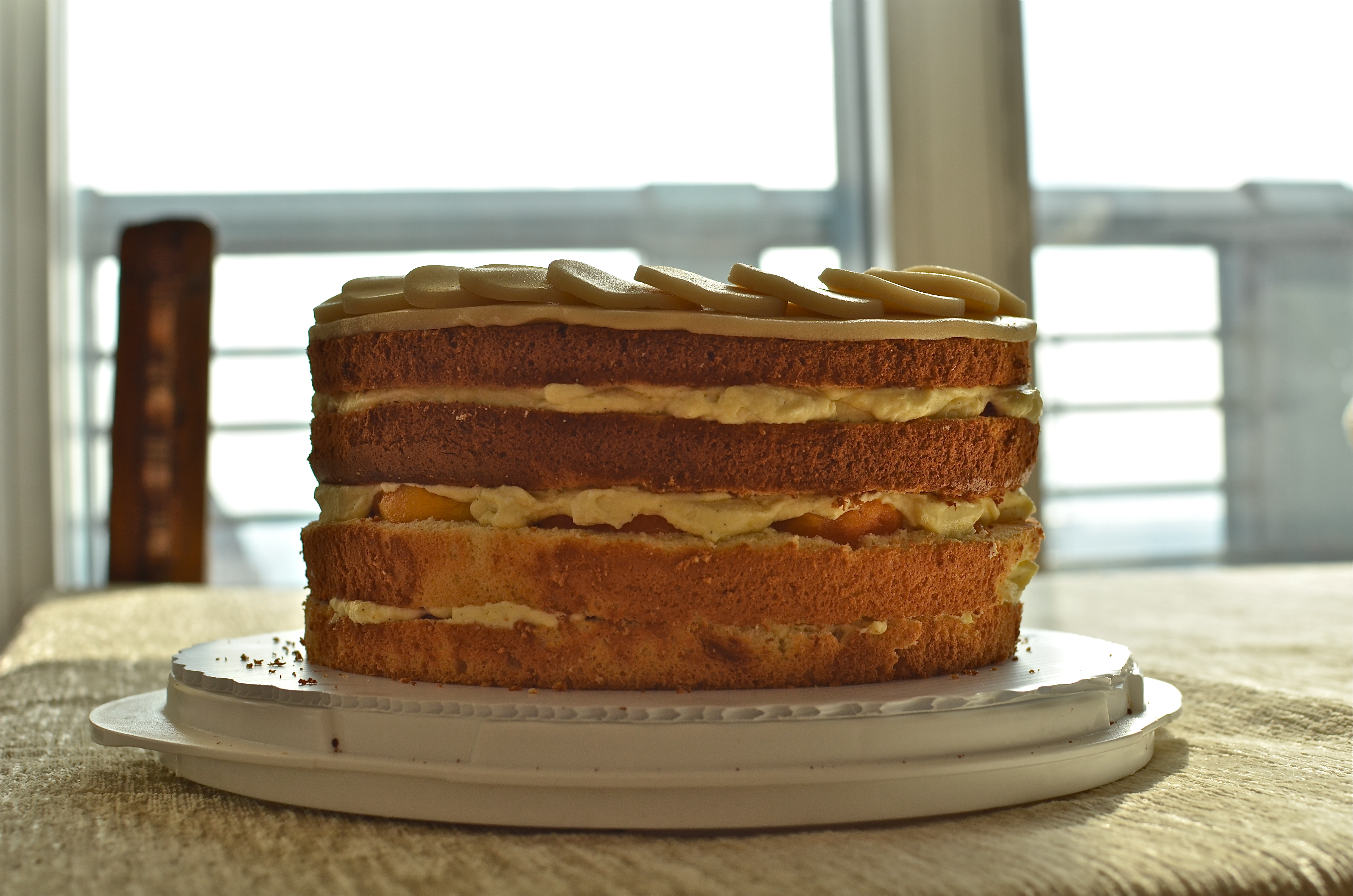 One year ago: Roasted Corn with Manchego + Lime
Shortcake Cake (or, My Favorite Birthday Cake)
Adapted from several sources
Makes 1 four-layer, 9-inch cake
Ingredients
Chiffon Cake (recipe adapted from King Arthur Flour)
7 eggs, separated*
1/2 teaspoon cream of tartar or 1 teaspoon lemon juice
1 1/2 cups sugar, divided
2 cups all-purpose flour
2 1/2 teaspoons baking powder
3/4 teaspoon salt
1/2 cup vegetable oil or flavored oil – I used almond oil
3/4 cup milk (whole or skim)
2 teaspoons vanilla
1 teaspoon almond extract
*Separate the eggs carefully; even a small amount of yolk in the whites will prevent them from beating up properly.
Filling:
1 Recipe Pastry Cream
1 pint heavy cream
Sliced strawberries, peaches, and/or other fruit
Topping:
1 to 2 cans or tubes marzipan (I like the Love 'n Bake brand, which is soft and easy to roll out) – if you just want enough to roll one layer of marzipan for the top, 1 can is sufficient; if you want to put other decorations, like the smaller circles in my pictures above, buy 2 cans.
1.  Make the pastry cream, cover it with plastic wrap as instructed, and let chill in the fridge.
2.  Make the cake: To prep, spray the bottoms of two 9-inch cake pans with nonstick spray – spray only the bottoms, not the sides, of the pans.  Preheat the oven to 325 degrees.
In a large mixing bowl, beat the egg whites with the cream of tartar or lemon juice until foamy. Gradually add 1/2 cup of the sugar and continue beating until stiff and glossy. Set aside.
In another bowl, whisk together the remaining 1 cup sugar with the flour, baking powder and salt. In a third bowl of a standing mixer (I put the whipped egg whites in a separate bowl, washed that bowl, then started over here), beat the oil, milk, egg yolks and flavorings until pale yellow.  Add the dry ingredients and beat until well blended, about 2 minutes at medium speed using a stand mixer, or longer with a hand mixer.
Gently fold in the whipped egg whites, using a wire whip or cake blender. Be sure to scrape the bottom of the bowl so the batter is well-blended. Pour the batter into two 9-inch round cake pans (I obviously did the latter). Bake the cake in a preheated 325°F oven.  If you're using two 9-inch cake pans, bake for about 38-40 minutes at 325°F, then 10 minutes more at 350°F. ** I baked mine for 38 minutes and they were done – I did not up the temperature at that point, I just pulled them out.  Don't open the oven during the first 30 minutes of baking; the cake will rise high above the pan, then settle back almost even. It's done when a finger gently pressed in the middle doesn't leave a print, and you can hear a crackling sound when you press the cake.  Cool the cake upside down for 1/2 hour before removing it from the pan.  If you've used a tube pan, set it atop a thin-necked bottle, threading the bottle neck through the hole in the tube.
3.  Put the cake together.  Make the whipped cream – Place pint cold cream and 2 tablespoons sugar  in a standing mixer with a whisk attachment.  Whip on high until soft peaks form.
4.  Remove pastry cream from fridge, remove plastic, and stir it to loosen it up.  Dump the whipped cream into a bowl with the pastry cream, and using a spatula, fold the two together.
5.  Take each chiffon cake layer and slice in half lengthwise, trying to be as even as you can.  You'll now have 4 cake layers.  Place one layer on a cake plate or cardboard cake round.  Add 1/3 of the pastry cream mixture, then add a layer of sliced fruit.  Place second layer of cake on top; add 1/3 pastry cream mixture and layer with fruit.  Repeat with the third layer.
6.  Before adding the fourth layer on top, roll out the marzipan to fit the layer.  Place marzipan on a cutting board, countertop, or the like, and with a rolling pin, roll into a 9-inch circle.  To make it easier, roll it out to slightly bigger, and use a cake pan to guide you in cutting a perfectly-fitting circle.  Place the circle of marzipan on top of the final layer of cake, and place that layer on top of the other three.  If you want to add other marzipan decorations like the circles, roll out some more marzipan, and using a cookie cutter, biscuit cutter, or simply a glass, cut out rounds and place on top of the cake.
Place cake in the fridge for a few hours to set.  The cake is best the day its made, but refrigerates well.