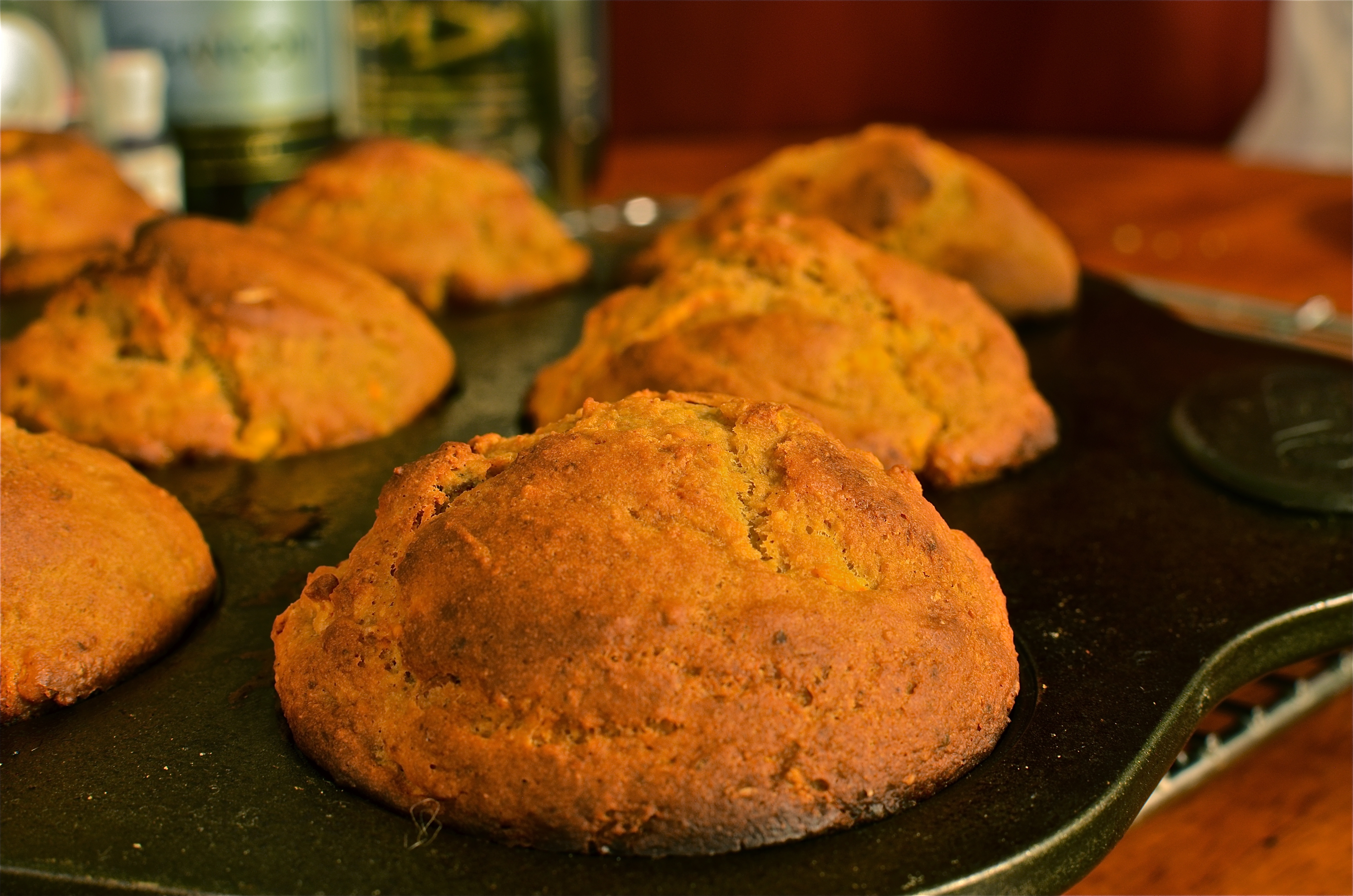 Do you all need a break from all the desserts I've been posting lately?  Well, I just made two more for a party this weekend … but won't tell you about them for a little while longer.  Instead, I'll tell you about a wholesome breakfast I made recently.  I got the idea for these very healthy muffins from another blog, but made so many changes to the recipe I can comfortably say it's my own.
An acquaintance of mine was recently diagnosed with cancer, and while she has always loved baking and all the wonderful foods that come as a result of such a distinguished hobby, she can no longer eat sugar.  Fruit sugars and honey are okay, but not refined sugar.  So I thought about a good, sugar-free bread to make her, and came up with these muffins.  I'm happy to say they came out pretty well!
These are the kind of muffins you make when you want to feel really good about what you're eating for breakfast.  All whole wheat flour, a minimal amount of oil and sugar – they are low-fat, high fiber, whole grain goodness.  Carrots and figs lend a lot of natural fruit sweetness, so only a small amount of sweetener is needed.  The muffins can be made with brown sugar or honey – I used honey, but I probably would have preferred brown sugar (if you are lucky enough to be able to eat sugar!).  They aren't as fun as my Brown Sugar Carrot Bread, but they are still good, and as healthy a breakfast as you can get.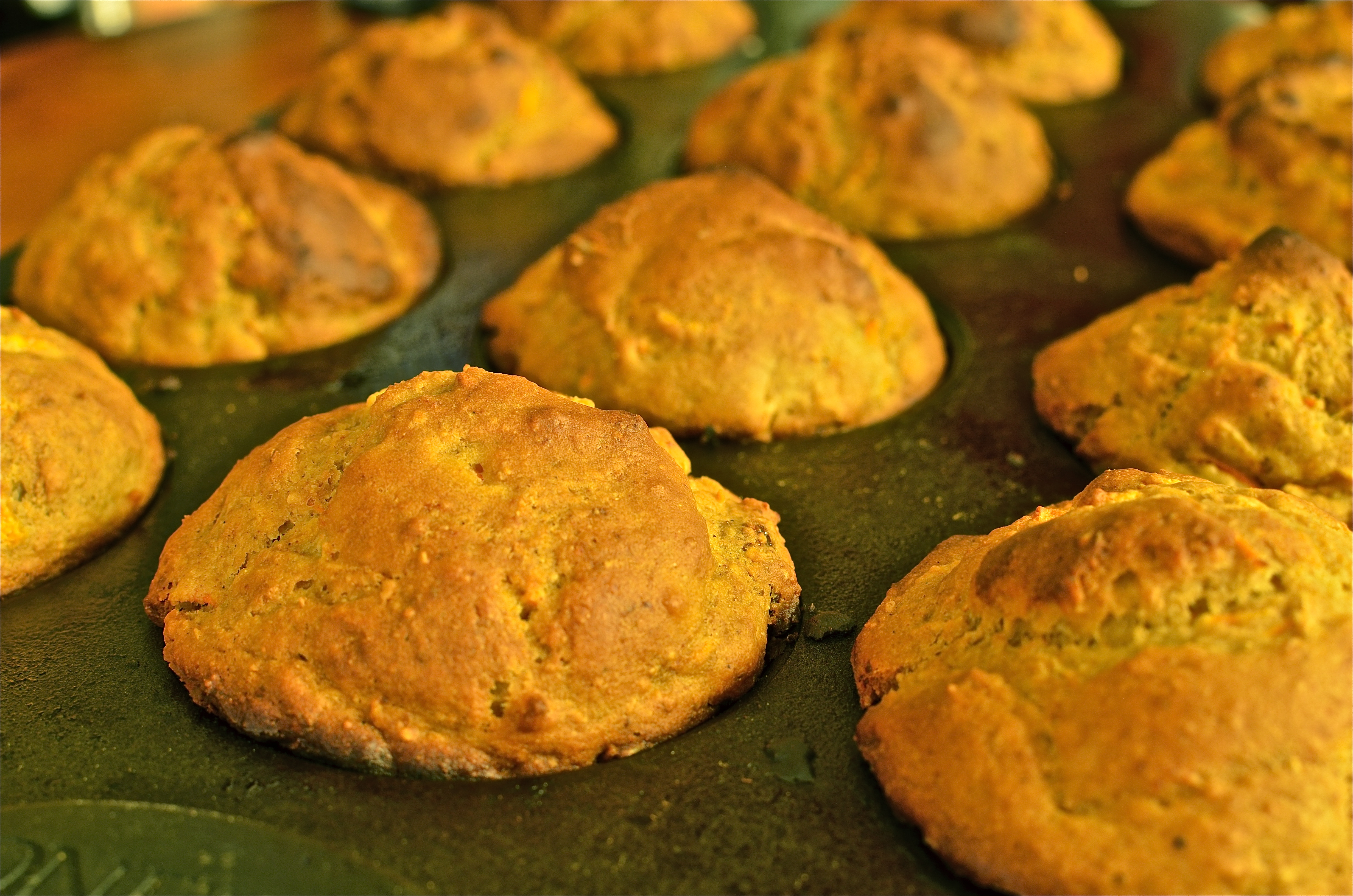 One year ago: Chewy Chocolate Chip Cookies
Carrot Fig Muffins
Recipe by Pâte à Chew
Makes 12 muffins
Total time: 45 minutes
Ingredients
1 3/4 cups whole wheat flour
1/4 cup corn starch
1/3 cup wheat germ
1/3 cup almond flour (optional)
1 1/2 teaspoons baking powder
1/2 teaspoon baking soda
1 1/2 teaspoons cinnamon
1 teaspoon ground ginger
1/3 cup almond flour
1 egg, room temperature
1 1/4 cups buttermilk, milk, or unsweetened almond milk
1/2 cup brown sugar (I used 1/2 honey instead, but otherwise I'd recommend brown sugar)
3 tablespoons vegetable or canola oil
1 1/2 cups shredded carrots (about 4-5 medium carrots)
5 to 6 ounces dried Calimyrna or Turkish figs, chopped (you can put as many or as few figs in as you like)
1. Preheat the oven to 350 degrees F. Coat a 12 cup muffin tin with a baking spray or line with paper liners.
2. Sift whole wheat flour and corn starch together. Mix with wheat germ, baking powder, baking soda, almond flour (if using), cinnamon, and ginger in a large bowl. In a separate bowl, whisk together egg, milk, sugar, and oil. Add the wet ingredients tot he dry until just combined – do not overmix, otherwise you will end up with tough muffins.
3. Gently stir the carrots and figs into the batter until well-distributed. Fill each muffin cup with batter until 3/4 cup full. Bake at 350 for 20 to 25 minutes until slightly browned and a tester inserted into the center of the muffin comes out clean. Allow to cool for 10 minutes.