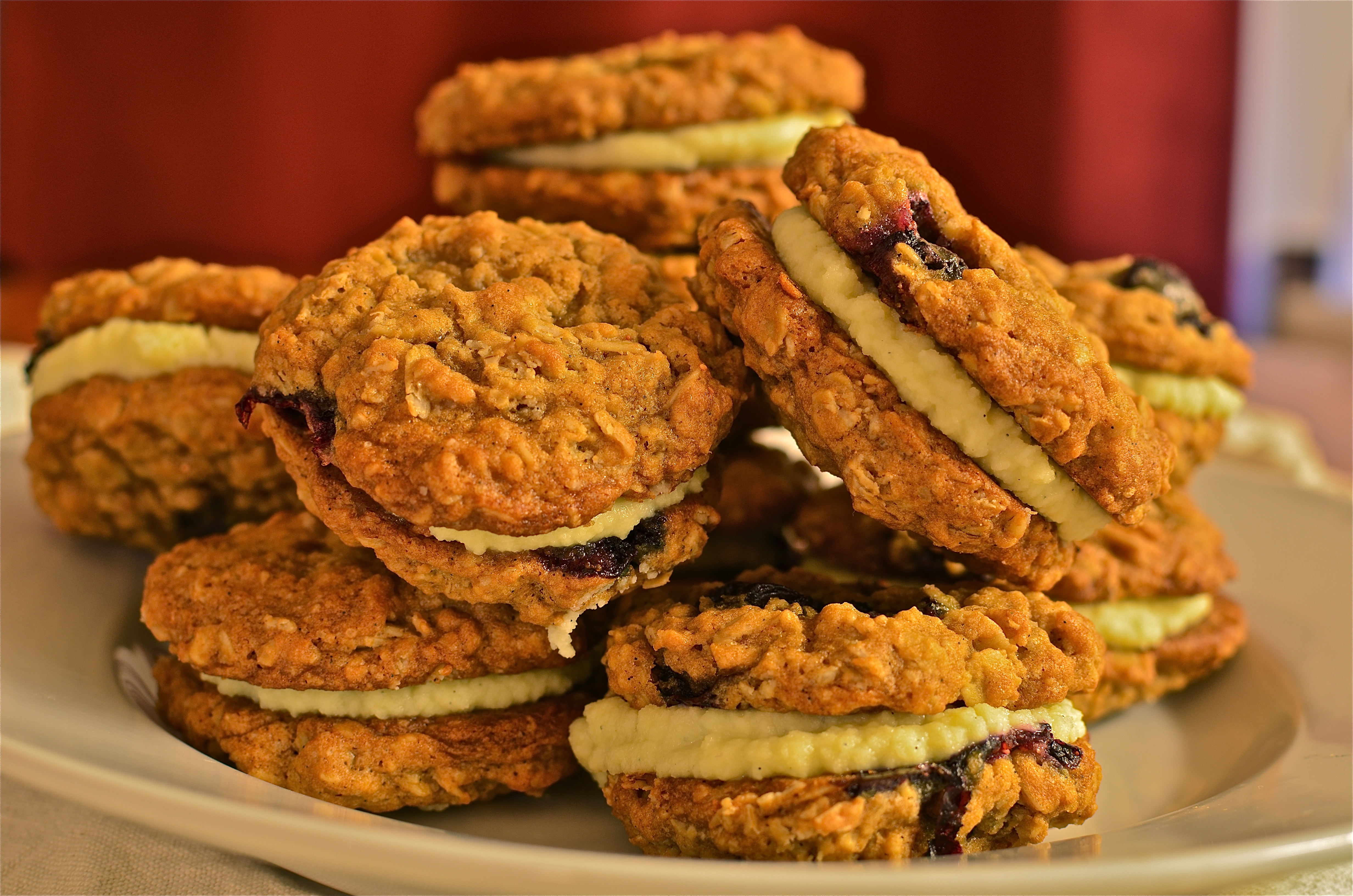 It's been a busy week in the Pâte à Chew kitchen.  I didn't go anywhere this Fourth of July.  I stuck around the city, spending the Fourth at a barbecue with friends.  I made hideously ugly yet totally delicious salted caramel brownies for the occasion.  And then I spent the rest of the week and weekend working a lot in a heavily air-conditioned environment.  I've also been furiously planning a last minute trip.  And it's a big trip.  More details to come!
With temperatures reaching 100+ degrees on the East Coast, I probably shouldn't have turned on my oven.  But I promise, I had such a good reason to!  Meghan over at Buttercream Blondie (one of my favorites!) posted a recipe last week for Blueberry Bliss Oatmeal Cream Pies, and just reading the title of the post gave rise to a fierce determination: I knew I had to make these as soon as humanly possible.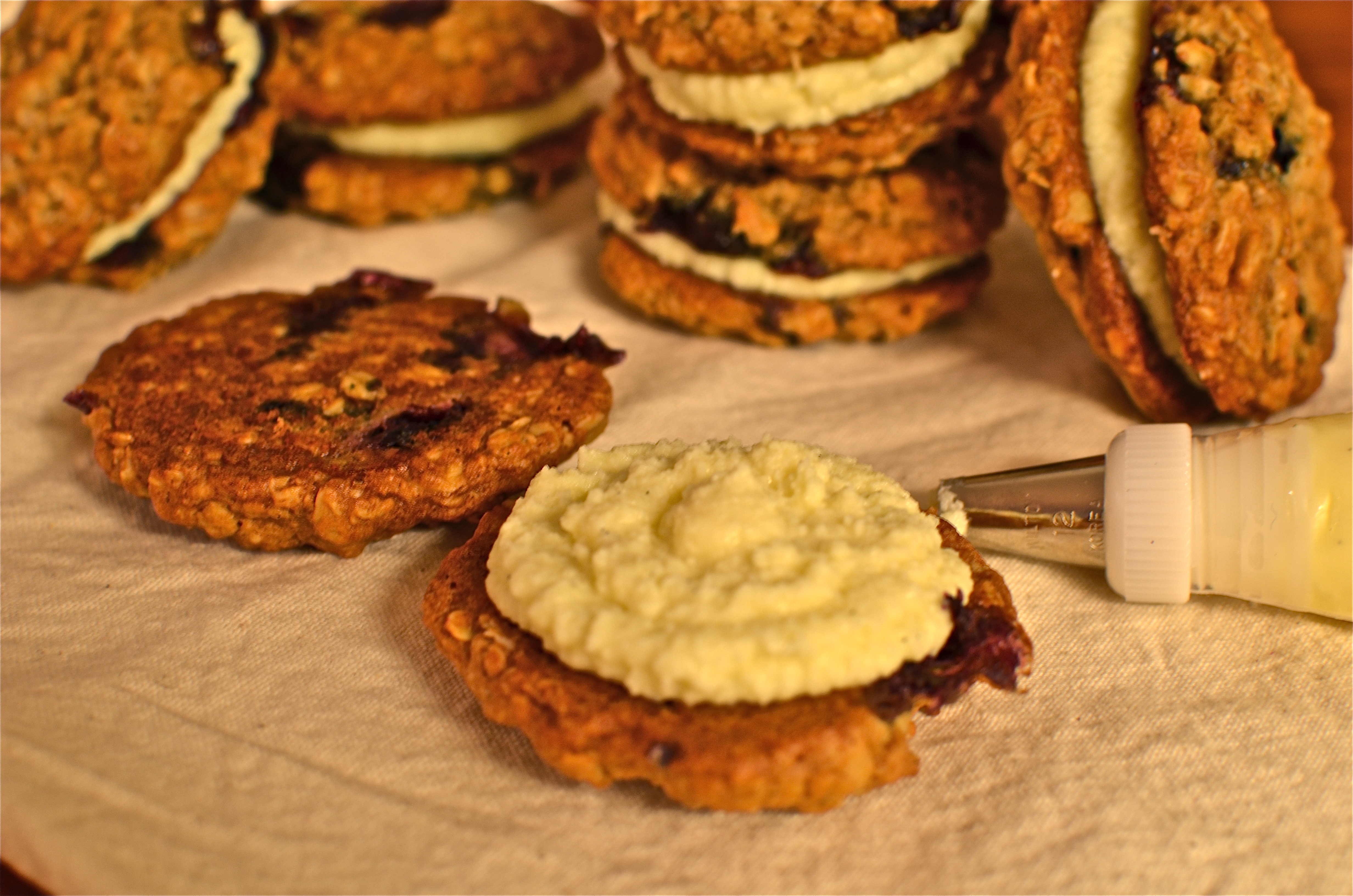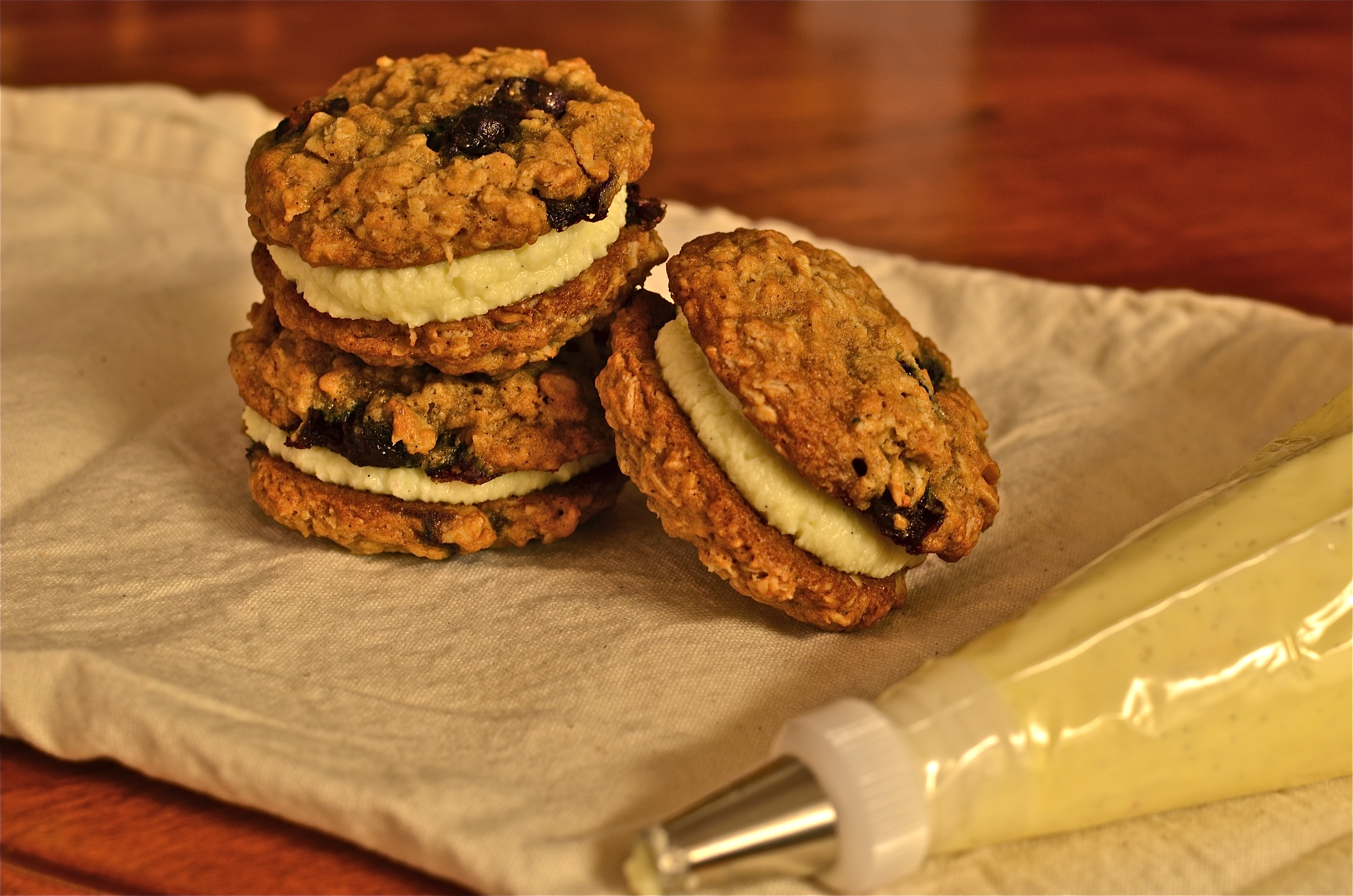 Blueberries are great in cakes and tarts, but you don't often see them in a cookie.  This recipe was a fantastic way to use blueberries in a very traditional cookie.  And trust me – they are as good as they look.  Soft, chewy oatmeal, sweet blueberries, rich and creamy filling.  Next time I might add a little cinnamon to the cookies, but maybe that's the oatmeal cookie traditionalist in me.  They are certainly delicious without cinnamon or other spices.
My only big change to the recipe – besides not making them as pretty and perfectly round as Meghan! – was the addition of melted white chocolate to the cream filling.  Blueberries and white chocolate are one of my favorite combinations, and the white chocolate added a little richness and depth to the flavor of the cream.  If you wanted to make these cookies on their own, with no filling, the adding white chocolate chunks would be a great alternative.  And I love love love using vanilla bean paste here.  If you haven't bought or used it before, it's the next best thing to using vanilla beans (and way less expensive).  It can be used interchangeably with vanilla extract.  You can actually see the beautiful little flecks of vanilla bean in the cream, which will make you very happy!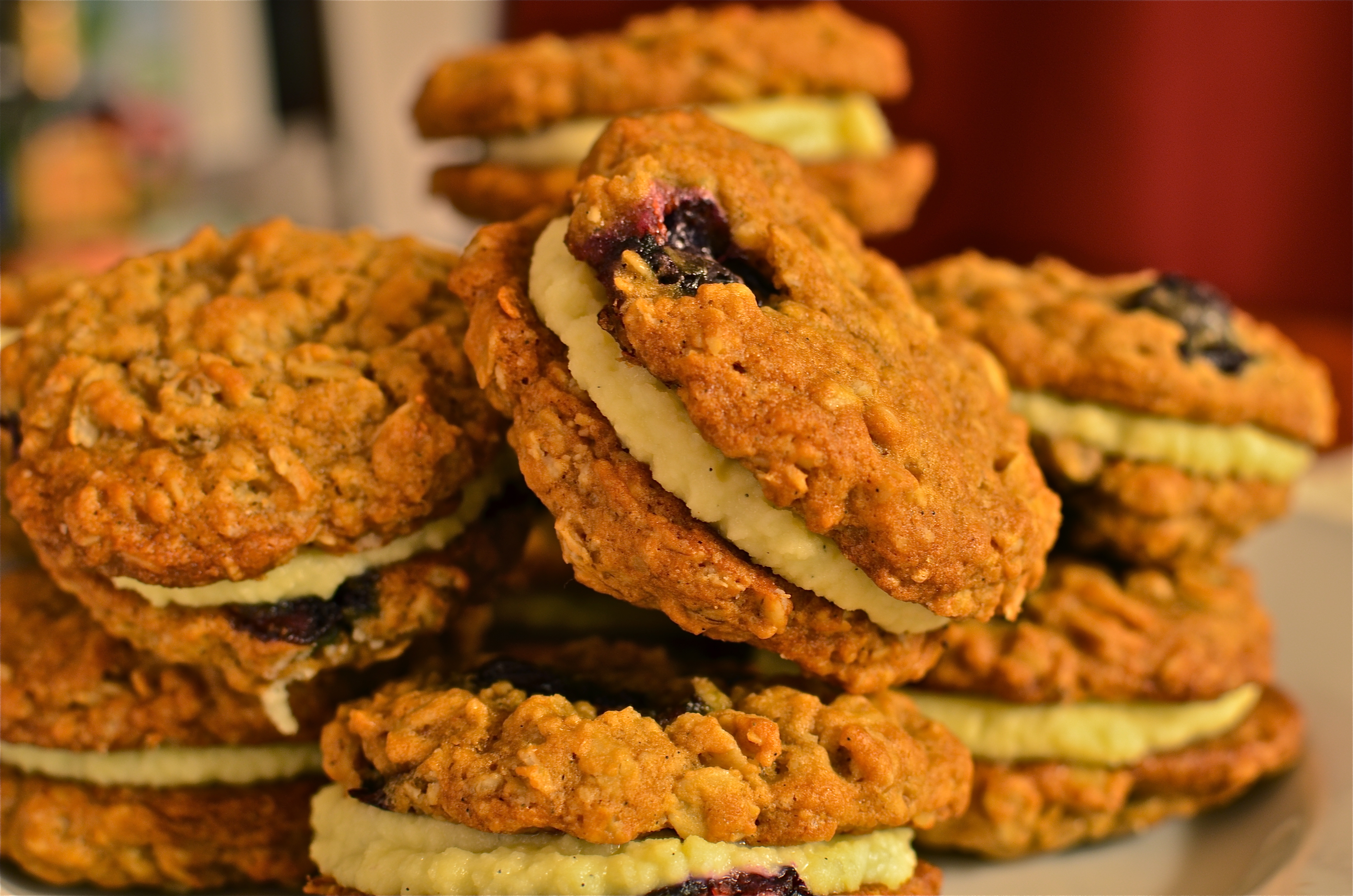 One year ago: Lemon Blueberry Layer Cake (See?!  I love blueberries!)
Blueberry Oatmeal Cream Pies with White Chocolate Mascarpone Filling
Adapted from the fabulous Buttercream Blondie
Ingredients
8 ounces unsalted butter, room temperature
1 cup light brown sugar
1/2 cup sugar
2 eggs
2 teaspoons vanilla bean paste or vanilla extract
1 1/2 cups all-purpose flour flour
1 teaspoon baking soda
1 teaspoon salt
3 cups oats
1 cup blueberries
Mascarpone Filling
8 ounces mascarpone cheese
4 ounces white chocolate, melted and cooled to room temperature*
1/2 teaspoon vanilla bean paste or vanilla bean extract
* Always make sure your white chocolate is made with cocoa butter. Check the ingredients – if the ingredients do not specifically list cocoa butter, do not buy that brand of white chocolate. Cheaper brands use gross oils as the fat component in the white chocolate, which tastes nasty and results in an oily mess when melted!
1.  Make the cookies.  In a medium bowl, mix together flour, salt, and baking soda, and set aside.  In the bowl of a standing mixer fitted with a paddle attachment, or using a hand mixer, beat the butter and sugars together on high speed until light and fluffy.  Add the eggs and vanilla, and beat until incorporated.  Gradually add the flour mixture until just incorporated, then mix in the oats.  Gently mix in the blueberries, being careful not to break them up!   Wrap cookie dough in plastic wrap & refrigerate at least 3 hours, or overnight.  I refrigerated overnight.
2.  Preheat the oven to 325 degrees F.  Scoop the cookies onto a baking sheet lined with parchment or a silpat.  I used a one ounce disher (a #30 to be exact).  Bake 13-15 minutes, rotating the sheets halfway through baking.
3.  Make the mascarpone white chocolate filling.  Let mascarpone sit out for a few minutes so if softens, just enough so you can stir it.  Stir it a bit to loosen it up.  Pour in melted white chocolate and add the vanilla bean paste.  Stir the three ingredients together until smooth and well-combined.  Taste to make sure it tastes good.  Taste again if you need to.  I promise, no one is looking.
4.  Assemble.  Fill cookies with filling and refrigerate.  You can use a piping bag to fill them, but you can also just use a spoon.