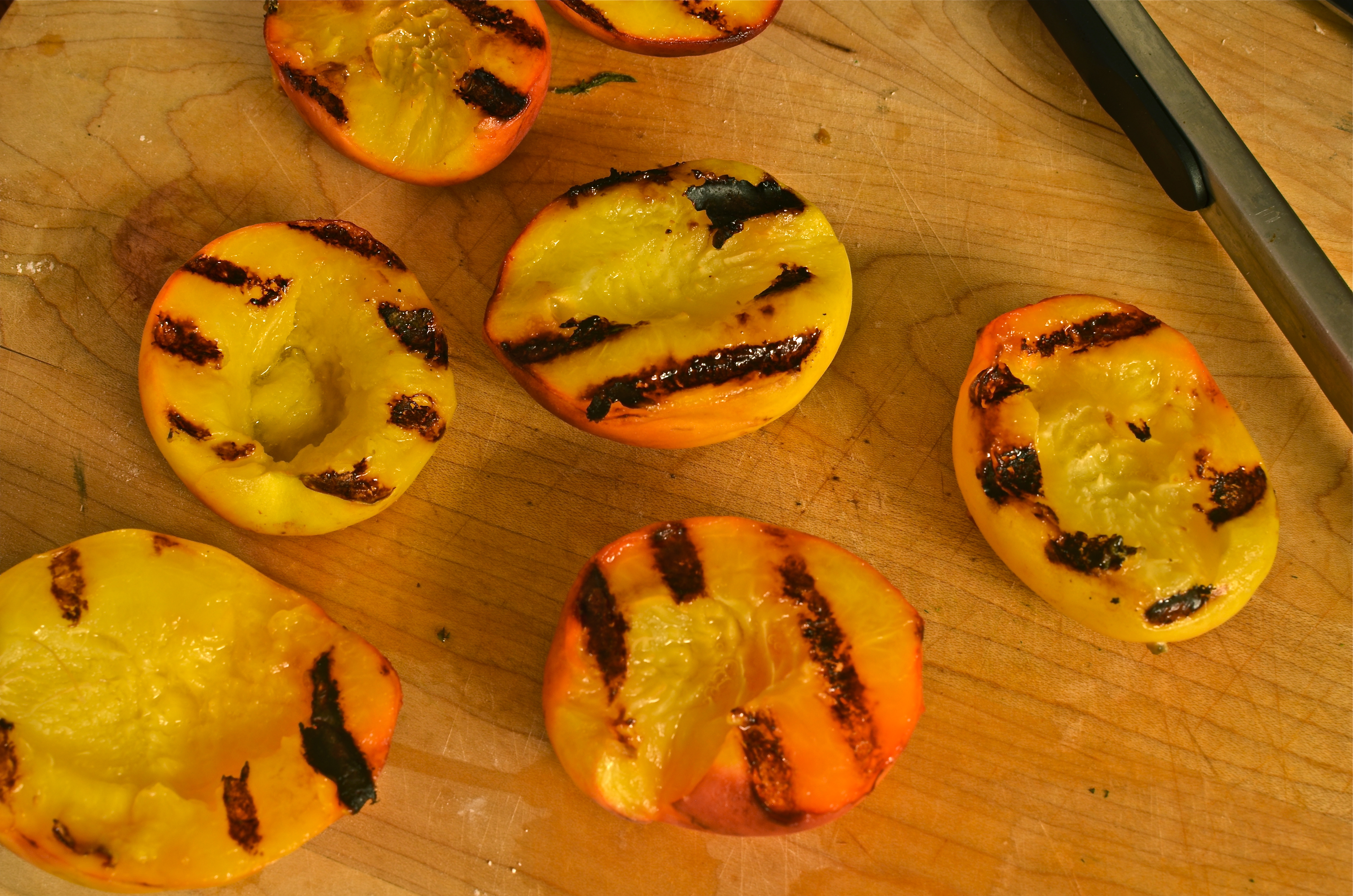 It's finally starting to feel like summer here in New York City.  The cool, seemingly endless rainy weather has given way to warmer temperatures and plenty of sunshine.  And you know what that means – grilling season!
There is one small problem: I live in a one bedroom apartment with no outdoor area to actually put a grill.  I've solved this problem by owning this nifty electric counter-top grill, which isn't quite as great as having a real grill, but does the job and isn't that horrible imitation grill almost everyone has owned at one point in their lives.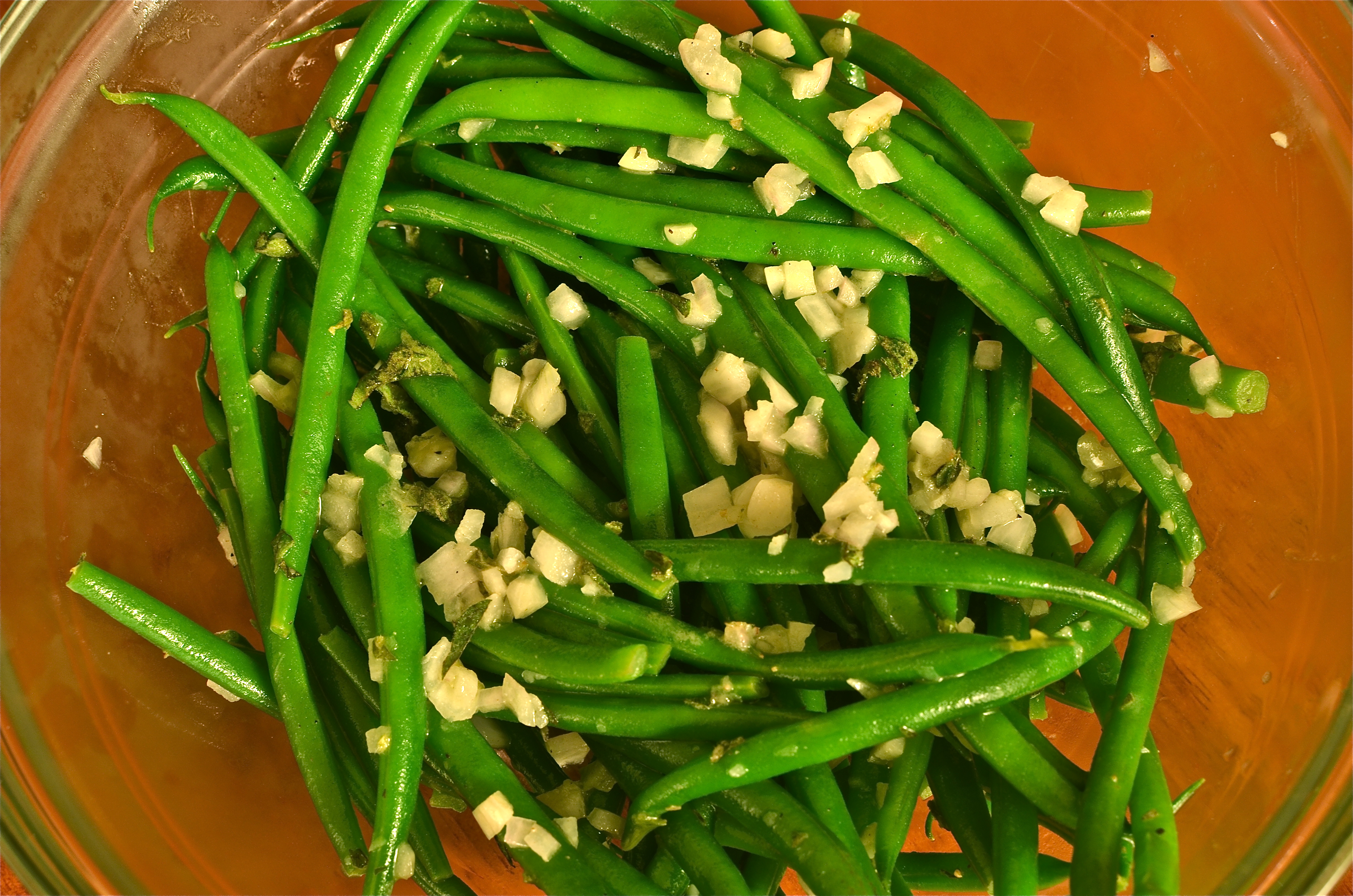 In honor of summer, I made what turned out to be a pretty fantastic recipe from this month's Bon Appetit.  Pork and peaches are perfect together, and the side salad – made with any mixture of pole beans you like – compliments the meat and fruit well.  The marinade is delicious and comes together super quick, making this meal nice and easy to make.  Added bonus?  It's light and healthy, but incredibly satisfying.  If you needed a break from all those desserts I've been writing about lately, here it is!
So fire up the grills – outdoors or indoors – and make this recipe.  You won't regret it!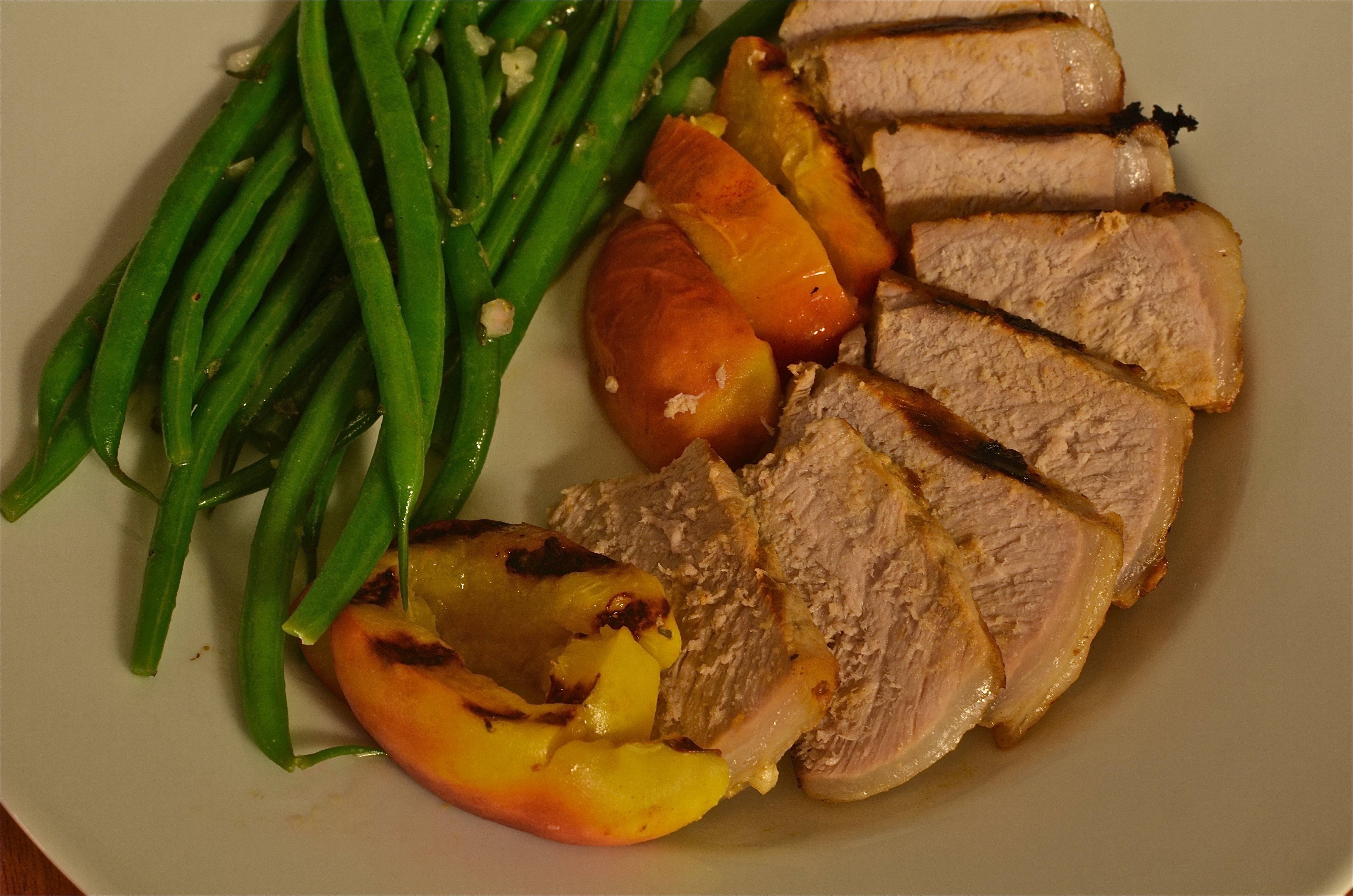 One year ago: Almond Biscotti
Grilled Pork Chops with Peaches and Pole Beans
Adapted from Bon Appetit
Serves 4
Ingredients
1/3 cup olive oil plus more for drizzling
1/3 cup vegetable oil
3 tablespoons chopped fresh oregano, divided
2 tablespoons Dijon mustard
2 tablespoons minced garlic
1/4 cup white wine vinegar
Freshly cracked black pepper
4 1 1/2-inch-thick pork chops, bone-in or boneless
4 teaspoons kosher salt plus more
8 cups (1 1/4 pounds) pole beans (such as Romano, haricots verts, yellow wax, or green beans), trimmed
1/2 cup thinly sliced shallot rings
3–4 semi-ripe peaches, halved, pitted
1.  Combine 1/3 cup olive oil and vegetable oil in a measuring cup.  Combine 2 tablespoons oregano, Dijon mustard, garlic, and vinegar in a medium bowl. Slowly whisk oil mixture into herb mixture until creamy.  Season to taste with pepper.  Transfer about 1/4 cup dressing to a small bowl; cover and chill.
2.  Season pork chops with 4 teaspoons salt, and transfer to a resealable plastic bag; pour remaining dressing over, spreading evenly to distribute.  Seal bag; chill for at least 4 hours and up to 24 hours.
3.  Cook beans in a large pot of boiling salted water, stirring occasionally, until crisp-tender, 3 to 5 minutes.  Drain; transfer to a large bowl of ice water to chill.  Once chilled, drain the beans and pat them dry with a towel.  Transfer beans, remaining 1 tablespoon oregano, and chopped shallot to a medium bowl; toss with enough reserved dressing to coat and season with salt and pepper.  These can also be made ahead and stored covered in the fridge.
4.  Build a medium fire in a charcoal grill, or heat a gas grill to medium-high.  I used my electric counter-top grill and set it to medium-high.  Remove pork chops from bag, scraping off excess dressing. Grill chops, turning occasionally on all sides, until browned and cooked through, about 20 minutes total.  Be sure to cook thick chops on the edges, too, and melt the thin strips of white fat, because they will cook more evenly.
5.  Place peaches in a medium bowl and drizzle with some olive oil and sprinkle with salt.  Toss to coat.  Grill peaches, cut side down, until they begin to soften and char, 4–6 minutes.  Transfer pork and peaches to a cutting board; let pork rest for 10 minutes.
Slice peaches. Carve bones from pork and thinly slice meat.  Serve pork and peaches with bean salad.