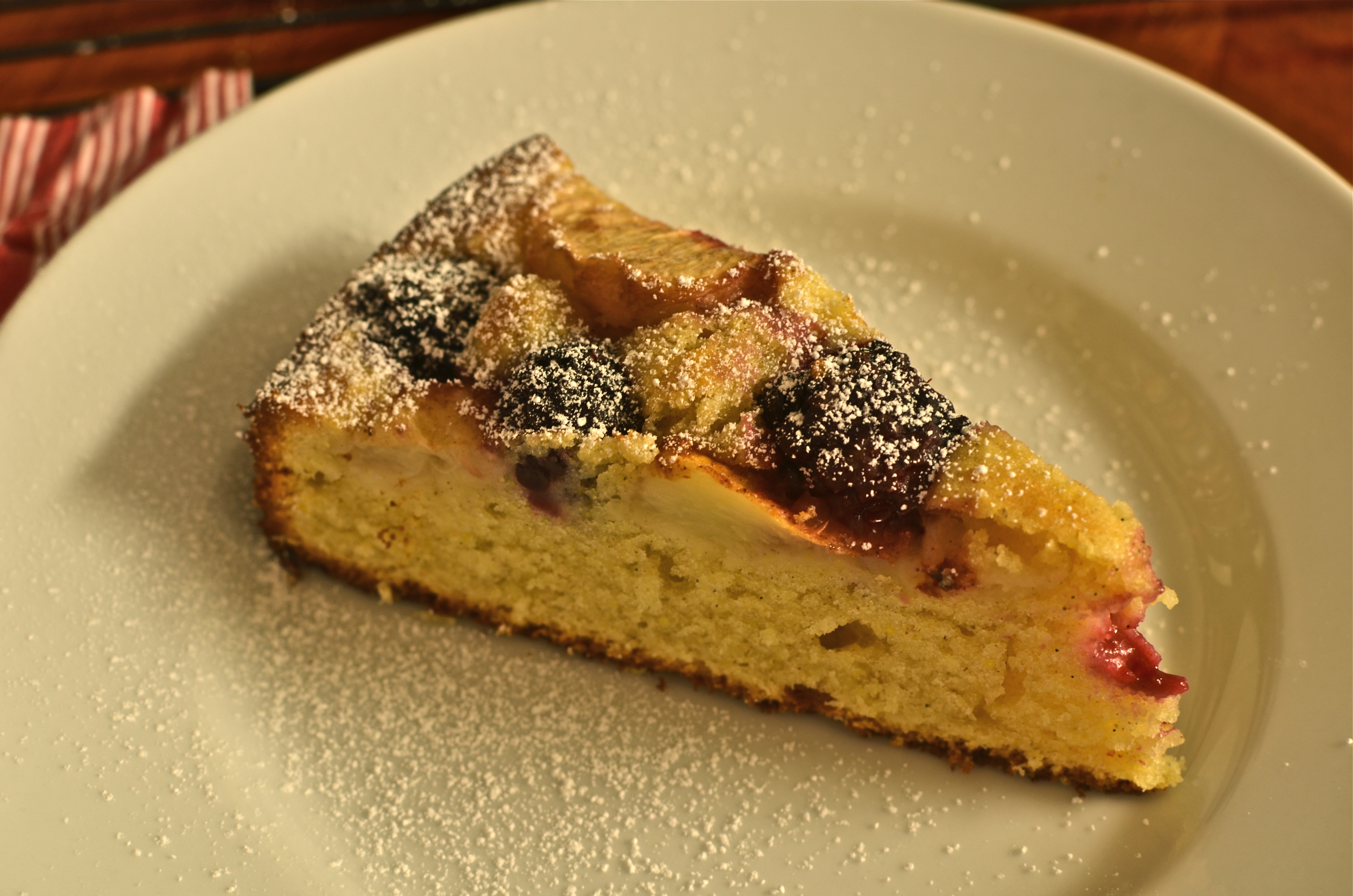 I've been trying to take advantage of the bounties of early summer as much as I can.  Blackberries, while probably my favorite berry, are a finicky fruit – when they are good, they are the most delicious berry in the world.  But when they are bad, they are sour, dry, and make you wonder why they even exist. Each year, early in the summer, I see pints of blackberries pop up at farmers markets and grocery stores, and I have the same internal debate with myself: do I risk the money on what are, more often than not, disappointing sour berries?  I usually take the risk, and many years it doesn't pay off.
Well I don't know about you, but up in the Northeast we've been getting the sweetest, juiciest blackberries this year, which have led to many a smile on my face.  So when I saw this recipe by the talented Jessica over at her lovely blog Oh Cake, I couldn't resist making it.  It looked like the perfect way to incorporate into a cake some of the several cups of blackberries in my fridge.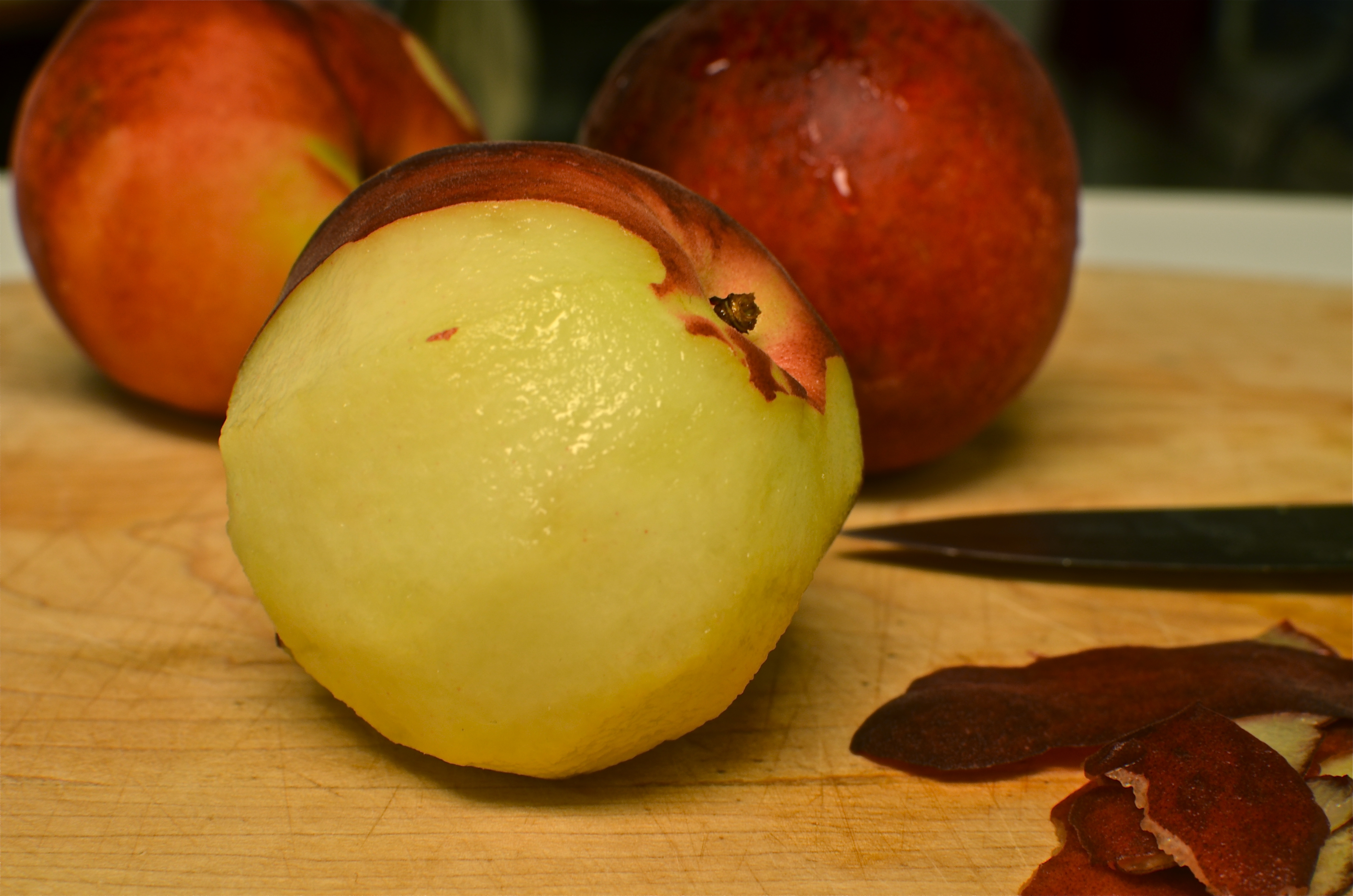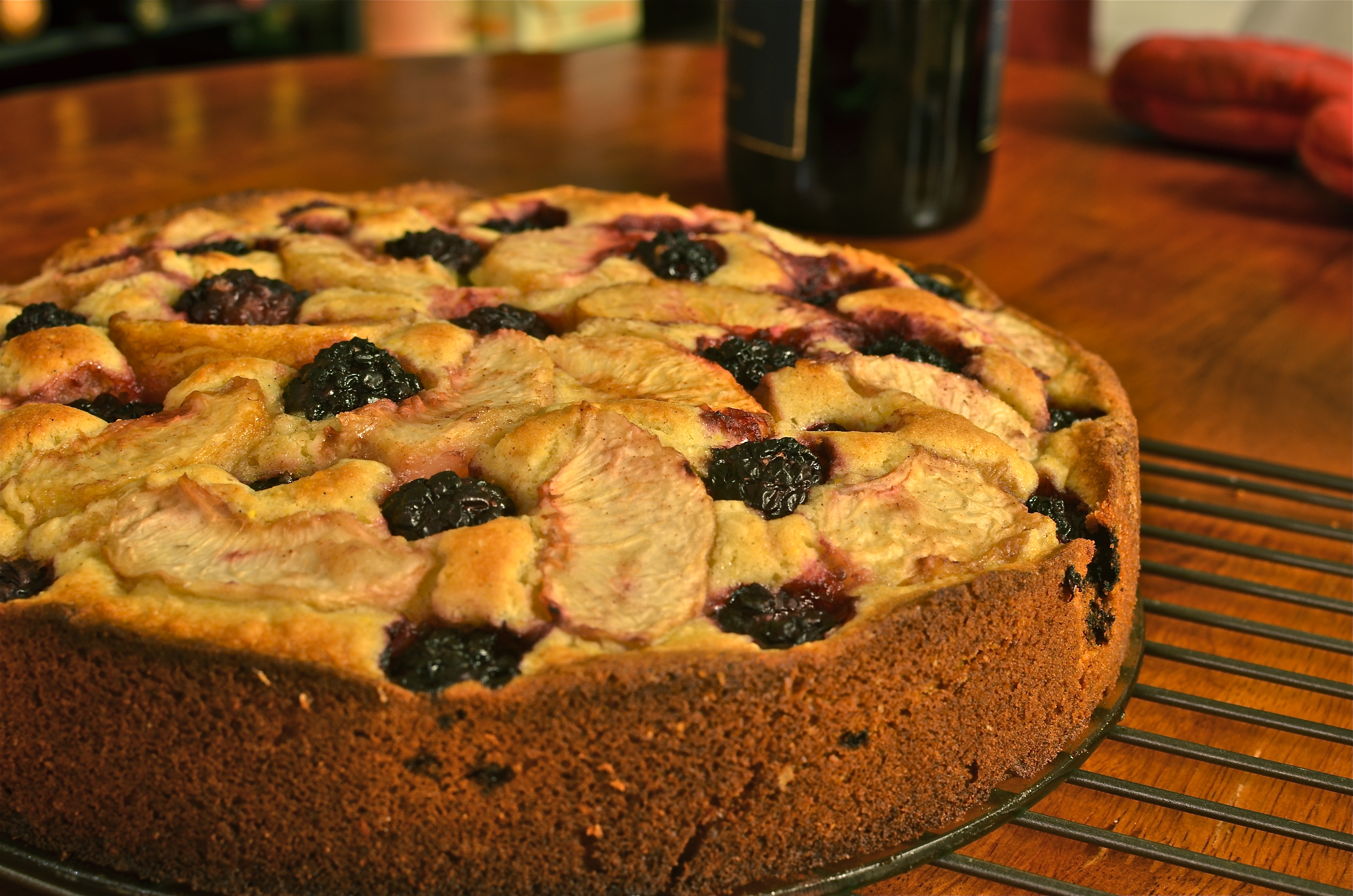 What I like about this cake is its sheer simplicity and versatility.  It's a pretty basic cake batter that comes together fast, and is slightly rich from the addition of cream (or in my case, half and half), but not overly so.  The addition of ground almonds and a little almond extract compliments the peaches perfectly.
You can also play around with the fruit.  I fully intended to use conventional yellow peaches in this cake, but accidentally bought white peaches instead.  I ended up loving the white peaches, as they have a sweet honey flavor that goes beautifully with the cake.  You could substitute another berry for the blackberries, and substitute another stone fruit for the peaches.  Raspberry apricot, blueberry nectarine – the possibilities are endless!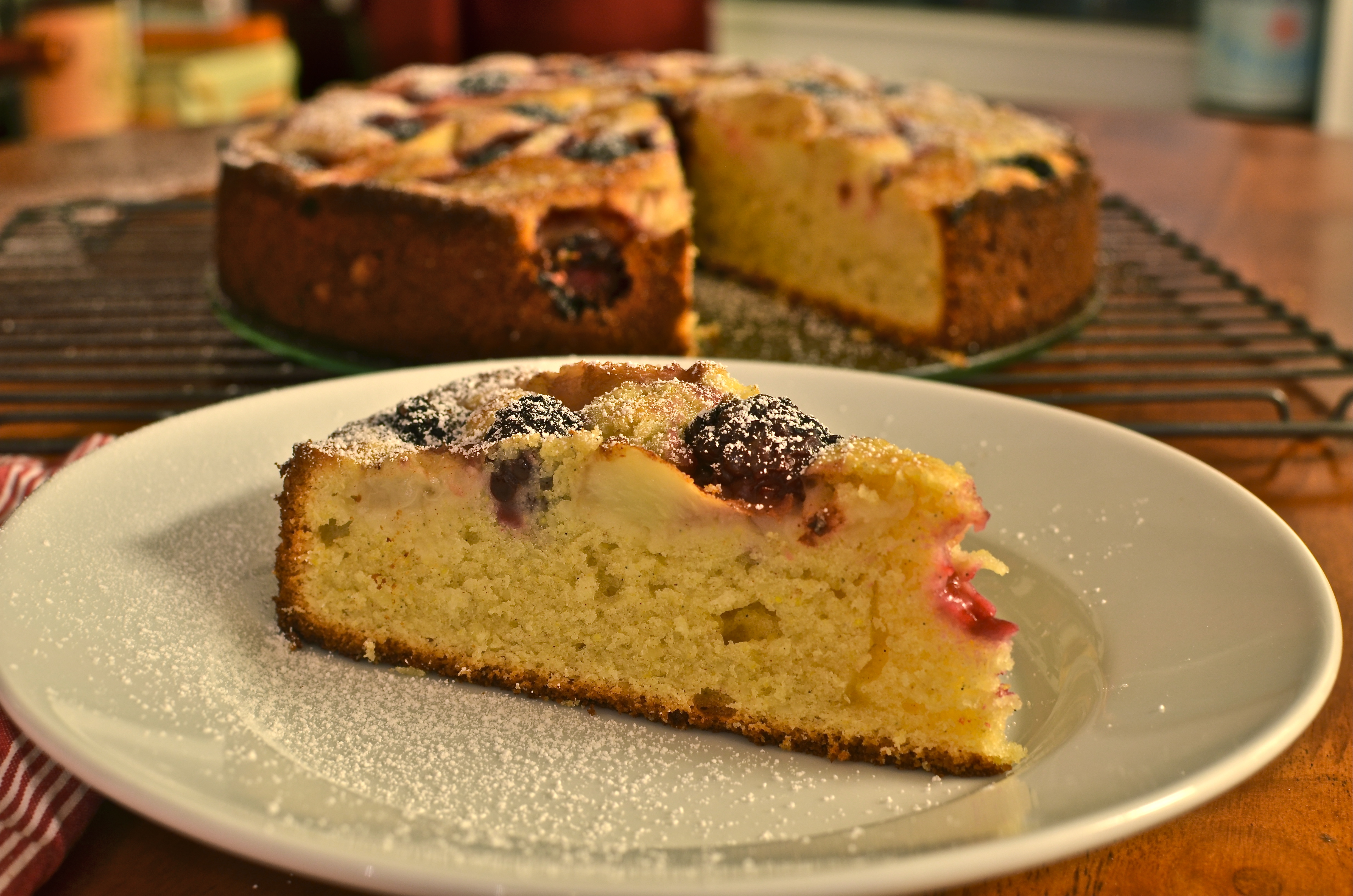 One year ago: Chocolate Chunk Cookies, Jacques Torres-style
Blackberry Peach Teacake
Adapted slightly from Oh Cake
Makes one 9-inch-cake
Total time: 75 minutes
Ingredients
1 cup slices of fresh yellow or white peaches (about 3)
1 cup fresh blackberries
1/2 cup butter, room temperature
3/4 cup sugar + 1 tablespoon
3 eggs
1 teaspoon vanilla extract or vanilla bean paste
1/2 teaspoon almond extract
1/2 cup heavy cream (I used half and half)
1/2 cup almond flour or finely ground almonds
1 3/4 cups all-purpose flour + 1 tablespoon
1/2 teaspoon cinnamon + 1 dash
1 teaspoon baking powder
1/4 teaspoon salt
1.  Preheat oven to 350º F.  Spray a 9″ springform pan with baking non-stick spray, or butter and flour.  Set aside.
2.  Mix peaches with one tablespoon sugar and one tablespoon flour. Add a dash of cinnamon and toss to coat. Set aside.
3. In another bowl, sift together flour, 1/2 teaspoon cinnamon, baking powder, and salt. Set aside.
4.  In the bowl of a standing mixer or with a hand-held mixer, cream together the butter and sugar, beating on high for 5 minutes, scraping down the bowl with a spatula halfway through.  Next, add eggs one at a time, incorporating after each addition.  Add vanilla and almond extracts and cream (or half and half), and mix until incorporated.  With the mixer on low speed, add almond flour or ground almonds, and gradually add flour mixture.  Mix until just combined.  Do not over-mix.  Spread into pan and top with the fruit.  I fanned out the peaches and then dotted the spots in between with blackberries. Bake for about 45 minutes or until tester comes out clean.
Let the cake cool for 5 minutes, then remove sides of the springform pan and let cake cool completely. I had a slice when it was still a little warm and it was delicious.  Top with powdered sugar or a little fresh whipped cream.