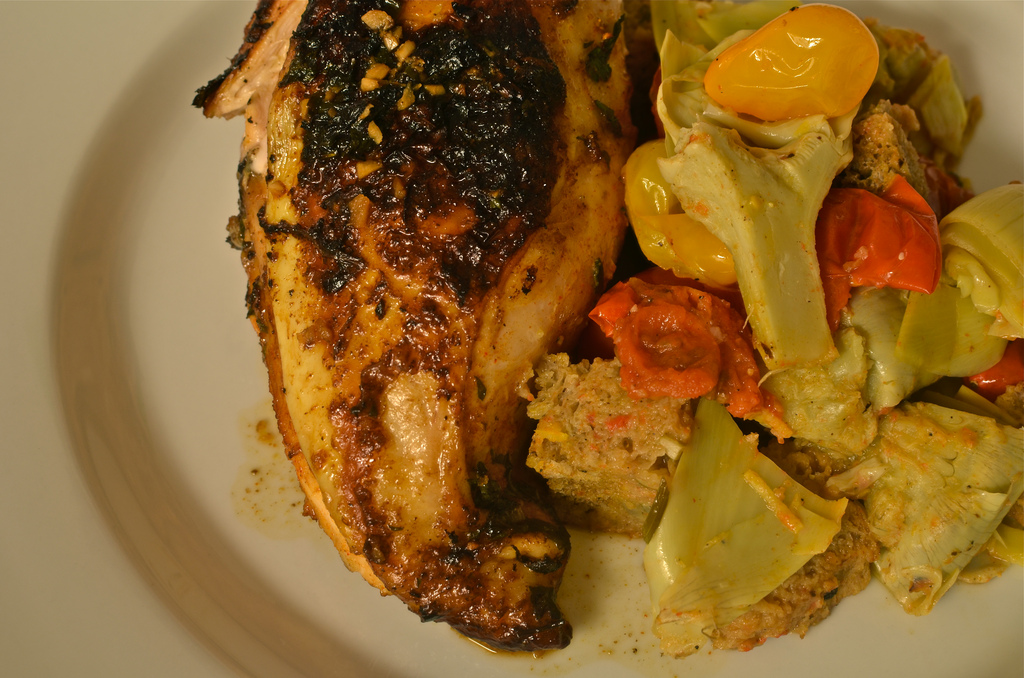 Last week was a pretty good week for me – my last post, Salted Butter Chocolate Chunk Cookies, got some nice press from Foodbuzz, resulting in a huge boost in readership.  I'm so happy everyone liked that recipe, and I encourage all of you to try it because those cookies were so darn good!
Looking through my last several posts, I realize that, even setting aside the Salted Butter Chocolate Chunk Cookies, I've been baking a lot lately.  And I'm thrilled to say that I will be baking even more over the next few weeks.  But we all need breaks from an endless supply of baked goods, right?  Fine, my coworkers might disagree, since they are often the people who benefit from my baking experiments, but trust me – you need a break.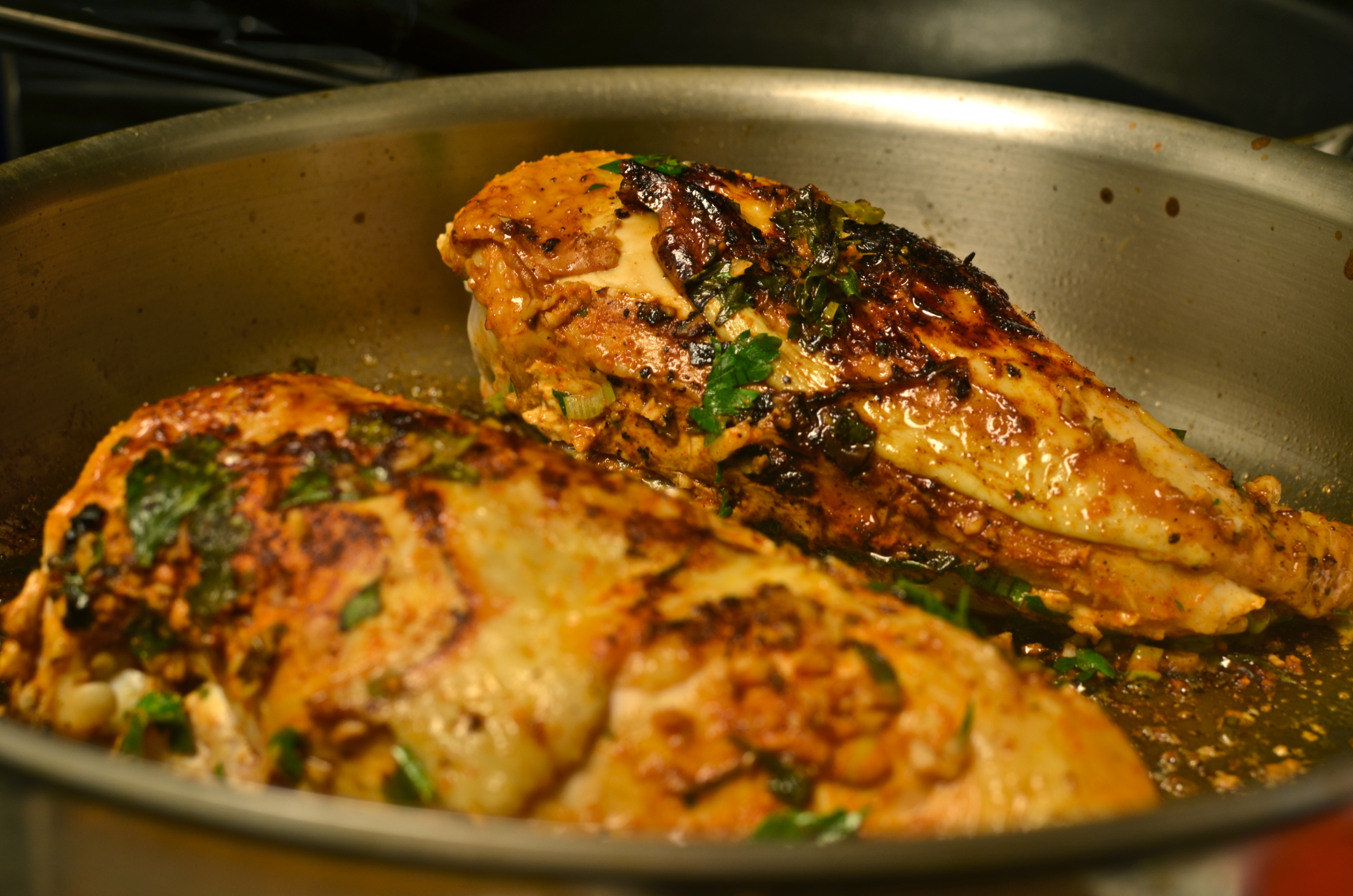 Don't worry, I've got a good one for you.  As I've mentioned before, I'm always on the lookout for good chicken recipes, since chicken can be one of the most drab, boring dinners you can make.  I found this recipe through Food and Wine, and thought it was absolutely perfect for Spring.  Panzanella is an Italian-style  bread and tomato salad, and here artichoke, lemon and other herbs accompany moist, flavorful chicken breasts.
I really enjoyed this dish, and I think you will too.  Artichokes are in season now, so feel free to use the real thing and not canned or jarred (but I used canned and thought it was great).  I also messed around with the recipe a bit, substituting chicken breasts for the higher-calorie thighs.  I adjusted seasoning levels here and there, and used basil instead of cilantro because I had lots of basil at home. I liked it with the basil, and I'm sure it would've just as good with cilantro, so use whatever you prefer.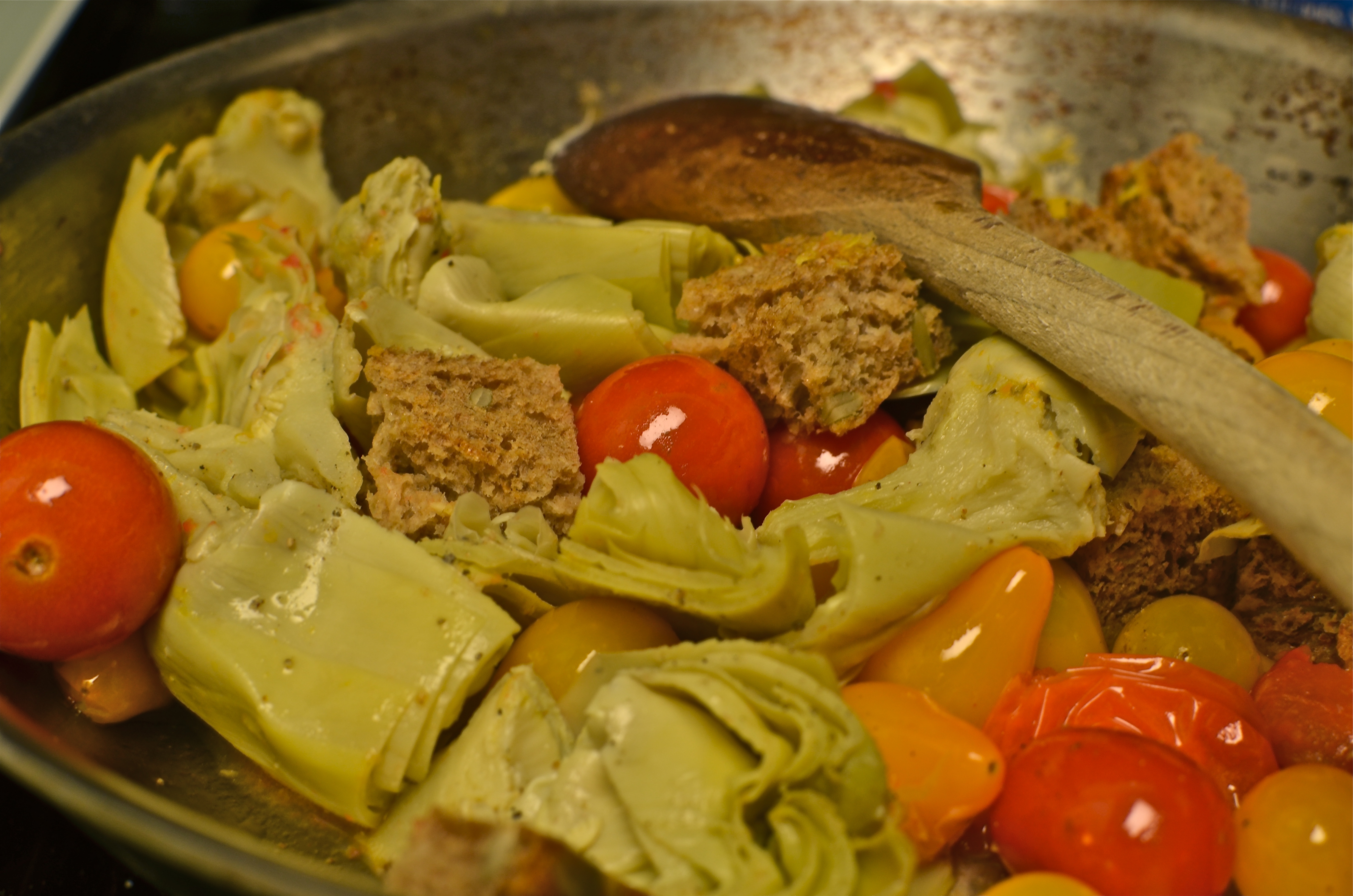 One year ago: Tzatziki
Roasted Chicken with Artichoke Panzanella
Adapted from Koren Grieveson, a Food and Wine Best New Chef 2006
Makes 4 servings
Total active time: 1 hour
Ingredients
4 large garlic cloves
One 1-inch piece of fresh ginger, peeled and coarsely chopped
2 teaspoons sweet paprika
1/2 teaspoon cayenne
1/3 cup plus 1 tablespoon fresh lemon juice
4 bone-in, skin-on chicken breasts
2 tablespoons chopped cilantro (or basil)
1 scallion, thinly sliced
1/3 cup extra-virgin olive oil
1/4 cup chopped flat-leaf parsley
One 3/4 pound loaf white country-style bread, sliced 1 inch thick
Kosher salt and freshly ground pepper
12 ounces cherry tomatoes
8 baby artichokes in oil, drained and halved lengthwise (I used artichokes in water)
1 tablespoon grated lemon zest
1 tablespoon canola oil
1/2 cup chicken stock
1.  In a food processor, pulse the garlic and ginger until chopped. Add the paprika, cayenne, and 1/3 cup of the lemon juice and process until smooth; transfer to a bowl. Add the chicken, cilantro (or basil), scallion and 2 tablespoons each of the olive oil and parsley. Coat the chicken breasts in the mixture, then cover and refrigerate for at least 3 hours.  If you want, you can do this the night before.
2.  Meanwhile, heat a grill pan. Brush the bread with 3 tablespoons of the olive oil and season with salt and pepper. Grill the bread over moderately high heat, turning once, until toasted, 3 minutes.  Let cool, then tear into bite-size pieces.
If you don't have a grill pan, just toast the slices and then tear into pieces.  It's much easier.
3.  Preheat the broiler. In a large, deep skillet, toss the tomatoes with 1 tablespoon of the olive oil and season with salt and pepper. Broil the tomatoes for 7 minutes, until they begin to burst. Lightly mash around half the tomatoes to release some of their juices. Let cool slightly, and then add the bread, artichokes and lemon zest to the skillet, and toss to mix.
4.  Preheat the oven to 375° F. Remove the chicken from the marinade and pat dry. In a very large skillet, heat the canola oil. Season the chicken with salt and pepper and add to the skillet, skin side down. Cook over moderately high heat until browned, about 4 minutes. Turn the chicken, pour the stock in the skillet and bring to a boil; transfer to the oven. Roast the chicken for 25 to 30 minutes, until cooked through.  Spoon 1/3 cup of the pan drippings from the skillet over the bread mixture.
5.  In a small bowl, whisk the remaining olive oil, parsley and lemon juice. Warm the bread salad over moderate heat, tossing, until warm. Remove from the heat. Pour the dressing over the bread salad and toss; season with salt and pepper.
6.  Transfer the chicken to plates, spoon the bread salad alongside and serve.