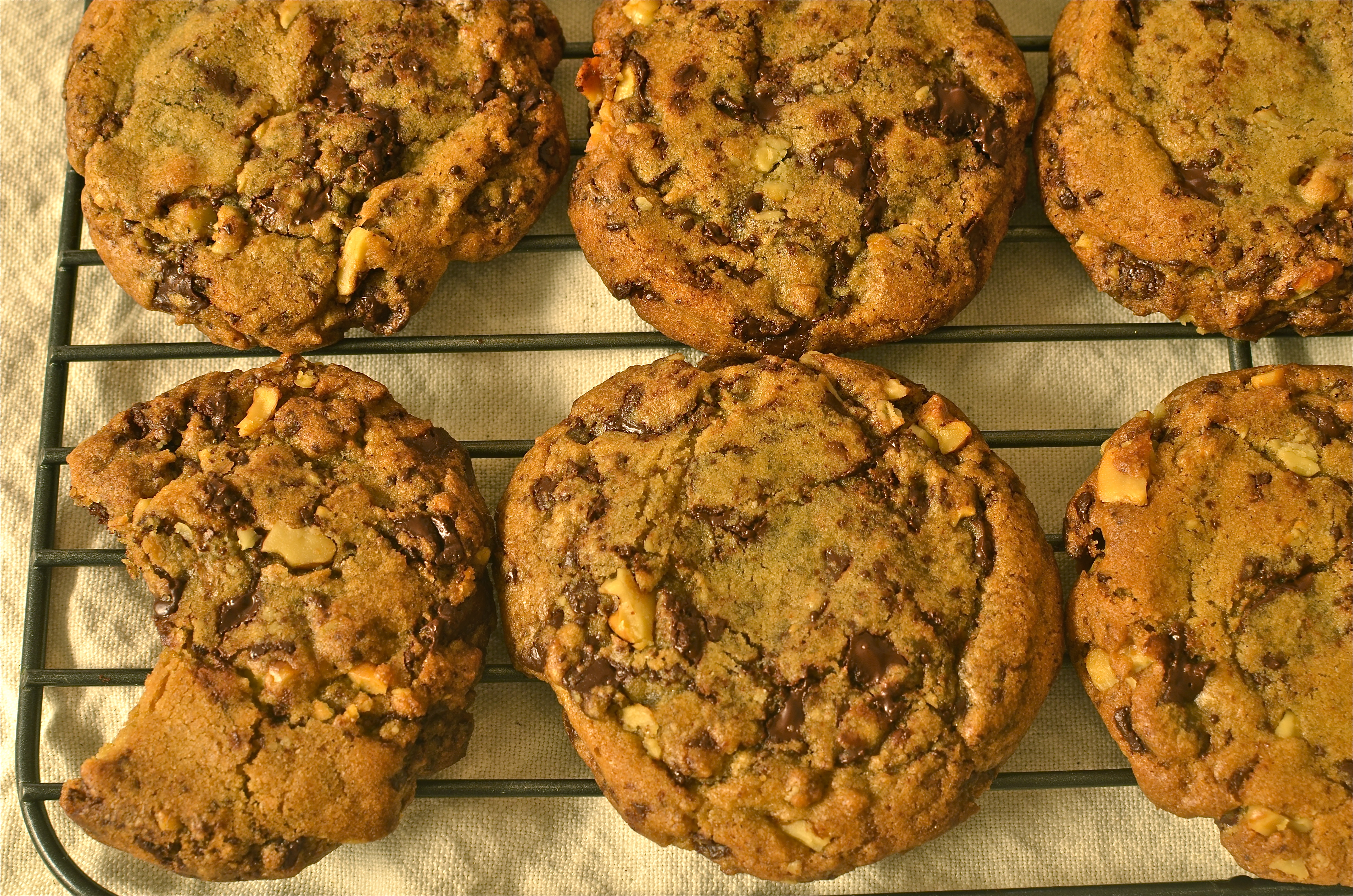 Or, Chocolate Chip Cookies Revisited.  Yes, this is the third recipe for chocolate chip (or chunk) cookies I've posted, in about a year and a half of doing this blog.  There were Alton Brown's Chewy Chocolate Chip Cookies, Jacques Torres' Chocolate Chunk Cookies, and now these.  And these – Salted Butter Chocolate Chunk Cookies, courtesy of David Lebovitz – are now my favorite.
All desserts have a little salt in them; pastry chefs routinely say that the worst thing us amateur cooks can do is leave out the small measure of salt from a recipe we make at home, particularly when we're making a dessert.  Salt doesn't just make things salty, it is also enhances flavor.  It cuts the sweetness of a dessert, ensuring that it doesn't come out *too* sweet (yes, that is possible!).  Almost all recipes using butter, savory and sweet, call for unsalted butter; people like to control the amount of salt in their food, and there isn't a way to precisely measure how much salt is X, Y, or Z brand of salted butter.
So why use salted butter?  Because it tastes darn good, and it makes these cookies taste even more darn good.  The cookies aren't salty – they have an incredible deep chocolately, buttery flavor and, I swear, leave you more satisfied than the average chocolate chunk cookie.  Several coworkers, who frequently sample my baking creations, told me that these cookies were the best thing to come out of my kitchen.  I'd like to think that's saying something.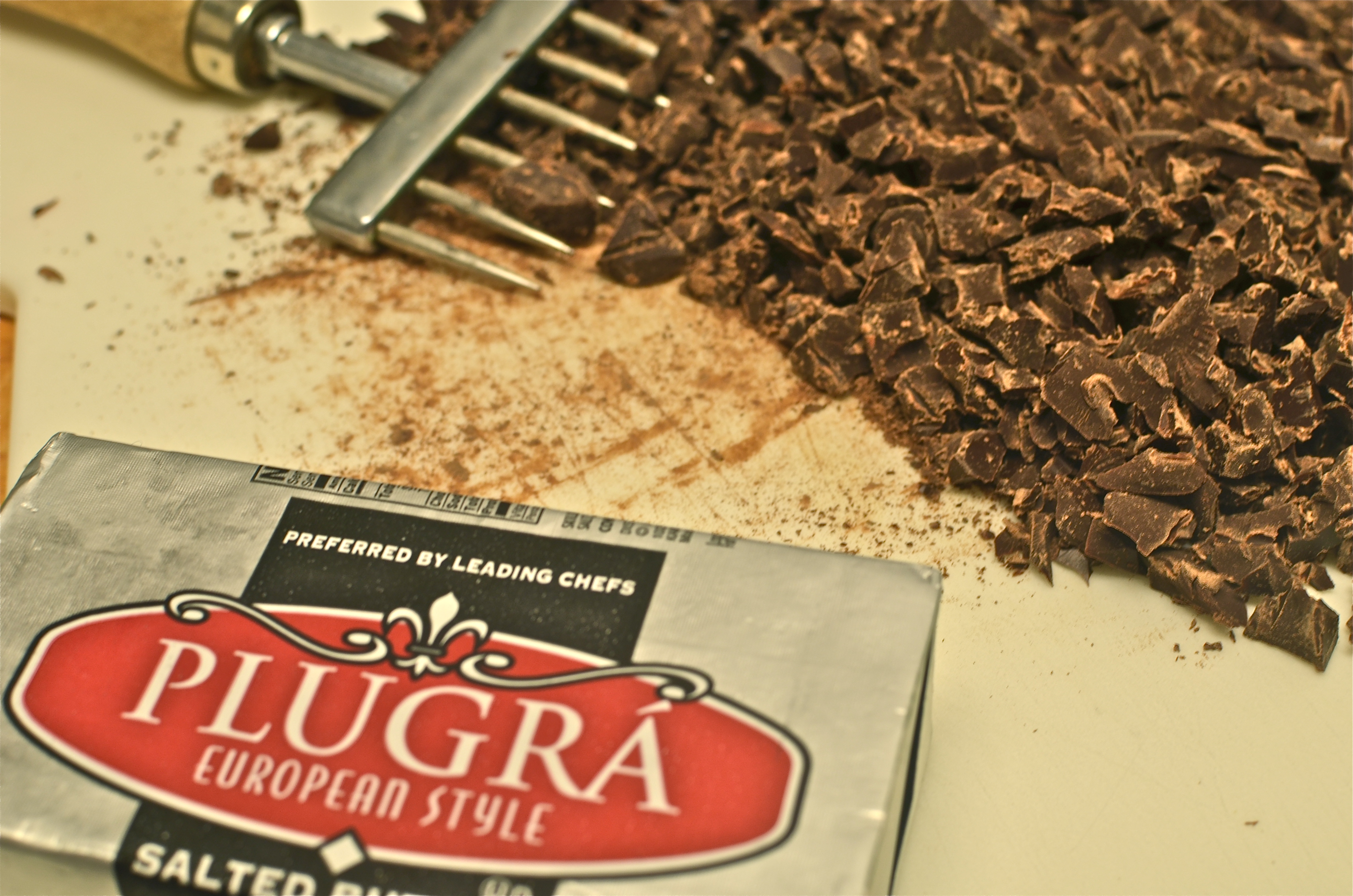 One year ago: A Lighter Meatball
Salted Butter Chocolate Chunk Cookies
Adapted from the great David Lebovitz
Makes 20-24 cookies.  This recipe made exactly 21 cookies for me; if you want more cookies, go ahead and double the recipe.
Total time: 1 hour, not including fridge time
If you want to use unsalted butter, Mr. Lebovitz informs us that 4 ounces (8 tablespoons, or 115g) of butter has about 1/4 to 3/4 teaspoon of salt in it.  You could simply swap out unsalted butter and add another 1/4 to 1/2 teaspoon of salt.
Ingredients
4 ounces (115g) salted butter, at room temperature*
2/3 cup packed (110g) dark or light brown sugar
1/2 cup (100g) granulated sugar
1 large egg, at room temperature
1/2 teaspoon vanilla extract
1 1/3 cup (180g) flour
1/2 teaspoon baking soda
1/2 teaspoon flaky sea salt or kosher salt (do not use table salt!)
1 1/3 cups (200g) high quality coarsely chopped bittersweet or semisweet chocolate – I use Scharffen Berger semi-sweet, it's my favorite!
1 cup toasted nuts (such as walnuts or pecans), coarsely chopped  (While I usually don't like nuts in my chocolate chip cookies (or brownies, for that matter),  I followed Mr. Lebovitz's advice and added walnuts to these cookies the first time I made them, and finely chopped pecans subsequent times.  I enjoyed both, but preferred the pecans.  But do as you like!)
* I bought European-style butter at my local Whole Foods, which a lot more expensive, only because Mr. Lebovitz goes on and on about how great French butter is, so I thought why not try it (even if it isn't actually butter I got from the French countryside).  I'm not sure how much of a difference it made, but I will say that I tried a little bit of the European salted butter, and it tasted incredible.  And I generally don't like butter that much!  But buy whatever is easier for you, regular unsalted butter will work just fine!
1.  To make the dough: In the bowl of a stand mixer, or by hand, beat the butter, brown sugar, and granulated sugar just until smooth and creamy.  Beat in the egg and the vanilla until fully incorporated.
2.  In another bowl, whisk together the flour, baking soda, and salt.  With the mixer on low, or by hand, stir the flour mixture into the beaten butter until combined (do not overmix!), then mix in the chopped chocolate (including any chocolate dust!) and the chopped nuts, if using.  Do not overmix the dough, just incorporate the chocolate and nuts until just combined.
3.  Cover the dough with plastic warp, and chill the dough until firm.  It's best to letthe dough rest in the fridge overnight, which is what I did.  But if you don't have the time, don't stress.  Try to let it chill for a few hours, if you can.
4. To bake the cookies: Preheat the oven to 350ºF.  Line two baking sheets with parchment paper or silicone baking mats.
5.  Form the cookie dough into rounds about the size of a large unshelled walnut.  I used my #24 disher, which is a good tool because the dough will be a bit hard.  Place the rounds evenly spaced apart on the baking sheets, 6 per sheet, and press down the tops to flatten them so they are no longer domed and the dough is even.  Dampen your fingers slightly when you flatten to tops.
6.  Bake the cookies for 9 minutes, rotating the baking sheet midway during baking, until the cookies look about set, but are not browned.
7.  Remove from the oven and quickly tap the top of each with a spatula, then return to the oven for 2 to 5 more minutes, until the tops of the cookies are light golden brown.  The spatula trick is an interesting direction from Mr. Lebovitz – it compacts the crumb and makes the cookies a little chewier.  After returning the spatula-whacked cookies to the oven, I only left mine in 2 minutes, as they were already getting pretty brown.
Remove from oven and let cookies cool for 5 minutes on the baking sheet, then move them using the spatula to a cooling rack to cool completely.
Storage: The cookies can be stored at room temperature for up to 5 days in an airtight container.  The dough can be refrigerated for up to one week or frozen for one or two months.