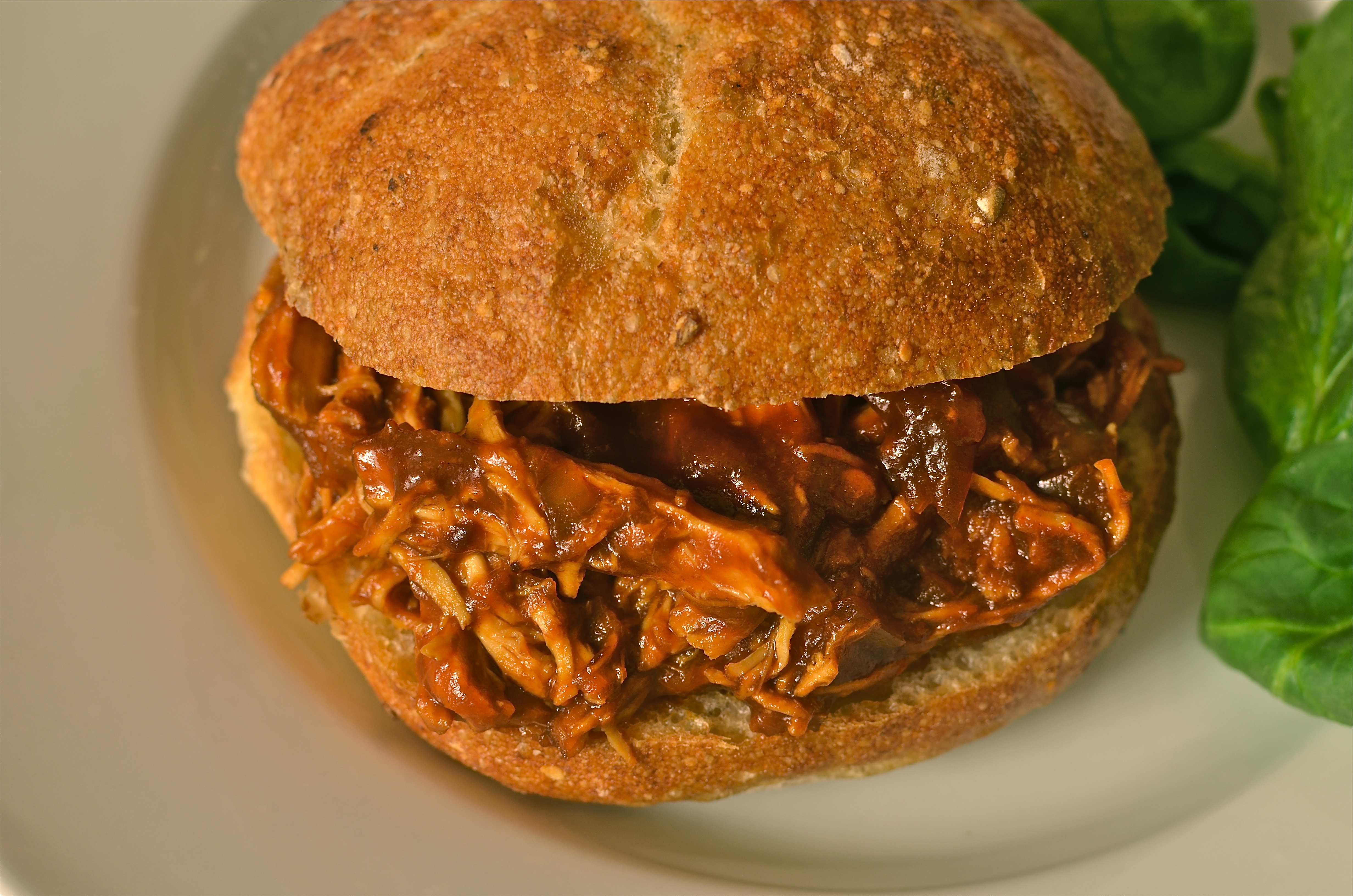 One day last year I saw a great deal on a Cuisinart slow cooker.  "I will totally use this all the time," I thought.  So I bought it.  Before the dish I made for this post, I had used it only once.  In over a year of owning it.  A good deal?  Maybe not.
But, because this contraption was living on the floor of my dining room collecting dust, I was always on the lookout for recipes that used a slow cooker.  And then I found one that looked promising: slow-cooked pulled barbecue chicken, made of boneless, skinless chicken breasts (AKA, healthy barbecue!).  You are always told not to slow-cook lean meats because they won't get to that "fall off the bone" state of tenderness, but I didn't have that problem at all with this dish.  The chicken shredded perfectly after cooking, and the sauce was amazing.  This is an incredibly easy, absolutely delicious dish that would make a quick weeknight meal or impress a crowd.
I adjusted the sauce components a bit, adding a few ingredients I had on hand, and changing the proportions of others.  Besides the cup of ketchup and 1/2 teaspoon of cayenne pepper, I didn't measure any of the ingredients; I just guesstimated as I poured each into the slow cooker.  That's beauty of homemade barbecue sauce!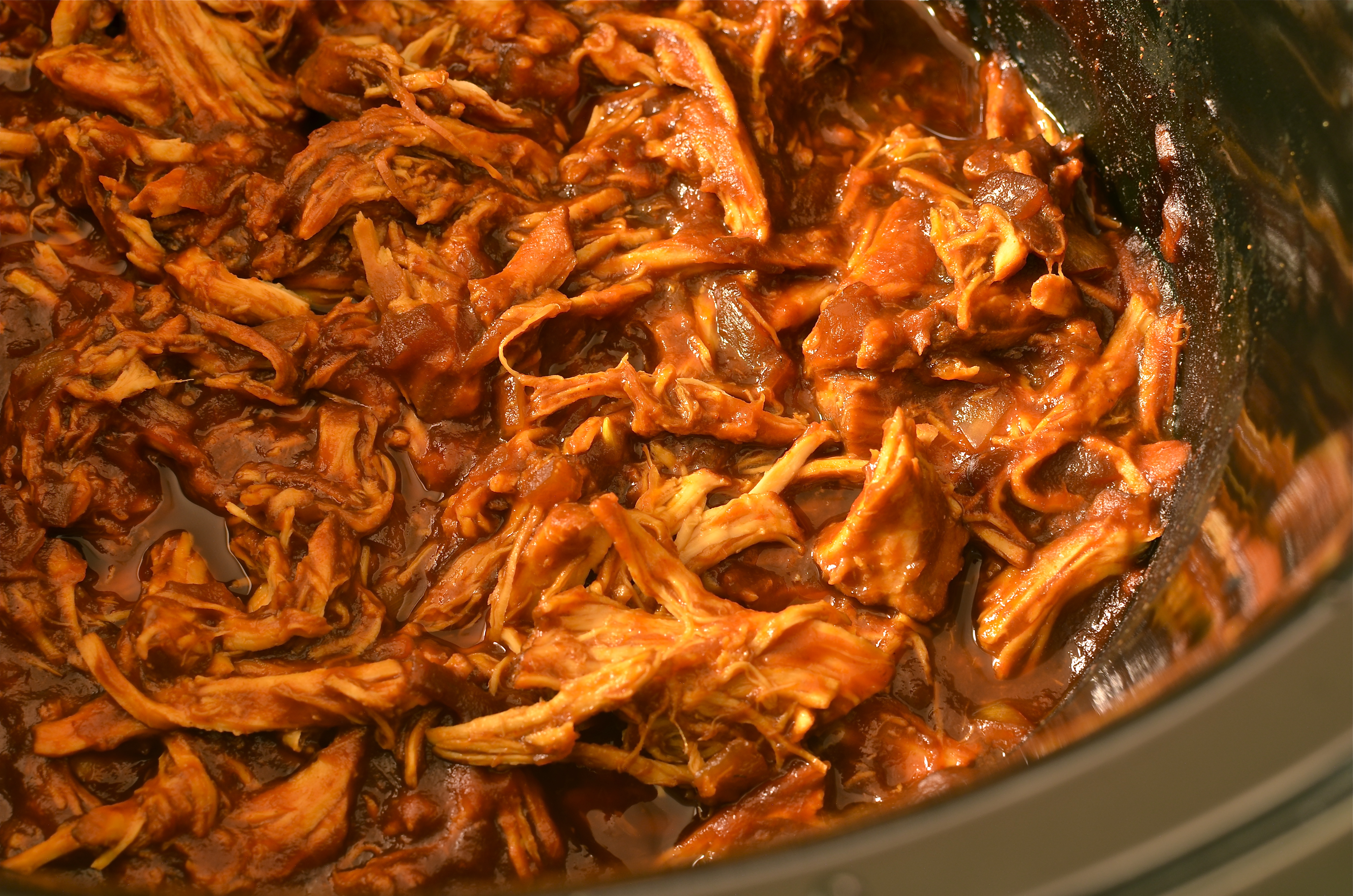 One year ago: Gigante Beans, Greek-Style
Honey BBQ Pulled Chicken
Adapted from Healthy Delicious
Makes 4 servings
Prep time: 15 minutes; Total time: 7-8 hours
You do not need a slow cooker for this meal, if you have an oven-safe pot or Dutch oven.  Combine all of the ingredients in the pot and bake at 350 degrees F for 2 hours, or until the chicken falls into shreds when you press on it gently with a wooden spoon.
Ingredients
1 cup ketchup
1 small onion, minced
1/4 cup bourbon (optional)
1 tablespoon honey
1/4 cup apple cider vinegar
2 tablespoons molasses
4 tablespoons tomato paste
2 teaspoons Worcestershire sauce
1 tablespoon soy sauce
3 garlic cloves, smashed
1 teaspoon Dijon mustard
1/2 teaspoon ground ginger
1 pinch to 1/2 teaspoon cayenne pepper*
1/2 teaspoon Kosher salt
1 lb. boneless, skinless chicken breasts
4 sandwich rolls of your choice
*I put 1/2 teaspoon because I like my barbecue spicy, but if you don't like spice, add a pinch (or none at all).
1.  Combine all ingredients except chicken in your slow , and stir them together.  Add the chicken breasts and turn so they are coated with the sauce.
2.  Cover and cook on low for 7 to 8 hours. Mine was ready at around the 7 hour mark, but I'm sure if I had let it go to 8 it would have been just fine.  Use the back of a wooden spoon or two forks to gently shred the chicken.  Stir the shredded chicken into the sauce so that the chicken is evenly coated.  Set slow cooker to warm and let chicken stand for 15 minutes to soak up the sauce.
Serve the pulled chicken on the toasted rolls.