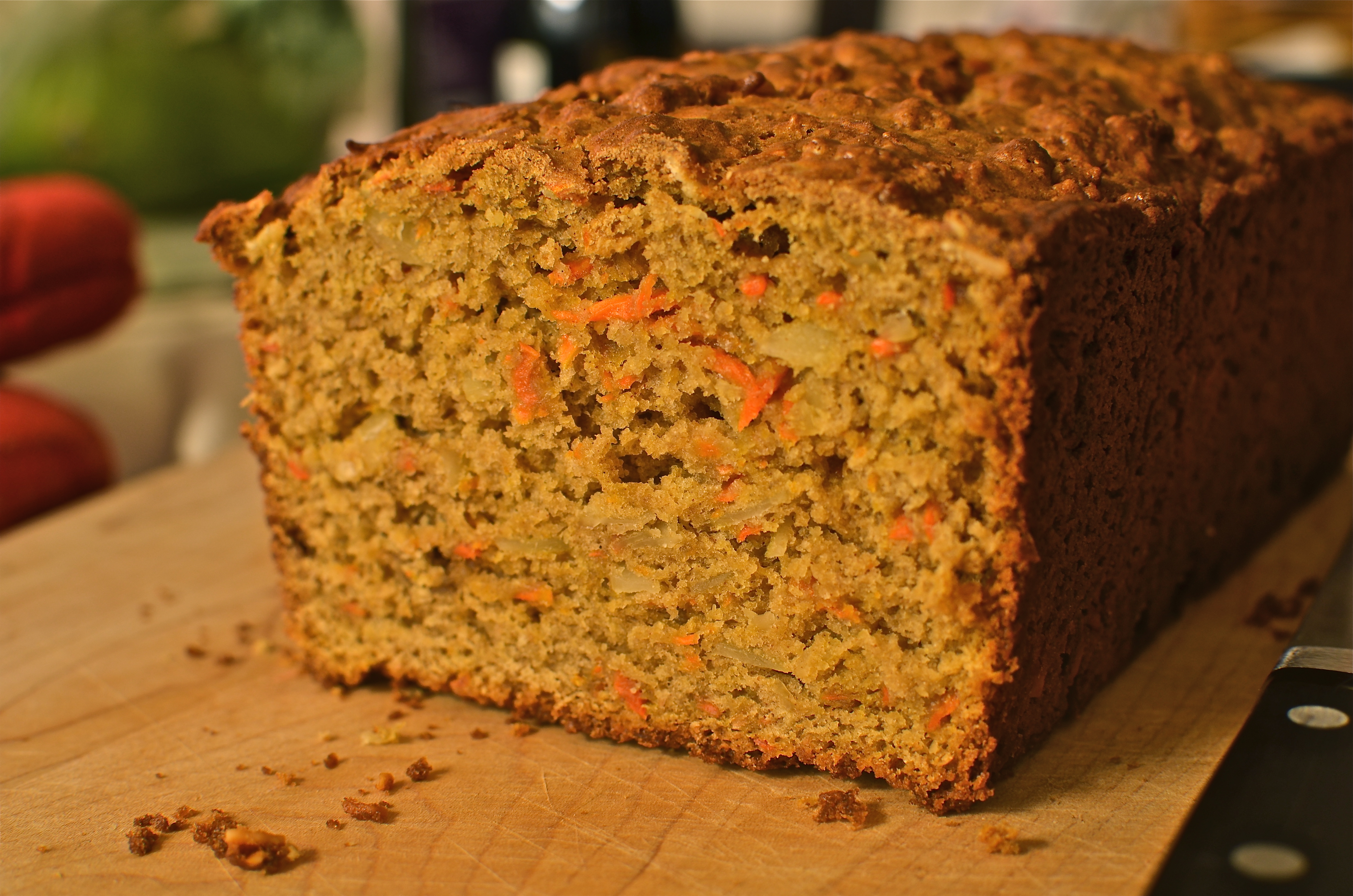 I haven't played much with yeast on this blog.  I love making English muffins, last year's Easter treat was Hot Cross Buns, and occasionally I whip up a quick-rise pizza crust, but that's about it.  I promise one day I will get more into yeast breads – one of my New Year's Resolutions was to bake a homemade, fresh loaf of crusty bread this year.  But fresh and crusty yeast breads take a lot of time, and a lot of patience.  And I'm not often a patient person.
Luckily, quick breads are an impatient baker's dream; they usually come together in an hour, not up to a day like yeast breads.  We've all had banana bread and zucchini bread, but I recently saw something I'm ashamed I never thought of myself: carrot bread.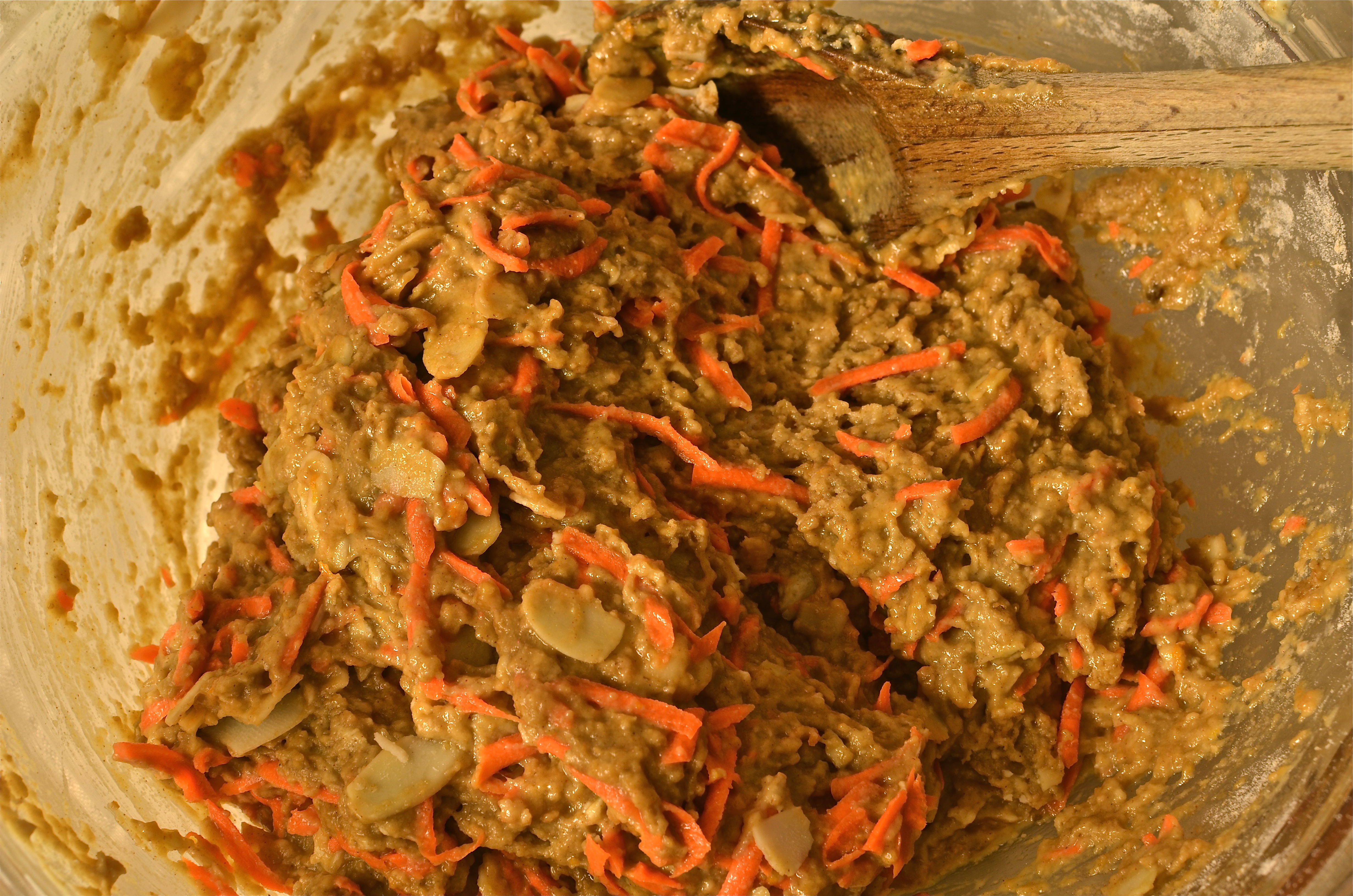 And I'm sorry I didn't think of it sooner, because it's incredible.  This is a dense, slightly sweet bread, not a carrot cake.  Much like zucchini or banana bread, the carrots ensure a moist bread that's still a little reminiscent of carrot cake.  But still not quite cake.  Not that this should deter you – it may not be cake but it's still darn good.  Using all brown sugar lends a deep flavor and a slight of hint molasses; it also gives the crust a sweet crispness.  The orange zest brightens the overall flavor and also serves to highlight the taste of the sweet carrots.
It's also full of whole wheat flour and only has a little butter (4 tablespoons in the whole loaf!).  Next time I might try most, if not all, whole wheat flour and see how it turns out.  I also loved the use of a handful or so of sliced almonds, which gave the bread a nice bit of crunch, but you can substitute other nuts like walnuts, or leave the nuts out completely.
On a related note: I updated the Recipe Archive; you'll find it much easier to navigate!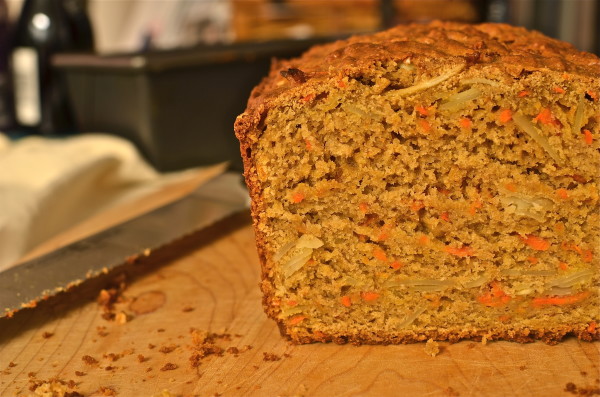 One year ago: Florentines
Brown Sugar Carrot Bread with Almonds
Adapted from Mark Bittman with some inspiration from Ravie Nom Noms (great blog, you should check her out!)
Makes 1 loaf, 10-12 slices; would also make 12 absolutely delicious standard size muffins (if making muffins, I suggest dropping the baking time to 20 to 25 minutes)
The almonds can be replaced with another nut, or nuts can be omitted.
Total time: 1 hr 15 minutes
Ingredients
1 cup whole wheat flour
1 cup all-purpose flour
1 teaspoon cinnamon
1 teaspoon salt
1/2 teaspoon baking soda
1 1/2 teaspoon baking powder
1 cup brown sugar
1/4 cup (half stick) butter, cold
1 cup buttermilk or almond milk
1 tablespoon orange zest
1 large egg
1/2 teaspoon almond extract (optional)
1 cup grated carrots
1/2 cup sliced almonds (or another nut well-chopped, such as walnuts)
Baking non-stick spray
1.  Preheat oven to 350º F.  Grease a 9 x 5-inch loaf pan with butter, or spray the pan generously with baking spray.
Stir together the dry ingredients, through the brown sugar. Cut the butter into small pieces, then use a fork, 2 knives, or your fingers to cut or rub it into the dry ingredients until there are no pieces bigger than a small pea.  I used a food processor for this step, which makes it much easier, but you should not use a food processor for the remaining steps or the bread will be tough.

Whisk together the milk, zest, almond extract (if using) and egg.  Pour the wet ingredients into the dry ingredients, mixing just enough to moisten; do not beat and do not mix until the batter is smooth.  Fold in the shredded carrot and the nuts, then spoon the batter into the loaf pan. Bake for about an hour, or until the bread is golden brown and a toothpick inserted into the center comes out clean. Cool on a rack for 15 minutes before removing from the pan, and cool completely before slicing.