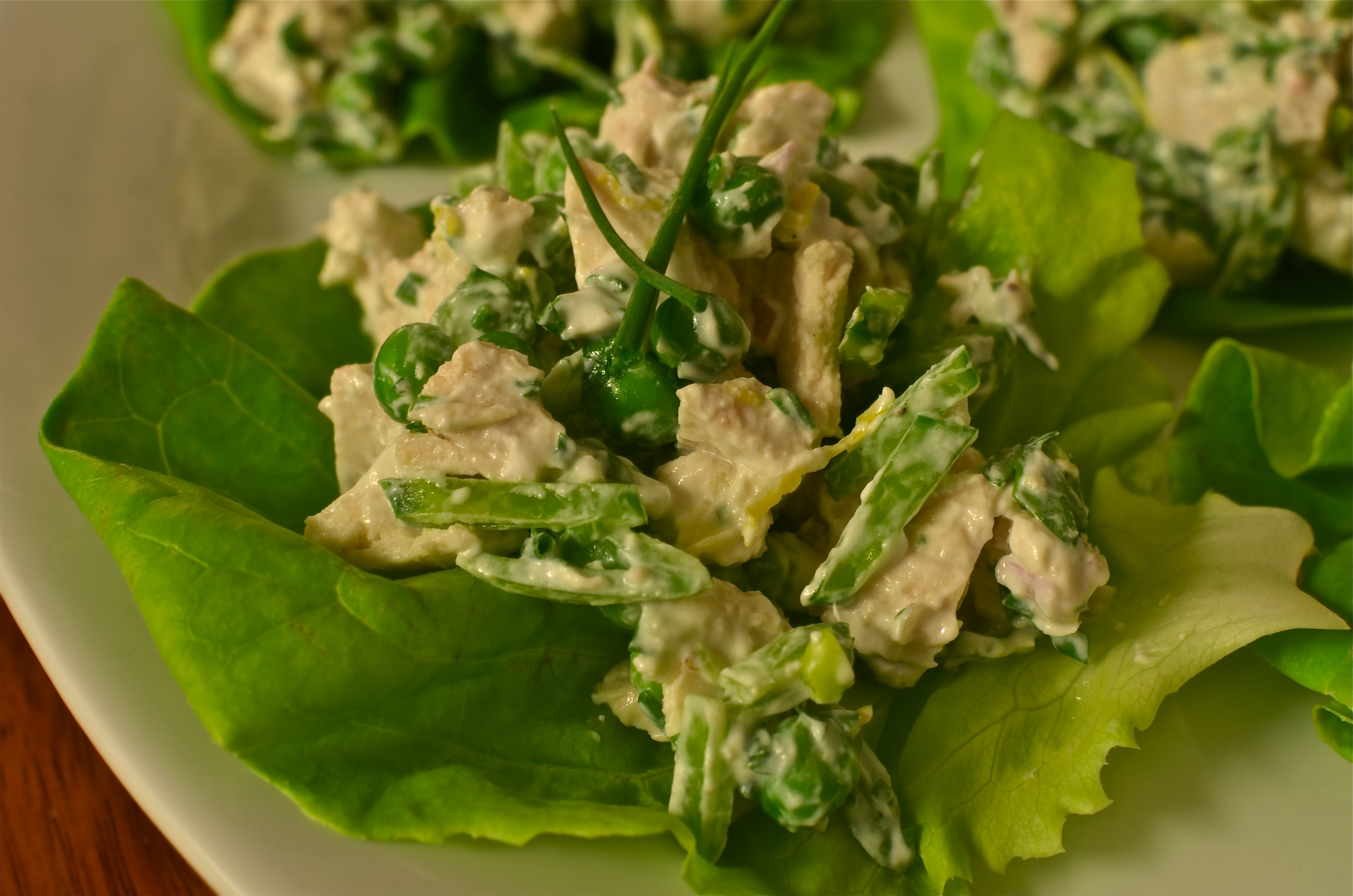 It's now officially Spring!  I may still have a few more Winter-y posts up my sleeve, but now that the official start of Spring has passed, I think we're all in the mood to see some green.  This chicken salad just screams Spring – three types of bright green peas, and a naturally creamy but low-fat dressing.  It is both gorgeous and delicious.  And the best part?  No mayo!  You may recall my hatred of mayonnaise from my French Potato Salad post.  I hate the taste of mayo, and all the fat it brings to a dish, and this chicken salad avoids both those things!
One note – this recipe is heavy on fresh tarragon, which I despise, so I left it out.  With the chives, parsley, shallots, garlic, and my own additions of a little red wine vinegar and mustard, I didn't think the salad needed any more herbs or flavoring.  But if you like tarragon, you should absolutely add some!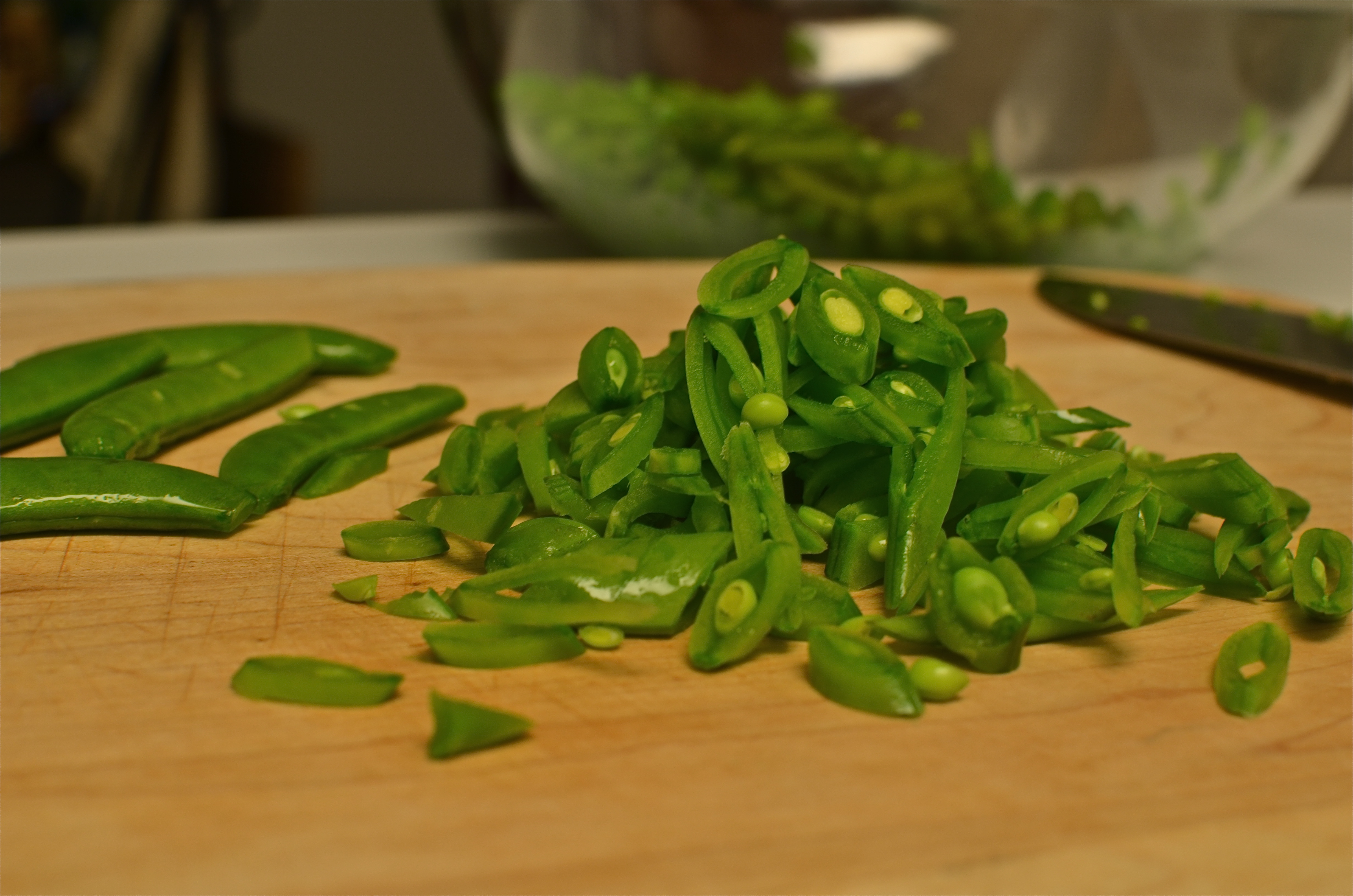 One year ago: Lemon Chicken + Roasted Asparagus
Three-Pea Chicken Salad
Adapted from Bon Appetit
Serves 4
Total time: 40 minutes
Ingredients
2 large shallots, 1 halved, 1 minced
3 garlic cloves, 2 smashed, 1 minced
1 pound skinless, boneless chicken breasts
Kosher salt, freshly ground pepper
3/4 cup plain Greek yogurt
1 tablespoon olive oil
2 teaspoons Dijon or stone-ground mustard, or more to taste
1 teaspoon red wine vinegar, or more to taste
1/2 pound thinly sliced stringed sugar snap peas
1 cup shelled fresh English (or frozen, thawed) peas
1/2 cup thinly sliced stringed snow peas
1/4 cup finely chopped flat-leaf parsley
1/3 cup finely chopped fresh chives
2 teaspoons finely grated lemon zest plus 1 tablespoon (or more) fresh lemon juice
8 slices toasted whole grain bread and/or lettuce leaves
1.  Place halved shallot, smashed garlic cloves, and chicken in a medium saucepan.  Add water to cover by 1 inch and season with salt and pepper. Bring water to a boil; remove pan from heat, cover, and let stand until chicken is just cooked through, 15–25 minutes, depending on size of chicken breasts. Transfer chicken to a plate and let cool. Shred or dice the chicken.
2.  Meanwhile, whisk yogurt, oil, minced shallot, minced garlic clove, mustard, and red wine vinegar in a small bowl.  Season with salt and pepper.
3.  Combine all peas in a medium bowl.  Add chicken, dressing, parsley, chives, lemon zest, and 1 tablespoon lemon juice; toss to coat.  Season to taste with salt, pepper, and additional lemon juice, if desired.  Serve over toasted bread and/or lettuce leaves.