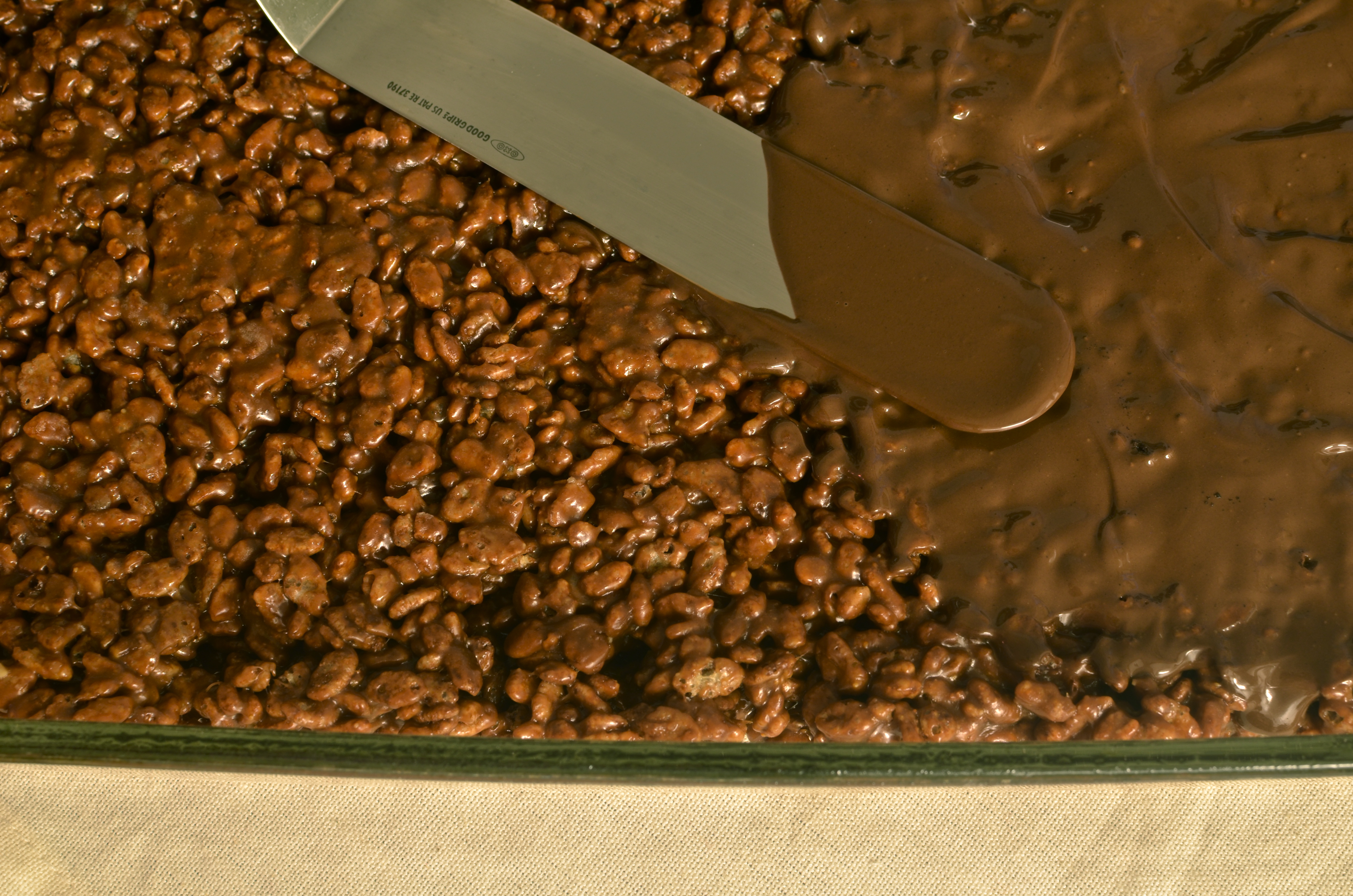 Remember all that healthy eating I've been talking about lately?  Luckily that doesn't apply to when I'm making dessert for other people.
I occasionally come across interesting twists on the classic Rice Krispie treat when I'm reading other food blogs, and they always look incredibly good and so simple to make (no oven required!).  But until now, I had never actually made Rice Krispie treats.  Why?  I'm not entirely sure, especially since I love homemade Rice Krispie treats.  I see them, often giant in size, taunting me in coffee shops and bakeries, tempting me when I've had a stressful day and could use a pick-me-up.  I've made a lot of desserts on this blog of varying levels of sophistication, but most people – no matter what their tastes – like Rice Krispie treats.
I saw this David Lebovitz recipe on Amandeleine, and filed it away until now.  And as expected (since everything Mr. Lebovitz makes is amazeballs), these are really freakin' good.  They are not healthy by any stretch of the imagination, but they are darn good and darn easy to make.  They will make even the pickiest dessert eaters happy.  They are also perfect for a big crowd – they are rich and should be cut into small squares, which means you can feed an army with one batch.
Note that while I liked these very much, I found the peanut butter to be a dominating flavor.  As I mentioned in my post on Peanut Butter Chocolate Chip Cookies, I don't love peanut butter in desserts.  If I made these again, I'd likely use a cup of Nutella and omit the peanut butter all together.  But if you like peanut butter, go for it!
One year ago: Chicken Tortilla Soup
Triple Chocolate Scotcheroos
Adapted from David Lebovitz
Makes 24-50, depending on how big you cut them (smaller is better!)
Total time: 30 minutes
You can use all chocolate in place of the chocolate + butterscotch combination if you so choose.
Ingredients
1 cup sugar
1 cup  rice syrup or light corn syrup (I used Karo light corn syrup)
1/2 cup peanut butter (try to use a less-sugary one)
1/2 cup Nutella, or a similar chocolate-hazelnut paste
6 cups crisp chocolate-flavored (or mixed with plain) rice cereal
6 ounces chopped bittersweet or semisweet chocolate, or 1 cup  bittersweet or semi-sweet chocolate chips*
1 cup butterscotch-flavored chips
optional: fleur de sel or flaky sea salt
* If using butterscotch chips, I would use bittersweet chocolate if possible; otherwise the treats might be too sweet.
1.  Spray a 9 x 13-inch baking pan with non-stick cooking spray (like trusty-ol' Pam).
2.  In a large pot (at least 6 qts) over medium heat, bring the sugar and rice or corn syrup to a full boil.  Remove from heat and stir in peanut butter and Nutella, then mix the rice cereal in until completely coated.  Dump the mixture into the sprayed pan and press into an even layer, making sure the top is smooth.
3.  Melt the chocolate and butterscotch chips together in a clean bowl set over a double boiler (a pan with simmering water), stirring gently until smooth and well-blended.  Spread the chocolate/butterscotch mixture over the rice cereal mixture, sprinkle lightly with salt (if using), and cool until set.  I let mine cool at room temperature for maybe 30 minutes, then I stuck the pan in the fridge.  It set up nicely within an hour or two.
Serving: Once set, cut into small bars with a sharp knife. These are rich and definitely on the sweet side, so cut into bite-size portions.  I probably got about 50 treats from the one pan.