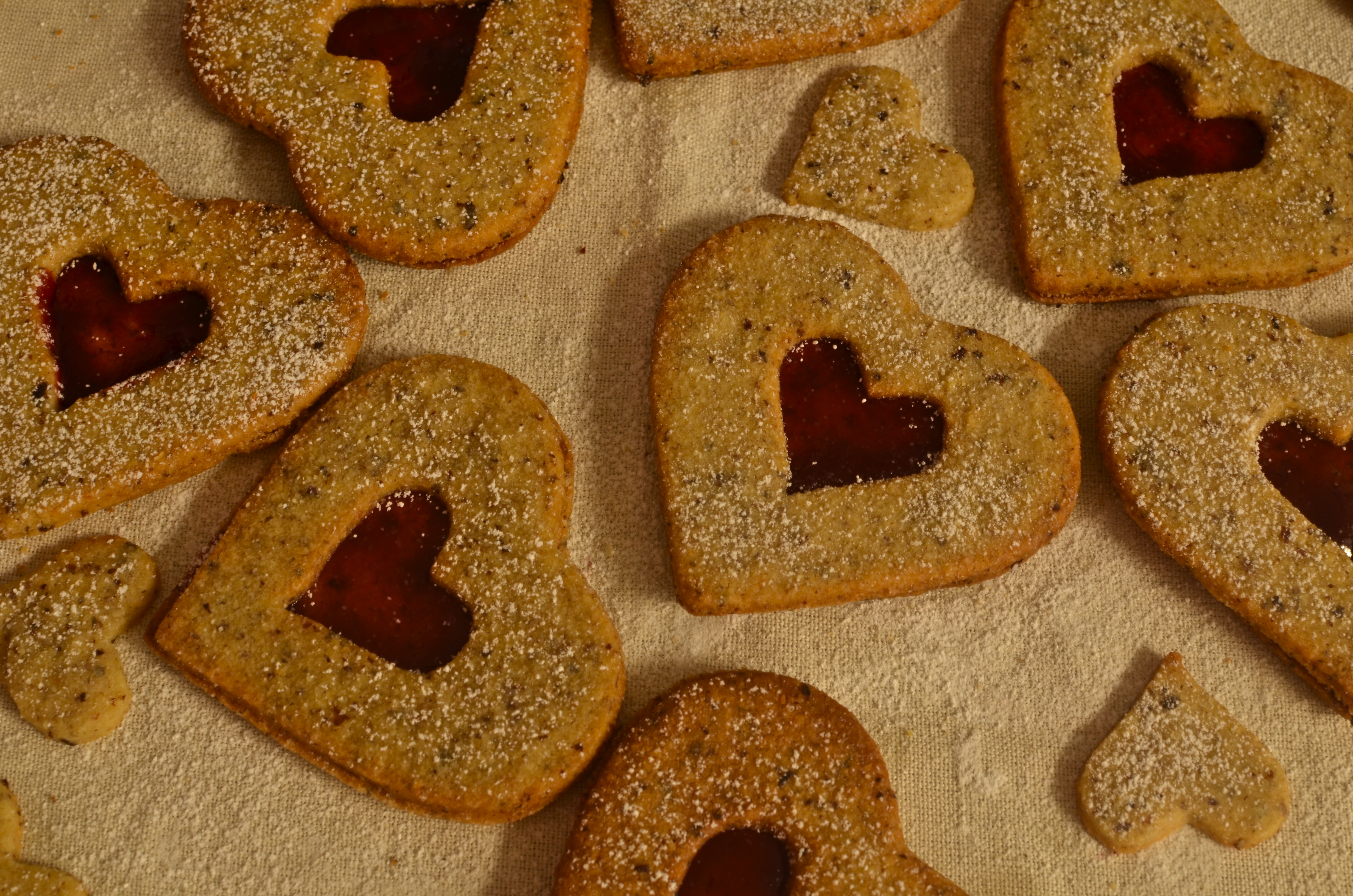 I have a confession to make: I've never been big on Valentine's Day.  More often than not, it puts stress on people to do something great for a significant other (or pay dearly if they fail!), while also stressing out people who don't have a significant other at all.  It's a lot of unnecessary stress, no?
But at the end of the day, I'm still a sucker for cute, heart-shaped treats.  I love seeing pretty Linzer cookies in pastry shop windows, and always wanted to try making them on my own.  I finally found a good excuse: a dear friend's engagement party.  Plus, we're getting close to Valentine's Day, so these heart-shaped cookies are perfect for this time of year.
Linzer cookies are two cookies layered together, with jam in between.  The top cookie, which is dusted with confectioner's sugar, has a pretty cut out in the middle so you can see the jam.  And the taste?  The dough is essentially a butter cookie made with ground nuts (here, hazelnuts), which immediately makes it more interesting and delicious than a boring ol' butter cookie.  Other nuts, particularly almonds, would work well here, but I love the taste of hazelnuts.  I also love how you can see specks of the nut in each cookie.
Like any cookie you roll out and cut, it's a bit more work – definitely set aside a good hour to get all the dough rolled out and cut.  The key is making sure the dough stays cold, which means the dough takes lots of quick trips to the fridge or freezer.  And you certainly don't have to make hearts; I also love a round cookie with a small star cut-out in the middle.  Any way you make them, they will be adorable and will surely impress, in both looks and taste!
One year ago: Pasta e Ceci (Pasta with Chickpeas) and Homemade Oreos
Hazelnut Linzer Cookies
Recipe by Pâte à Chew
Makes about 30-36 sandwich cookies, depending on the size of your cutters
Total time: 3 hours
Ingredients
1 1/2 cups cold butter, cut into big pieces
1 1/3 cups sugar
2 eggs
2 teaspoons vanilla extract
1/2 teaspoon salt
1 teaspoon cinnamon
2 cups hazelnut flour*
2 cups all-purpose flour
6 ounces seedless raspberry jam, or other red preserve
* Essentially ground hazelnuts.  You can find it at some grocery and specialty stores, and online.  I bought mine from NutsOnline, which is where I buy a lot of my baking goods in bulk.
1. Cream the cold butter in a standing electric mixer with a paddle attachment on medium-high speed for 1 minute. Add sugar in a steady stream and continue creaming until pale yellow and fluffy. Add the egg, vanilla, cinnamon, and salt, and mix until combined.
2. With mixer on low speed, add the hazelnut flour in a steady stream and mix for 30 seconds until the dough is combined. Then add flour in a stead stream, and mix until just combined.
3. Divide the dough into two halves; pat each half of the dough into a disk, wrap each disk in plastic wrap, and chill in the fridge at least one hour, or overnight.
4. Preheat the oven to 350 degrees, and line baking sheets with parchment paper or a silpat.
5. Remove one of the disks from the fridge, and place between two sheets of plastic wrap. If you have it, give each sheet a little spray of non-stick spray. With a rolling pin, roll the dough out between the sheets of plastic until about 1/8 inch thick.  Put the rolled-out dough in the freezer for 5 to 10 minutes.  Take the dough from the freezer, pull of the plastic wrap sheets, and cut out cookies with a cookie cutter of your choice. Take scraps and re-roll out between the sheets of plastic; if the dough is too warm and sticky at this point, put it back in the fridge for a while. Repeat with the second dough disk.  With a smaller cutter, cut out the centers of half of the cookies.  You can also bake the centers, so set those aside.
6. Bake the cookies for 10-12 minutes, or until they are light golden on the edges. You should bake the "whole" cookies in one batch, or set of batches, then the cookies with a hole in the center in separate batches, and the centers of the cookies in a third batch. Each type will cook at different rates, so it's best to cook all of the same at once.  Cool cookies completely.
7.  Using a knife or small off-set spatula, spread on the solid cookies a layer of the jam.  Place the cut-out layer cookie over the bottom, pressing down lightly.  I found that the cookies lay better together if you spread jam on the bottom side of the solid cookie.  Sprinkle with powdered sugar, then fill the holes with more preserves.  Let set slightly before serving.