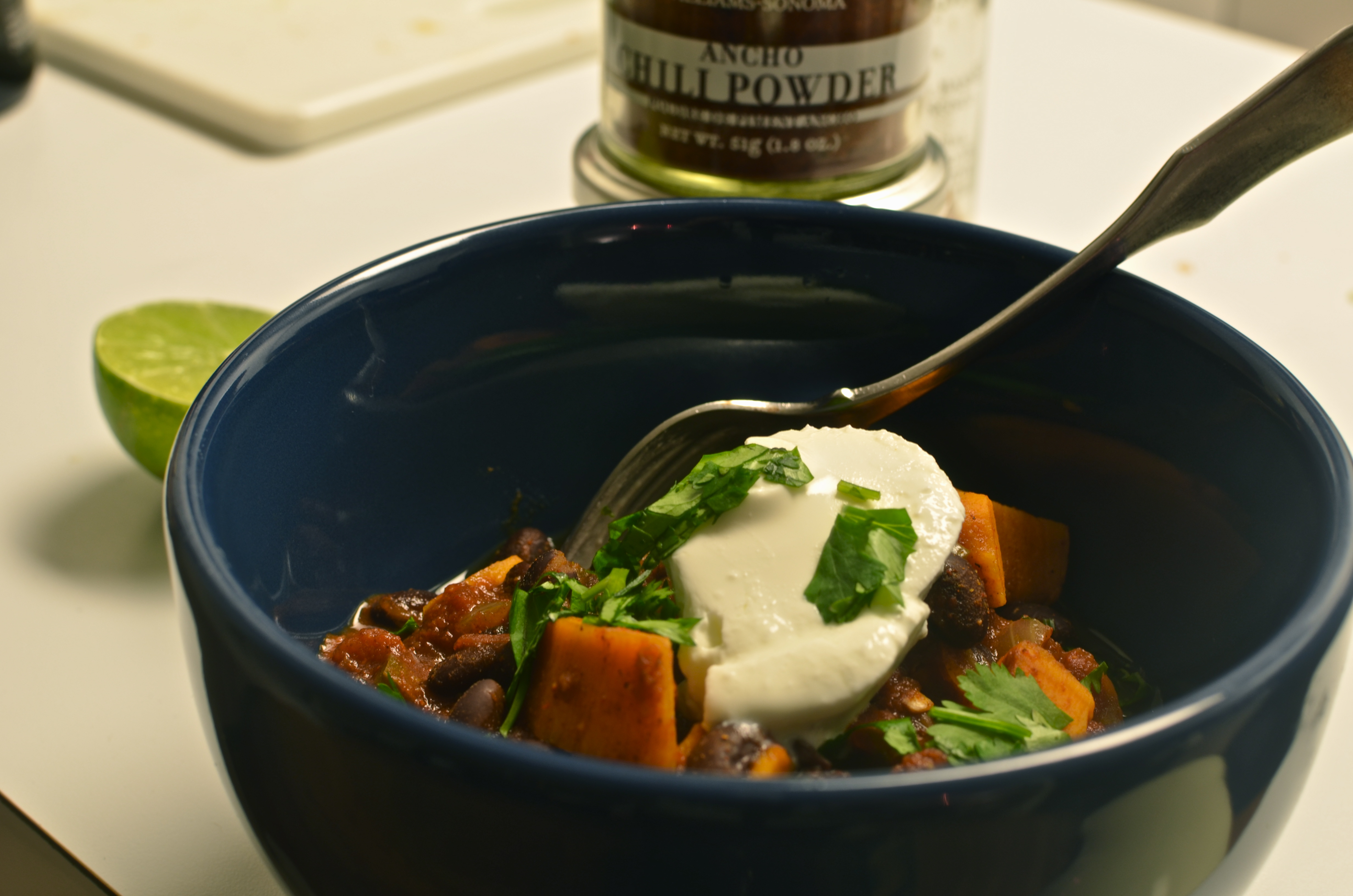 With the Superbowl coming up this weekend, I thought this week I would post a football-appropriate dish.  I admit that "appropriate" is relative term, because while this dish is a chili, it's a healthy one, and the foods we all know and love to eat while watching football are anything but healthy.  The nachos, the seven-layer dips, the guacamole, the wings, the big-beef chilis – loved by all (including me!) but certainly not good for the waistline.  If you want a healthier but meat-filled chili, please check out my Chicken and White Bean Chili.  But this post is all about creating a satisfying and healthy vegetarian chili.
I've made black beans several times on this blog, and I can't seem to get enough of them.  One thing I had never been able to find, however, is a really good black bean soup or chili recipe.   Then I saw this one posted by the lovely and talented The Kitchenarian, and it looked too good not to try.  The dish also gave me an excuse to use a new spice: ground ancho chilies.  Anchos are dried Poblano chilies and, according to my internet research, are the most commonly used chili pepper in traditional Mexican cuisine.  The ground chilies have a mild heat, complex fruity sweetness, and rich red hue.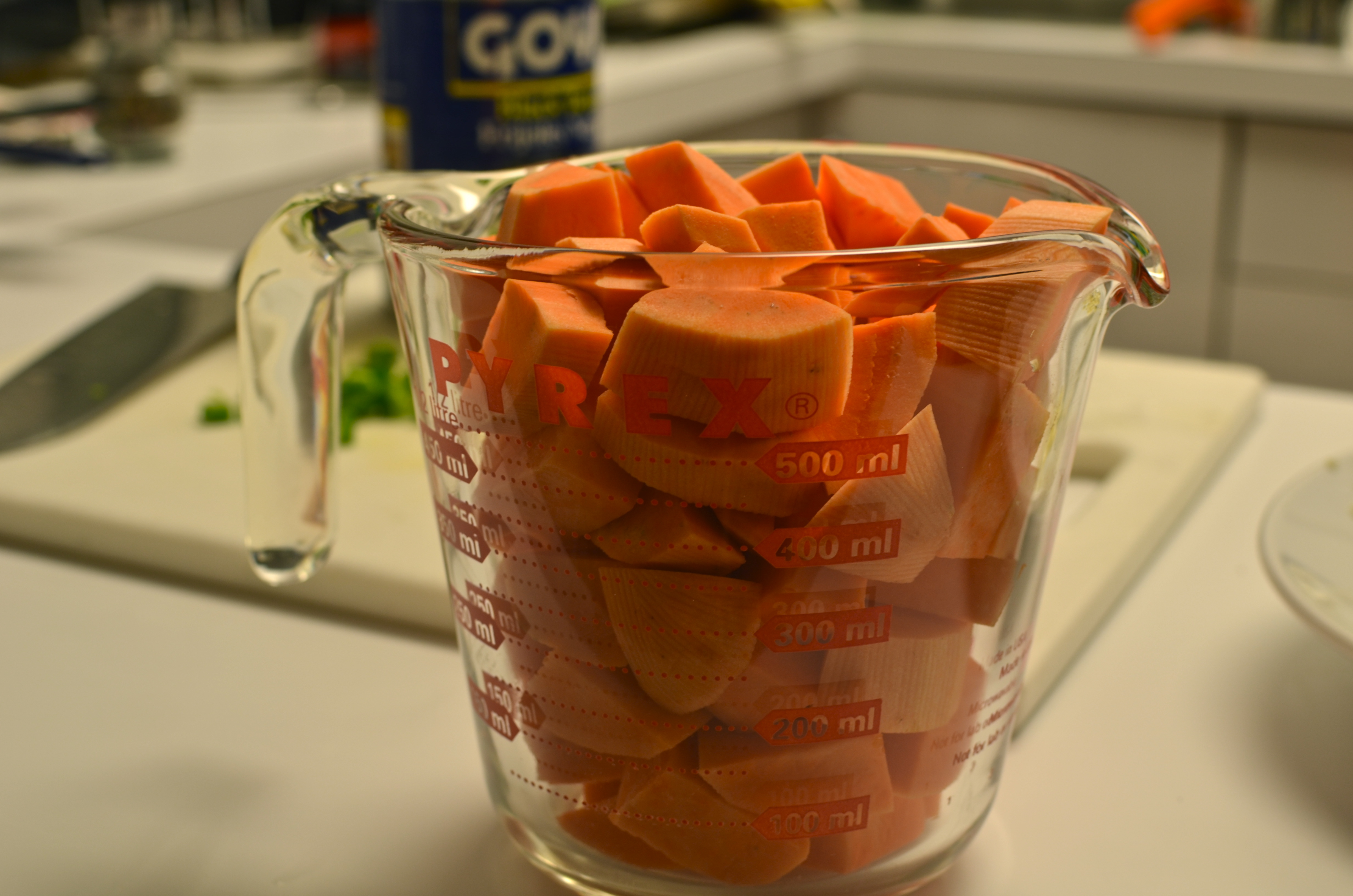 I loved this dish, and here is why.  The different chili powders gave it a complex flavor.  It's loaded with healthy and nutritional ingredients.  It's vegetarian but felt hearty and filling.  I will definitely make it frequently, but with one change  – omit the cinnamon.  The original recipe called for 1/2 teaspoon cinnamon, which I used, but found to be too overpowering for my taste.  If you love cinnamon in savory dishes such as this, please feel free to add it.  But for me, I had trouble tasting anything else.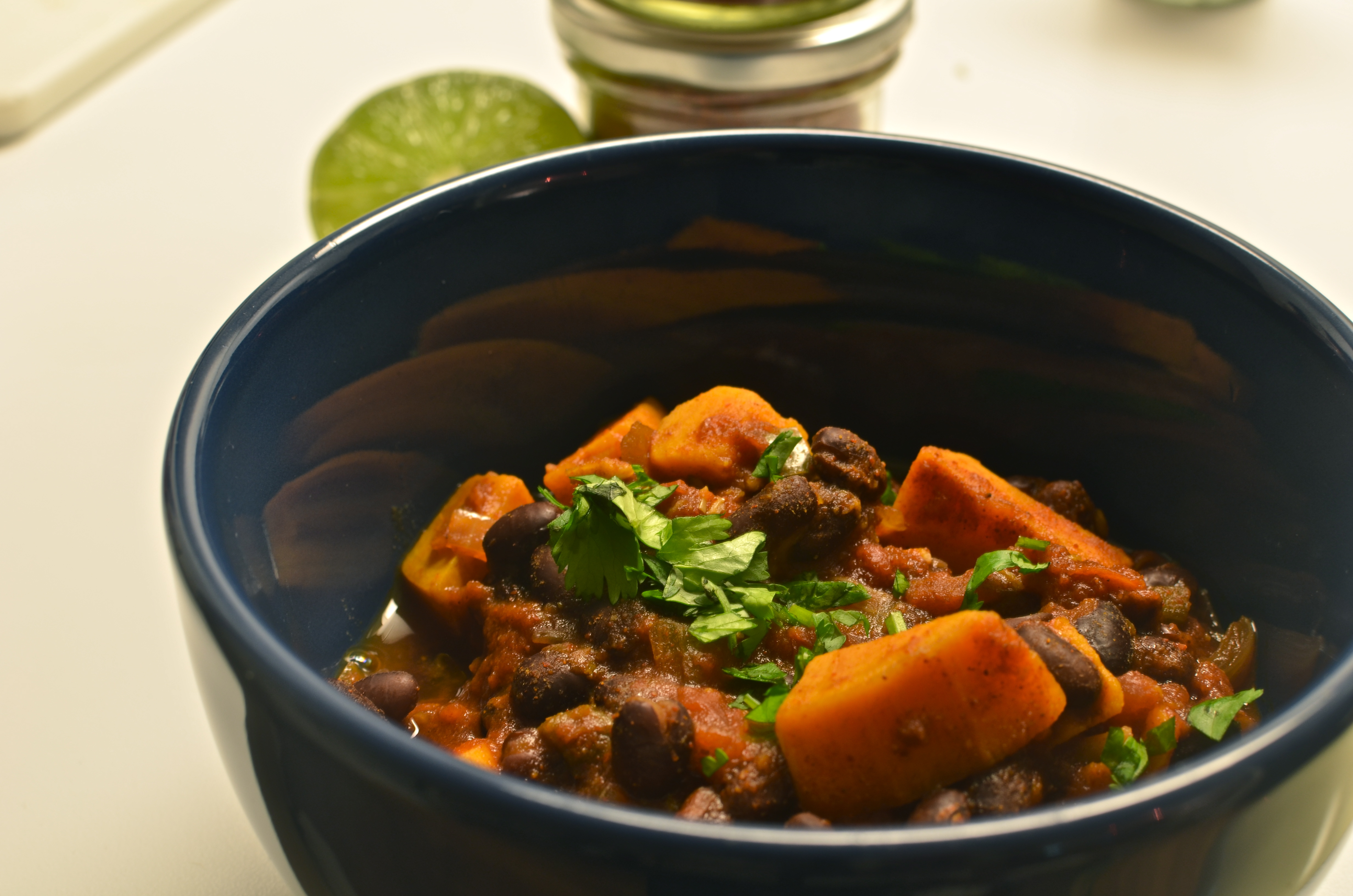 One Year Ago: Homemade Chicken Noodle Soup and Chocolate Caramel Crackers
Sweet Potato and Black Bean Chili
Adapted from The Kitchenarian
Makes 6 servings
Total time:
Ingredients
1 tablespoon vegetable oil
1 medium onion, finely diced
2 medium sweet potatoes, peeled and diced (about 2 cups)
3 cloves garlic, minced
1 jalapeño, diced, seeds and ribs removed (feel free to leave out – or add more – to suit your spice preference)
3 tablespoons chili powder
1 teaspoon ground ancho chile pepper*
1/4 teaspoon salt, or more to taste
2 cups water or chicken broth
2 15-ounce can black beans, rinsed and drained
1 28 ounce can diced tomatoes with juice
1/2 fresh lime, squeezed
1/2 cup chopped fresh cilantro, plus more for garnish
Reduced fat sour cream for garnish (optional)
I had trouble finding this, and ultimately found Ancho Chili Powder at my local Williams Sonoma (also available online).  I believe some grocery stores carry it, but lately all chili powders have been cleaned out – 'tis chili season, after all.
1.  Heat oil in a large saucepan or pot over medium-high heat.  Add onion cook, stirring often, until the onion is slightly softened.
2.  Add the sweet potato, garlic, chili powder, ground ancho chile pepper, salt and water.  Bring ingredients to a simmer, then cover, adjust the heat to low, and cook until the potatoes are tender, about 12 to 15 minutes.  Add the black beans, tomatoes and lime juice; increase heat to medium-high and cook for about 1o minutes, stirring often.  Reduce heat and simmer until you are ready to serve.
3.  Remove the pot from the heat and stir in cilantro.  Spoon into bowls and top with extra chopped cilantro and sour cream, if using.