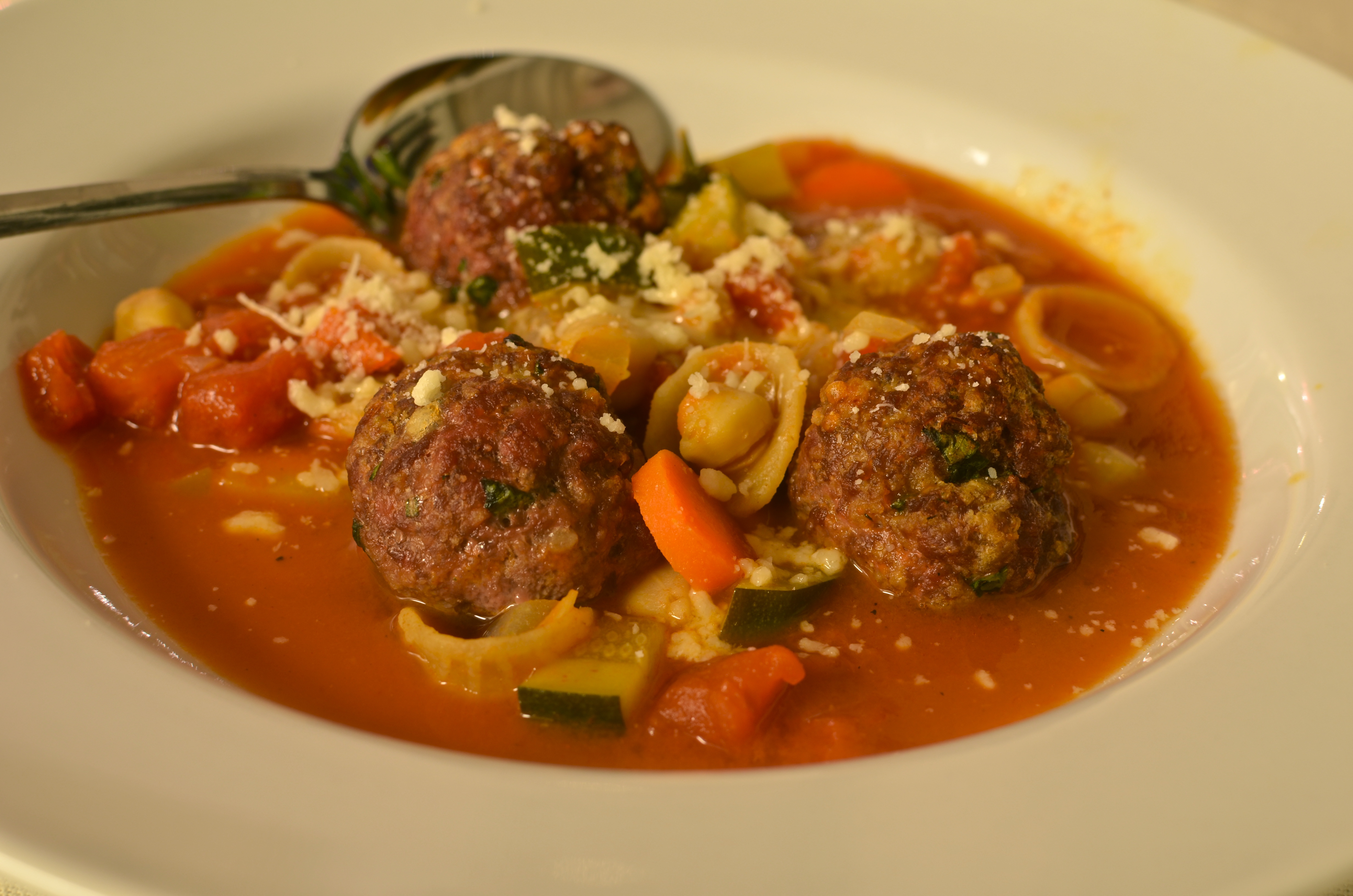 I hope everyone had a great long weekend.  I think it's safe to say that the mild winter we've been experiencing on the East Coast is officially over.  And after avoiding illness all winter, my luck finally ran out – I was sick with a pesky cold all weekend.  And being sick can only mean one thing: I want soup.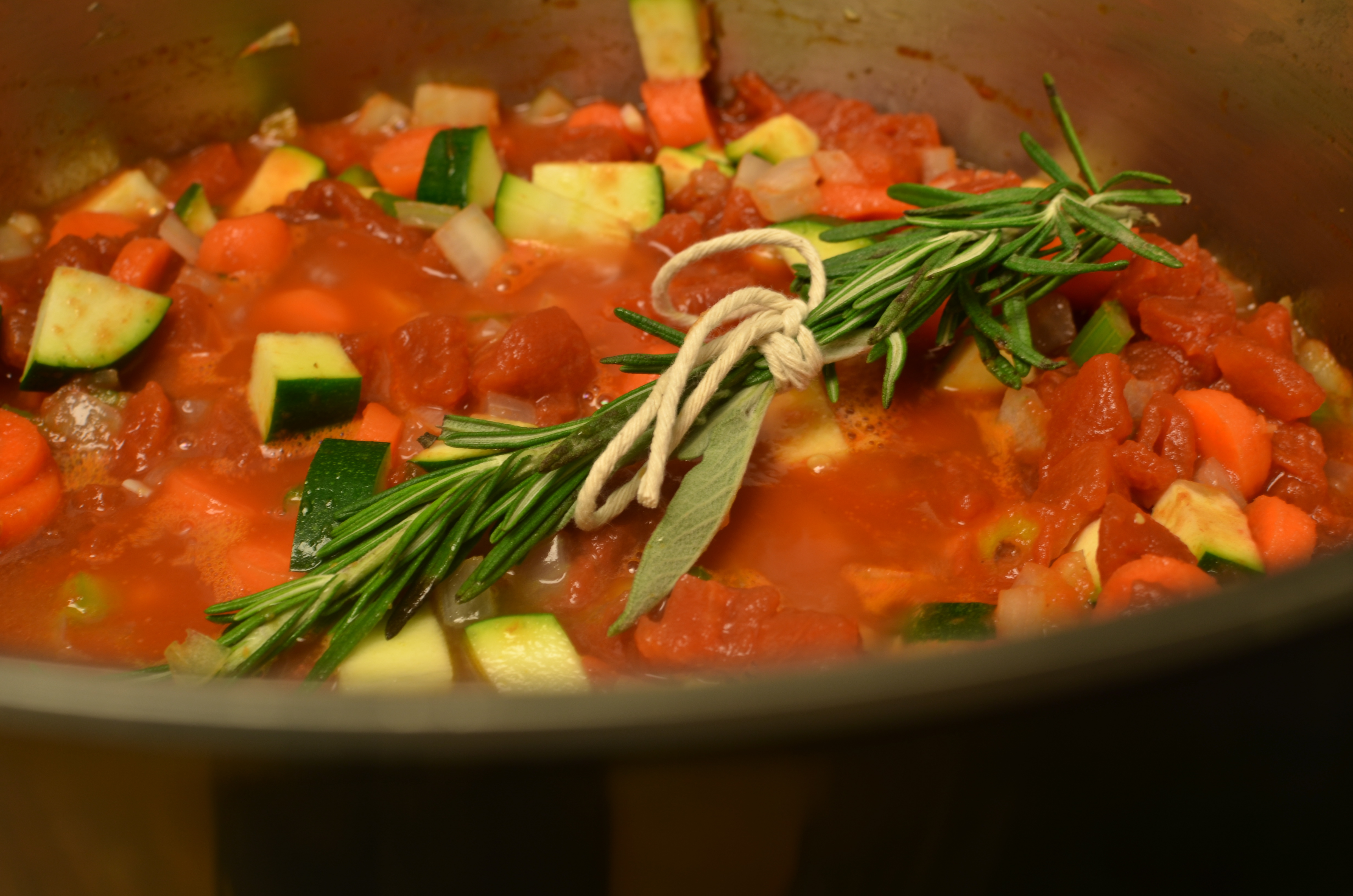 I saw a recipe for meatball and minestrone soup and thought it was a brilliant idea.  The recipe, however, lacked pizzazz and was full of typos and incorrect measurements, so I came up with my own.  I've posted recipes for a Roasted Vegetable Minestrone before, and I've made Lighter Meatballs as well.  This soup, however, is a little more than just combining the two recipes.  The flavors are different (and, in my opinion, better) due to the addition of fresh herbs – sage, rosemary, basil, and thyme.  The herbs flavor both the meatballs and the broth, making the dish anything but bland.  The broth is also thickened with a little tomato paste, an addition I think makes a huge difference.  I did keep the meatballs as light as my last ones, so this soup will help those of you on a New Year's diet!
Overall, I was really happy with how this turned out, and will definitely make it again.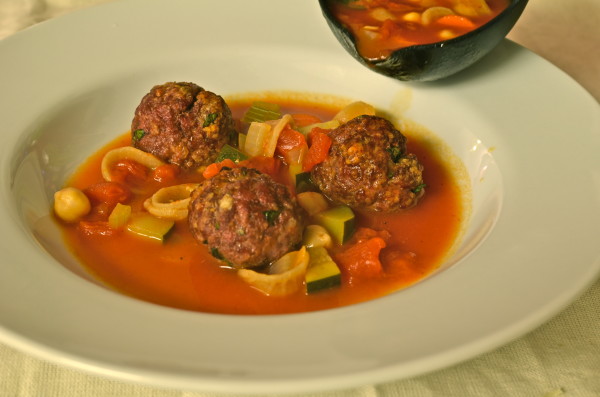 One year ago: Cuban Black Beans and Hot Chocolate
Minestrone and Meatball Soup
Recipe by Pâte à Chew
Serves 6 to 8
Total time: 1 hour
Ingredients
For the meatballs (makes ~20)*
1 pound extra-lean ground beef
2-3 springs rosemary, de-stemmed and minced (about 1 tablespoon)
2-3 sage leaves, minced (about 1 tablespoon)
5-6 basil leaves, minced
1 shallot, minced
1 clove garlic, minced
1 egg
1 teaspoon salt
1/2 cup bread crumbs
1/4 cup Parmesan cheese, grated
Note that these are similar to my Lighter Meatball recipe; the main difference between the two recipes is I switched up the fresh herbs.  I liked the rosemary, basil, and sage here, I thought it gave the meatballs a little something different. It worked beautifully.
Preheat oven to 400º.
2. Heat 1 tablespoon olive oil over medium heat.  Add shallots, and cook until soft, 5 minutes or so.  Add garlic and a pinch of red pepper flakes and cook two minutes more.  Remove from heat and set aside to cool.
In a large mixing bowl, combine ground beef, rosemary, sage, egg, salt, shallot-garlic mixture, bread crumbs, and Parmesan cheese.  Mix with your hands until well incorporated.  Add 1/4 cup water and mix again until incorporated

Shape the meat into 1½-inch balls, and place on a foil-lined baking sheet.

Bake 18 minutes or until golden brown and cooked through.
For the soup
2 tbsp. canola oil
1 medium yellow onion, diced
4 garlic cloves, minced
2 carrots, thinly sliced
2 celery stalks, thinly sliced
1 28-ounce can diced tomatoes
2-3 sprigs thyme
3-4 sprigs rosemary
2-3 sage leaves
5 cups chicken stock
2 tablespoons tomato paste
5 leaves fresh basil, cut in a chiffonade
1 bay leaf
1 zucchini, diced
1 15-ounce can chickpeas or white beans, drained and rinsed
1 bunch kale, roughly chopped (I used spinach, since that's what I had at home)
1 cup dry pasta shells (or something similar)
Parmesan cheese for garnish
1.  Heat oil over medium heat in a medium size pot or dutch oven.  Add the onion and a pinch of kosher salt.  Cook, stirring occasionally, until onions are translucent (about 5 minutes). Add garlic, carrots, and celery, and cook an additional 3-5 minutes. Add the zucchini and tomatoes and bring to a boil.
2.  Tie the thyme, rosemary, and sage into a bundle with kitchen twine. Add herb bundle, tomato paste, stock, and bay leaf to pot. Reduce heat to medium-low, partially cover, and simmer 15 minutes.
Add pasta and chickpeas and simmer an additional 10 minutes.  Add basil and kale (or spinach) and simmer and additional 3 minutes. Salt and pepper the soup to taste.

Place two or three meatballs in a wide bowl.  Ladle soup around meatballs and sprinkle the soup with Parmesan cheese.