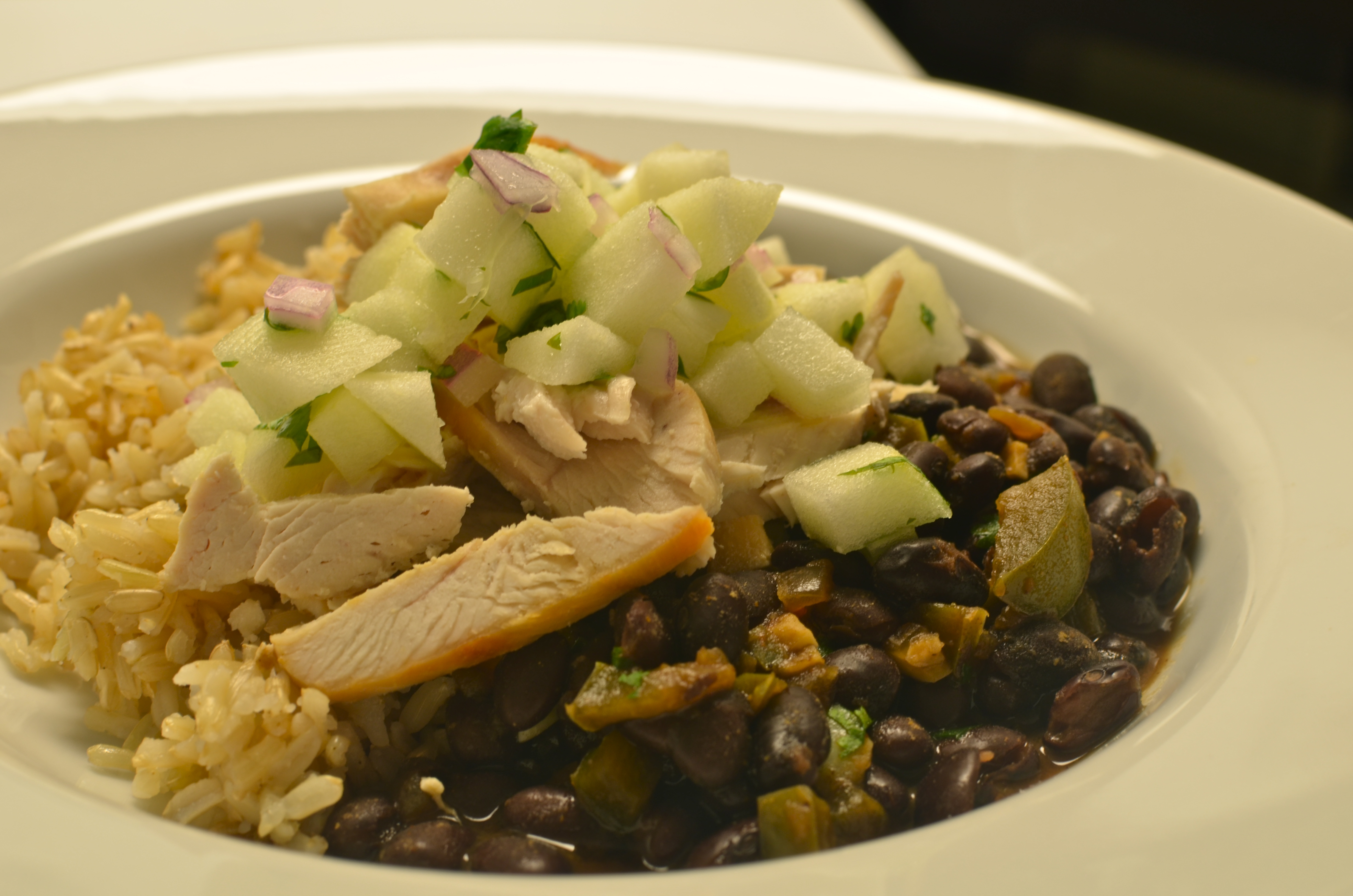 2012 has gotten off to a great start.  For those that didn't see, Bon Appetit published one of the photos of my pretty Peppermint Meringues on their website, which you can find here (I am the third picture featured).  I was very excited to get a little recognition from such a wonderful publication, so thank you Bon Appetit.
And now back to real life, where I've been on the lookout for new and healthy recipes for the New Year.  The baking and sweet-indulging can get out of control on December, and I'm sure I'm not the only one out there looking to reboot my healthy diet.  I've made black beans once before, but saw this recipe in Bon Appetit's January issue.  The pairing of a tart Granny Smith apple salsa with chicken and black beans seemed to me a perfect flavor combination.  The dish is also loaded with fiber and very little fat, and doesn't take very long to make (under an hour, so perfect for a weeknight meal!).
The verdict: I loved it.  I paired my dish with brown basmati rice, which upped the health factor a bit more.  If you love apples (like I do), I encourage you to double the salsa part of the recipe!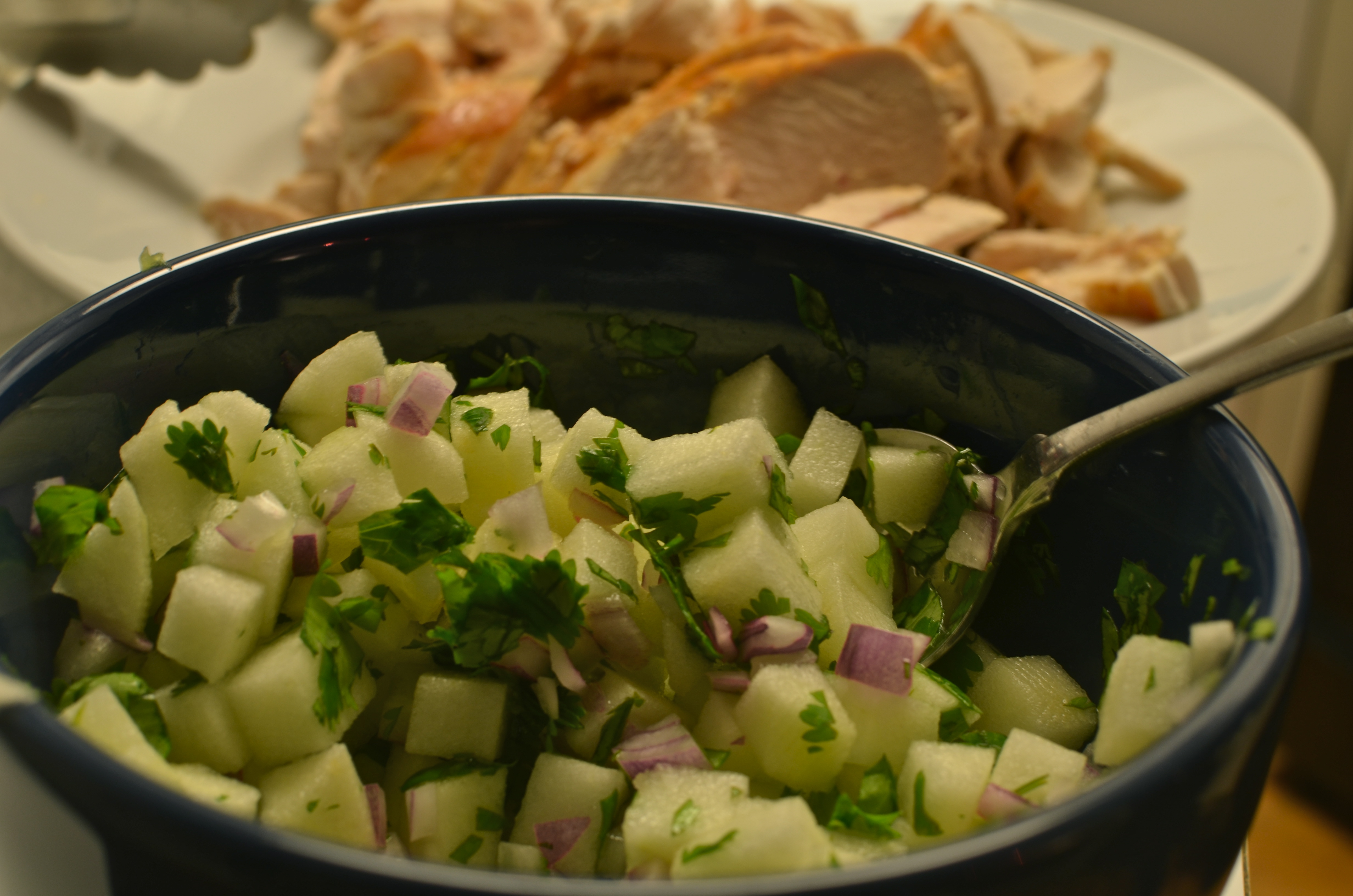 One year ago: Six Days in Rome: a Food Retrospective
Black Beans and Rice with Chicken and Apple Salsa
Adapted from Bon Appetit
Makes 4 to 6 servings
Total time: 45 minutes
Ingredients
1 chopped peeled Granny Smith apple
1/2 cup chopped cilantro, divided
1 finely chopped medium-sized red onion, divided
Juice of two limes, divided
1/2 cup finely chopped green bell pepper
2 tablespoons vegetable oil
4 garlic cloves, minced
1 1/2 teaspoons chili powder
1 teaspoon ground coriander
3 cups low-salt chicken broth*
2 15-ounce cans black beans, rinsed and drained
Kosher salt and freshly ground black pepper
4 cups cooked brown or white rice
1 2–3-pound rotisserie chicken, skin discarded and meat shredded**
4–6 lime wedges
To make this dish vegetarian/vegan, replace chicken broth water or vegetable broth, and omit the chicken
** Instead of buying a cooked rotisserie chicken, I bought 3 boneless and skinless chicken breasts, pan-fried them in a little vegetable oil with the lid on for about 8 minutes a side (or however long it takes so that they are cooked through), then moved them to a plate to cool.  I then cooked the beans in the same pan, and cut up the chicken when the beans and rice were done, and topped the beans and rice with slices of the chicken.
Combine apple, 1/4 cup cilantro, 2 Tbsp. onion, and 1 tsp. lime juice in a small bowl; toss to coat. Set apple salsa aside.

Combine remaining onion, bell pepper, and oil in a large skillet. Cook over medium heat, stirring often, until completely softened, 6–7 minutes. Add garlic and next 3 ingredients; stir constantly for 2 minutes. Stir in broth and beans; bring to a boil. Reduce heat to medium; simmer briskly, mashing some of the beans with the back of a spoon and stirring often, until sauce is thickened, 8–10 minutes. Season with salt, pepper, and more lime juice, if desired.

Divide rice and beans among plates.  Top with some chicken and apple salsa. Garnish with remaining 1/4 cup cilantro and lime wedges.