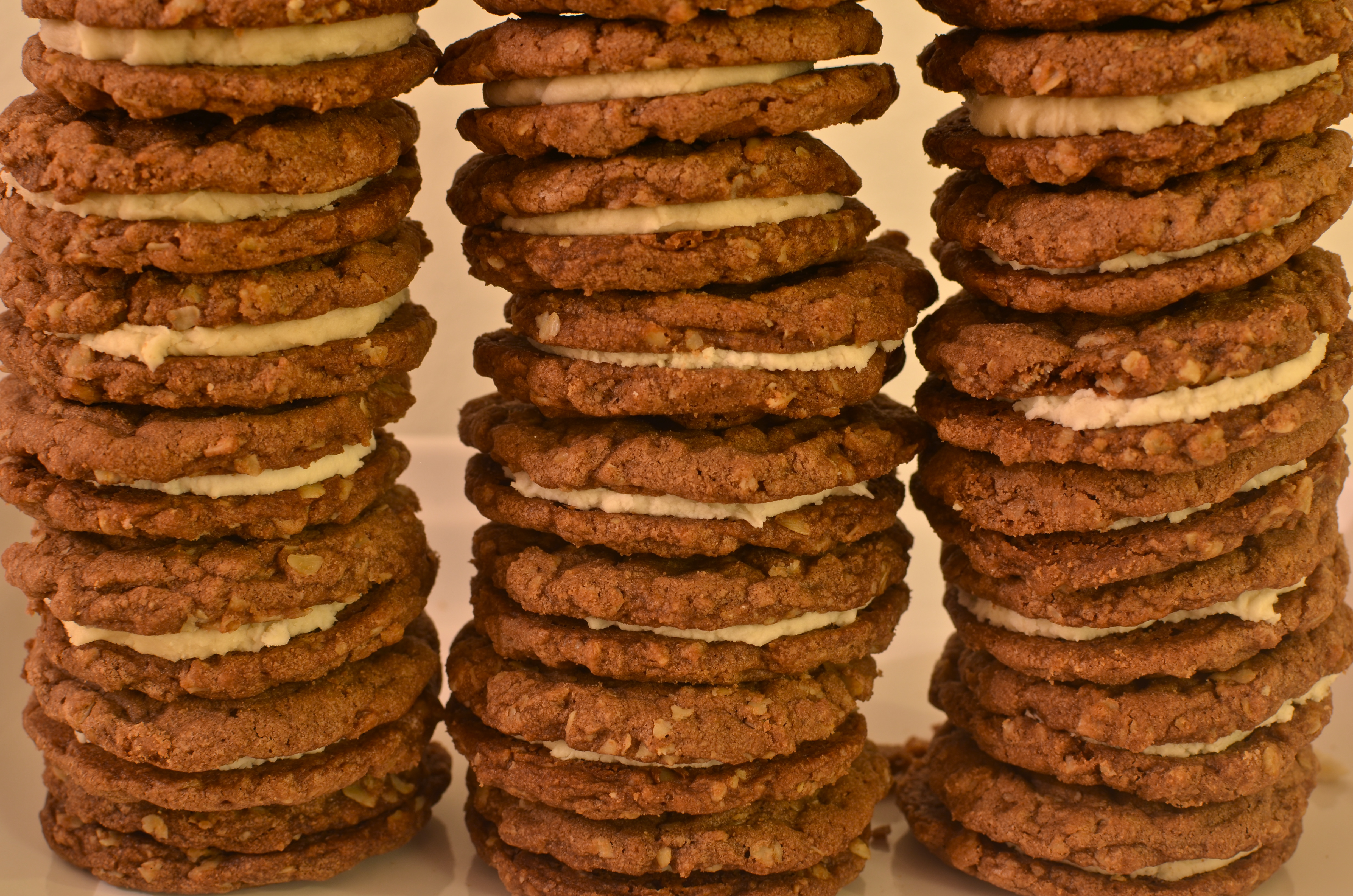 Remember those delicious oatmeal cream pies we all used to eat in our lunches when we were kids?  Well, here's a way to recreate them, without all the preservatives and other artificial stuff you find in pre-packaged goodies.  Looking for a new cookie recipe to try for a holiday party, I read about this cookie on my friend Shannon's blog, Tri 2 Cook, which referred me to a blog called Free Food Boston.  These are the soft, chewy, and sweet oatmeal cream pies that we all know and love, but with the addition of Nutella to the dough.  Most people would agree that Nutella makes everything better.  I love it so much, I don't actually keep in the house.  Its presence in my kitchen is far too dangerous for my waistline.  But I made an exception for this recipe, which required me to buy a small jar and set aside most of it for the dough and not for my personal use.
I made a few adjustments to the recipe: I cut out some of the butter, because I thought the cookie was a little too buttery (both in taste and to the touch), and I cut a little of the sugar, for fear that the cookie would be too sweet when paired with a very sweet filling.  I was happy with the results, and you will be too.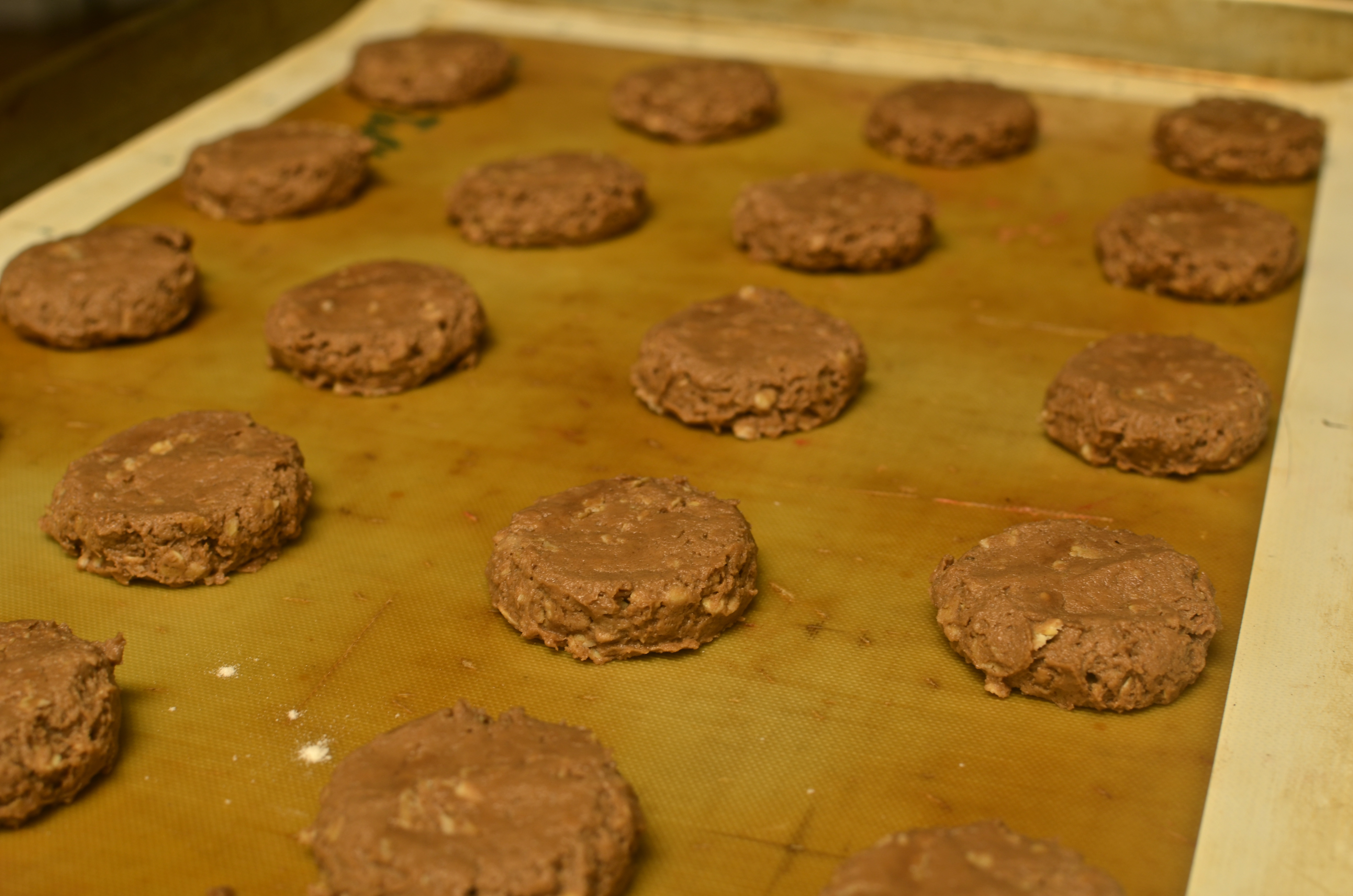 Nutella Oatmeal Cream Pies
Adapted from Free Food Boston
Makes 20-25 sandwich cookies
Ingredients

For the cookies:
6 tablespoons unsalted butter, softened
1/4 cup sugar
1/2 cup brown sugar
2/3 cup Nutella
1 egg
2 tsp vanilla
1 cup flour
1 cup quick cooking oats
1 tsp baking soda
1/4 tsp salt
For the filling (same filling recipe as my Homemade Oreo Cookies)
1/4 cup (1/2 stick) room-temperature, unsalted butter
1/4 cup vegetable shortening
2 cups sifted confectioners' sugar
2 teaspoons vanilla extract
Preheat oven to 350°F.  Line two cookie sheets with parchment paper or silpats.  In a medium bowl, combine flour, oats, baking soda, and salt and stir to combine.

Cream butter, sugar, and brown sugar with an electric mixer until fluffy, about 3 minutes.  Add egg, vanilla, and Nutella and beat 1 minute until well incorporated.  Gradually add the dry ingredients until just combined.

Scoop dough into tablespoon-sized balls (I used a #70 disher) and arrange on cookies sheets leaving ample space in between. Press the dough to flatten it about half-way down, trying to keep the round shape of the dough (see picture above).  Bake for 5-6 minutes, rotating the trays halfway through the baking time.  The cookies should look almost raw in the centers when you take them out.  Let the cookies cool completely on the sheet pans.

To make the cream, place butter and shortening in a mixing bowl with paddle attachment, and at low speed, gradually beat in the sugar and vanilla. Turn the mixer on high and beat for 2 to 3 minutes until filling is light and fluffy.

When cookies are completely cooled, spoon a tablespoon of filling (or however much you like) onto one and press it into a sandwich using a second cookie.  I just scooped a little cream onto the cookies with the same (clean) #70 disher I used to scoop the cookie dough.