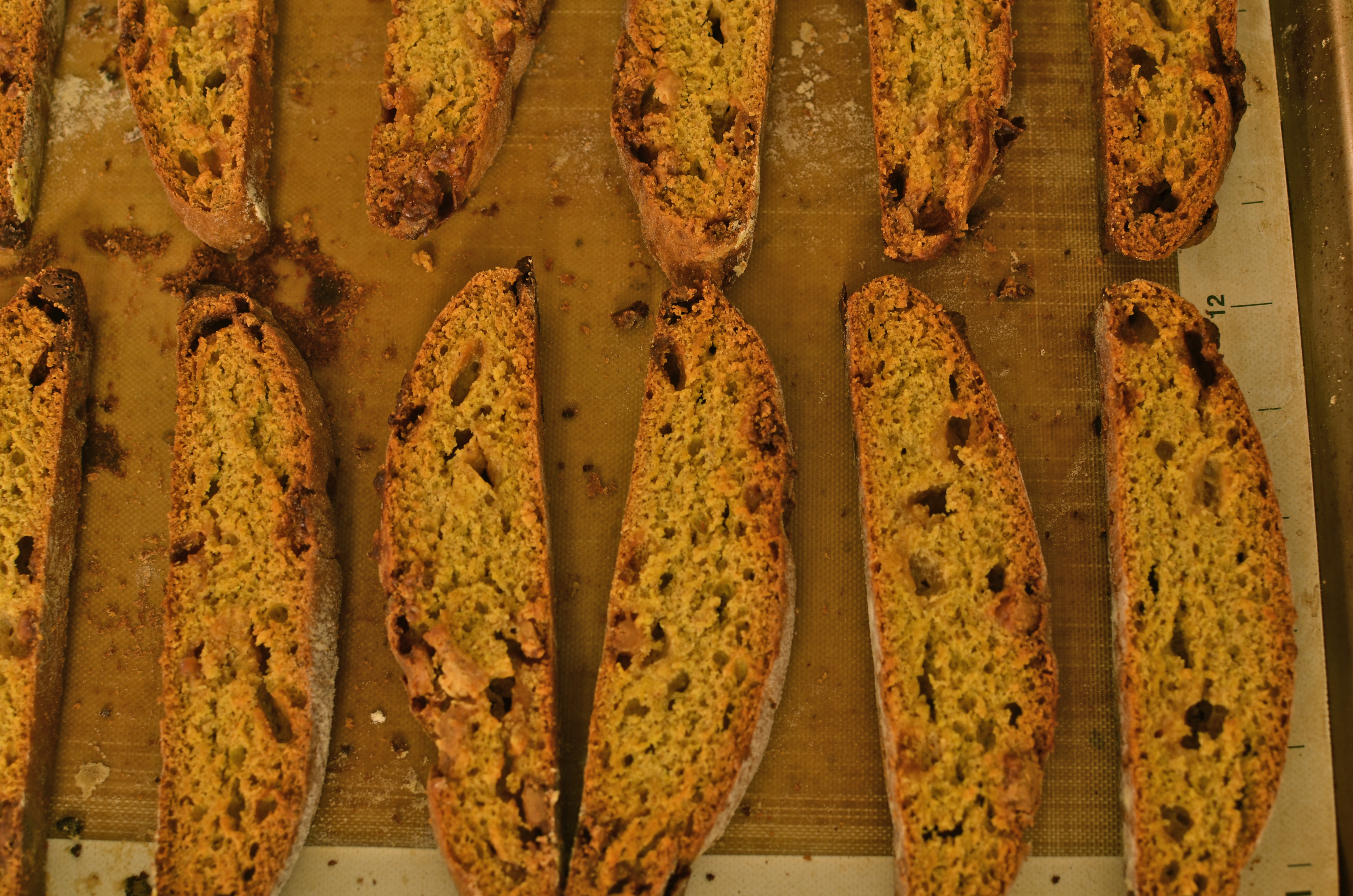 A few months ago I promised another pumpkin recipe, and I've (finally)  made good on that promise.  It just took me a little longer than expected.  Over the past year of writing Pâte à Chew, I've posted two biscotti recipes: Almond Biscotti and Chocolate Cherry Biscotti.  So it's fair to say that I love biscotti.  Then last month, I saw a recipe for pumpkin biscotti on another cooking blog, and was intrigued.  Biscotti are twice-baked cookies that are crunchy and dry, but pumpkin makes anything you bake incredibly moist (which is one reason why these Pumpkin Chocolate Chip Cookies are so darn good).  I liked the idea of pumpkin biscotti, but was skeptical that you could make a good pumpkin biscotti that would adequately dry out and taste like pumpkin.  So I made the recipe I found, and it wasn't great.  It wasn't even good.  The biscotti were bland, with only the faintest hint of pumpkin and spice.  They were also not crisp, having retained some of the moisture of the pumpkin.  Overall, they were dull.  Dull is not good.   I got to thinking about how I could make them better.
Four batches of pumpkin biscotti later, I found a recipe worth swooning over.  Recipe development is one area where the Type-A-lawyer-perfectionist in me benefits those of you who use my recipes (or eat the end product).  Each batch still had something off about it.  One I baked too long in hopes of drying out the cookies more, and the biscotti turned out too hard (and no one wants to crack a tooth on biscotti).  One batch didn't have enough spices, so I adjusted accordingly.  Ultimately, I was able to up the amount of puréed pumpkin to get more pumpkin flavor (while taking out some of the butter), and added an extra white to both help the dough incorporate better and dry out the cookie when it bakes.   As we all learned from my post on Chewy Chocolate Chip Cookies, egg whites dry out cookies.
These are my new go-to biscotti, at least for the Autumn and Winter months.  They make a lighter treat for those of you looking to not fill up on the heavier desserts that come with the holidays.  I strongly encourage you to add extras to this biscotti – chocolate (white or semi-sweet), dried fruits (cranberries, cherries), and/or chopped nuts (walnuts, pecans).  One commenter tried this recipe with crystallized ginger – also an excellent idea.  My favorite version of these has white chocolate and half a cup of chopped walnuts.  You rarely hear me say I favor white chocolate over any real chocolate (as white chocolate isn't actually chocolate), but it works perfectly here.  The white chocolate melts away into the cookie and becomes brown and caramelized, which adds to the biscotti a caramel-like flavor.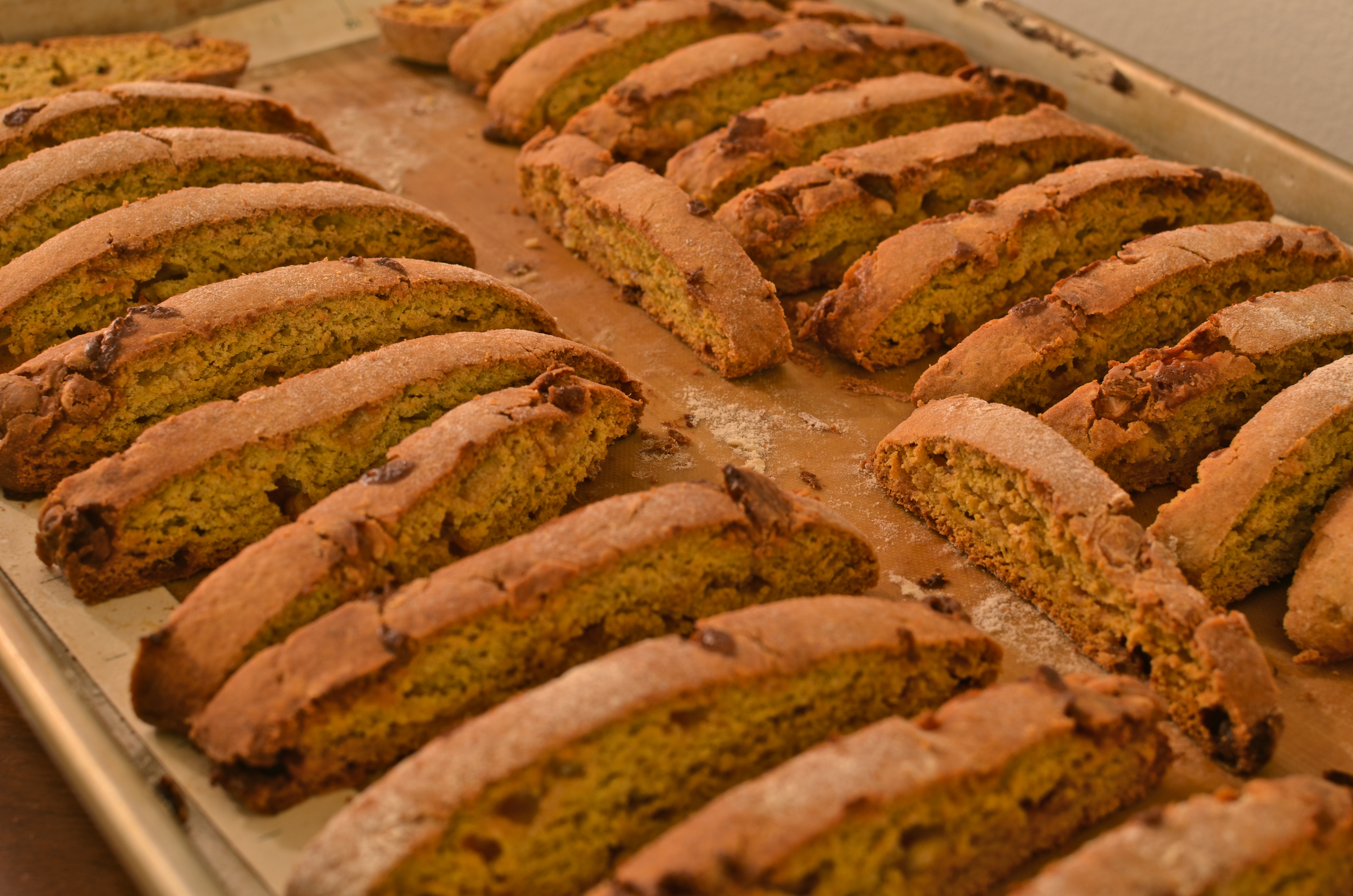 Pumpkin Biscotti
Recipe by Pâte à Chew
Makes 3 to 4 dozen
Total time: 1 hour 15 minutes
* PLEASE NOTE: If you use white chocolate in any recipe, please read the ingredient list and make sure the white chocolate contains cocoa butter.  Cheap, poor quality white chocolate is made by using gross oils as the fat in the white chocolate, and not real cocoa butter.  If you use white chocolate that contains oil and not cocoa butter, the white chocolate will melt into an oily, disgusting mess when it bakes.
Ingredients
2 1/2 cups all-purpose flour (you can substitute 1/2 cup whole wheat flour for 1/2 cup of the all-purpose flour)
1 cup granulated sugar
1 teaspoon baking powder
2 teaspoons cinnamon
1/2 teaspoon nutmeg
1/4 teaspoon ginger
1/4 teaspoon cloves
1/2 teaspoon salt
2 eggs + 1 egg white, room temperature
4 tablespoons butter, melted and cooled
3/4 cup pumpkin purée
1 teaspoon vanilla extract or vanilla bean paste
Optional add ins: here, 1 cup white chocolate chips (or chunks) and 1/2 cup chopped walnuts; try other chocolates or nuts as well, and crystallized ginger would also be a good option (thanks Dee!)
Preheat oven to 350°F.  Line a baking sheet with parchment paper or a silpat.  Mix together the flour, salt, sugar, baking powder, and spices in a large bowl.

In another bowl, whisk together the eggs, egg white, melted butter, pumpkin purée, and vanilla extract. Pour the pumpkin mixture into the flour mixture. Give it a rough stir to generally incorporate the ingredients, which will take some serious arm work.  Stop mixing after they are just incorporated, and mix in your white chocolate and/or nuts.

Sprinkle flour on the lined baking sheet and dust your hands with flour.  Scoop up half the dough (eyeball it) and roll the dough into a large log, roughly about 12 inches long.  The dough will be sticky, and that's okay!  Imagine you are back in kindergarten and someone has given you a ball of clay to roll into a snake.  Repeat with the second half of the dough.  Then starting from the middle of each loaf and working outwards, use your hands and flatten the log into loaves.  The loaves should be relatively flat, only about 1/2 to an inch high.  The flatter the loaf, the longer and skinnier your biscotti will be, so flatten to a width based on your shape preference.  Bake for 20 to 25 minutes at 350ºF, until the center is firm to the touch.

Allow loaves to cool until they can be handled comfortably, about 20 minutes.  Place each loaf on a cutting board, and slice loaves at an angle, making biscotti 1/2 inch thick.  If you like thicker biscotti, feel free to cut them an inch thick.  Place cookies standing upright onto the baking sheet, turn the oven temperature down to 300°F, and bake for 30 to 40 minutes, or until the cookies feel mostly dry when you touch them.  This has taken me closer to 35 minutes – start checking at the 25 minute mark, and if the biscotti still feel soft and moist, keep baking and checking every 5 minutes.