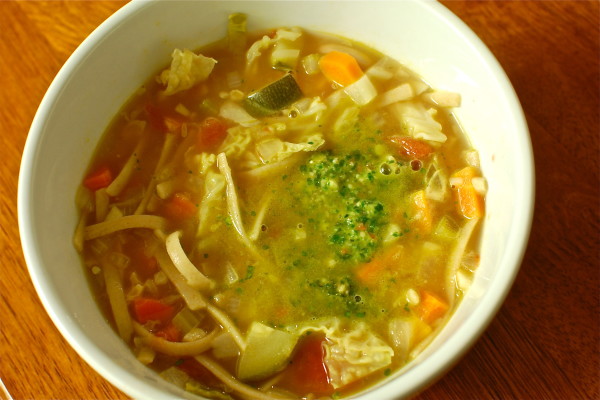 I got a lot of great feedback from my last post, Caramel Walnut Pie.  I again proved my earlier theory right: healthy stuff is boring, people would rather see the sweet stuff.  Well, I can't make the sweet stuff every week, otherwise I'll double in size.  So what do you eat after Caramel Walnut Pie?  How about something as healthy as you can get: vegetable soup.
I will admit that many vegetable soups are pretty boring, not to mention bland.  But for those of you who have had a good vegetable soup in your lifetime, you know that when it's good, it's good.  I liked this recipe, for French-style vegetable soup, because it uses pistou to give a complexity to the soup's flavor.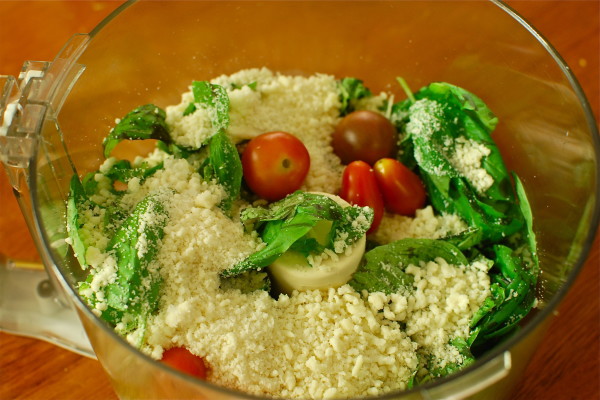 In case you're wondering, pistou is basically a French pesto.  This pistou is a different from traditional basil pesto because it doesn't have nuts, adds a few tomatoes to the mix, and has less (but not too little) olive oil.  The pistou adds a ton of flavor and a little richness, but still keeps the soup wholesome and low calorie.  It makes the soup a lot more interesting, which is exactly what the typical vegetable soup needs.
Now that the weather is cooling down, I recommend you try it – particularly if you made the Caramel Walnut Pie and feel the need to detox!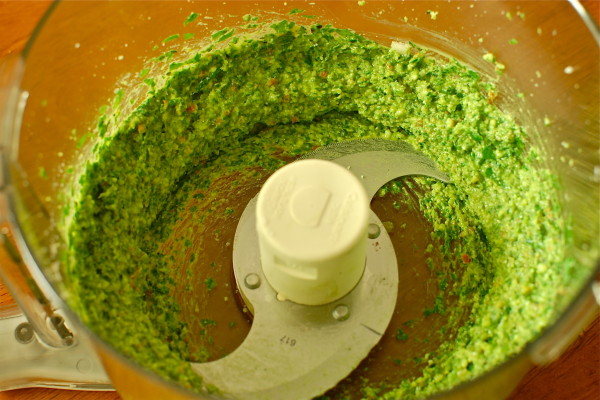 Soupe au Pistou (Provençal Vegetable Soup with Pistou)
Adapted from Saveur
Serves 6 to 8
Ingredients
For the pistou: This makes more pistou than needed for the soup, so keep extra in the fridge to spread on bread or toss with pasta (or use it as pesto to make my Orzo and Pesto Pasta Salad!)
4 cups packed basil
1 cup grated parmesan
1/4 cup extra-virgin olive oil
1 tsp. kosher salt
2 cloves garlic, chopped
1 plum tomato, cored, or a handful of cherry tomatoes (what I had on hand)
For the soup:
1/4 cup extra-virgin olive oil
1 oz. pancetta, minced* (optional; I left it out)
5 cloves garlic, finely chopped
3 medium carrots, peeled and finely chopped
2 ribs celery, finely chopped
1 yellow onion, finely chopped
1/2 medium zucchini, chopped
1/4 head Savoy cabbage, cored and thinly shredded
8 cups chicken stock*
7 whole, peeled canned tomatoes, chopped
1/3 cup broken dried spaghetti (broken into bite-sized pieces), or small bite-sized pasta of your choice
1 15-oz. can cannelini beans, drained.
Kosher salt and freshly ground black pepper, to taste
*To make this recipe vegetarian: omit the pancetta and substitute vegetable stock or water for the chicken stock.
1.  Make the pistou: Process basil, parmesan, oil, salt, garlic, and tomato in a food processor (or blender) until finely ground. Season with salt and pepper, and set aside.
 Heat oil in a 6-qt. saucepan over medium-high heat; if using pancetta, add pancetta and cook, stirring often, until fat has rendered, about 2 minutes.  If not using pancetta, add garlic, carrots, celery, and onions to heated oil, and reduce heat to medium; cook, covered and stirring occasionally, until crisp-tender, 12–15 minutes.  Add zucchini and cabbage; cook, covered, until wilted, 3–5 minutes.  Add stock and tomatoes, and bring to a boil, then add pasta and cook until al dente, about 8 minutes.  While pasta is cooking, mash half the beans with a fork; then when pasta is done, add to soup along with whole beans—cook until warmed through.  Season with salt and pepper.  Ladle soup into bowls; serve with hearty spoonful of pistou dolloped on top.