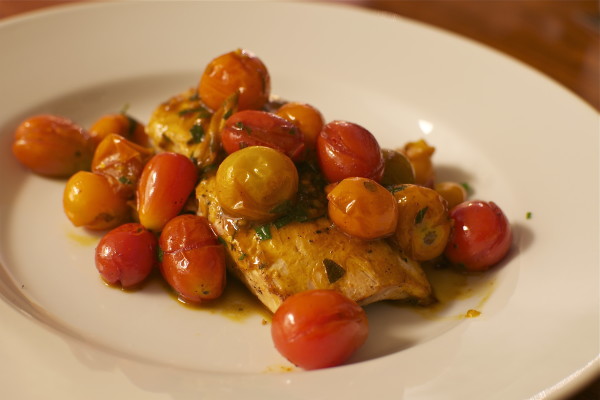 I recently decided to continue on my quest to find new and interesting chicken recipes.  I received a lot of really nice feedback on my Lemon Chicken Breasts post, but considering I wrote about that last March, I think it's about time I find another chicken option for your quick weeknight dinners.
I'm always on the lookout for recipes that potentially have this near-perfect equation: few ingredients + short cooking time = amazing results.  This was the beauty of the Lemon Chicken Breasts; it only took a few simple ingredients an hour of your time to turn otherwise-bland chicken into a tasty dinner you look forward to eating.  I'm happy to report I hit the jackpot for the second time with this new chicken dish, made with fresh oregano, garlic, paprika, and plenty of cherry tomatoes.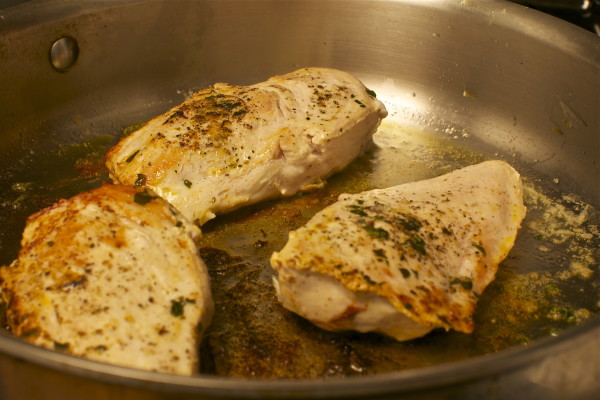 Besides tasting great, this is fairly healthy dish.  I made a few changes, substituting olive oil for half the butter.  I wouldn't eliminate the butter completely, as the butter is what gives the sauce a little richness that you simply can't get from oil.  And this dish was easy – so easy that I screwed it up multiple ways and it still came out great.  I don't know what was going on that night, but I had a series of blonde moments.  First, I forgot to buy garlic, so I had to leave it out.  Second, I forgot I was supposed to cover the chicken while it cooked, and then wondered why it was taking so long to cook all the way through.  Even without the garlic and the longer cooking time, it was a great dinner.  Added bonus: the left-overs were also good too.
So try this dish next time you want something different to do with your boneless, skinless chicken breasts.  Chances are you'll already have everything but the fresh oregano in your kitchen, and stopping on the way home to pick up fresh oregano will be worth it.  Trust me!

Chicken with Tomato-Herb Pan Sauce
Adapted from Bon Appetit
The key to this sauté is to cook the tomatoes with the bits of chicken left over after you've seared it in the pan. When the tomatoes burst, swirl in the remaining oregano butter to finish the pan sauce.
Makes 2 servings, recipe can be easily doubled
Total time: 30 minutes
Ingredients
1 tablespoon unsalted butter, room temperature
1 tablespoon olive oil
2 teaspoons chopped fresh oregano
1 teaspoon sweet paprika*
Kosher salt and freshly ground black pepper
2 skinless, boneless chicken breasts
2 cups mixed cherry tomatoes (11-12 ounces)
1 garlic clove, minced
2 tablespoons chopped fresh flat-leaf parsley
*Most paprika you see in the grocery store is "sweet" paprika, even if it is labeled simply "paprika."  Hungarian paprika is spicy paprika, so avoid using that kind (unless you feel like experimenting).
Mash butter, oregano, and paprika in a small bowl to blend. Season oregano butter to taste with salt and pepper.

Melt 1 tablespoon oregano butter in a medium heavy skillet over medium heat with 1 tablespoon olive oil. Season chicken with salt and pepper. When hot, add chicken to skillet, cover, and cook until no longer pink in center, about 5 minutes per side. Transfer chicken to a plate. Tent chicken with foil to keep warm, or place chicken in the oven at 200 degrees F.

Increase heat to medium-high. Add tomatoes and minced garlic to skillet and cook, stirring occasionally, until the tomatoes begin to char and burst, about 5 minutes.  Make sure that when you are stirring, you scrape off all the bits of chicken stuck to the bottom of the pan, which adds great flavor to the sauce.  Add remaining oregano butter to skillet. Crush tomatoes slightly to release juices and add chopped parsley; stir and let cook 1 minute. Season sauce to taste with salt and pepper. Spoon tomato sauce over chicken.