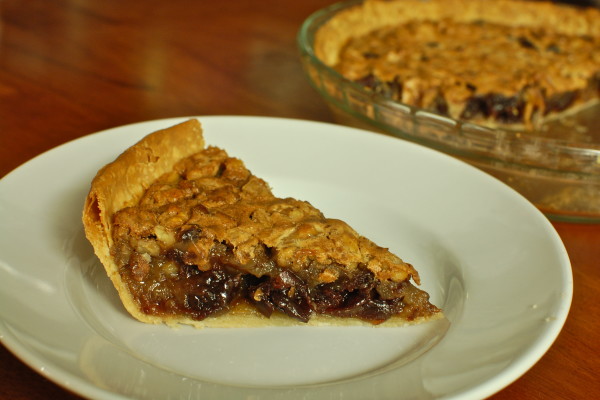 Let the Thanksgiving prep begin!  Last Fall, one of my first posts on Pâte à Chew was Pumpkin Pie with Streusel Topping.  I wrote about it a few days before Thanksgiving; it is a recipe I have been making for years, and I wanted to share it before the holiday arrived.  Well, for a blog that was less than 3 weeks old, I got a hundred hits on that post the first day alone – and it has more total hits than any other recipe.  What did I learn?  People like hearing about new and exciting takes on holiday dishes.  So I have a new mission: to bring new, exciting, and Pâte à Chew-tested recipes to your holiday menus this November and December.
Caramel Walnut Pie is one of the recipes that caught my eye.  It is similar to a pecan pie, but slightly less sweet, with the addition of dried cherries infused with Port.  I didn't grow up eating pecan pie; traditional pumpkin pie was always on our Thanksgiving table.  In fact, I don't think I tried pecan pie until my mid-20s.  I found it to be fine, but it was never my favorite.  Anyone who has known me for more than 5 minutes knows I have a giant sweet tooth, but even pecan pie is too sweet for me.  Then I saw this recipe, and thought it might be a new dessert my walnut-loving grandmother might have approved of serving at Thanksgiving.
If you are the type of person that loves pecan pie-style pies, you will love this pie.  Texture-wise, it's similar to pecan pie, and it comes out a little less sweet.  The cherries are boiled in ruby Port, which plumps them up and makes you feel like you are biting into fresh cherries.   Flavor- and texture-wise, the cherries are brilliant.  The cherries also retain a bit of their tartness, which nicely cuts the sweetness of the pie.  But, if you don't really like cherries, you can certainly leave them out.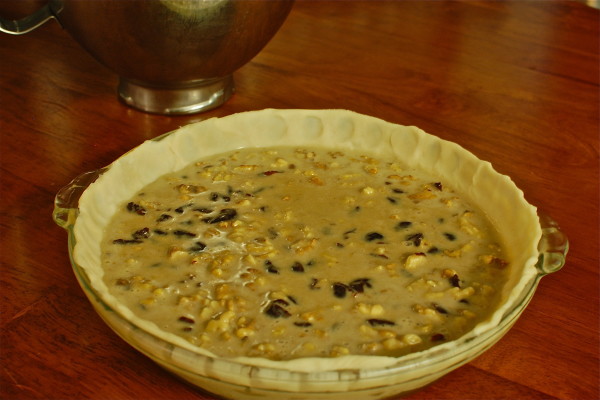 I will admit to doing something I haven't yet done in the history of Pâte à Chew: I used a store-bought crust.  Yes, part of my goal on this blog is to make as much as I can from scratch, and I can certainly make a decent pie crust.  So what happened?  I woke up the morning I made this pie and simply didn't have the energy to make my own pie dough.  After tasting the final product, I admit that homemade pie dough would have made this pie better.  Because this pie is mostly about the filling, however, the store-bought crust did not take away much from the overall experience.  The crust supports the gooey, nutty, caramel filling, and isn't a main attraction.  So if you want to save time and buy the crust, I say go ahead: the filling is so easy to make, the pie will come together three times faster if you leave the dough to Pillsbury.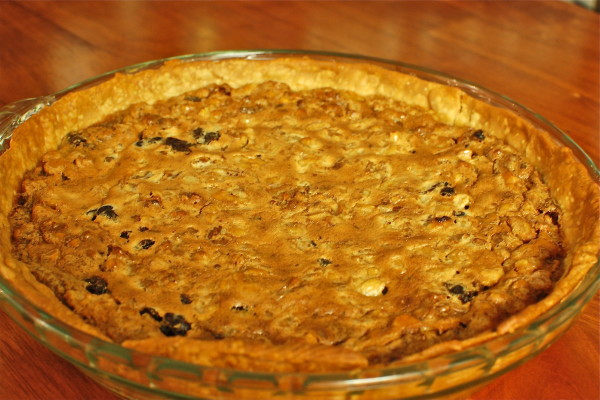 Caramel Walnut Pie with Dried Cherries
Adapted from Bon Appetit
Makes 8 to 10 servings
Total time: 2 hours
Note:  This recipe on Bon Appetit included a recipe for a crust, but the crust got terrible reviews.  So go with another crust recipe, or buy your own crust.
Ingredients
Crust
1 store-bought unbaked crust, or 1 recipe for your favorite pie dough
Filling
1 1/4 cups dried tart cherries, roughly chopped*
1/2 cup ruby Port**
2/3 cup (packed) golden brown sugar
2/3 cup light corn syrup
3 large eggs
1/4 cup (1/2 stick) butter, melted, room temperature
1 1/2 teaspoons vanilla extract
1 cup walnuts, toasted, chopped
Whipped cream
I think dried cranberries would work nicely if you don't like cherries
** You could probably substitute other liquids for the Port (although I love Port, so I wasn't going to change this!).  Madeira or a sweet red wine would work; or if you didn't want to go with alcohol, a mixture of orange juice and water might be nice.
1.  Boil cherries and Port in heavy small saucepan until Port is absorbed, stirring often, about 10 minutes.  Cool completely.
2.  Preheat oven to 350°F.  Using electric mixer, beat brown sugar, corn syrup, eggs, and melted butter in large bowl until foamy.  Beat in vanilla.  Stir in walnuts and Port-infused cherries.
3.  If making your own pie dough, roll out dough on floured work surface to 11-inch round; transfer to 9-inch-diameter glass pie dish.  Fold overhang under; crimp edges.  If using store-bought crust, place the crust in a 9-inch pie dish (or, if it comes in a tin, just leave it in the tin).  Pour filling into crust.
4.  Bake pie until crust is golden and filling is brown and just set in center, 40 to 50 minutes. My pie took only 40 minutes, so make sure to check it at that time. Cool pie completely in dish on rack. Serve with whipped cream.