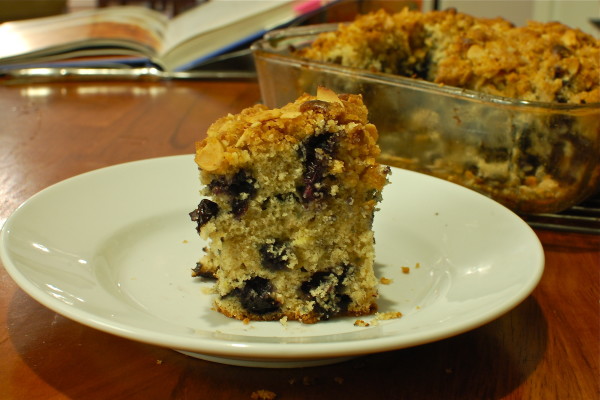 I've been doing this blog for almost a year now!  I've posted 50+ times, and over the past 11 months, I've noticed a few trends.  I try to make a variety of things – this blog doesn't have much of a "theme," such as being a dessert blog, or a healthy recipe blog.  Instead, Pâte à Chew allows me to share what I'm making, and it pushes me to try new recipes and develop new skills in the kitchen.  More than anything, I favor desserts – frequent readers shouldn't be surprised by this.  But one of the trends I've noticed is YOU like reading about desserts too – more specifically, the ones that are the most decadent, unhealthy things you will ever eat.  Healthy pumpkin muffins?  Not popular (even though they taste good!).  One friend sent me the following comment last week: "quit it with the healthy sh*t – snooooze."
So this next post is for you, dear readers.  This blueberry crumb cake is both criminally good and not low-fat.  This isn't a very Fall recipe, but it's barely October, and I saw some good-looking blueberries at the market.  I made this once last Summer and it was so good that I really wanted to share it before we get deeper into Fall.
I made this cake for the second time ever last weekend for a board retreat I attended.  Blueberries are best when they are in season, yes, but when they're baked in this cake, they will taste good no matter where they came from.  This is the kind of cake that is so good, you don't taste a difference between the prime center pieces and the less-desirable corner pieces.  Let's face facts: normally the corners of cakes or brownies can get a little dried out, and no one wants to get stuck with those pieces.  But not this cake.  This cake is moist and delicious all around.
This is good for desserts, breakfasts, brunches, and snacks – it's not a hard cake to make, but it definitely impresses when you have to entertain.  With the holidays rapidly approaching, it's a good recipe to keep in mind when you plan your menus for breakfasts and holiday dinners!
Blueberry Crumb Cake
Adapted from the New York Times
Makes one 8 x 8 inch cake
Total Time: 2 hours
Ingredients
For the crumbs:
5 tablespoons unsalted butter, at room temperature
1/4 cup sugar
1/3 cup (packed) light brown sugar
1/3 cup all-purpose flour
1/4 teaspoon salt
1/2 cup chopped walnuts (this time I had almonds on hand and no walnuts, so I made it with 1/2 cup slivered almonds and it came out great)
For the cake:
1 pint (2 cups) fresh blueberries (preferably fresh, or frozen, not thawed)
2 cups plus 2 teaspoons all-purpose flour
2 teaspoons baking powder
1/2 teaspoon baking soda
1/4 teaspoon salt
1/4 teaspoon cinnamon
1/8 teaspoon freshly grated nutmeg
2/3 cup sugar
Grated zest of 1/2 lemon or 1/4 orange (I used lemon)
5 tablespoons stick unsalted butter, at room temperature
2 large eggs, at room temperature
1 teaspoon pure vanilla extract
1/2 cup buttermilk, at room temperature
Get the prep worked one.  Center a rack in the oven and preheat the oven to 350 degrees.  Butter an 8×8-inch pan (Pyrex is great for this) and put it on a lined baking sheet.

Make the crumbs: Put all the ingredients except the nuts in a food processor and pulse just until the mixture forms clumps and curds and holds together when pressed. Scrape the topping into a bowl, stir in the nuts and press a piece of plastic wrap against the surface. Refrigerate until needed. (Covered well, the crumb mix can be refrigerated for about 3 days.)

Make the cake batter: Using your fingertips, toss the blueberries and 2 teaspoons of the flour together just to coat the berries; set aside. Whisk together the remaining 2 cups flour, the baking powder, soda, salt, cinnamon and nutmeg.

Working in the bowl of a stand mixer or in another large bowl, rub the sugar and zest together with your fingertips until the sugar is moist and aromatic. Add the butter and, with the paddle or whisk attachment, or with a hand mixer, beat the sugar with the butter at medium speed until light, about 3 minutes. Add the eggs one by one, beating for about 1 minute after each addition, then beat in the vanilla extract. Don't be concerned if the batter looks curdled — it will soon smooth out. Reduce the mixer speed to low and add the flour mixture and the buttermilk alternately, the flour in 3 parts, the buttermilk in 2 (begin and end with the dry ingredients). You will have a thick, creamy batter. With a rubber spatula, gently stir in the berries.

Scrape the batter into the buttered pan and smooth the top gently with the spatula. Pull the crumb mix from the refrigerator and, working with your fingertips, break it into pieces. There's no need to try to get even pieces — these are crumbs and they're supposed to be lumpy and bumpy and every shape and size. Scatter the crumbs over the batter, pressing them down ever so slightly.

Slide the sheet into the oven and bake 55 to 65 minutes, or until the crumbs are golden and a knife inserted into the center of the cake comes out clean. Transfer the cake to a rack and cool just until it is warm or until it reaches room temperature.
Storing: the cake can be wrapped well and kept overnight at room temperature.  The cake will also do well covered in the fridge for a few days.