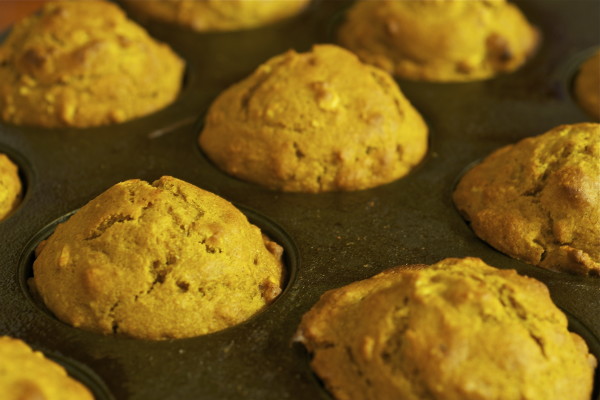 I recently hinted that pumpkin and apple recipes would begin making an appearance with the inevitable coming of Fall.  Fall officially arrived last week, so it is only fitting that I welcome its official start with a pumpkin recipe.  The coming of Fall and the terrible rainy weather we're being tortured with in New York City has given me the familiar urge to stay inside and bake.  The problem?  I am still on this "eating healthy" kick, so baking has been somewhat out of the question.
But I gave in, after someone sent me this recipe for a healthier pumpkin muffin.  Pumpkin anything is great in my book – I started this blog last November, but still managed to get in two pumpkin recipes (pie and cookies) before Fall turned into Winter.  But muffins, in general, are the opposite of healthy – they're actually one of the most caloric and terrible-for-you breakfasts you can eat.  Of course, when done right, they are also sinfully delicious.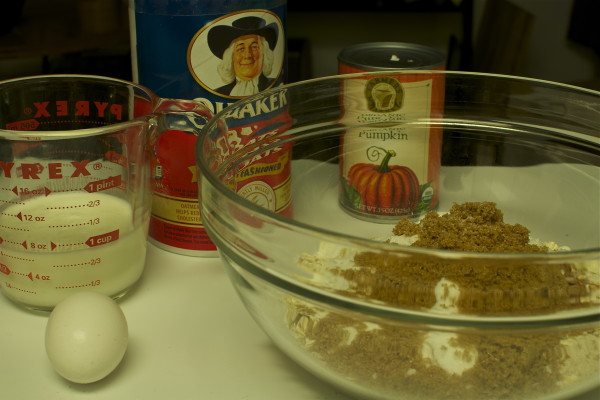 These are considered "healthier" for a few reasons: (1) half the flour used is whole wheat flour; (2) there is only 1/3 cup oil, which means there is less than 1/2 tablespoon of oil in each muffin; and (3) there's a cup of oats in them too (hooray whole grains).  They are also not overly sweet, which is how I like them.  You can always top them with honey if you're craving something a little sweeter.
I was pretty happy with how these came out; they were super moist, with a good mix of spices and a hint of sweetness.  These are great for breakfast, a snack, or as bread served with dinner – they would certainly be great at Thanksgiving dinner.  Oh, and definitely eat these after they have cooled – they taste bland and, well, low-fat right out of the oven, but much better once they have cooled and settled.
There's at least one more pumpkin recipe coming your way in the near future, so pumpkin fans, get excited.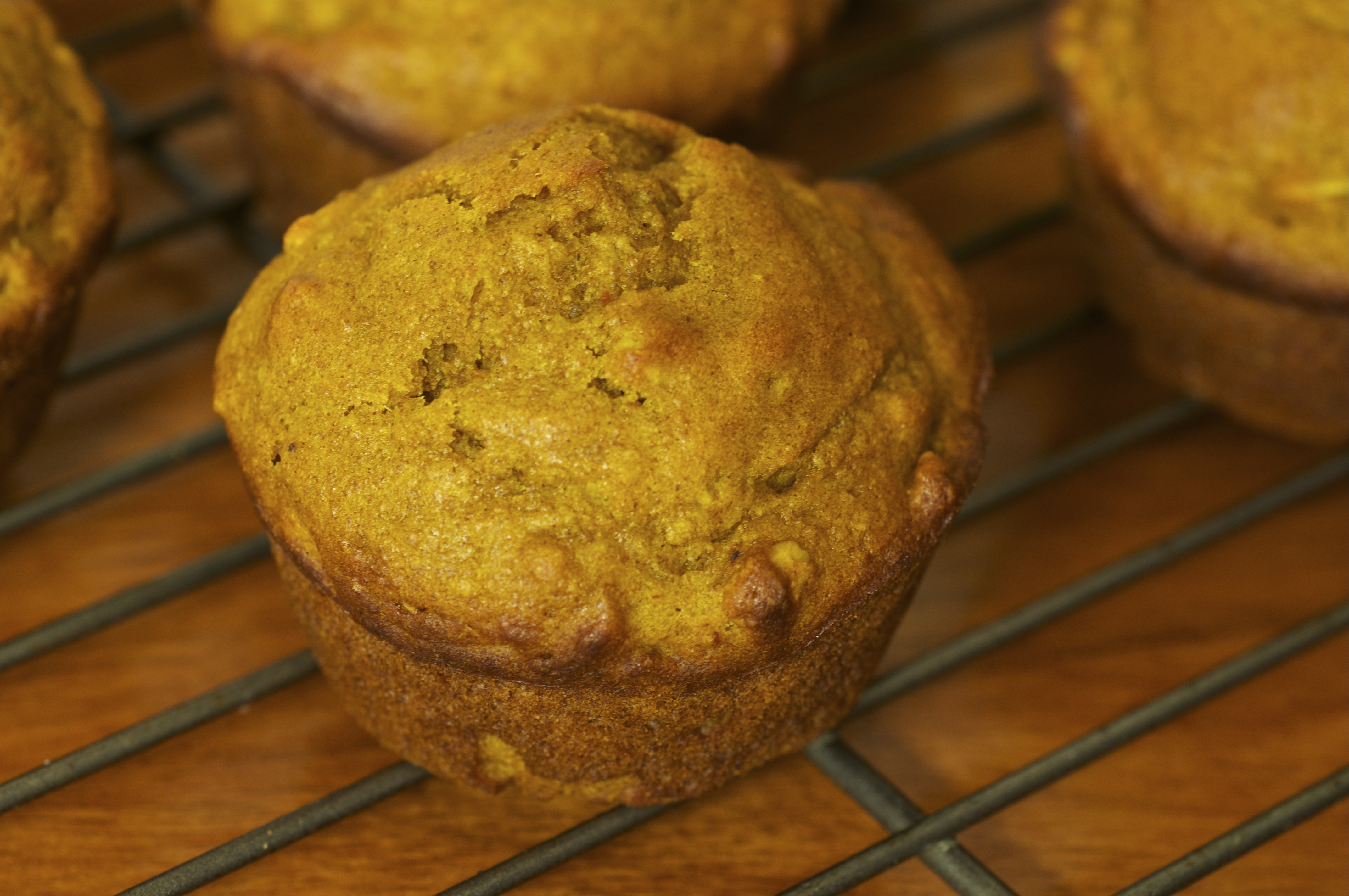 Healthier Pumpkin Muffins
Total time: 45 minutes
Makes 12 regular-sized muffins
Ingredients
3/4 cup whole wheat flour
3/4 cup all-purpose flour
1 teaspoon baking soda
1/2 teaspoon baking powder
1 1/2 teaspoons cinnamon
1/2 teaspoon nutmeg
1/2 teaspoon ginger
1/4 teaspoon ground cloves
1 cup old fashioned oats
1/3 cup brown sugar
1/2 cup sugar
1 egg
1 cup canned pumpkin
3/4 cup milk or buttermilk
1/3 cup canola oil
Optional mix-ins: nuts, chocolate chips, butterscotch chips, raisins (I didn't add any of these, but next time I think I'll add 1 cup chopped and toasted walnuts)
1.  Preheat oven to 400 degrees F and line a standard-sized muffin tin with muffin cups, or spray tins with Pam for Baking.
2.  Combine whole wheat flour through the two sugars in a large bowl; mix to evenly distribute ingredients.  In a separate bowl, whisk egg, pumpkin, milk and canola oil together.
3.  Pour pumpkin mixture into flour mixture and stir until batter is thick and just mixed; fold in any mix-ins you might like to add.
4.  Pour batter into muffin cups and bake for 15 to 18 minutes or until tops of the muffins bounce back when lightly touched.  Cool completely (they taste better when they are cool, not when they are warm).