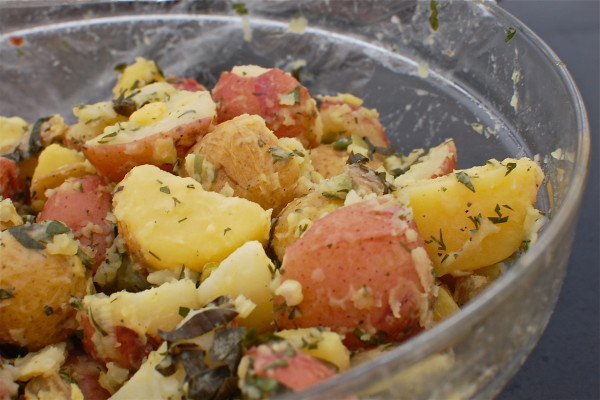 I'm not sure when fall arrived, but it's definitely here.  It is downright chilly today.  All of my cute summer dresses will be moved to the back of my hall closet when I  get home from work, and I will probably slip into a cozy sweater and sip hot chocolate while it happens.
One of the perks of having your own cooking blog is you get to make only what sounds good to you.  French Potato Salad provides the perfect example of this perk.  For the record, I usually don't eat potato salad because I can't eat mayonnaise.  Am I allergic to mayo?  Not technically, no.  But if I taste mayo on a sandwich, or in a nasty American-style potato salad, I will vomit.  No joke.  It's the most disgusting (not to mention unhealthy) condiment ever invented by man, and you're never going to see it on this blog.
Every so often, I meet someone new who also hates mayo.  The experience of finding another mayo-hater is akin to finding your kindred spirit.  We inevitably discuss how we've both considered starting a "Mayo Haters, Unite!" interest group, because those who hate mayo just get it.  MHU members would provide a support system that would get us through events like the nightmare that is ordering a burger at a restaurant, only to have it arrive with mayo spread on the bun, even though the menu said nothing about the burger coming with mayo since the restaurant assumes everyone must love mayo, because how could someone not love mayo, right?  Well I don't; I don't love mayo, Restaurant.  And you just ruined my burger.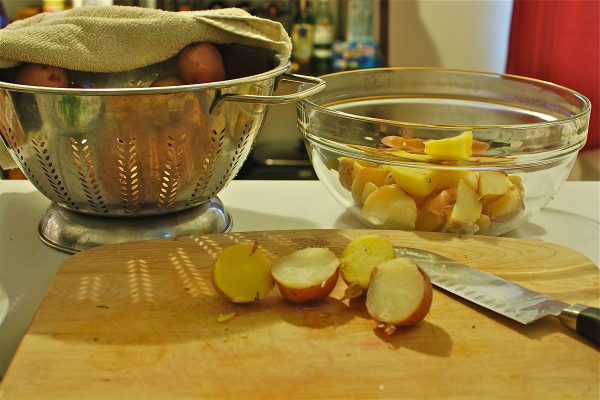 With my rant now out of the way, may I present a tastier potato salad.  Unlike mayo-based potato salads, which are really just mayo-soaked carbs, this potato salad actually has flavor (think fresh herbs, lemon, mustard vinaigrette).  It's easy to make, it's healthy, it tastes good, and it's versatile – I made it this time around for a barbecue, but I also served it at a Christmas brunch I hosted a few years ago.  You can also make it a day or two before you serve it and store it covered in the fridge, because the flavors just get better with time.
French Potato Salad
Adapted from Ina Garten
Makes 6 to 8 servings
Total time: 45 minutes
Ingredients
1 pound small Yukon or white boiling potatoes, washed well
1 pound small red boiling potatoes
3 tablespoons good dry white wine
3 tablespoons chicken stock (leave out to make this vegetarian/vegan)
Juice of 1/2 lemon
3 tablespoons Champagne or white vinegar
1 teaspoon Dijon mustard
2 teaspoons kosher salt
3/4 teaspoon freshly ground black pepper
6 tablespoons good olive oil
1/4 cup minced scallions (white and green parts)
2 tablespoons minced fresh dill
2 tablespoons minced flat-leaf parsley
2 tablespoons julienned fresh basil leaves
1.  Drop the potatoes into a large pot of boiling salted water and cook for 20 to 30 minutes, until they are just cooked through.  This takes me closer to 20 minutes.  Drain in a colander, leave them in the colander, and place a towel over the potatoes to allow them to steam for 10 more minutes.  Remove the towel after 10 minutes.  As soon as you can handle them, cut in 1/2 (quarters if the potatoes are larger) and place in a medium bowl.  Toss gently with the wine, chicken stock, and lemon juice.  Allow the liquids to soak into the warm potatoes before proceeding.
2.  Combine the vinegar, mustard, 1/2 teaspoon salt, and 1/4 teaspoon pepper and slowly whisk in the olive oil to make an emulsion. Add the vinaigrette to the potatoes. Add the scallions, dill, parsley, basil, 1 1/2 teaspoons salt, and 1/2 teaspoon pepper and toss.  Serve warm or at room temperature.