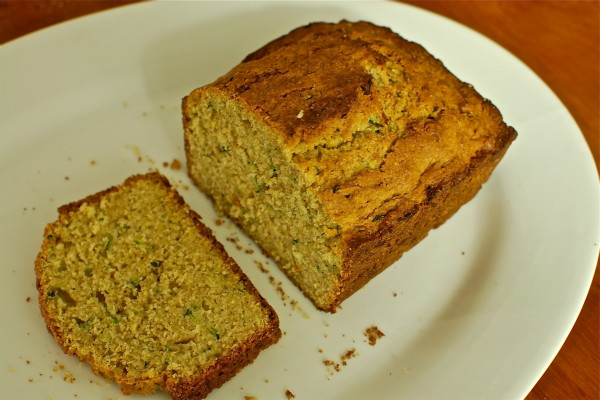 It's sad to think that we are rapidly approaching the end of summer.  Fall happens to be my favorite season, but the idea of putting on sweaters and gloves right now is kind of scaring me.  Then again, the frequent monsoon-like rainstorms we've been having in New York City the past week or two might be something I can live without.  One good thing about heavy rain is that when I'm stuck inside, I'm often researching new and interesting recipes on sites like Epicurious.
In the past, I have shared recipes for both cornbread and zucchini cake.  Both are favorites of mine, so imagine my delight when I came across a recipe for zucchini cornbread in this past July's Bon Appetit.  I wasn't sure how this bread would turn out, but reviewers on Epicurious raved about it.
I absolutely loved this bread.  Zucchini cornbread tastes a lot like cornbread and a little like zucchini bread – in fact, it tastes like a slightly sweet, more moist cornbread, with a nice crisp outer edge.  And of course, it's a little healthier than regular cornbread, since it has vegetables in it, not to mention whole wheat flour.  All in all, it's really quite lovely.  I would actually make this any time of year, for any occasion (this would be great at Thanksgiving dinner), and might go so far as to say that this is my new go-to cornbread recipe.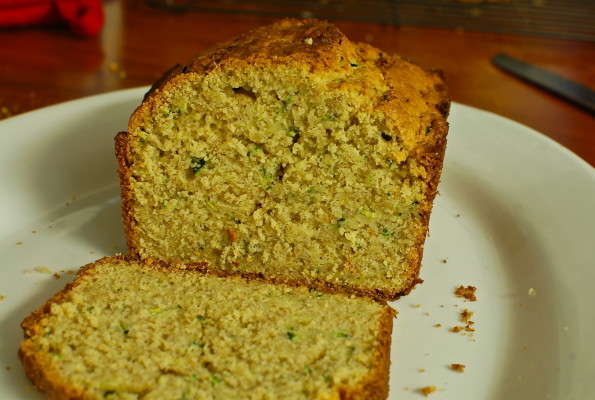 Zucchini Cornbread
This recipe can be made as muffins, or in a 9×9 or 8×8 inch baking pan.  Some reviewers of the recipe said they had trouble getting the loaf completely cooked in the center, and thus would recommend baking it in a shallower pan or as muffins.  I did not have this problem, but I also needed to bake the loaf on the longer side (65 minutes).  Muffins will take around 20-25 minutes to bake, and bread baked in an 8×8 or 9×9 inch pan will likely take 35-40 minutes.
Adapted from Bon Appetit
Makes 1 9x5x3 inch loaf
Total time: 90 minutes, plus cooling time
Ingredients
1/2 cup (1 stick) unsalted butter
2 large eggs, lightly beaten
1/2 cup buttermilk
1 large zucchini (about 10 ounces) (I used about 1 1/2 medium zucchini)
1 cup all-purpose flour
1/2 cup whole wheat flour
1/2 cup sugar
1 teaspoon baking powder
3/4 teaspoon salt
1/2 teaspoon baking soda
3/4 cup medium-grind cornmeal
Non-stick baking spray, like Pam for Baking
1. Position a rack in the middle of oven and preheat to 350°F.  Spray with non-stick baking spray a 9x5x3″ loaf pan.
2. Melt 1/2 cup butter in a small saucepan over medium-high heat.  Continue cooking until butter solids at bottom of pan turn golden brown, about 3 minutes.  Scrape butter into a medium bowl.  Set aside and let cool.  Whisk in eggs and buttermilk.  While butter cools, coarsely grate zucchini.  Add the zucchini to bowl with butter mixture after adding the eggs and buttermilk, and stir until well blended.
3. Mix both flours, sugar, baking powder, salt, and baking soda into a large bowl, then whisk in cornmeal.  Add zucchini mixture; fold just to blend (mixture will be very thick).  Do not overmix.  Transfer batter to prepared pan and smooth top.
4. Bake bread until golden and a tester inserted into center comes out clean, 55-65 minutes.  This took me 65 minutes. Let cool in pan 10 minutes, then remove from pan and let cool completely on a wire rack.  If you try to slice the loaf while it's still warm, it will fall apart (not that this changes how good it tastes!).