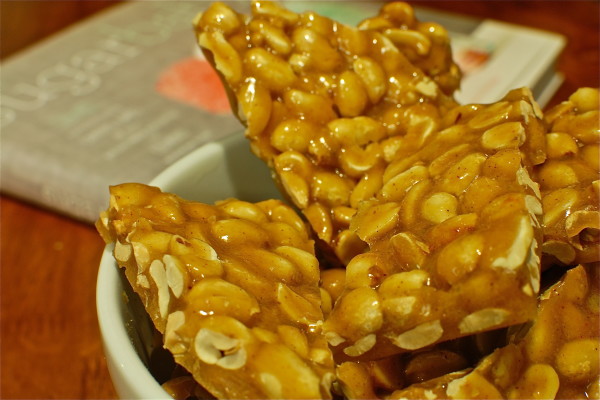 I actually feel a little guilty for sharing this recipe with you.
Let me step back for a minute.  Candy isn't something I've made much on this site.  I did, of course, make Florentines –  a candy-like cookie, but still technically candy.  As I mentioned in the Florentines post, candy can be a little intimidating – sugar burns very, very quickly, and you can go from creating a masterpiece to setting off your smoke alarm in a matter of seconds.  But I still have plenty of candy recipes waiting for me in Gesine Bullock-Prado's Sugar Baby.  This is one of those recipes.
Fans of Gesine have created an incredible community on her Facebook page; we are constantly sharing our kitchen creations, and getting tips and other feedback from each other (including from Gesine herself).  Gesine made spicy brittle – a favorite of the Bullock sisters – on the Today Show earlier this summer, and ever since then I've seen more and more pictures pop up on Facebook of people trying this recipe and raving nonstop about it.  I'm not a huge peanut fan, and not surprisingly, my Greek-American upbringing did not include treats as American as peanut brittle.  But the reviews of others, my love of food with a spicy kick, and my inherent trust of Gesine got me to try it.
The verdict?  This is one of the most delicious desserts I have ever – and I mean ever – tasted.  Period.
Here's where the guilt comes in.  It is an easy recipe that comes together in about 20 minutes, and it is addictive as all hell.  It's sweet brittle, but with a slight spicy kick that comes from the addition of a teaspoon of cayenne pepper.  The sweet and spicy combination is many a snack-lover's dream, but then consider the fact that spicy food in general is addictive, and you might be tempted to eat the entire batch of brittle yourself.  I brought this to a dinner party, but then made myself give away the leftovers to my coworkers.   I was seriously afraid I might eat my weight in it.
So the message is this: make the spicy brittle, but don't say I didn't warn you.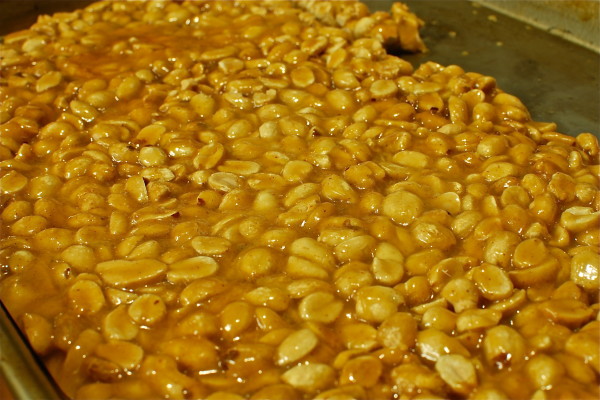 The Bullock Sisters' Spicy Brittle
Recipe by Gesine Bullock-Prado, from Sugar Baby.  Watch Gesine make her brittle on the Today Show.
Don't like spicy anything?  Omit the cayenne pepper.  Don't like peanuts, but like almonds, or another nut, or pumpkin seeds?  Use those instead!
Update: If it's super humid outside, and thus humid in your kitchen, you should avoid making candy.  On a particularly rainy and humid night, I tried and failed to make this brittle – multiple times.  It was sad (and a waste of ingredients).  Humidity messes with sugar, and bad things happen.
Total time: 20 minutes
Makes ~ 1 1/2 lbs brittle
* If you are skittish about the brittle being too spicy, use 1/2 teaspoon of cayenne pepper and see how you like it.  Next time you can adjust accordingly.
Find the recipe here!