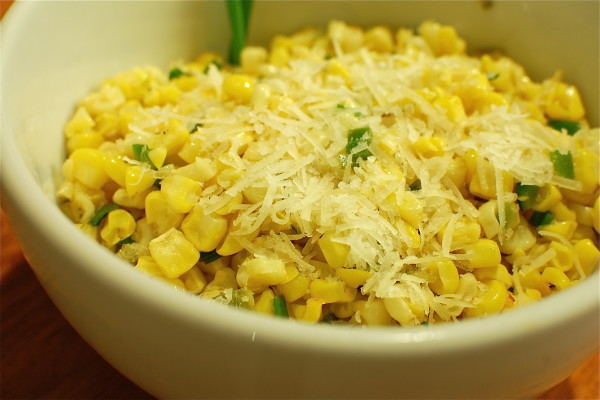 So it's still pretty hot in New York City, and I still haven't been doing a lot of cooking.  Last weekend I was away again, which while fun, did not help me adhere to my own "you must post once a week" rule.  But I'm back, with a new post that (1) isn't dessert, and (2) is pretty healthy.
I was looking through Bon Appetit magazine's August 2011 issue, and this recipe immediately caught my eye.  It is a great time to be eating corn, and the combination of sweet summer corn, tangy lime, and spicy jalapeño, finished with Spanish Manchego cheese, would make most people pretty excited.  Then I noticed that the recipe was by Jean-Georges Vongerichten and Dan Kluger – amazing chefs – from their restaurant ABC Kitchen in New York City.  ABC Kitchen is literally around the corner from my apartment, and is hands down one of the best restaurants in the city.  And then I noticed that the recipe is just plain easy to make, and comes together in under 30 minutes.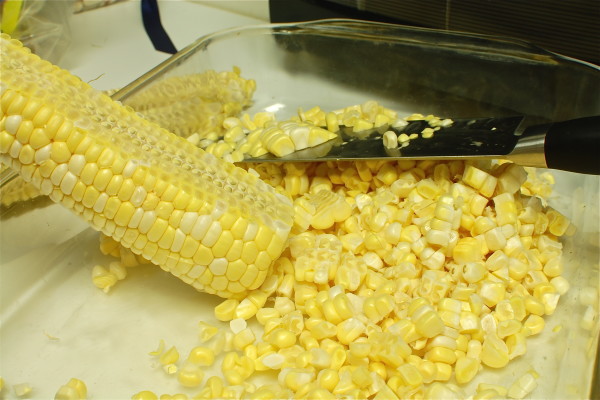 This recipe is great.  It makes the perfect side dish to any summer meal, and I plan on bringing it to many a cookout in the near future.  I did not make any adjustments to the recipe (with the exception of using a little less butter), and I thought the proportions were perfect.  Clearly the magazine needs to get many more recipes from ABC Kitchen, because I want to make them all.
One note about how I made this dish.  You probably think that I, as an attorney and as someone who blogs about food and considers cooking to be a primary hobby, would be good – nay, adept – at reading directions.  Well my friend, you would be wrong.  Only after I shucked the corn, cut the kernels from the cobs, and start roasting the kernels on a baking sheet, did I realize that the directions actually said to roast the unhusked corn, let the corn cool, then shuck and cut away the kernels.  And yes, I realize that the recipe is only a few sentences long, but somehow I did not see that instruction.
But luckily, that little misstep did not seem to matter.  The dish was really good, and I'm not convinced if I made it again that I would make the recipe the way it is supposed to be made.  But either way, I'm sure it will turn out well.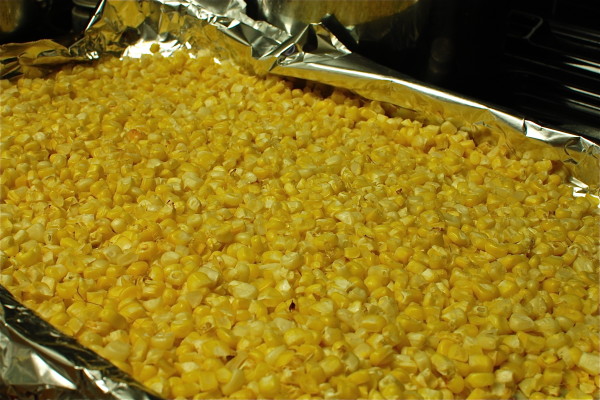 Roasted Corn with Manchego + Lime
Recipe by Jean-Georges Vongerichten and Dan Kluger, ABC Kitchen
Serves 6-8
Total time: 30 minutes
Ingredients
6 ears of sweet yellow corn, unhusked
2 tablespoons extra-virgin olive oil
1 to 2 tablespoons unsalted butter
Kosher salt
freshly ground black pepper
1 jalapeño, seeded, finely diced
1/2 teaspoon crushed red pepper flakes
1 lime, cut into 4 wedges
1 cup finely grated Manchego cheese
1/4 cup thinly sliced chives
2 teaspoons finely grated lime zest
1.  Preheat oven to 450°.  You have two options here:
(a) The original recipe says to roast the unhusked corn on a baking sheet, turning occasionally, until heated through and crisp-tender, about 15 minutes.  Let cool.  Shuck corn and cut kernels from cobs, and discard cobs; or
(b) What I did: shuck corn, rise off and dry, then cut kernels from the cobs; spread the kernels on a baking sheet, and roast for 15 minutes, tossing the corn around with a spatula every 5 minutes.
2.  Heat oil in a large skillet over high heat. Add corn kernels and sauté until heated through and light-golden in spots, 5 minutes. Add 1 tablespoon butter; stir until melted.  Taste, and if you think it needs more butter (I didn't), add the second tablespoon.  Season to taste with salt and pepper.  Transfer corn to a large wide bowl or deep platter; add jalapeño, crushed red pepper flakes, chives, and lime zest to the corn.  Squeeze lime wedges over, and mix everything well.  Wait until the corn has cooled to near room temperature, then add the cheese (otherwise the cheese will melt).