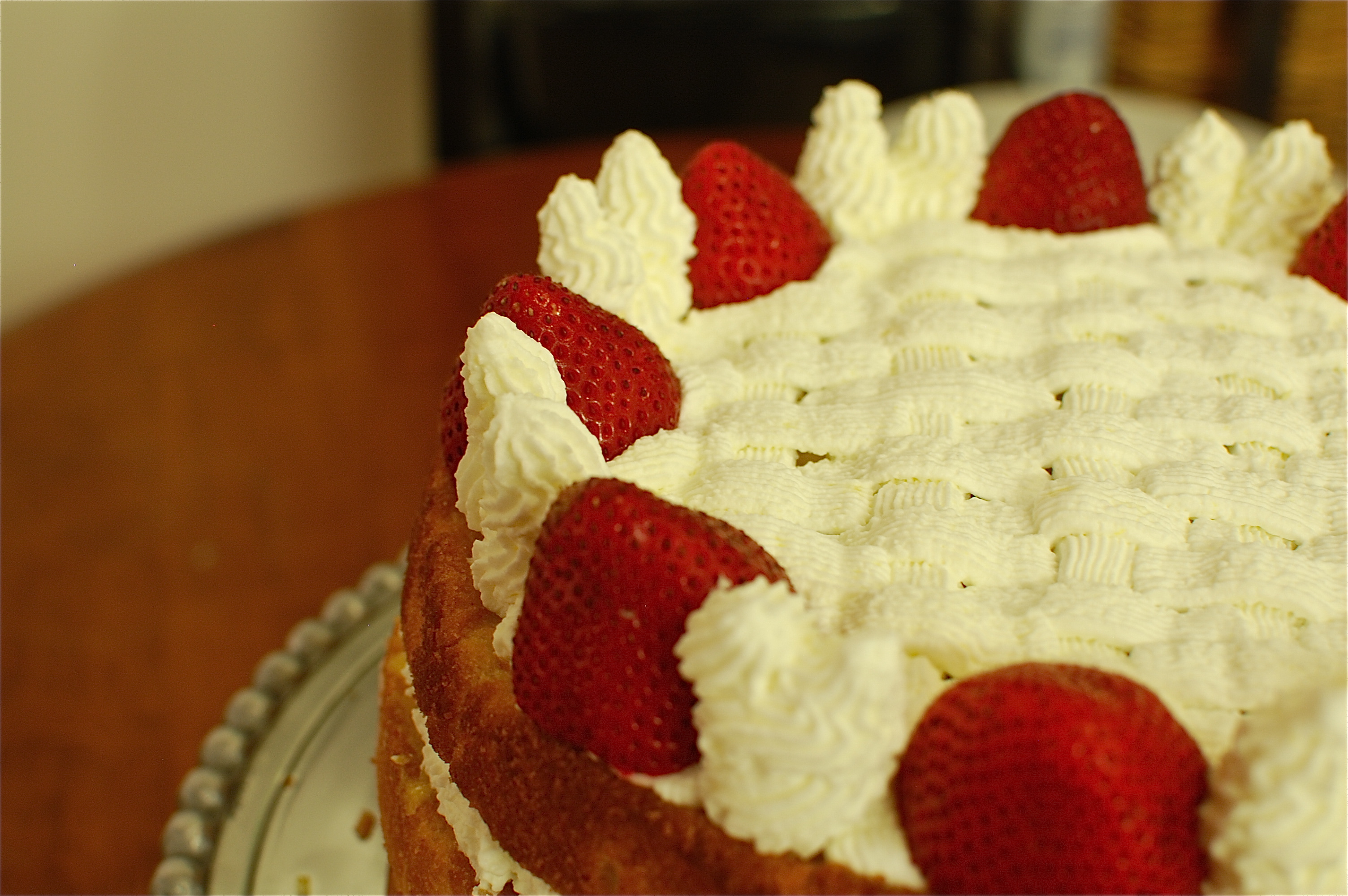 I realize it has been far too long since my last post.  I've been out of the kitchen traveling – Las Vegas, San Francisco, Sonoma.  It was an amazing 11 days away, that included  a very special birthday dinner at the French Laundry.  It was by far the most expensive and extravagant meal I've ever treated myself to, and I'm happy to say it was worth every penny.  We even got a tour of the kitchen and a picture with the Chef de Cuisine Timothy Hollingsworth!  I was in foodie heaven.
Now I'm back in NYC, where it is a typical hot and sticky July day.  Why oh why can't I live in Sonoma, where the weather was perfect every day we were there?  Because I was away for my birthday, I decided to have some people over after my return from the West for a belated birthday soiree.  On the menu: a lemon blueberry layer cake, courtesy of Gesine Bullock-Prado.  You won't find many cakes on this blog because I don't make them often.  I need an occasion that warrants a cake (particularly a layer cake in need of decorating) for me to actually want to get out the cake tins and decorating set complete with pastry bags and frosting tips.  Despite the work that goes into a layer cake, I was reminded last week that process can be quite fun.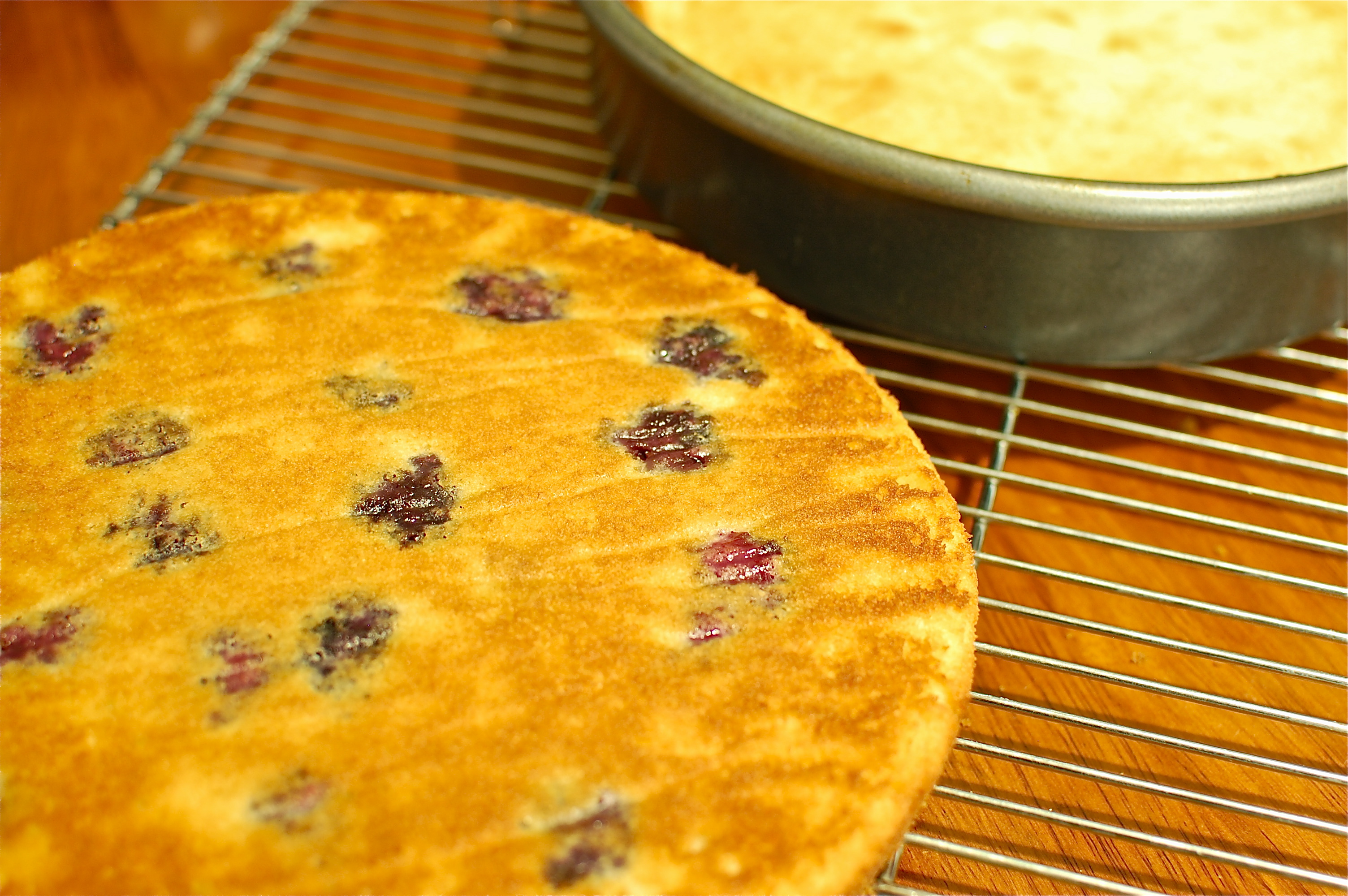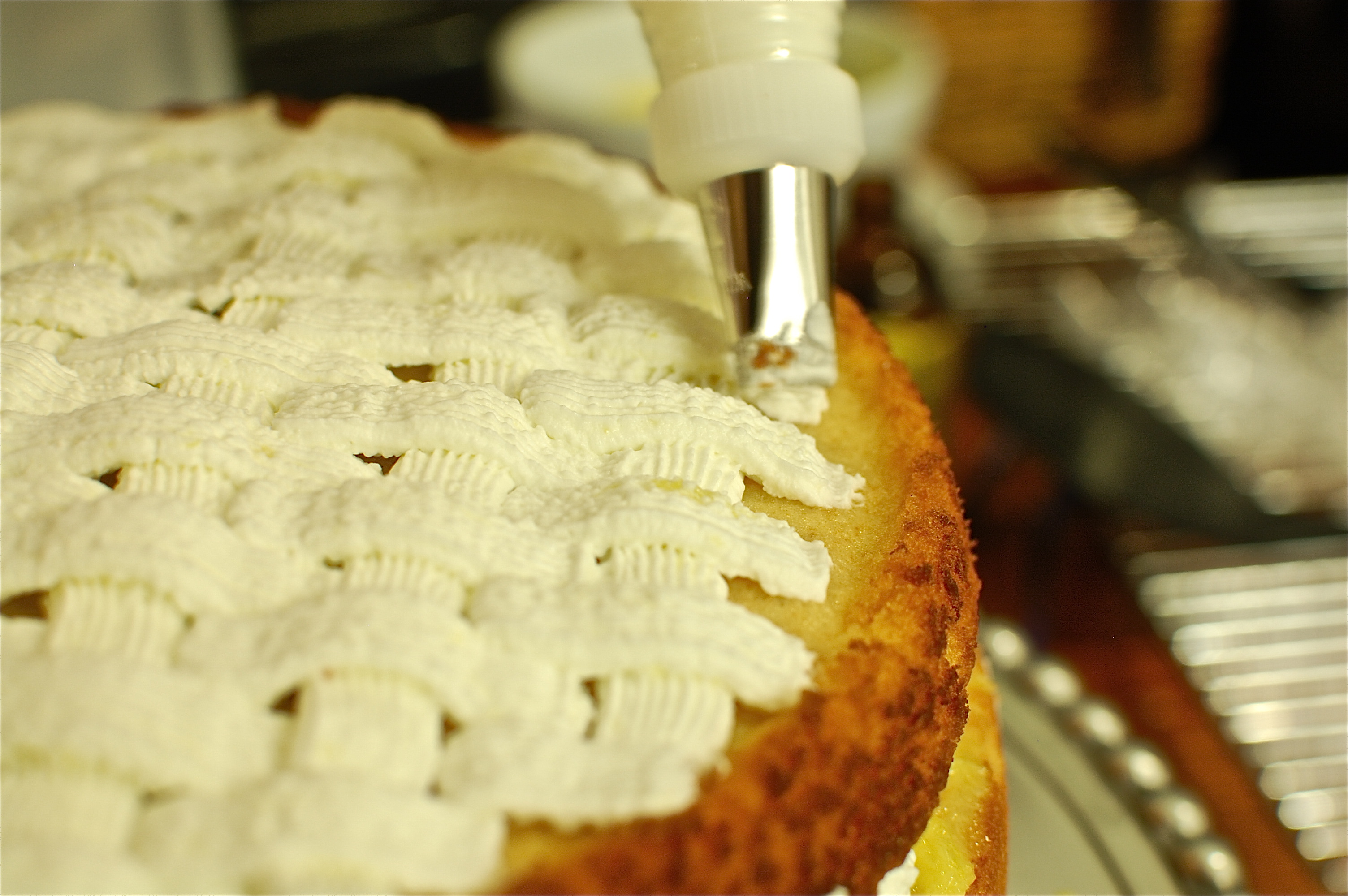 As much as I love chocolate, I wanted a lighter, summery cake, and this definitely delivered.  It had been on my list of things to try for quite some time.  This is also a great dessert for people who don't love overly-sweet desserts; the cake is sweet but tangy, a little buttery but still refreshing.  And despite being warned once in the past that store-bought lemon curd is just as good as homemade (so then, why bother making your own), I opted to try making my own lemon curd.  You can certainly buy lemon curd, but since I had never made it before and wanted to give it a try.  It was actually surprisingly easy – the only trick is not over-cooking it, and I put some helpful tips below to help make sure that doesn't happen.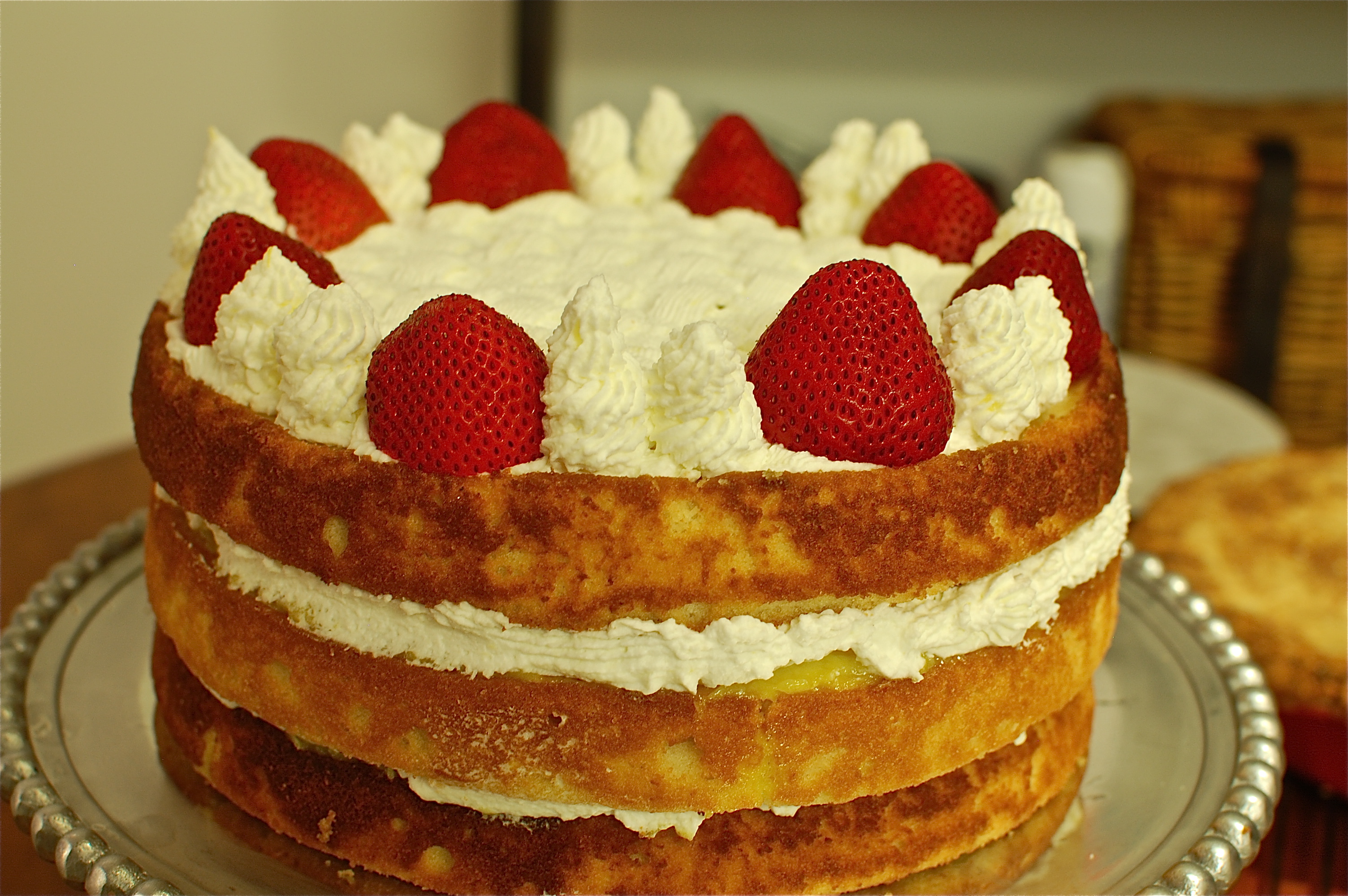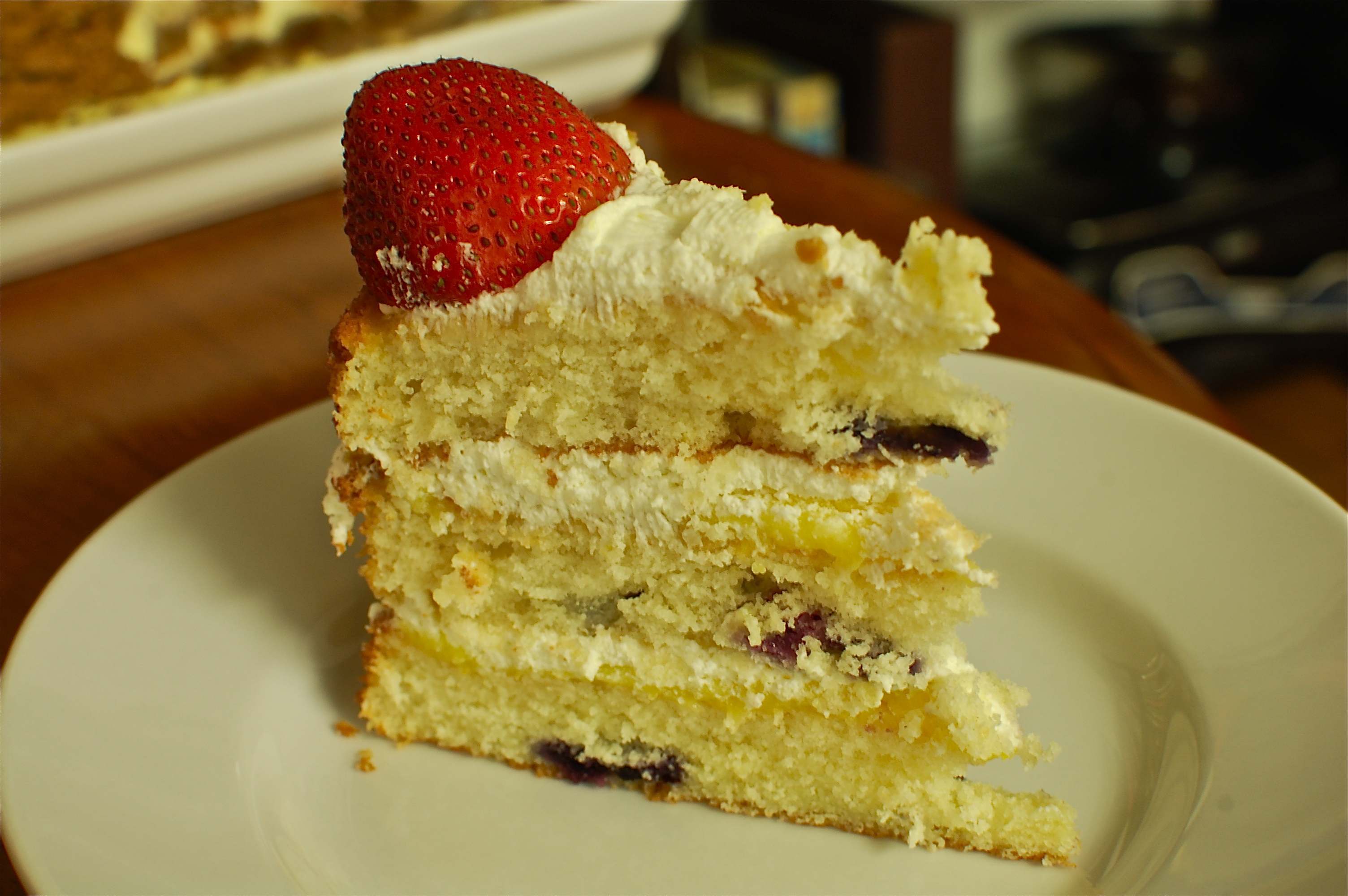 Lemon Blueberry Layer Cake
All recipes adapted slightly from Gesine Bullock-Prado
Ingredients
8 ounces (2 sticks) room temperature unsalted butter
2 cups sugar
5 room temperature eggs
3 cups all-purpose flour
1 tablespoon baking powder
1 teaspoon salt
1 tablespoon lemon extract
1 tablespoon lemon zest
1 1/4 cup non-fat buttermilk
1 cup blueberries
1.  Spray three 8 or 9 inch cake rounds with non-stick spray.  Cut parchment into rounds to cover the bottom of each pan.  Spray the top of the parchment round with non-stick spray once it's in place.  Sift together flour, salt and baking powder.  Set aside in a bowl or onto a sheet of parchment paper.
2.  Cream butter and sugar until light and fluffy, at least 5 minutes on high speed.  This is important; it if takes longer, it takes longer.  Scrape sides of bowl every few minutes using a rubber spatula.  As Gesine says, "This is crucial. Otherwise you're going to be left with errant chunks of butter in your finished batter.  You'll get little pockets of butter and sugar in the finished cake, crunchy divots in an otherwise beautifully moist cake.  Patience!"  Add eggs one at a time, making sure each egg is perfectly incorporated before you add another.  Scrape down sides of bowl after every few eggs.  Add the lemon extract and lemon zest, and mix until incorporated.  With the mixer on slow speed, add flour and buttermilk in alternative pours, starting and ending with the flour.  Scrape down the bowl during the process.
3.  Once everything is well incorporated, use a plastic spatula to fold the batter a few more times to make sure you've got everything will mixed.  Divide the batter between your cake pans.  Take about 1/3 cup blueberries and push them into the batter.  If you use frozen blueberries, make sure you don't mix around the batter in the pan after placing the blueberries in the batter (otherwise it will dye the batter blue).  Repeat with the other two cake pans.  Bake in preheated oven for 20 to 40 minutes.  Begin checking after 20 minutes; check for doneness by pressing gently on the cake.  If you leave an indent, the cake is not done.  If it bounces back gently without leaving a mark, it's done.  If the cake doesn't budge when you poke it, it's over done.  Put the pans on a cooling rack, and let the cake cool completely in the pans before removing and filling.
4.  To assemble the cake: place first layer on a cake stand.  Spread a layer of lemon curd (about 1/2 cup of curd), then a generous amount of whipped cream.  Place second layer on top of the first, and repeat with lemon curd and whipped cream.  Place the third layer of cake on the second, and top with whipped cream.  If you want to decorate the top like I did with a basketweave frosting design, hit up You Tube for a quick lesson on how to do it (I promise, it's easier than you think)!
Lemon Curd
1/2 cup + 2 tablespoons lemon juice, divided
1 cup sugar
7 egg yolks
1/2 teaspoon unflavored gelatin*
Zest of 2 lemons
1 tablespoon unsalted butter
* You don't have to use the gelatin; it is used here because it gels the curd so that it will not ooze out the sides of the cake.  If you want to leave it out, feel free to do so.
1. In a heatproof metal bowl add 1/2 cup lemon juice, 1 cup sugar and 7 egg yolks.  In a separate bowl, sprinkle 1/2 teaspoon of gelatin on top of 2 tablespoons of lemon juice until it's "bloomed" and looks soggy.  Set aside.
2.  Place the bowl with lemon juice, sugar and yolks on top of a simmering pot of water and whisk until the lemon mixture has thickened.  Once the lemon curd has become nice and thick, like hollandaise, remove it from the heat.  Curd takes a long time to thicken – first, it will start to get foamy and lightens in color from an egg-yolk yellow to a lighter, buttery yellow.  When the foam starts to dissipate and it starts to thicken, stop whisking ad remove from heat.   Immediately add the gelatin mixture and whisk until it's completely melted. Add 1 tablespoon of butter and whisk until fully incorporated.
3.  Transfer the curd to a bowl and cover with plastic wrap. Make sure the plastic touches the entire surface of the exposed curd, otherwise it will form a skin. Refrigerate and enjoy!
Whipped Cream
2 cups very cold heavy cream
1/4 cup confectioners sugar
1 heaping tablespoon lemon curd
1 teaspoon lemon extract
Place all ingredients in a standing mixer with a whisk attachment.  Whip on high until soft peaks form.