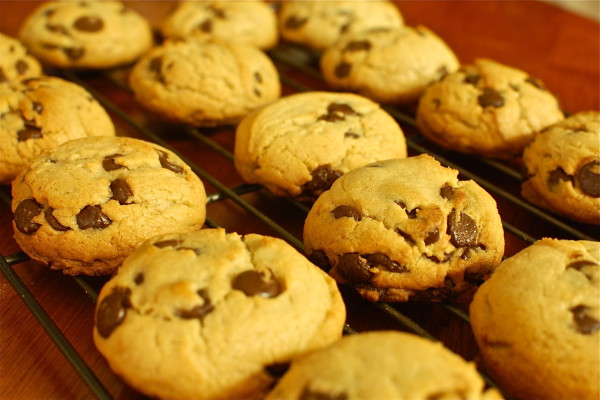 My mother may stage an intervention – so many dessert posts lately!  I might as well call it the Making You Fat for Bathing Suit Season streak of dessert posts.  And here I am, trying to eat healthy and lose that vacation weight I gained from eating at places like the French Laundry.  Well, fear not!  I actually made these a month or two ago for a dinner party hosted by my dear and talented friend Diana Warner.
My chocolate chip (or chunk) cookie challenge is back!  And I am going to let you in on a little secret: I have a giantic nerd crush on Alton Brown.  His show, Good Eats, is at times totally corny and eye-roll inducing, but I can't help but love him.  I got to meet him at last October's 2010 New York City Food Festival.  I got a picture taken with him.  I won't share it here, but rest assured I am smiling like it was the greatest day of my life.  And it kind of was.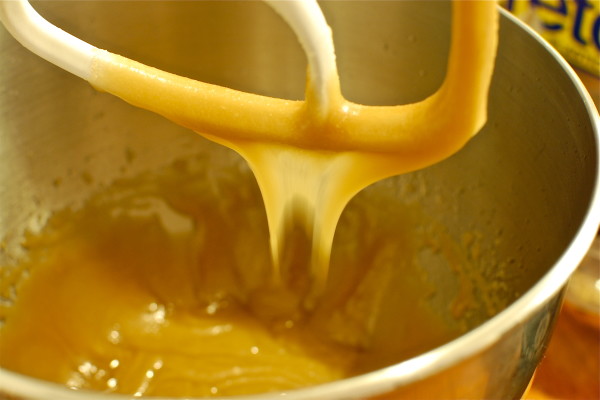 I am revisiting an Alton recipe I used to make many years ago: Chewy Chocolate Chip Cookies.  The recipe combines all the elements of what makes a cookie chewy:
Bread flour.  Bread flour has a higher gluten content, and gluten makes all those wonderful bread-y carbs we eat chewy.
Brown sugar.  Here, we use almost exclusively brown sugar, because brown sugar contains molasses.  Molasses loves moisture, and it makes the cookies attract water from the air.   You can use light or dark brown sugar, but the darker the sugar, the chewier the cookie.
Melted butter.  We start with melted butter in this recipe, not room temperature butter.  The water from the melted butter will combine during mixing with the higher protein of the bread flour, producing gluten.  And because bread flour can absorb more moisture than all-purpose flour, more moisture will stay in the cookie.
Less egg whites.  Egg whites dry out cookies – so we include one whole egg, but then add one egg yolk, leaving that egg white out.
So how do these measure up to the Jacques Torres cookies?  These are a cleaner, more simple cookie, with an (obviously) chewier texture.  After 6+ years of making them, they are still one of my favorites.  And most importantly, the dinner parties ladies seemed happy!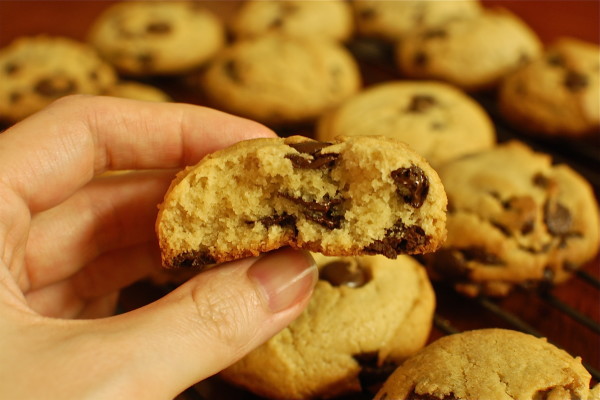 Chewy Chocolate Chip Cookies
Adapted from one of my favorites, Alton Brown
Watch him make these cookies in this YouTube video (it starts around the 5:40 mark)
Total active time: 50 minutes, not including chilling the dough
Ingredients
6 ounces (1 1/2 sticks, or 12 tablespoons) unsalted butter
12 ounces bread flour
1 teaspoon salt
1 teaspoon baking soda
2 ounces granulated sugar
8 ounces light brown sugar
1 large egg
1 large egg yolk
1 ounce whole milk
1 1/2 teaspoons vanilla extract
12 ounces semisweet chocolate chips
1.  Melt the butter in a saucepan over low heat. Set aside to cool slightly.
2.  Preheat the oven to 375 degrees F and place racks in the top third and bottom third of the oven.  Sift together the flour, salt and baking soda onto a paper plate or into a bowl. Pour the butter into your stand mixer's work bowl.  Add the sugar and brown sugar and beat with the paddle attachment on medium speed for 2 minutes.  The sugar/butter mixture will look the like the first picture above.
3.  Meanwhile, whisk together the whole egg, the egg yolk, milk and vanilla extract in a cup. Reduce the mixer speed and slowly add the egg mixture. Mix until thoroughly combined, about 30 seconds.  Gradually integrate the dry ingredients, stopping a couple of times to scrape down the sides of the bowl. Once the flour is worked in, drop the speed to "stir" and add the chocolate chips. Cover the dough and chill for 1 hour.
4.  Scoop the dough into 1 1/2-ounce portions onto parchment-lined half sheet pans, 6 cookies per sheet.  As I have mentioned many times before, I often use a #24 disher for cookies; Alton likes a #20 (which makes a bigger cookie).  Bake 2 sheets at a time for 15 minutes, rotating the pans halfway through.  This takes me less time, due to the slightly smaller size of my cookies – I would start at 10 minutes total cooking time (rotating sheets after 5 minutes), then check them to see if they need some more time.  When starting to turn golden brown (they will still look underdone!), remove from the oven, slide the parchment with the cookies onto a cooling rack and wait at least 5 minutes before devouring.