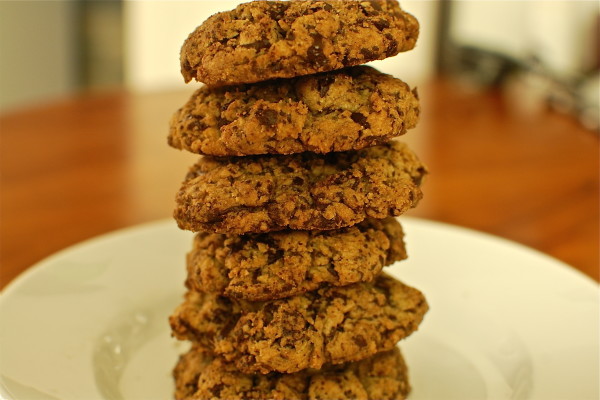 This post should be a crowd pleaser.  No matter who you are, where you come from, no matter how healthy or unhealthy your eating habits might be, you like chocolate chip cookies.
There are, of course, a million recipes out there for these cookies.  Some use chocolate chips, others uses chocolate chunks.  Some are chewy, some are cakey, some are crispy, some are crispy on the edges and chewy in the center.  Some taste more buttery, some have cinnamon, some have oats, some have nuts.   The combinations are endless.  What better way to use a cooking blog than to experiment with the classic chocolate chip, or chocolate chunk, cookie?
I haven't found a recipe that I love, but I do know that I tend to prefer to chocolate chunk cookies to chocolate chip cookies.  Why?  Because they have a more chocolatey, creamy taste.  Part of that comes from the chocolate chunks of varying size, and part of it comes from the chocolate dust (a byproduct of chopping bars of chocolate into chunks) that gets thrown into the batter with the rest of the chocolate.  Now, Thomas Keller (of French Laundry fame) makes a chocolate chunk cookie that removes the dust from the chocolate via sifting the chocolate chunks before adding to the dough.  I made them once, and was not impressed.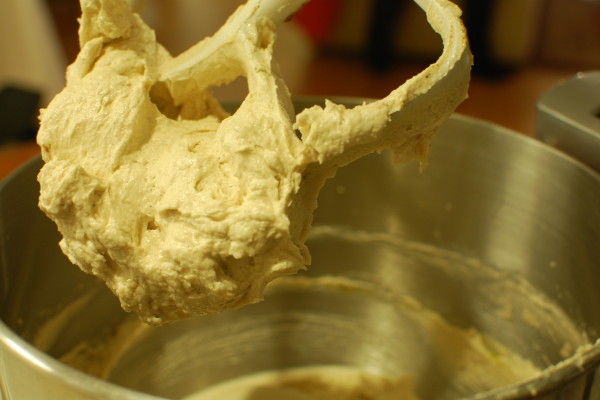 For this blog's first attempt at a chocolate chunk cookie, I decided to try the famous Jacques Torres recipe.  Many people (including Martha Stewart) count this recipe as their favorite.  What is different about these cookies is the flours used: a combination of bread flour (which has more gluten), and pastry flour.  The text of the cookie was great – a little crispy but still chewy.
The other thing you should know?  The importance of refrigerating the dough.  A 2008 New York Times article discusses the importance of refrigerating chocolate chip cookie dough for up to 36 hours, as the flavor of the cookies deepens the longer the dough is refrigerated.  Judging from the rave reviews I got when I brought these cookies to a party, I think the article is right – refrigeration makes for a better cookie.  I refrigerated the dough for about a day, and the cookie had a distinct caramel-like flavor.  I would definitely make this recipe again!
Chocolate Chunk Cookies
Adapted from Jacques Torres (via Martha Stewart)
Ingredients
12 tablespoons (1 1/2 sticks) unsalted butter, room temperature
3/4 cup granulated sugar
1 cup packed light-brown sugar
2 large eggs, room temperature
1 /2 cups plus 1 tablespoon pastry flour
1 1/2 cups bread flour
1 teaspoon salt
1 teaspoon baking powder
1 teaspoon baking soda
2 teaspoons pure vanilla extract
1 pound best-quality semisweet or bittersweet chocolate, coarsely chopped
1.  In the bowl of an electric mixer fitted with the paddle attachment, cream together butter and sugars for 5 minutes.  The mixture will look like the picture above – light and fluffy.  Add eggs, one at a time, mixing well after each addition. Reduce speed to low and add both flours, baking powder, baking soda, vanilla, and chocolate; mix until well combined.  Seal the bowl with plastic wrap, and refrigerate at least 1 hour.  If you have time, refrigerate 12 hours, up to 36 hours.  I left my dough in the fridge about 24 hours.
2.  Preheat oven to 350 degrees. Line baking sheets with parchment paper or nonstick baking mats.  Using a disher (I use a #24), scoop cookie dough onto prepared baking sheets, about 2 inches apart.  If your dough has been in the fridge for a while, the dough will be hard, so this will take some effort.  about 12 minutes.  Rotated the cookie sheets half-way through baking time.  Cool slightly on baking sheets before transferring to a wire rack to cool completely.