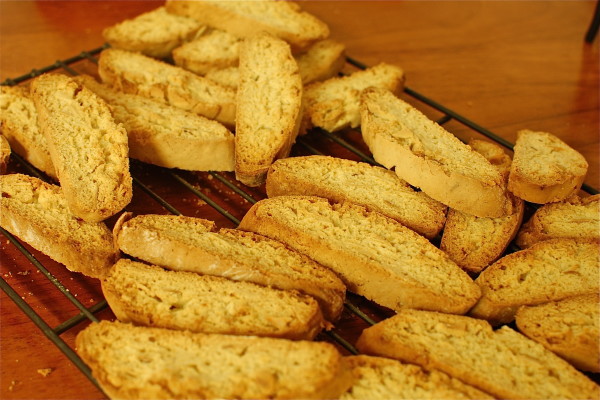 The recipe I'm most proud of calling my own is my Chocolate Cherry Biscotti – I'm happy to say that people actually prefer this low-fat, twice-baked cookie to other things that come out of my oven.  But I've been making them for a few years now, and I wondered if I could create another type of  butter-free biscotti that would be just as good.  Maybe I wanted some variety in my Good-But-Low-Fat personal cookbook; maybe I didn't want my friends to get spoiled by the sheer genius that is my cherry chocolate biscotti; maybe I just wanted a change.  Whatever the reason, I felt that it was time to try something new.
I went through a few different recipes for almond biscotti before I got to this result.  I first tried a highly-rated recipe on epicurious for almond biscotti made with butter, but they turned out bland.  What is the point of eating cookies with butter if the result is something tasteless and, thus, totally not worth the calories?  I then took the basics of my chocolate cherry biscotti recipe and went from there.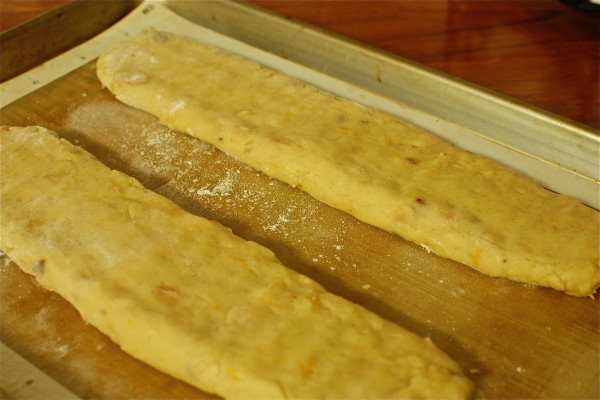 The consensus among taste testers?  My almond biscotti are very good, but the chocolate cherry biscotti are still the favorite.  I'm okay with that result – I find the almond biscotti to be a bit more "snackable."  They are a little lighter than their chocolate cherry sibling, as the hints of orange and brandy give the cookie a slightly refreshing taste.  All in all, I just really like them; I've made them several times now, and have developed an addiction to them – just like I did with the chocolate cherry ones.   And if I can't eat a few after lunch, I get grumpy.  That's a sign of true success, no?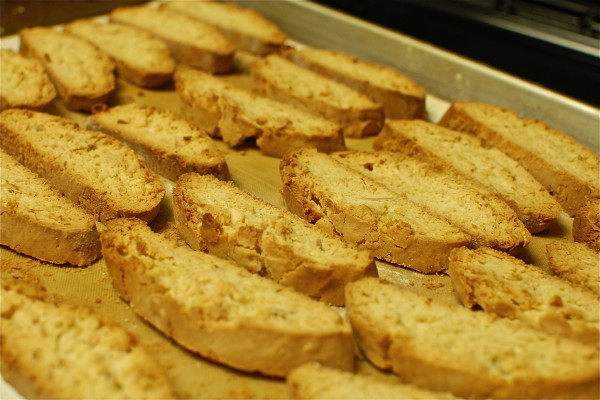 Almond Biscotti
Recipe by Pâte à Chew
Makes 40 – 50 biscotti
Total time: 1.5 hours
Ingredients
3 large eggs
1 1/4 cups sugar
3 tablespoons brandy
2 teaspoons pure almond extract
1 1/2 teaspoons pure vanilla extract or vanilla bean paste
1 tablespoon orange zest
3 cups all-purpose flour
1 teaspoon baking powder
1/4 teaspoon salt
1 cup whole almonds with skin, lightly toasted, cooled, and coarsely , or 1 cup sliced almonds (the latter I had on hand after making a few batches of Florentines a while ago)
1.  Preheat oven to 350°F with rack in middle.  In a bowl, mix together flour, baking powder, and salt, and set aside.  Next, put eggs in the bowl of an electric mixer and mix on low speed for a few seconds.  With mixer on low, slowly add sugar and mix until just incorporated.  Add two extracts, brandy, and orange zest, and mix on low until just incorporated.  With mixer still on low, gradually add flour mixture until just combined (do not overmix!).  Stir in almonds until just combined.
2.  Line a baking sheet with parchment or a silpat, and sprinkle a little flour on the parchment, and a little flour on your hands.  Using your floured hands, halve dough and roll out two logs on the baking sheet, then press down on each to form two loaves.  Bake until pale golden and firm to the touch, about 20 to 25 minutes. Carefully transfer loaves to a rack and cool 15 minutes.
3.  Move each loaf to a cutting board, and using a serrated knife, cut loaves into 3/4-inch slices.  Arrange biscotti cut side down on the baking sheet and bake until golden, 15 to 20 minutes (check after 15 minutes). Transfer to rack to cool completely.  Keep in an airtight container at room temperature, the biscotti will stay fresh for several days.