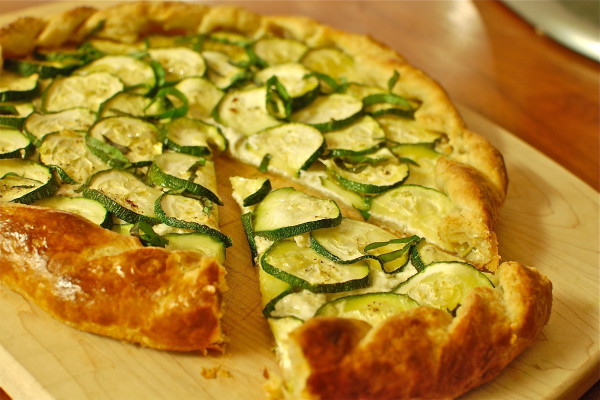 The zucchini love affair continues.
This was the best thing to come out of my kitchen in a few months.  I saw this zucchini and ricotta galette last June on smitten kitchen, and it just looked so pretty.  And then I read the recipe, and it actually looked like it tastes good too.  And despite the fact that it involves making and rolling out your own dough from scratch, it was not difficult.  Pretty + Tastes Good + Not Difficult = Winner.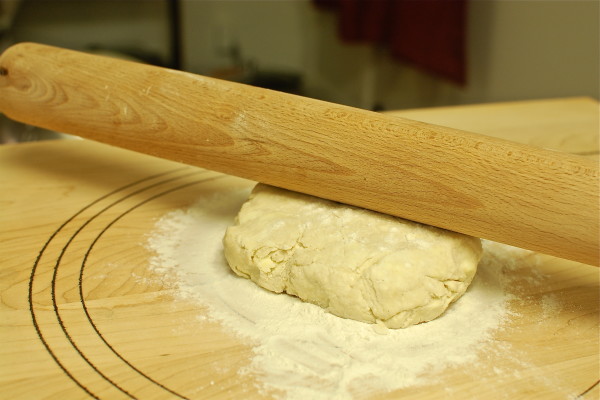 What is a galette?  A galette is a rustic, free-form tart or pie, with a crisp crust.  I had never made one before this recipe, and I'm glad I did because it turned out to be surprisingly simple.  It was nice to get the rolling pin out and work the dough – especially since this dough was not sticky, did not break, and was all around easy to work with.   It made a nice dinner, paired with a big green salad, but would also be really great cut into smaller slices and served as an appetizer.  Zucchinis are starting to pile up in the grocery stores and farmers markets, so I encourage you to get out and try this!  I won't say this is diet food, because it's not – the crust tastes delicious and buttery because there is butter in it.  But it's not terrible for you … just don't eat half of it in one sitting.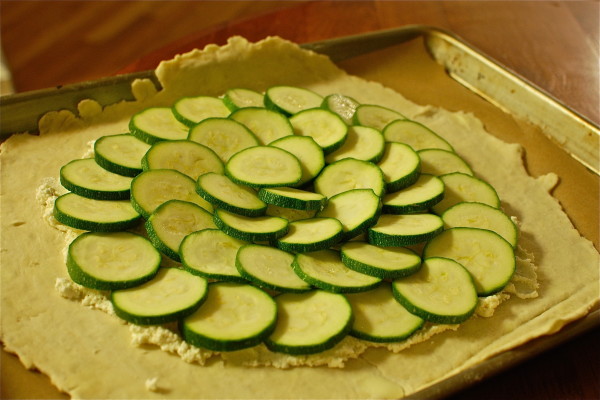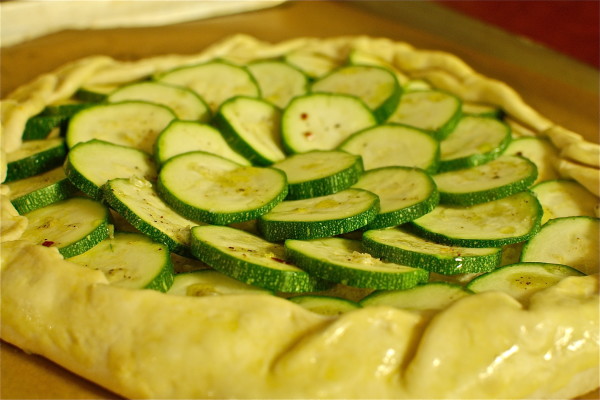 Zucchini and Ricotta Galette
Adapted from smitten kitchen
Serves 6-8 hungry people, or more if serving as an appetizer
Total time: 1.5 hours
Ingredients
Pastry
1 1/4 cups all-purpose flour, chilled in the freezer for 30 minutes
1/4 teaspoon salt
8 tablespoons (1 stick) cold unsalted butter, cut into pieces and chill again
1/4 cup sour cream (I used low-fat)
2 teaspoons fresh lemon juice
1/4 cup ice water
Filling
1 large or 2 small zucchinis, sliced into 1/4 inch thick rounds
2 tablespoons olive oil
1 medium garlic clove, minced
1/2 cup part-skim ricotta cheese
1/2 cup (about 1 ounce) grated Parmesan cheese
1 ounce goat cheese or 1 ounce mozzarella (I had goat cheese in my fridge, and did not feel like buying 8 ounces of mozzarella cheese to only use 1 ounce)
1 tablespoon slivered basil leaves
Glaze
1 egg yolk beaten with 1 teaspoon water
1.  Make the pastry dough: Whisk together the flour and salt in a large bowl. Sprinkle bits of butter over dough and using a pastry blender, cut it in until the mixture resembles coarse meal, with the biggest pieces of butter the size of tiny peas. In a small bowl, whisk together the sour cream, lemon juice and water and add this to the butter-flour mixture. With your fingertips or a wooden spoon, mix in the liquid until large lumps form. Pat the lumps into a ball; do not overwork the dough. Cover with plastic wrap and refrigerate for 1 hour.  I made this in the morning before work and left it in the fridge all day.
2.  Make the filling: Spread the sliced zucchini out over several layers of paper towels.  Sprinkle with 1/2 teaspoon salt and let drain for 30 minutes; blot the tops of the zucchini dry with paper towels before using. In a small bowl, whisk the olive oil and the garlic together; set aside. In a separate bowl, mix the ricotta, Parmesan, goat cheese (or mozzarella), and 1 1 tablespoon of the garlicky olive oil together and season with salt and pepper to taste.
3.  Preheat oven to 400 degrees.  On a floured work surface, roll the dough out into a 12-inch round. Transfer to a baking sheet lined line it with parchment paper.  If you need help transferring the dough, roll the dough onto your rolling pin, then move the rolling pin over to the baking sheet, and unroll.  Spread the ricotta mixture evenly over the bottom of the galette dough, leaving a 2-inch border. Shingle the zucchini on top of the ricotta in concentric circles, starting at the outside edge.  Drizzle the remaining tablespoon of the garlic and olive oil mixture evenly over the zucchini. Fold the border over the filling, pleating the edge to make it fit.  Brush crust with egg yolk glaze.
4.  Bake the galette until the cheese is puffed, the zucchini is slightly wilted and the galette is golden brown, 30 to 40 minutes (I think I took mine out around the 33 minute mark).  Remove from the oven, sprinkle with basil, let stand for 5 minutes, then slide the galette onto a serving plate. Cut into wedges (a pizza cutter is great for this) and serve hot, warm or at room temperature.