It's been far too long since my last post.  The beautiful spring weather has brought with it a much more active social calendar, which while incredibly fun, means less time in the kitchen.  This week, however, there is non-stop rain here on the East coast.  The weather, and my sheer exhaustion from being out 10 nights in a row, have given me some much-needed time to relax at home.
Last week I noted that I have been on a broccoli kick lately.  But in all my fickleness, I have abandoned broccoli, and moved on to zucchini.  Perhaps next week it will be asparagus, or eggplant.  But this week, it's all you, zucchini.  I am a big fan of zucchini breads (I put them in the same category of carrot cake – one of my true loves), but I don't have a good recipe for zucchini bread.  I started doing some research, and came across a recipe for chocolate zucchini cake.  It seemed like a good time to try something new, especially since I did not have a single cake recipe on this blog.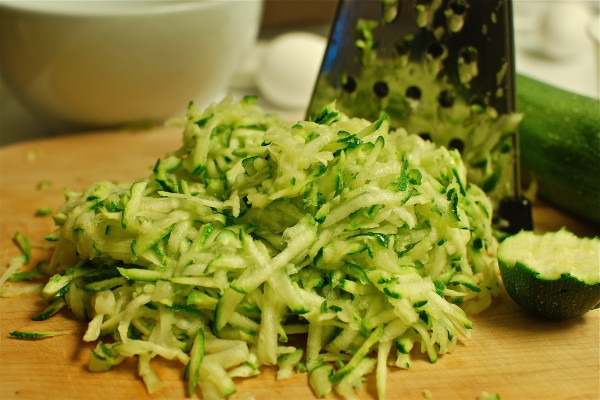 This turned out pretty well.  After I put this in the oven, I came across a different recipe for zucchini cake on the King Arthur Flour site that I might try next time, but the recipes are very similar.  The cake is moist and fluffy but not heavy, and we can thank the zucchini for this – adding zucchini provides for some of that moistness while eliminating half the oil you would normally use for a cake this size. Chocolate zucchini cake would be a perfect addition to a brunch menu; it is sweet but not overly sweet and not very heavy, unlike what you would expect from a regular chocolate cake.  Plus, it has vegetables in it!   You're being totally healthy by eating this!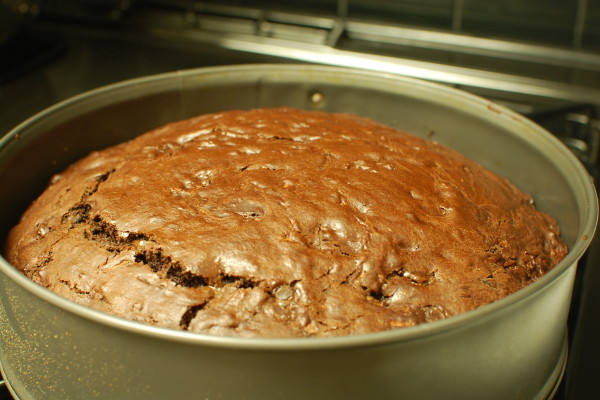 Chocolate Zucchini Cake
Adapted from Chocolate & Zucchini
Makes one nine-inch round cake, 10-12 servings
Ingredients
2 cups all-purpose flour
1/2 cup good quality Dutch process* cocoa powder (I used Pernigotti)
1 teaspoon baking soda
1/2 teaspoon baking powder
1/2 teaspoon salt
1 cup brown sugar
1/2 cup vegetable oil
1 teaspoon pure vanilla extra
3 eggs, room temperature
1 teaspoon instant coffee
2 cups grated zucchini (one large zucchini was enough to get 2 cups)
1 cup semi-sweet or bittersweet chocolate chips or chopped chocolate
confectioner's sugar, for dusting (optional)
* The original recipe did not specify Dutch process/non-Dutch process, but the King Arthur Flour recipe I linked to above specifies Dutch process, so I decided to use that.  Will anything bad happen if you use non-Dutch process?  I'm guessing no, but don't quote me on that.
1.  Preheat oven to 350 degrees.  Grease a 9 or 10 inch-round springform pan, or an 8×8 inch square pan.  I greased a springform pan with Pam for Baking.  In a medium bowl, whisk together the flour, cocoa powder, baking soda, baking powder, espresso powder, and salt.  In the bowl of a mixer (or by hand in a large mixing bowl), beat the sugar and oil until combined.  Add the vanilla and then eggs one at a time, mixing well between each addition.
2.  In a large mixing bowl, combine the zucchini, chocolate chips, and around a third of the flour mixture (eyeball it), making sure the zucchini strands are well coated and not clumping too much.  Set aside.
3.  Add the remaining flour mixture into the egg batter. Mix until just combined; the batter will be thick.  Fold the zucchini mixture into the batter, and blend with a spatula without overmixing (overmixing = tough cake!). Pour into the prepared cake pan, and level the surface with the spatula.  Bake for 40 to 50 minutes, until a knife inserted in the center comes out clean.  My cake took only 40 minutes.  Transfer onto a rack to cool for 10 minutes, and if you used a springform pan, run a knife around the pan to loosen, and unclasp the sides of the pan. Serve slightly warm or at room temperature.  Sprinkle with confectioner's sugar or a chocolate glaze if desired.