I have had a busy few weeks involving travel, work deadlines, and some computer issues that are (hopefully) resolved.  So here I am, back again with some time to actually cook.
I think a healthier recipe post is in order after the Florentines from last week.  I've been on a big vegetable kick, and feeling adventurous, I bought some vegetables I don't buy all that often.  This time around it was broccoli rabe, which I decided to make into a healthy pasta dish with tomatoes, garlic, basil, and goat cheese.
I made this for myself as a Sunday lunch, but it comes together fast and is thus perfect for a light and healthy weeknight meal.  You can also substitute other vegetables you might have on hand, like regular broccoli or asparagus.  If you don't have goat cheese on hand (or don't like goat cheese), you can substitute Parmesan cheese easily.  In the goat cheese's defense, however, I will note that the cheese gives the pasta a little creaminess without adding much fat or calories.  I don't know about you, but that sounds like a win-win to me.
Update: How versatile is this recipe?  I just made it again with roasted asparagus, a little lemon zest, a few torn basil leaves, and goat cheese: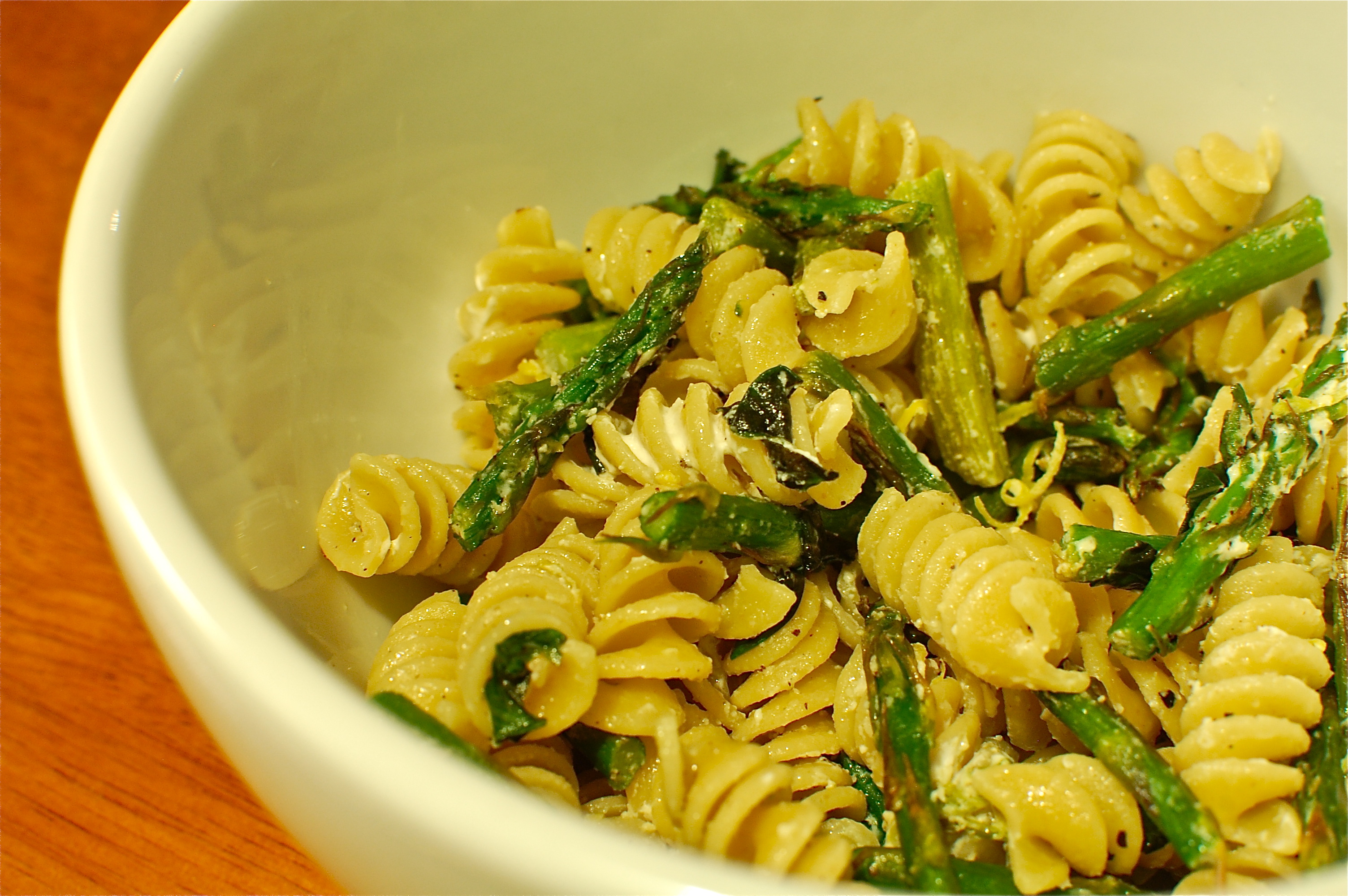 Pasta with Broccoli Rabe, Tomatoes, and Goat Cheese
My own creation
Serves 2
Ingredients
4 ounces rotini or penne pasta (I used Barilla Plus rotini)
1 tablespoon olive oil
1/2 teaspoon red pepper flakes, or to taste
1 bunch broccoli rabe, washed well and chopped
2 clove garlic, finely chopped
3 to 4 plum tomatoes, diced
1/3 cup chopped basil
2 ounces goat cheese
salt and pepper to taste
Parmesan cheese
1.  Cook pasta according to directions in large pot of boiling salted water; drain and return to the same pot.
2.  While pasta is cooking, heat olive oil in a large skillet over medium-heat. Add garlic, broccoli rabe, and crushed pepper, sauteing until broccoli rabe is tender, about 5-7  minutes. Add tomatoes, most of the basil, half a teaspoon kosher salt, and a few grinds of pepper, and continue cooking another 5 minutes.
3.  Add vegetable mixture and toss to coat.  Add goat cheese and mix again until the cheese has melted.  Move pasta to serving bowls, and add remaining basil and a sprinkle of Parmesan cheese.