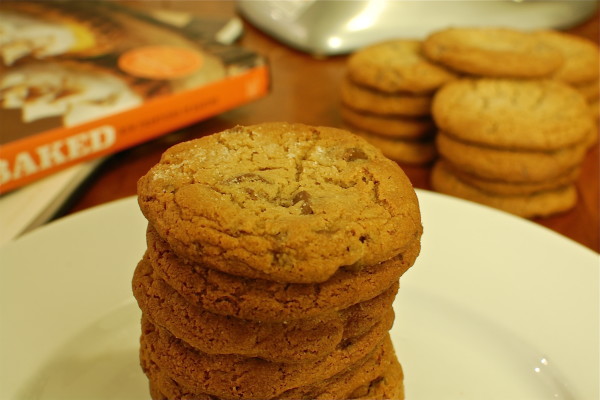 This past weekend, I got out several cookbooks with the goal of finding a cookie recipe I had not tried before.  I wanted to give a tin of cookies as a little thank you gift for someone who did something kind and generous for me, and thought this occasion warranted something new and special.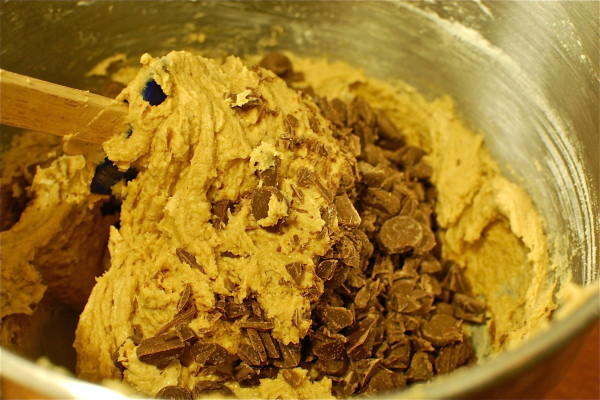 Now peanut butter isn't my favorite dessert ingredient – it has a rich and dominating flavor, which I'm sometimes in the mood for, but often I find peanut butter desserts to be too much for me.  But this recipe – from the boys at Baked in Brooklyn – looked tasty.  And they were very tasty indeed.  After making the banana chocolate chip muffins from Baked: New Frontiers in Baking, I had faith in Baked, and that faith paid off.
Yes, these are a peanut butter cookie, but the peanut butter does not overwhelm your taste buds; you can still taste the sweetness of the brown sugar, a hint of butter, and just the right amount of milk chocolate.  Another way of putting it: if you are ever craving a Reese's version of a cookie, these are for you!  They also have a great texture, and bake up crispy on the outer edges and chewy in the middle.
All I can hope for is that the recipient of my gift enjoyed them (but just in case they didn't, I put some Chocolate Cherry Biscotti in the tin as a back up!).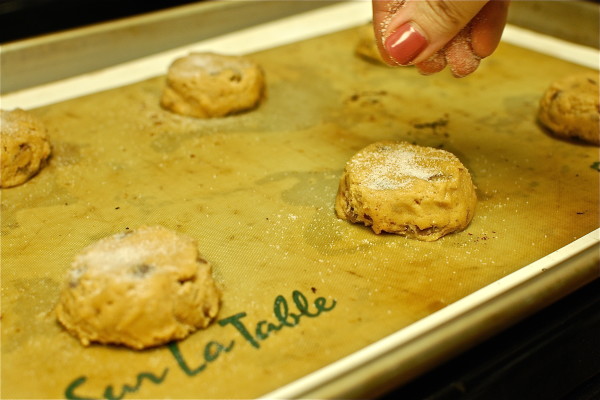 Peanut Butter Chocolate Chip Cookies
Adapted from Baked: New Frontiers in Baking
Makes around 30 cookies
The Baked cookbook notes that you should avoid substituting semi-sweet chocolate for the milk chocolate.  I decided to follow the book's advice, which was a big leap of faith for me because I almost always prefer dark chocolate over any other chocolate.  I was however pleasantly surprised by the results, and learned a little something new about myself and my baking instincts.  The milk chocolate does in fact complement the flavors of the cookie, so I would follow the book's suggestion and use milk chocolate.
Ingredients
1 3/4 cups all-purpose flour
2 teaspoons baking soda
1 teaspoon salt
14 tablespoons butter (1 3/4 sticks)
1 cup granulated sugar, plus more for sprinkling
1 cup firmly packed dark brown sugar
2 large eggs
1 teaspoon pure vanilla extract
1 cup creamy peanut butter
10 ounces good quality milk chocolate, coarsely chopped (I bought larger-size Ghirardelli milk chocolate chips and coarsely chopped them)
1.  Mix flour, baking soda, and salt in a medium bowl and set aside.
2.  In bowl of an electric mixer fitter with a paddle attachment, beat butter and 2 sugars together until light and fluffy.  Scrap down the bowl, then add eggs one at a time and mix until just incorporated.  Add vanilla and peanut butter and mix until just incorporated.  Add half of the flour mixture and mix for 15 seconds; add the rest of the flour mixture, and mix until just incorporated (do not overmix!).  Fold in chocolate chunks.
3.  Preheat over to 375 degrees.  Using a disher (I used a #24), scoop out dough onto a cookie sheet into individual cookies, placing them close together.  Place the cookie sheet in the fridge, and refrigerate at least 30 minutes.
4.  Remove the now-cold, unbaked cookies from the baking sheet, place them on a plate.  Place 6 cookies at a time on the baking sheet; gently press each cookie down so it forms a tall disk shape.  Do not press too hard and do not press too flat.  Sprinkle tops of the cookies with granulated sugar and bake 10 to 12 minutes, rotating the baking sheet halfway through.  For me, cooking time was 10 minutes.  Remove pan to wire cooling rack and cool 5 minutes; move cookies off the pan to the cooling rack and cool completely.