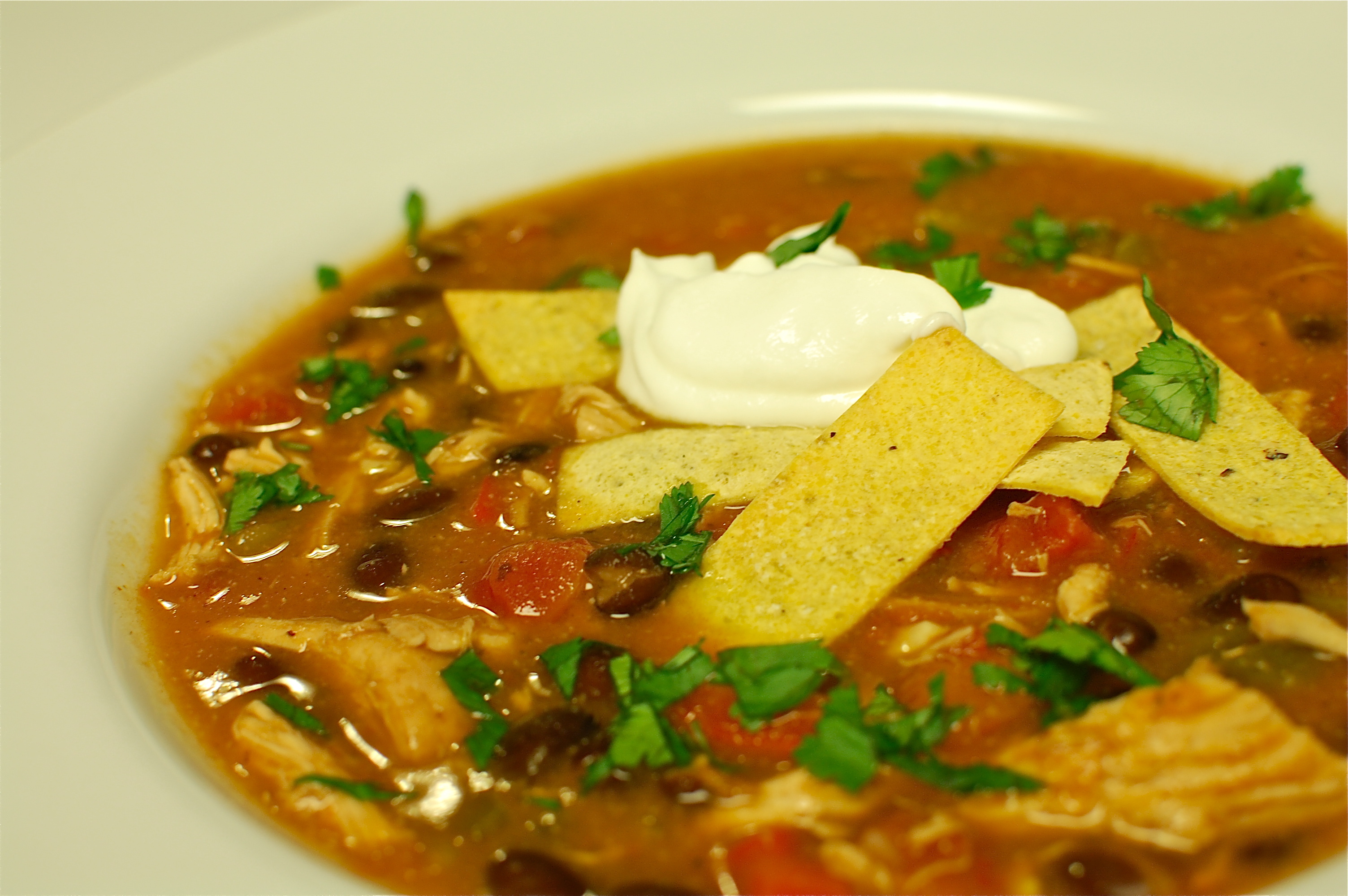 Another soup recipe? you may ask.  Hey, it's been ridiculously cold here in NYC (with the exception of the past few days).  I've been counting down the days until my 7-day vacation in Costa Rica (1 week to go – whee!).  Plus, I saw this on the Pioneer Woman's blog and I couldn't not make it.  It just looked so darn good.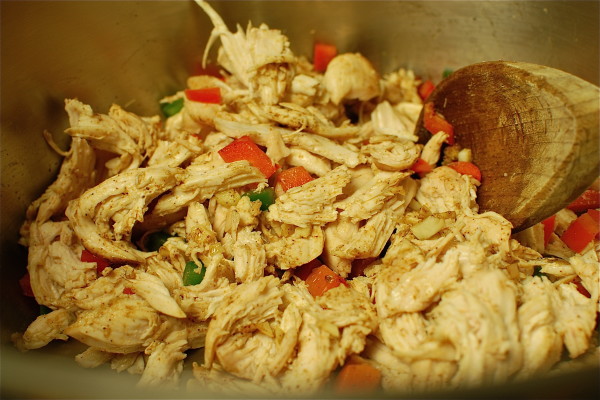 Yes I love making soups; as I've mentioned before, they are generally healthy and freeze well.  And the chicken tortilla soup turned out really, really well.  This soup has a lot of things going for it – lots of flavor, black beans (you know how I love black beans), chilis, peppers, and a crisp tortilla topping made  from corn tortillas.
Instead of cutting up the corn tortillas and throwing them into the soup before serving, I whipped up some corn tortilla crisps, which I think gives the soup some great texture.  The best part?  You simply place strips of corn tortillas in the oven for 8 minutes.  That's it.  Done.  You can't ask for an easier recipe.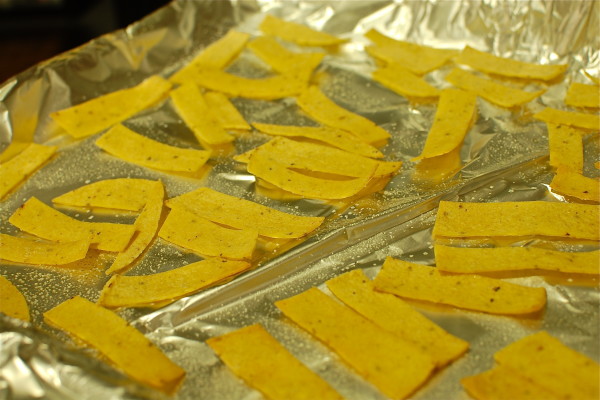 I can actually confirm for you that this soup does freeze well, because I've frozen a few portions to enjoy as my healthy (and not boring!) lunch during the work week, and it has still tasted great (just make sure you don't freeze the soup with the tortillas in it – add them in right before you eat!).
Chicken Tortilla Soup
Adapted from The Pioneer Woman
Serves 6
Ingredients
2 large boneless, skinless chicken breasts
2 tablespoons olive oil, divided
2 teaspoons chili powder
1 teaspoon coriander
1 teaspoon garlic powder
1/2 teaspoon salt
1 cup diced yellow onion
1/4 cup diced green pepper
1/4 cup diced red pepper
3 cloves garlic, minced
1 14-oz can diced tomatoes
1 small can green chilis, drained and chopped
4 cups low sodium chick stock
4 cups water
3 tablespoons tomato paste
2 cans black beans, drained
3 tablespoons cornmeal
corn tortillas, recipe below
Garnishes: diced tomato, diced avocado, diced red onion, salsa or pico de gallo, sour cream, chopped cilantro
1.  Preheat oven to 375 degrees. Mix chili powder, garlic powder, coriander, and salt. Drizzle 1 tablespoon olive oil on chicken breasts, then sprinkle a small amount of spice mix on both sides. Set aside the rest of the spice mix.
2.  Place chicken breasts on a baking sheet. Bake for 20 to 25 minutes, or until chicken is done. Use two forks to shred chicken.  Set aside.
3.  Heat 1 tablespoon olive oil in a pot over medium high heat. Add onions, red pepper, green pepper, and minced garlic. Stir and cook 5 minutes, then add the rest of the spice mixture. Stir to combine, then add shredded chicken and mix.
4.  Pour in diced tomatoes, chopped green chilis, chicken stock, tomato paste, water, and black beans. Bring to a boil, then reduce heat to a simmer. Simmer for 45 minutes, uncovered.
5.  Mix cornmeal with a small amount of water. Pour into the soup, then simmer for an additional 30 minutes. Check seasonings, adding more if needed—add more chili powder if it needs more spice, and be sure not to undersalt.  Turn off heat and allow to sit for 15 to 20 minutes before serving.
6.  Ladle into bowls, then top with sour cream, diced red onion, diced avocado, pico de gallo, and grated cheese, if you have it.  The garnishes really make the soup delicious – I used low fat sour cream, cilantro, and crispy corn tortillas (below).  If you don't want to make your tortillas into crispy tortillas, just add some tortilla strips to the bowl and ladle soup on top.
Homemade Tortilla Crisps
Ingredients
10 corn tortillas
Pam spray
salt
Preheat oven to 400 degrees F. Cut tortillas into thin strips, as long or short as you want. Place on baking sheet, leaving a little room between each strip (just don't put them on top of each other). Spray with a little Pam, then sprinkle salt on top. Bake for about 8 minutes. If your strips are on the thin side, watch them after the 6 minute mark. If they are thick, you might want to leave them in 10 minutes. They can burn quickly so just make sure you keep an eye on them!