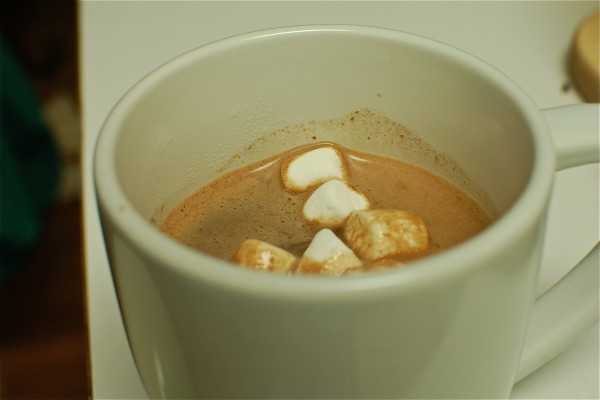 Tonight, as I watched the snowflakes begin to fall here in New York City, I thought it was the perfect time to whip up a quick hot chocolate.  Stay warm, everyone!
Hot Chocolate
Adapted from Joy of Baking
Serves 2
Time: 10 minutes
Ingredients
2 cups milk (I used skim, and drizzled a little half and half in there for good measure, but just using all skim will still be perfectly tasty)
4 ounces semi-sweet chocolate, chopped (or chocolate chips)
small pinch of chili powder, cinnamon, and/or (smallest pinch) cayenne pepper (all optional, but I use all three)
1-2 drops vanilla extract (optional)
Place milk, chocolate, chili powder, cayenne (if using) and vanilla extract in a saucepan over medium heat and whisk periodically until mixture just reaches the simmering point.  Remove from heat, and pour into two mugs.  Garnish with marshmallows or whipped cream.