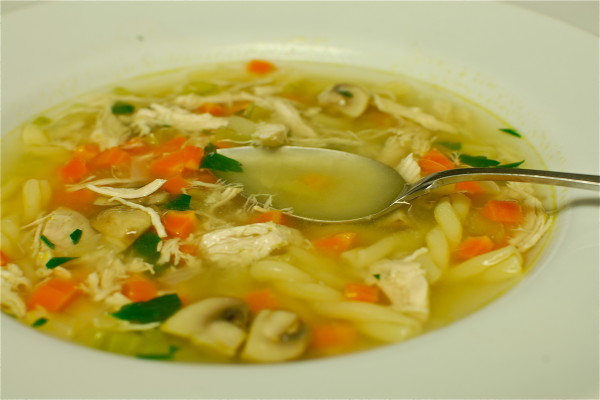 So this past week, two things happened: (1) I started a new job (yay!), and (2) my sinuses decided to get infected (boo!).  Ever since I got my first sinus infection a year ago, my sinuses simply will not stop acting out.  Jerks.
In a way I got lucky this year, because this is the first time I've been sick this fall/winter.  For me that might be a record.  But being sick means one thing: time to slurp (in the most ladylike of fashions, naturally) some chicken noodle soup.
Now I have to tell you something, and it may shock some of you: once you make your own chicken noodle soup, you will never, ever go back to eating canned soup again.  Every time I get sick, I whip up a big pot of this soup.  I hate canned soups with a passion, and I do not let them into my kitchen.  Does that make me a snob?  Absolutely, but I don't care.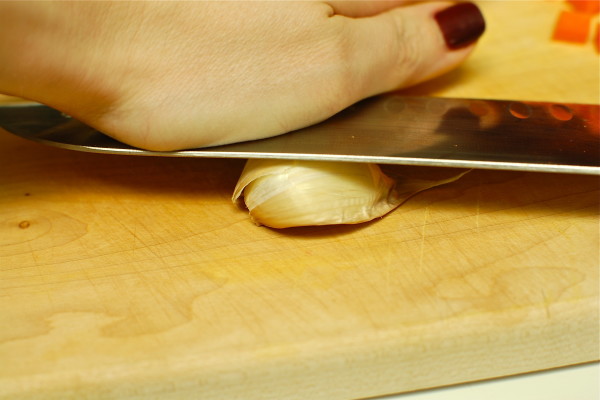 It's quite easy to make this soup, it's just a little time consuming.  The extra time spent making  your own flavorful broth is totally worth it.  The soup also freezes well; I usually freeze a few servings of the soup, so I have it in case I get another case of the sniffles in a month or two.  Imagine coming home from work, feeling tired and run down, and being able to quickly defrost your own homemade chicken noodle soup.  You will feel better instantly.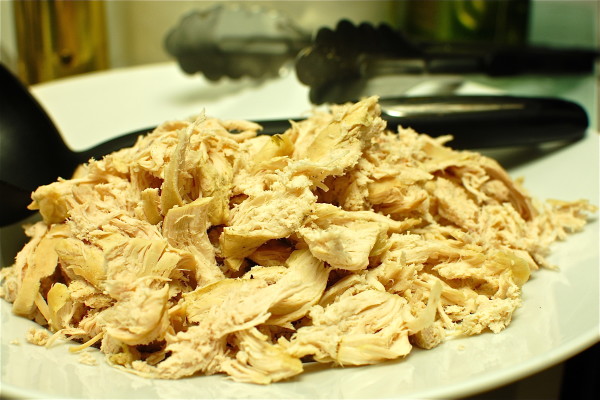 Homemade Chicken Noodle Soup
Adapted from Emeril Lagasse
Makes 6-8 servings
Total time: 2 hours
Ingredients
1 1/4 to 1/12 lb boneless, skinless chicken breasts
1 quart chicken stock or low-sodium chicken broth
2 quarts water
2 medium onions, quartered
2 carrots, roughly chopped
2 celery stalks, roughly chopped
1 clove garlic, peeled
2 sprigs fresh thyme
5 or 6 parsley stems
1 bay leaf
2 tablespoons olive oil
4 ounces whole button mushrooms, quartered
1/2 cup diced onions
1/2 cup sliced carrots
1/2 cup small-diced celery
2 cloves garlic, chopped
2 1/4 teaspoons salt
1/2 teaspoon freshly ground black pepper
1/4 pound dried vermicelli noodles, or other good soup pasta
2 tablespoons chopped fresh parsley leaves
Juice of 1 lemon
1.  Place the chicken in a large stockpot or Dutch oven and cover with the chicken stock and 2 quarts water. Add the onion quarters, roughly chopped carrots and celery, thyme, parsley stems, and the bay leaf. Bring mixture to a boil, partially cover with lid, and reduce heat to a simmer. Simmer for 1 hour.
2.  Using tongs, remove the chicken from the broth and set aside until cool enough to handle. Strain the cooking liquid through a fine-meshed sieve, discarding the vegetables and reserving the stock. Shred the chicken.
3.  Heat oil in a large stockpot over medium-high heat. Add mushrooms and cook until browned, about 3 minutes. Add the diced onions, carrots, and celery and cook until the vegetables are softened, about 2 minutes.  Add chopped garlic and cook 2 minutes more. Stir in reserved cooked chicken. Add reserved chicken stock and bring to a boil over high heat.
4.  Season the soup with salt and pepper. Add pasta and simmer until noodles are cooked through, about 8 minutes. Remove from the heat and stir in parsley and some lemon juice. Serve hot.