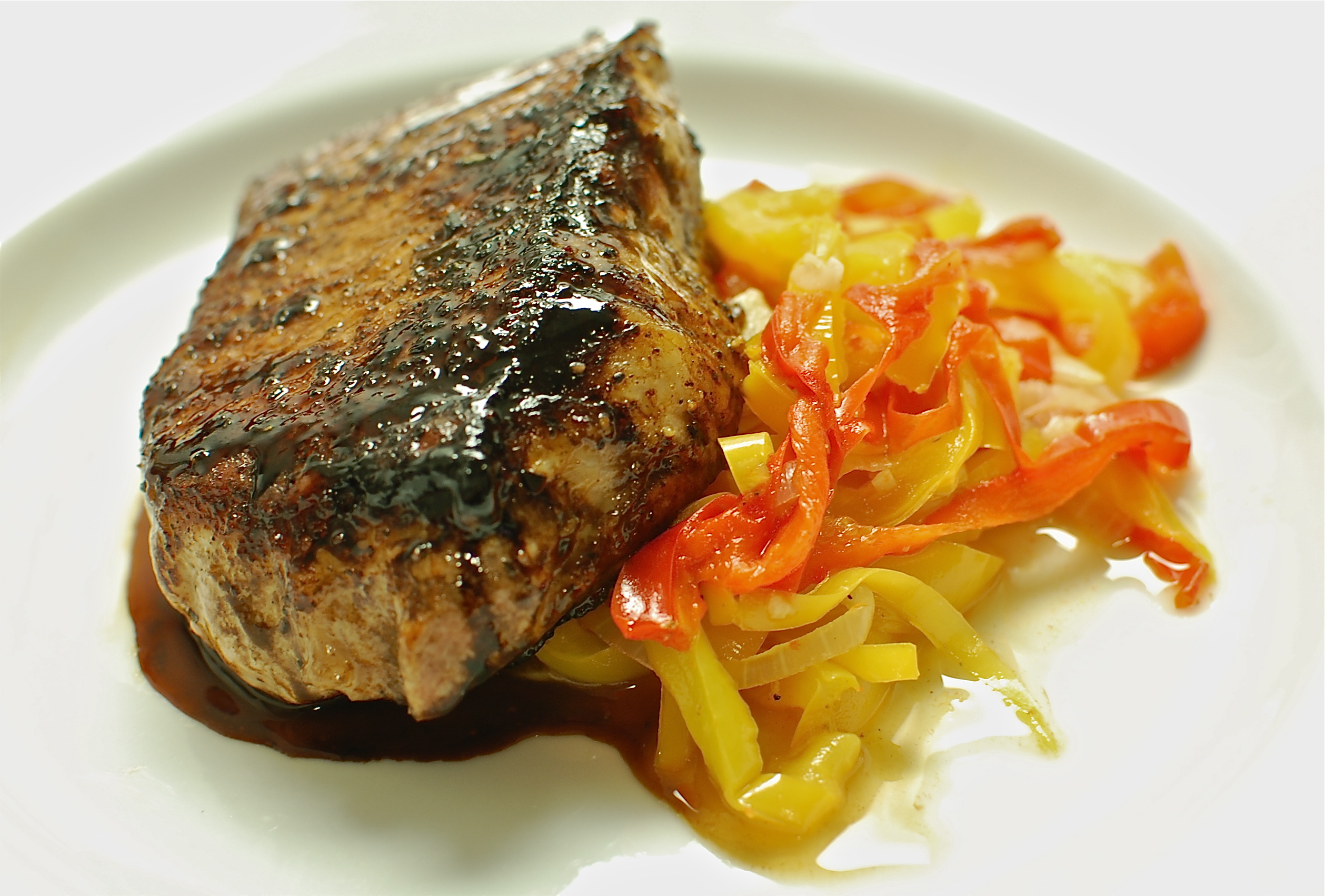 Something very exciting is happening as I write this.  I have just booked a New Year's trip to Rome.  Rome!  Over the past 10 years, I have planned 4 trips to Italy, all of them canceled for one reason or another.  But this time is different.  It's actually happening.
So right now, there is just so much to do, so much to plan.  Where are we staying?  What are we seeing?  Where are we shopping?  And (perhaps most importantly), where are we eating?  If anyone has any suggestions for me, please tell me.  Tell me everything.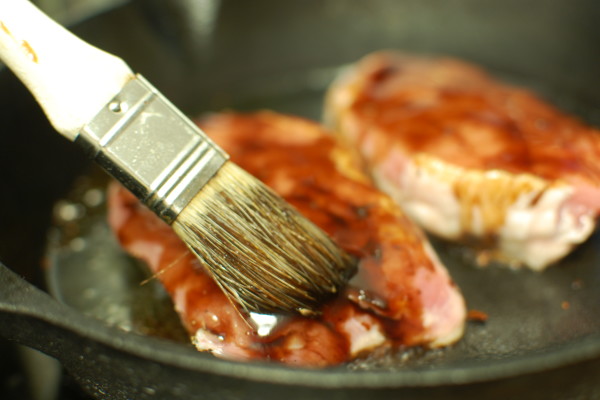 In honor of my trip, I broke out a Saveur magazine from earlier this year that featured Roman dishes.  This dish, called maiale in agrodolce (sweet and sour glazed pork chops), is cooked with a balsamic-rosemary glaze.  I paired the chops with peperonata, or sweet stewed peppers.
Overall the dish was light and flavorful. It was also easy – the glaze comes together in minutes and only has four ingredients.  The peppers turned out absolutely delicious.  I put them on the stove before I started making the pork chops.  When both were done, I ate them together, and thought the peppers were fine; they weren't the best side dish ever, but I ate them and enjoyed them.  I had plenty left over, so I covered them up and stuck them in the fridge.  The next night, the peppers tasted incredible.  The night spent marinating in their own juices with the garlic, onion, and vinegar turned them into a culinary miracle.   I ate them with a leftover pork chop, but also put them on top of mixed greens.  The peppers' liquid made for a delicious (and light!) salad dressing.  Needless to say, I will definitely be making both dishes again.
And I bet they taste 10 times better in Rome.
Maiale in Agrodolce (Sweet and Sour Glazed Pork Chops)
Adapted from Saveur
Serves 4
Cook time: 30 minutes
Ingredients
4 10-oz bone-in pork chops (I did not buy bone-in, just because they didn't look as good as the boneless chops)
3 tablespoon extra-virgin olive oil
Kosher salt + freshly ground black pepper
1/3 cup balsamic vinegar
2 tablespoons honey
2 tablespoons unsalted butter
1 sprig fresh rosemary, torn into 1-inch pieces
1.  Put pork chops on a plate; drizzle with oil; season generously with salt and pepper; let sit for 30 minutes.
2.  Meanwhile, build a medium-hot fire in a charcoal grill or heat a gas grill to medium-high heat. If you don't have a grill, you can make the pork chops in a pan over medium heat; I used my cast iron skillet.  Combine vinegar and honey in a small saucepan and cook over medium heat until reduced to 1/4 cup. Stir in butter and rosemary and set aside.
3.  Put pork chops on grill or pan and cook, occasionally turning and basting with balsamic mixture, until browned and cooked through, 13–15 minutes. Transfer to a platter and let sit for 5 minutes before serving.
Peperonata
These peppers taste even better the next day; if you have time, make them the day before you make the pork chops.  If you don't have the time, you'll still enjoy them hot off the stove.

Adapted from Saveur
Total time: 1 hour
1/3 cup extra-virgin olive oil
4 assorted red, yellow, and orange bell peppers, cored, seeded, and cut into 1/4-inch strips
4 cloves garlic, thinly sliced crosswise
1/2 medium white onion, thinly sliced
Kosher salt + freshly ground black pepper, to taste
3 tablespoons red wine vinegar
1.  Heat oil in a 4-qt. saucepan over medium-high heat. Add peppers, garlic, onions, and 1/2 cup water and season with salt and pepper. Cook, partially covered and stirring occasionally, until peppers are soft, about 1 hour (this took me 45 minutes, I think I cut my peppers a little too thin, definitely thinner than 1/4 inch). Stir in vinegar and transfer to a serving bowl.