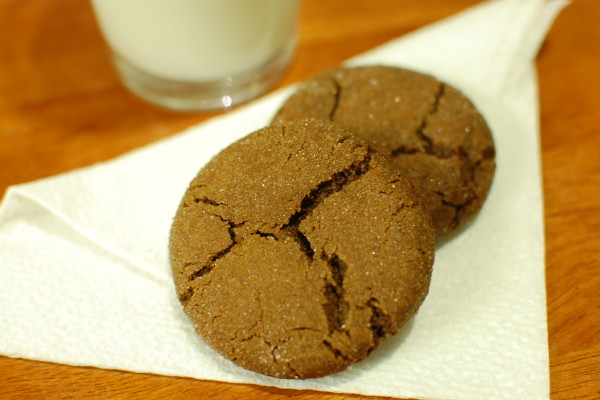 It's officially December, which means it's Christmas time, which means … it's cookie season!  And I am declaring a Christmas Cookie Extravaganza!  You will see a few cookie recipes here in the weeks to come.  Get excited!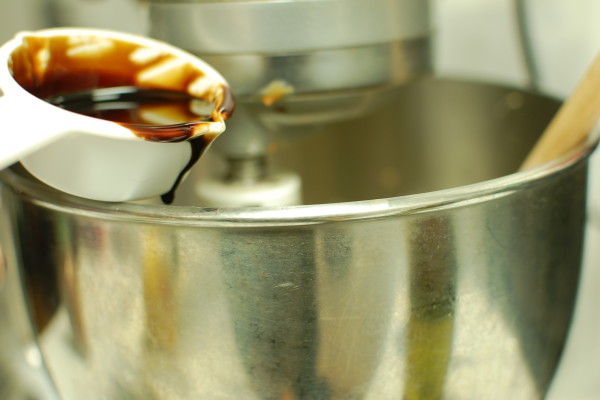 Of all the things I bake, cookies are probably my favorite.  They are relatively low-maintenance and always make people happy.  They are also easy to take to the office and give away, so I am not alone in my apartment with 3 dozen cookies and a tiny, mischievous devil on my shoulder whispering sweet nothings in my ear.  "Look at them.  Don't they look lonely, all by themselves on that plate?  I bet they would be happier in your stomach.  Yes, yes, eat all the cookies!"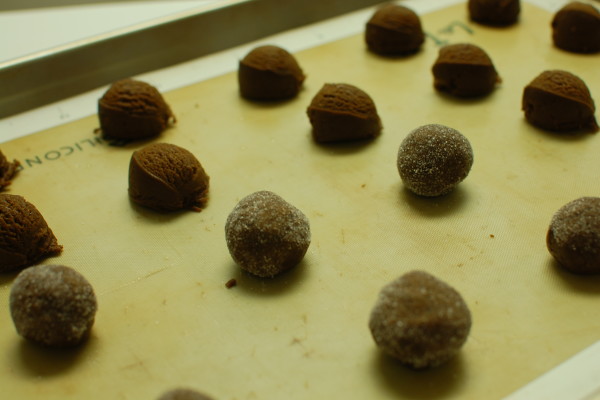 There are certain types of cookies that are perfect this time of year, and this is one of them.  These are a chewy ginger cookie with a healthy dusting of sugar on top.  I can't remember where I came across this recipe, but I started making the cookies in law school.  The secret ingredient that gives them the extra wow factor: orange zest.  It complements the combination of cloves, ginger, and cinnamon perfectly.  Paired with some coffee or hot apple cider, they make for a perfect ending to the day.  They make me wish I had a fireplace to sit at and stare longingly into the flames, pondering the true meaning of Christmas, and all that nonsense.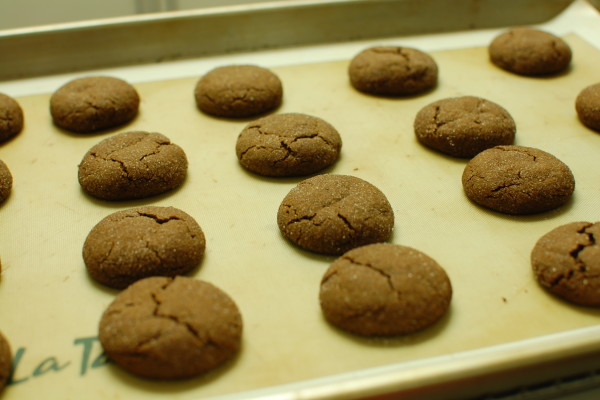 A key to these cookies is to pull them out of the oven when they seem underdone.  If you pull them out of the oven when they are a little crispy on the edges, they will be completely crispy by the time they finish cooling.  And maybe you like a crisp ginger cookie.  Not me.  Keep your hands off my dough.
Chewy Ginger Cookies
Makes 40 small cookies, or less if you like larger cookies
Total cook time: 2-3 hours (inactive chill time: 1-2 hours)
Ingredients
2 cups flour
2 teaspoons baking soda
2 teaspoons ginger
1 1/2 tsp cinnamon
1 tsp cloves
1/4 teaspoon table salt
1/2 cup shortening (i use the non-hydrogenated kind)
1/4 cup (1/2 stick) butter
1 cup brown sugar
1 egg
1/4 cup molasses
2 tablespoons grated orange zest (zest from 1 large orange)
granulated sugar or turbinado sugar (available at most grocery stores)
1.  In a bowl, whisk together the flour, baking soda, ginger, cinnamon and cloves.  In a separate bowl using an electric mixer, cream together butter, shortening and sugar.  Add the egg, molasses, and orange zest and mix until just combined.  Gradually incorporate dry ingredients into sugar mixture.  Cover the bowl with plastic wrap and refrigerate 1-2 hours (but at least 1 hour!).
2.  Preheat the oven to 350 degrees.  Form the dough into uniform balls.  Use a disher – for smaller cookies, I use a #70 disher, and for larger ones, a #24 disher.  Roll each ball in granulated or turbinado sugar, and place on baking sheet 2 inches apart.  For smaller cookies, bake 10 minutes, rotating the tray after 5 minutes.  For larger cookies, bake 14 minutes, rotating the tray after 7 minutes.  Cool slightly, then devour.