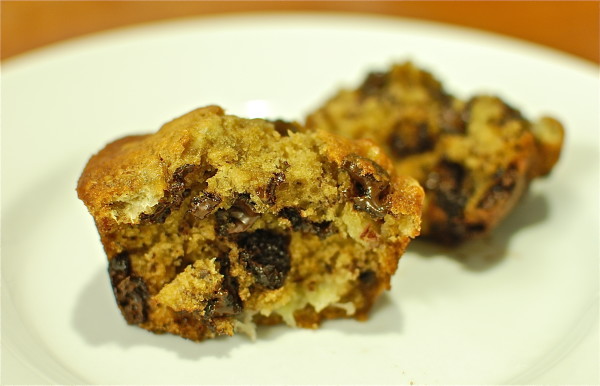 Are you are looking for something special to serve Christmas morning, or New Year's Day, or any day of the year?  Well, have I got a recipe for you!
I happen to think most muffins in this world are pretty mediocre.  Sure, you have your blueberry, your pumpkin, your bran, and all those other ones.  You can get them anywhere.  Many of them taste over-processed and sugary.  Some of them taste fine, but when has one really wowed you?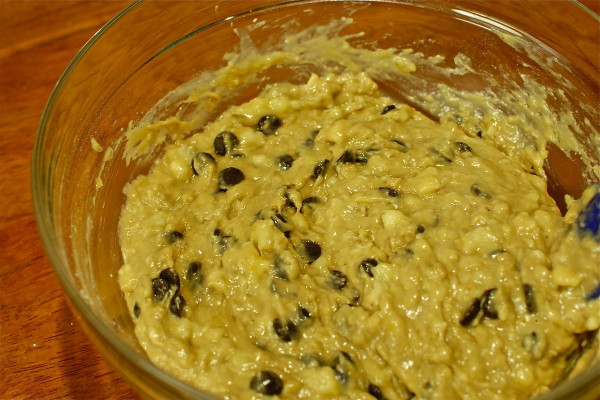 I guarantee this one will wow you.  The recipe comes from Baked: New Frontiers in Baking, written by the owners of Baked bakery in Brooklyn, NY.  I have heard many great things about their recipes, so I bought both their cookbooks.  I read through each a few times, and decided that Banana Espresso Chocolate Chip Muffins would be the first recipe I would make.  Why did I pick this one, you might ask?  I love bananas and have not made anything with them in quite some time.  Plus, muffins are a quick bread, which means they are quick to make!
I can safely say that these are the best muffins I've ever made.  They are moist with a tender crumb and rich flavor.   The espresso powder does not make the muffins taste like espresso; it gives the muffins a little extra something and enhances all the other flavors going on (particularly the chocolate!).
So go forth and celebrate the holidays with some freshly baked muffins.   And for those who celebrate it – Merry Christmas!
Banana Espresso Chocolate Chip Muffins
Adapted from Baked: New Frontiers in Baking
Total time: 40 minutes
Makes 12 muffins
1 1/2 cups mashed, very ripe bananas (about 4 medium bananas – I didn't actually measure, I just used 4 bananas)
1/2 cup sugar
1/4 cup firmly packed light brown sugar
1/2 cup (1 stick) unsalted butter, melted
1/4 cup whole milk (I used 1/4 cup + 2 tablespoons buttermilk, because I had it lying around and wanted to use it up)
1 large egg, room temperature
1 1/2 cup all-purpose flour
1 teaspoon instant espresso powder
1 1/2 teaspoons baking soda
1 teaspoon salt
1 cup (6 ounces) semisweet chocolate chips
1.  Preheat the over to 350 degrees. Spray a 12-cup muffin pan with nonstick cooking spray.
2.  In a medium bowl, stir together the bananas, sugars, butter, milk, and eggs.
3.  In another medium bowl, whisk together the flour, instant espresso powder, baking soda, and salt.  Make a well in the middle of the dry ingredients.  Pour the wet ingredients into the well, and stir until just combined (do not overmix!).  Fold in the chocolate chips.
4.  Fill each cup about three-quarters full.  (Note – I did this, but ended up with extra batter, so I made 16 muffins instead of 12, but in retrospect I could have just made 12 bigger muffins.)  Bake in the center of the oven for 20 to 25 minutes, until a toothpick inserted in the center of a muffin comes out clean.  Definitely check them at the 20 minute mark.  Move the muffin pan to a cooling rack, and let cool for 15 minutes.  After 15 minutes, remove the muffins from the pan and let them finish cooling on the cooling rack.  Muffins can be stored in an airtight container for up to 2 days.