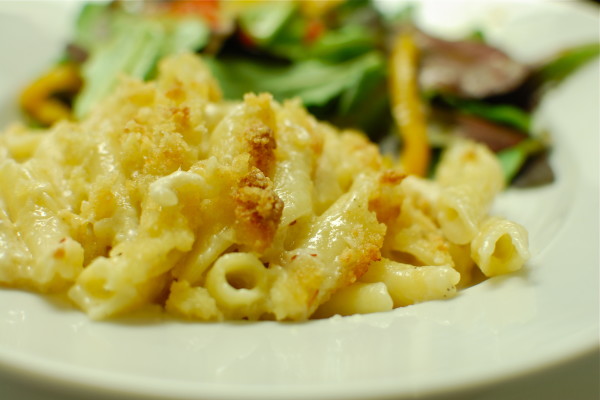 Who doesn't love macaroni and cheese?  Well actually, I don't, at least not all the time.
I see you scrunching your face in judgment.  Look, I'm just really picky about mac and cheese.  If I am going to engage in such a decadent dining activity, it better be the way I like it.  And the truth is, I can only handle so much richness in one meal.  I don't think making a good mac and cheese involves heating up 3 cups of heavy cream with 1 pound of butter, dumping in 3 pounds of grated cheese, and then throwing in some interestingly shaped pasta so you can convince yourself you aren't just eating the heaviest cheese soup ever created by man.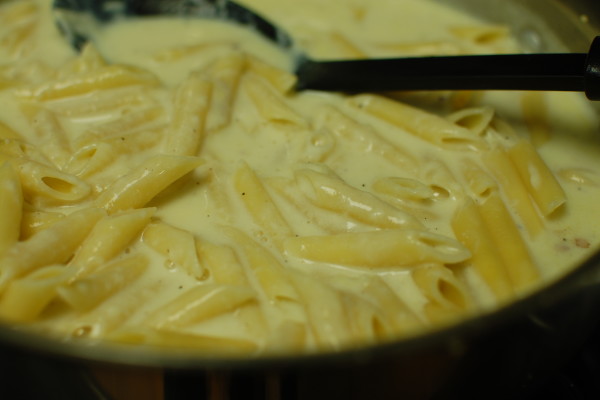 I also don't like the texture to be too custard-like.  I like a smooth, creamy filling that is not so grossly heavy that I feel like throwing up after 3 bites.  So this recipe turned out pretty well for me.  I have always enjoyed eating at Artisanal in New York City.  It is a great place, especially for brunch.  So when I saw their recipe featured in Saveur, I decided to try it.  I liked that it did not contain eggs, which would have made it more custard-y.  I also decided to take a risk and make it with mostly skim milk, and it still turned out creamy.  Now some people think using skim milk is just plain dumb, since mac and cheese is already so fattening, you might as well go big or go home.  But those people should calm down – there is still plenty of butter and almost a pound of cheese to keep you happy.  The skim milk helped me eat this without getting a nasty stomach ache afterward.  But think skim milk is for losers?  Use whatever milk you like!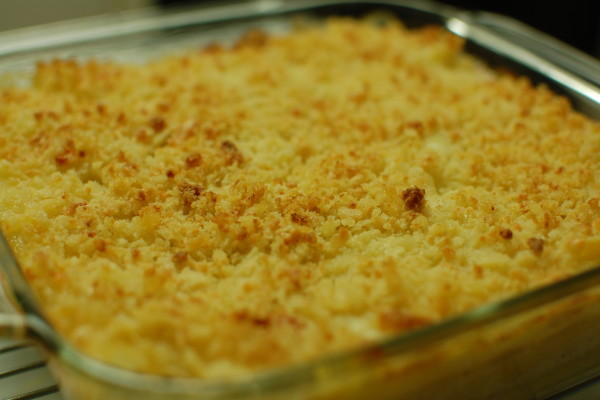 The panko breadcrumbs used in the top crust gave the dish a different type of crunch.  It was excellent, pronounced crunch; the texture of the breadcrumbs was different from the usual breadcrumbs used to top mac and cheese.  Served with a lightly dressed green salad, the pasta made for a nice hearty meal.
Artisanal Macaroni and Cheese
Adapted from Saveur
Serves 6-8
Total time: 1 hour
Ingredients
Kosher salt, to taste
12 oz. hollow pasta, preferably penne
6 tbsp. unsalted butter
3/4 cup dried bread crumbs, preferably panko
1 oz. finely grated Parmesan (about 1 cup)
1/4 cup flour
3 1/2 cups milk (Use whatever milk you like; I used 3 1/4 cup skim milk + 1/4 cup half and half, since I had it in the fridge.)
4 oz. grated Gruyère (about 1 1/2 cups)
4 oz. grated Comté or Cantal (about 1 1/2 cups)
4 oz. grated fontina (about 1 1/2 cups)
Freshly ground black pepper, to taste
1.  Heat oven to 350 degrees.  Bring a 4-quart saucepan of salted water to a boil.  Add the pasta and cook until not quite al dente, about 7 minutes.  Drain pasta, transfer to a bowl, and set aside.
2.  Melt 3 tablespoons of the butter in a 4-quart saucepan over low heat.  Add the bread crumbs and Parmesan, toss to combine, and transfer to a small bowl; set aside.
3.  Wipe out the saucepan and set over medium heat.  Melt the remaining butter and whisk in the flour until smooth.  Whisk in the milk and cook, continuing to whisk often, until the sauce coats the back of a spoon, about 10 minutes.  Stir in the Gruyère, 1 cup of the Comté, and 1 cup of the fontina and whisk until the cheese is melted and incorporated.  Season with salt and pepper.  Remove pan from heat and stir in the reserved pasta.  Pour the mixture into a 2-quart baking dish (I used an 8×8 baking dish) and top with the remaining Comté and fontina.  Sprinkle bread crumb mixture over the top and bake until golden brown and bubbly, about 30 minutes.  Let cool for 10 minutes before serving.