So it was a Friday night, and after having plans every other night during the week, I was looking forward to going home and cooking myself a nice, hot meal.  And preferably and easy one – which is why I picked this.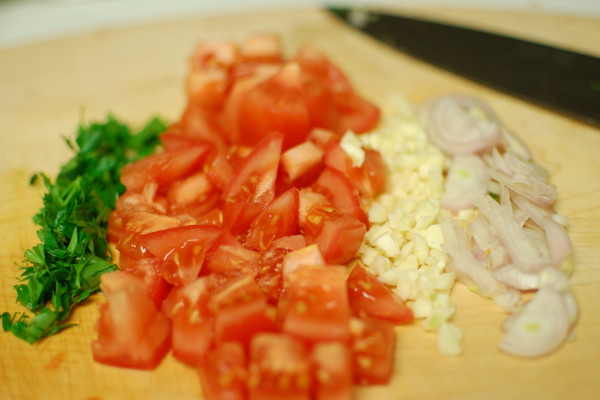 A few minutes of prep work chopping vegetables, and 5 minutes later …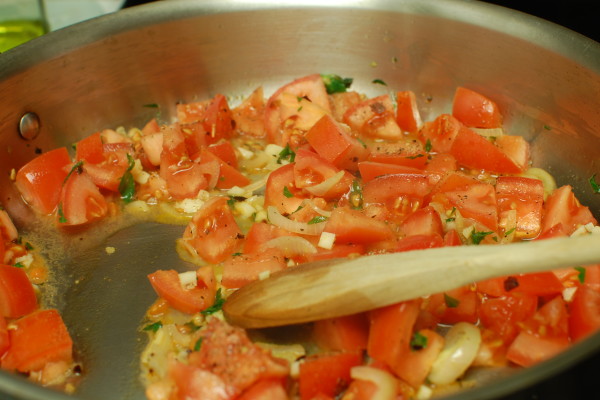 … we have sauce simmering.  And then 15 minutes later …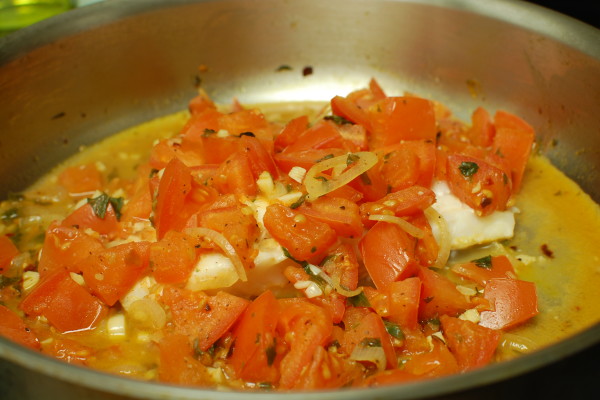 … a flavorful, healthy meal.  I may have overdone it on the tomatoes – I love tomatoes in pretty much everything, but even I could not finish that many.  But the sauce is delicious both on the fish and soaked up with a piece of fresh, crusty bread.  Now, if I only had enough self control to eat just one slice of crusty bread.
Sea Bass with Tomatoes and Shallots
Makes one serving, adjust for any number of people
Prep time: 10 minutes
Cook time: 20 minutes
This recipe will work with other white fish as well.  I used Chilean sea bass because that's what they had at the market.  Cod or tilapia would work, as well as swordfish, just note that cooking times for each fish might vary.  Other ingredients could be added; chopped kalamata olives would have been great, but I didn't have any lying around.

Ingredients
1 shallot, thinly sliced
1/4 cup chopped fresh parsley
2 cloves garlic, chopped
1/4 teaspoon dried crushed red pepper, or to taste
1-2 tablespoons capers
2-3 plum tomatoes, diced
1/4 cup dry white wine
1 sea bass fillet (about 1 inch thick)
Slice of crusty bread
1.  Preheat over to 425 degrees.   Heat one tablespoon olive oil in oven-proof skillet over medium-high heat.  Add shallots, garlic, red pepper flakes, parsley, and capers; sauté until shallots begin to soften, 4 or 5 minutes.  Stir in tomatoes and wine, allowing to cook for a few minutes.  Sprinkle fish with salt and pepper, and place in the same skillet, spooning tomato mixture on top.  Bring to a simmer.
2.  Cover the pan and place in oven.  Bake until the fish is opaque in the center, about 12 minutes.
3.  Place fish on a plate, and boil sauce on the stove top another few minutes, to reduce slightly.  Spoon the sauce over the fish.  Eat with crusty bread.