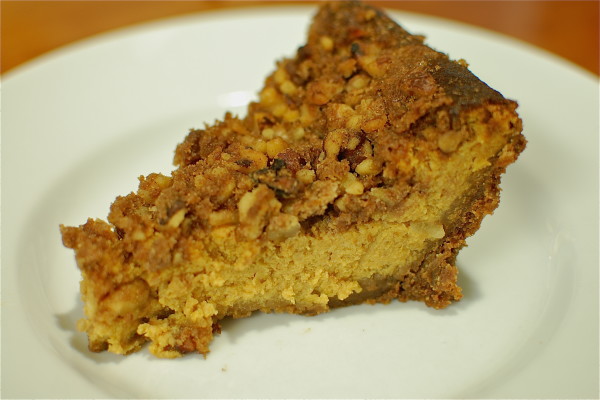 So it's that time of year: Thanksgiving.  You might be surprised to learn that I will not be doing any cooking on Thanksgiving.
There are so many things I will miss about not cooking my own dinner; that's why I've pulled out the cornbread recipe, and why I decided to make my favorite pumpkin pie for myself (and my coworkers – ahem, you're welcome!).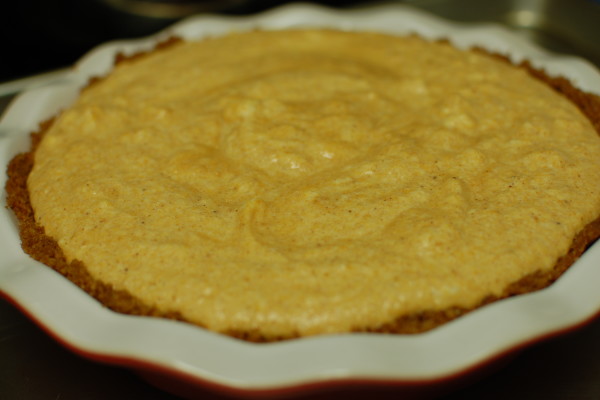 This is mostly a traditional pumpkin pie, jazzed up a bit with a walnut streusel topping.  This recipe calls for separating the eggs, beating the whites until they form soft peaks, and then folding the whites into the pumpkin mixture before baking.  This lightens the pie filling and gives it a slightly less dense texture.  I have made this recipe at least 10 times, and this is the first time I have actually completed this step, each time thinking, "Okay, that looks like way too much work."  The other times, I simply added the whole eggs at the beginning of the recipe where it says to mix the yolks with everything else.  Would I recommend beating the egg whites separately and then adding them in?  I think so – the consistency of the filling did come out lighter and creamier.  If you have a standing mixer or hand mixer, I say give it a try.  If you don't like the results, next time don't bother.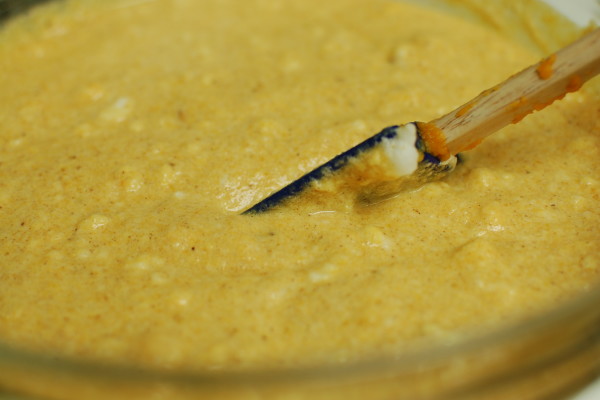 Now let's talk pie crust.  I was too tired today to deal with making a homemade, flaky crust for this pie.  So I tried something new: a gingersnap crust.  I have done gingersnap crusts with pumpkin cheesecakes, so I thought, why not try this with pumpkin pie?  As you may have noticed, it does not photograph well.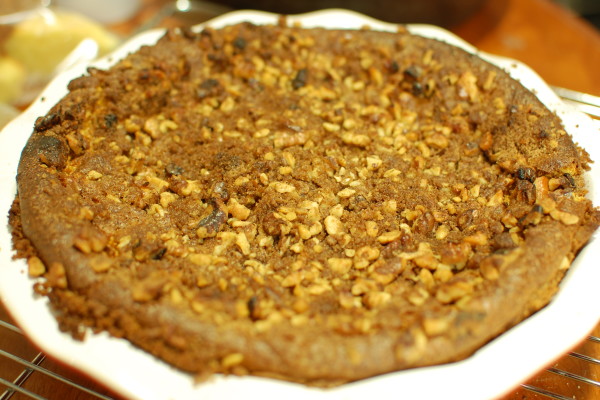 Overall, I think I would pass on the gingersnap crust next time.  The crust, along with the sweet streusel topping, resulted in the pie having a little too much going on, and it took away from the main attraction – the pumpkin!  I will also admit that I think pumpkin pie tastes fine with a store-bought frozen pie crust.  This is the type of pie where it's all about the filling, and the crust is just there to support it, so a store-bought crust does not bother me.  I promise that sometime I will do a flaky, butter-and-shortening crust for you, but today is just not the day.
Update: So my taste testers colleagues informed me that they enjoyed the gingersnap crust, though they also pointed out that the pie does not taste as traditional with it.  So if you are in the mood for gingersnaps, go for it!  If not, make other arrangements!
Pumpkin Pie
Adapted from Allrecipies.com
Prep time: 15 minutes
Cook time: 55 minutes
Again, if you do not want to bother with beating-egg-whites-and-folding-them-in step, just mix the two whole eggs into the rest of the filling when you mix the yolks in.  I have done that many a time with this recipe, with good results.  The filling will come out to be a bit denser, but still delicious.
I have made the streusel topping with chopped pecans with good results.  Don't want streusel topping?  Just skip it.
1 (15 ounce) can pumpkin puree
1 (14 ounce) can sweetened condensed milk
2 egg yolks
1 teaspoon ground cinnamon
1/2 teaspoon ground ginger
1/2 teaspoon ground nutmeg
1/2 teaspoon salt
2 egg whites
1 (9 inch) unbaked pie shell OR 8 oz gingersnaps + 1/4 cup (1/2 stick) unsalted butter, melted
2 tablespoons all-purpose flour
1/4 cup packed brown sugar
1 teaspoon ground cinnamon
2 tablespoons butter, chilled
1 cup chopped walnuts
1.  Preheat the oven to 425 degrees F.
2.  For the gingersnap crust, break 8 ounces of the gingersnap cookies into pieces and place in a food processor.  Process until finely ground.  Add melted butter and process until moistened.  Press the crumb mixture into the bottom and up the sides of a 9-inch pie pan.
3.  In a large bowl, mix together the pumpkin, sweetened condensed milk, and egg yolks. Stir in 1 teaspoon cinnamon, ginger, nutmeg, and salt. In a large glass or metal bowl, whip egg whites until soft peaks form. Gently fold into pumpkin mixture. Pour filling into pie shell.
4.  Bake for 15 minutes in the preheated oven. While the pie is baking, prepare the streusel topping: In a small bowl, combine the flour, brown sugar, and 1 teaspoon cinnamon. Blend in the cold butter with a fork or pastry blender until the mixture is crumbly. Mix in the chopped nuts. Sprinkle the topping over the pie.
5.  Reduce the heat to 350 degrees F. Bake an additional 40 minutes, or until set.